On Tuesday, President Obama defended his administration's decision to bring home U.S. Army Sgt. Bowe Bergdahl from Taliban captivity, pushing back against critics who argue that Bergdahl's public protest of America's mission in Afghanistan and possible desertion to Pakistan in 2009 made him unworthy of rescue.

"The United States has always had a pretty sacred rule, and that is: we don't leave our men or women in uniform behind," Obama said in Warsaw, Poland. "Regardless of the circumstances, we still get an American soldier back if he's held in captivity. Period. Full stop."

Since Obama's decision to trade Bergdahl for five Taliban-linked militants imprisoned in Guantanamo Bay, Republican lawmakers, conservative commentators, and even some soldiers who served in Bergdahl's unit have accused the administration of endangering American security by releasing high level Taliban officials into Afghanistan while American soldiers are still in the country. They also argue that Bergdahl's growing disillusioned with the U.S. Army make his return less than desirable.

"I think the whole transaction represents really bad staff work. I'd be very, very careful before you run the president out to sort of claim victory at having earned the release of somebody who in effect went AWOL apparently, and left his post. So if I were there, I would not have supported the transaction," former Vice President Dick Cheney told Fox News Monday night. His comments echo similar sentiment expressed on Twitter by Sen. John McCain (R-AZ) and conservative publications that labeled Bergdahl a traitor.

However, General Martin Dempsey, the Chairman of the Joint Chiefs of Staff, repudiated the notion that certain prisoners of war or hostages are not patriotic enough to be rescued, writing on Facebook that "the questions about this particular soldier's conduct are separate from our effort to recover ANY U.S. service member in enemy captivity." He added that while Bergdahl should be considered "innocent until proven guilty," the Army's leaders "will not look away from misconduct if it occurred."

That sentiment is shared by veterans and POW groups. "We hope the Department of Defense does a complete investigation of the circumstances surrounding Sgt. Bergdahl's initial disappearance and take whatever steps are warranted by the findings of that investigation," American Legion National Commander Daniel Dellinger said in a statement.

"It's totally premature for anyone to be jumping to conclusions until more is known, clearly he is undergoing some medical treatment and evaluation now and until a thorough investigation is done, I just think it's inappropriate to be speculating on the circumstances that nobody knows much about," Ann Mills-Griffiths, Chairman of the Board of the National League of POW/MIA Families, told ThinkProgress.

During his remarks, Obama also responded to charges that he circumvented a law requiring Congress to be notified 30 days before prisoners are transferred from Guantanamo Bay. "We have consulted with Congress for quite some time that we might need to execute a prisoner exchange," Obama claimed, noting that officials acted quickly out of concern for Bergdahl's declining health. "The process was truncated because we wanted to make sure we did not miss that window," he said.

House Intelligence Committee Chairman Mike Rogers (R-MI) admitted on MSNBC's Morning Joe Tuesday that "in 2011 [the administration] did present a plan that included a prisoner transfer." He claimed the committee hadn't heard anything since.
President Obama made the right decision to release Bowe Bergdahl home to the USA.
As of this moment, he is innocent until proven guilty, despite the fact that many conservatives and right-wing hacks are already saying that "Bergdahl is a 'traitor' or 'deserter.'" 
Sgt. Bergdahl Is Freed By Taliban In Prisoner Exchange

Bergdahl Handed Over To American Special Operations After Prisoner Exchange. Bergdahl, who was captured by Taliban insurgents in Afghanistan in June 2009, was released on May 31 in exchange for five Taliban detainees held at Guantánamo Bay, Cuba. [The New York Times, 5/31/14]

Media Disparage Deal To Release Bergdahl

Fox Regular Donald Trump: "This Was A Terrible Deal We Made." On the June 2 edition of Fox News' Fox & Friends, Trump asserted that the U.S. made a "terrible deal to secure Bergdahl's release: "This was a terrible deal we made, by the way. This was a terrible deal. Every soldier and every American is at risk right now." [Fox News, Fox & Friends, 6/2/14]

Breitbart's Gorka: We Have Sent Message To "Jihadists": "Capture An American And America Will Do Your Bidding." On June 1, Breitbart.com National Security Affairs Editor Dr. Sebastian Gorka criticized the Obama administration for securing Bergdahl's release saying, "Now we have sent a message to all jihadists around the world: capture an American and America will do your bidding." [Breitbart, 6/1/14]

Daily Caller: "Obama Submits to Taliban Demands." The Daily Caller framed the Obama administration trade of Guantanamo Bay prisoners to secure Bergdahl's release by stating in a headline "Obama Submits to Taliban Demands." [The Daily Caller, 6/1/14]

ABC News Contributor Bill Kristol: We Shouldn't Have Made Trade Because It's Possible Bergdahl Wasn't A "Real POW." On the June 2 edition of MSNBC's Morning Joe, ABC News contributor and conservative pundit Bill Kristol slammed the deal that secured Bergdahl's release by citing the 'anger' expressed by other soldiers and stating, "it's one thing to trade terrorists for a real P.O.W., for someone who's taken on the battlefield fighting honorably for our country. It's different to trade five high ranking terrorist for someone who walked away":

KRISTOL: Secondly, what about Bergdahl? Everyone's happy to see him back and all that. The fact is Susan Rice said on TV yesterday that he was taken in battle. Taken on the battlefield and he served the United States with honor and distinction. There's a lot of reporting that he wasn't taken in battle. He seems to have deserted or at least gone AWOL, he may have cooperated with the enemy. Soldiers died trying to find him. His own platoon and his own battalion seem to have come under a lot more attacks after he was taken. The degree of anger among soldiers on e-mail and listservs is unbelievable. And that needs to be taken seriously. That's not just people, those are the people who fought in the same company in some cases. And who feel like they sacrificed a lot to get this guy back who may have behaved vastly irresponsibly or worse. And we need to have honesty about that. There was a big army investigation. What did Susan Rice know what did President Obama know about the investigation about Bergdahl? It's one thing to trade terrorists for a real P.O.W., for someone who's taken on the battlefield fighting honorably for our country. It's different to trade five high ranking terrorist for someone who walked away. [MSNBC, Morning Joe, 6/2/14]

The U.S. Military Has Committed To Gaining Release Of POWs

Military Code Of Conduct: U.S. Govt. "Will Use Any Practical Means To Contact, Support And Gain Release" Of POWs. A Department of Defense military code of conduct and ethics dating back to 1954 states that the U.S. government has an explicit obligation and responsibility to "stand by" POWs and that the government "will use every practical means to contact, support and gain release for you and for all other prisoners of war" (emphasis added):

As a member of the armed forces of the United States, you are protecting your nation. It is your duty to oppose all enemies of the United States in combat or, if a captive, in a prisoner of war compound. Your behavior is guided by the Code of Conduct, which has evolved from the heroic lives, experiences and deeds of Americans from the Revolutionary War to the Southeast Asian Conflict.

[…]

Just as you have a responsibility to your country under the Code of Conduct, the United States government has an equal responsibility — to keep faith with you and stand by you as you fight for your country. If you are unfortunate enough to become a prisoner of war, you may rest assured that your government will care for your dependents and will never forget you. Furthermore, the government will use every practical means to contact, support and gain release for you and for all other prisoners of war. [American Civil Liberties Union, accessed 6/2/14]

U.S. National Security Adviser: "We Have A Sacred Obligation" To Bring Back POWs. On the June 1 edition of ABC's This Week, U.S. National Security Adviser Susan Rice pointed out that the U. S government has a "sacred obligation that we have upheld since the founding of our republic to do the must to bring back our men and women who are taken in battle." Rice argued that the government has a responsibility to "do our utmost to bring our prisoners-of-war home":

RICE: Sergeant Bergdahl wasn't simply a hostage; he was an American prisoner of war, captured on the battlefield. We have a sacred obligation that we have upheld since the founding of our republic to do the most to bring back our men and women who are taken in battle, and we did that in this instance. If for some reason we took a position now in the 21st century, when some of our adversaries may not be traditional state actors, that we would not do our utmost to bring our prisoners of war home, that would break faith with the American people and with the men and women in uniform, so regardless of who may be holding an American prisoner of war, we must do our best to bring him or her back.[ABC, This Week, 6/1/14]

Secretary Of Defense Chuck Hagel:  Securing Release Was Necessary To Save Bergdahl's Life. On June 1, Secretary of Defense Chuck Hagel argued that the administration had to act quickly in securing Bergdahl's release once an "opening" with the Taliban was found, citing concerns about Bergdahl's health:

Believing that his health was deteriorating, the United States acted quickly to save his life after years of work to free him from being a prisoner of war, Defense Secretary Chuck Hagel said Sunday.

"It was our judgment that if we could find an opening and move very quickly with that opening, that we needed to get him out of there essentially to save his life," Hagel said. "I know President Obama feels very strongly about that, I do as well." [CNN.com, 6/1/14]
Sgt. Bowe Bergdahl (who was captured when he was an E-3, and promoted twice while in captivity) has been released.

In just about every comment section of any article about the release you will find some right wing nuts calling him a "traitor", "deserter" and "collaborator".  (most of those making these accusations have zero military experience of course)

I think the reasons for this are two fold: first that he was released under Obama's watch.  That irked them to no end.  second, he was released due to negotiations and not a massive deadly assault into another nation - like with bin Laden.

These right wing nuts feel they have the Sgt. pegged as a "traitor" because the Taliban said he was helping them.  That he is a "deserter" because the Tailban said he had walked away from his post…or gone out drinking…or left the FOB to use a makeshift latrine…or go AWOL for a few days.  That he is a "collaborator" because he appeared in several (4) videos produced by the Taliban instead of fighting to the death or escaping.

It seems that the Taliban is a more reliable source of information about a US Soldier than the US Military which has stated:"The Taliban are known for lying and what they are claiming [is] not true" and "I'm glad to see he appears unharmed, but again, this is a Taliban propaganda video. They are exploiting the soldier in violation of international law."

I for one am just glad he has been released and can come home.  I'm looking forward to the day Obama brings home all our troops and stops trying to get the Afghan Gov to agree to keep US troops there for 10 more years.
"After more than a decade of Afghan war, 'Now we are finishing the job we started," Obama said Tuesday. "This year, we will bring America's longest war to a responsible end.&…

Updated — 2:57 p.m. ET

AP Photo/ Evan Vucci, File

President Barack Obama speaking during a troop rally on May 25 after arriving at Bagram Air Field for an unannounced visit, north of Kabul, Afghanistan.

President Obama announced Tuesday that he wants to keep 9,800 troops in Afghanistan after the U.S. combat mission ends this year, according to a senior administration official.

The White House issued the following statement Tuesday ahead of the president's announcement:

This afternoon the President will make an announcement about the next steps in winding down the war in Afghanistan. He will announce that our combat mission will be over by the end of 2014. He will make clear that we are open to continued efforts in Afghanistan on two narrow missions after 2014: training Afghan Forces and supporting CT operations against the remnants of al Qaeda. We will only sustain a military presence after 2014 if the Afghan government signs the Bilateral Security Agreement. Both Afghan presidential candidates recently reiterated their intentions to sign the agreement quickly if elected. Assuming a BSA is signed, at the beginning of 2015, we will have 9,800 U.S. service members in different parts of the country, together with our NATO allies and other partners. By the end of 2015, we would reduce that presence by roughly half, consolidating U.S. troops in Kabul and on Bagram Airfield. And one year later, by the end of 2016, we will draw down to a normal Embassy presence with a security assistance office in Kabul, as we have done in Iraq.

The announcement comes just two days after Obama made an unannounced visit to the troops at Bagram Air Field, north of Kabul, Afghanistan.

AP

On a conference call Tuesday, senior administrative officials said the White House hopes to cut the 9,800 troops in Afghanistan "by roughly half" at the end of 2015 and further reduce to a "normal embassy presence" by 2016.

Officials reiterated that the combat mission will conclude at the end of 2014, and U.S. military efforts will focus on training and counterterrorism thereafter.

The White House praised the Afghan national security forces for "stepping up" at this time and "growing in not only size but capability."

On the issue of what message the U.S. is sending to Al Qaeda and Taliban with this draw down, officials said "there will be violence, there will be challenges in Afghanistan" and they acknowledged that there continue to be Al Qaeda threats in the region. However, the White House believes now is the time for the Afghans to be responsible for securing their own country and they believe Afghan forces are "prepared to step forward."

"This is a moment of some momentum in Afghanistan," a senior administration official said on the conference call.

President Obama is expected to elaborate on U.S. counterterrorism in Afghanistan when he speaks from West Point on Wednesday.

Source; Mike Hayes for Buzzfeed
BREAKING: President Barack Obama has decided to draw down the US Military presence in Afghanistan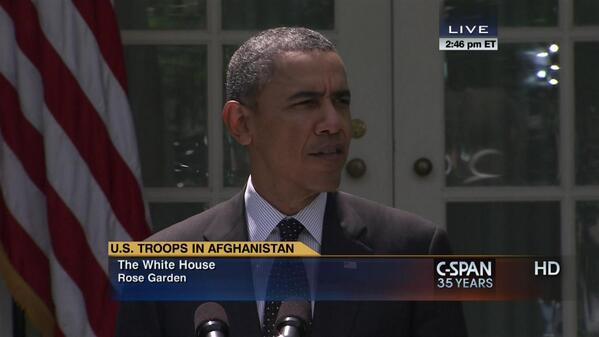 Details on Obama's plan to keep 9,800 US troops in Afghanistan after 2014 http://t.co/4asN3repou via @attackerman

— GuardianUS (@GuardianUS)

May 27, 2014
Obama: US will have 9800 service members in #Afghanistan by the beginning of 2015. That will be reduced by half by end of 2015.

— T.J. Holmes (@tjholmes)

May 27, 2014
Obama troop drawndown plan: Current: 32,800 End of 2014: 9,800 End of 2015: 4,900 2016: Reduced to Embassy presence @6News @LMartinezABC

— NewsBreaker (@NewsBreaker)

May 27, 2014
Obama on Afghanistan: "This year, we will bring America's longest war to a responsible end." http://t.co/5w4WWIEwVk

— NBC News (@NBCNews)

May 27, 2014
"This is the year we will conclude our combat mission in Afghanistan" – Pres. Obama pic.twitter.com/DXcMti2IXU

— NBC Nightly News (@NBCNightlyNews)

May 27, 2014
The U.S. will leave 9,800 troops in Afghanistan following the troop withdrawal slated for December, if Afghanistan's new president will agree to a bilateral security agreement. 

The U.S. will leave 9,800 troops in Afghanistan following the troop withdrawal slated for December, if Afghanistan's new president will agree to a bilateral security agreement. 

A senior White House official broke the news today, adding that President Barack Obama will formally make the announcement later this afternoon. The plan is for the remaining troops to be stationed in the country through next year, focusing on training and advising the Afghan military as well as, according to the official,fighting the "remnants of al Qaeda." In 2016, the number of troops in Afghanistan will be reduced by half, and by the end of the year only a defense group will remain in the U.S. Embassy in Kabul. 

Afghan President Hamid Karzai spent much of last year waffling on whether or not to sign the agreement and ultimately decided not to do so, making it difficult for Washington to figure out a withdrawal plan. But now Karzai is on his way out, and the two candidates who will face each other in runoff elections slated for June have both said they will sign the agreement — allowing the Obama administration to finally decide on steps for the future. 

Source: Danielle Wiener-Bronner for The Wire
Eleven years ago, the 60 Minutes correspondent Lara Logan was sitting in the InterContinental hotel in Amman, Jordan, watching her career flash before her eyes.

She was 31 years old, a rookie at CBS News, assigned to cover the biggest story on earth: the invasion of Iraq. But nothing was going as planned. With only days until the American invasion, Logan had been forced to leave Baghdad and was desperate to get back before the war began, but she and her crew, because of the dangers of the imminent "shock and awe" bombing campaign, were forbidden from going by the network. That's when she heard about a convoy of French reporters making the trek to Baghdad.

"She called me several times, begging to go with us," recalls Laura Haim, a French TV journalist. But the French decided it was too dangerous having an American broadcaster onboard, even if she was South African. "I said, 'No way.' " Fluent in three foreign languages, Logan begged in French.

Logan had labored tirelessly for this chance, spending several months in Kabul during the invasion of Afghanistan and heedlessly throwing herself into danger for the camera to deliver raw reportage to the CBS Evening News and 60 Minutes II, the spinoff version of the Sunday program. Her work had earned her notice at the highest levels of the network. CBS chairman and CEO Leslie Moonves, from his perch in Los Angeles, viewed her steely eyes, breathless delivery, and exotic accent as the raw material of a future star. So Logan had strategized with her agent to make the biggest possible splash in Baghdad—a replay of Christiane Amanpour's star turn at CNN during the first Gulf War.

Days later, as American bombs rained down on Iraq, the French reporter was startled to see Lara Logan standing in the lobby of the Palestine Hotel in Baghdad. "Look, I made it!" she declared.

Two Iraqi fixers had smuggled her across the border, making her the only major American network-TV staff broadcaster in the country when the war began. "I was really impressed by her courage," says Haim. "It was not bullshit. She really wanted to do things to make a name."

Logan was launched. She became chief foreign correspondent in only three years and a top correspondent on 60 Minutes two years after that.

But last fall, after a deeply flawed 60 Minutes report on the attack in Benghazi, Libya, the trajectory of her career, along with that of CBS's flagship news show, changed abruptly.

Logan and 60 Minutes had been searching for a new angle on the Benghazi story for the better part of a year, and finally one seemed to arrive. The break in the story came from a hulking, goateed former military contractor who called himself "Morgan Jones." Jones, whose real name is Dylan Davies, told Logan an emotional tale of witnessing the attack firsthand—climbing an embassy wall in order to engage the combatants, then stepping into the breach as Washington dithered. Relentlessly hyped in the days leading up to the broadcast, the story fit broadly into the narrative the right had been trying for months to build of a White House and State Department oblivious to the dangers of Al Qaeda, feckless in their treatment of their soldiers and diplomats, then covering up their incompetence. It was soon revealed to be made up almost of whole cloth. Davies, who worked for a security firm called Blue Mountain, had invented the story to sell a book. For 60 Minutes and Logan, it was a stunning error, of a sort that can quickly corrode the brand of a show like 60 Minutes. And the scandal was an oddly precise echo of "Rathergate," when Dan Rather, at the Wednesday edition of 60 Minutes in 2004, used memos of dubious provenance in a report on George W. Bush's Texas Air National Guard service.

In the aftermath of the Benghazi report, the problems with its sourcing were glaring, the kind that should have raised red flags. Logan's interview subject happened to be selling a book on a politically conservative imprint owned by CBS News's own parent company.

After defending the report for more than a week, Logan was forced to apologize and later take an indefinite leave of absence while CBS conducted an internal inquiry. Her colleagues, including veteran CBS correspondents Steve Kroft and Bob Simon, were apoplectic about the damage to 60 Minutes' reputation. Morley Safer, the only founding member of the cast left on the 45-year-old program, went into the office of CBS News chairman and 60 Minutes executive producer Jeff Fager's office last fall and demanded that he fire Logan.

But Fager (who declined to comment for this story) refused. Instead, he said that Logan will return sometime this year. His decision sent a ripple of discontent through CBS News, prompting questions about Fager's judgment. And as the months have rolled on, Logan's return appears less and less certain.

Inside 60 Minutes, Logan's flawed report is seen as the strongest evidence that the most celebrated news program in American TV history has lost its moorings under Fager, tarnished by the kind of partisanship the network has been at pains to avoid since Rather's downfall.

In fact, one way of looking at Lara Logan's rise at CBS is as an antidote to the network's perceived bias. As a journalist, Logan is a product of the Bush years, her career defined by America's Middle East wars and the military personnel and military contractors who were her sources and friends. For 60 Minutes, she delivered the kind of muscular reports that inoculated CBS against charges of a leftist agenda following the Rather incident, especially valuable in the patriotic climate after 9/11. She was part of the military culture, taking some of the same risks, imbibing its worldview. She also happened to have a telegenic sexual charisma, a highly useful attribute for a woman who wants to succeed in TV journalism. After Fager became chairman of the news division in 2011, he made Logan a permanent member of 60 Minutes, partly on the merit of her profiles of Navy seals and war generals, and partly out of corporate deference to Moonves's enthusiasm for her.

As Logan rose, however, Fager was left to manage the risk inherent in Moonves's asset. Logan had a zealousness that could cross the line into recklessness, a confidence that could come off as arrogance. A common view among current and former colleagues (keeping in mind that not-for-attribution backbiting and Schadenfreude are a stock-in-trade of TV news) is that Logan's star power blinded her superiors to her flaws. "She got everything she wanted, always, even when she was wrong, and that's been going on since the beginning," says a former CBS News producer who worked with her.

And, with the wars finally winding down, the 2012 attack in Benghazi became the biggest journalistic prize, with the potential to bring down presidential front-runner Hillary Clinton. It was the kind of story a reporter like Lara Logan would take risks to get.

"It's not an accident that Lara Logan fucked up," says a colleague at CBS News. "It was inevitable. Everybody saw this coming."

If the Bush wars were what forged Logan as a journalist, what molded her as a person was a more intimate conflict. She came from a well-off South African family, one of three children, that was torn apart when her father, a textile importer, confessed to having a child by another woman when Logan was 8. The divorce devastated her mother and threw her family into disarray. "I learned about betrayal and dishonesty," Logan once told a newspaper. "If I appear tough, it's because I learned at an early age what it means to be vulnerable."

Her father, perhaps guilty for what he'd done, treated Logan like a "princess," she told a friend, adding, "I'll always be a princess."

She got her college degree in South Africa while working part time as a newspaper reporter and also earning money as a swimsuit model. In the mid-1990s, after a stint working for Reuters, she made her way to London. In the late '90s, she worked as a stringer for CNN during the conflict in the Balkans, but she rarely got on the air, eclipsed by Amanpour, who Logan believed purposefully stifled her chances. Around the same time, she married an American who played in the British Basketball League.

Logan didn't attract much attention until she began working for a "breakfast show" in Britain called GMTV. When Al Qaeda attacked New York on 9/11, prompting the invasion of Afghanistan, Logan realized that it was the story of her career. She persuaded her superiors to let her cover the war, and they assented. She flew to Afghanistan and ultimately made her way to Kabul, where she rented an apartment, hired her own driver and security man, and began chasing war stories. It was daring and dangerous work, especially for a Western woman in an Islamic country. She told a British tabloid that members of the Northern Alliance attempted to "have their way" with her. But Logan was unfazed. "I have men who work for me who would not go where she went," says Peter McHugh, a former director of GMTV. "I was astonished. I was frightened for her and concerned for us."

From the start, she had two qualities that seemed to mix profitably, if uneasily: exceptional courage—and, of course, her looks. In London, she'd become a local sensation when the tabloids published swimsuit pictures of her and dubbed her "34D Lara." In 2002, British newspapers claimed she wore a low-cut top and "flashed her cleavage" at soldiers in Afghanistan. One story was titled "Put Those Bazookas Away, Lara."

Logan protested these reports as sexist. But she was also open-eyed about the uses of sex in her profession—it was a tactic, and not to use it would be stupid. "Men play on the military thing, they play on the macho thing, they play on the brotherhood thing," she told a reporter. "No one accuses them of using gender to their advantage. The fact is that sometimes being a woman can open doors for you, but more often than not it makes things more difficult."

In truth, Logan understood the value of the publicity and regularly gave exclusives to theMirror, including one that read, "Here's a sight that would stop the Taliban in its tracks. War reporter Lara Logan relaxes on a deck chair in a sizzling swimsuit."

She told a friend that she once tipped off a photographer about her lingerie on a laundry line so he could take a picture.

This would be a theme in Logan's career, how her beauty cut several ways. Men who did what Logan did in the war zone were hailed for bravery and virtuous machismo, while Logan was critiqued for the same thing. She deployed her beauty to charm and persuade colleagues and sources to great effect—but the effectiveness didn't prevent co-workers and competitors from calling her a lightweight.

The trip to Kabul quickly paid dividends. Logan started reporting for CBS as a radio stringer. In November 2001, when the Taliban's grip on the capital was loosened, there were no CBS reporters on hand except Lara Logan. She found a satellite and made a segment for the evening news. Producers in New York had never laid eyes on Logan, but when she appeared onscreen she instantly caught the attention of the executive producer of the CBS Evening News, Jim Murphy, who phoned CBS News president Andrew Heyward to alert him.

Initially, Heyward didn't act on the tip—and was soon in the position of having to bid for her contract against every other network that noticed what Murphy noticed: a captivating beauty with a smoldering presence in the war zone. Logan was picked up by a powerful agent, Carole Cooper, and soon had a full-time contract at CBS for a reported $1 million, which included work at the Wednesday spinoff of 60 Minutes.

As Ed Bradley, the late 60 Minutes correspondent and a strong advocate of Logan's, memorably if crudely observed, "She's got tits and balls."

But Logan was still a raw talent, inexperienced at storytelling and considered difficult by some producers. Her almost insatiable stomach for risk made many of her colleagues uncomfortable. One of her security detail was shot during a trip to Pakistan to see an Al Qaeda training camp. And Logan often flouted traditional Islamic dress codes: At an Afghan election rally for Hamid Karzai, Logan wore blue jeans and a white T-shirt in the makeshift press cordon, which was surrounded by mobs of men. Her crew became nervous, afraid she was attracting undue attention from the aggressive and all-male crowd. Logan herself seemed oblivious. When Karzai finished his speech and left, most of the security decamped and left Logan and her crew exposed to the crowd's jeers. According to two people familiar with the incident, Logan's crew had to surround her and "battle" their way to safety.

Other such incidents followed. After a time, cameramen in the London bureau of CBS News refused to work with her. "The crews in London revolted," says a CBS executive. "They thought she was dangerous and she was going to get somebody killed."

Logan had to combat considerable skepticism—and sexism—among veteran news people at CBS. Don Hewitt, the founder of 60 Minutes, had told a story of a time when Logan came to him for advice. He recounted that he told her she was not up to 60 Minutes' standards and needed voice training to get rid of her accent. When she replied that she had been getting training for two years, he said simply, "Then there's no hope."

Hewitt refused to put her on the flagship program. Fager, Hewitt's chosen successor, thought she needed work. And the executive producer of 60 Minutes II, Josh Howard, only gave her lightweight stories on the spin­off program. Says a former female CBS colleague: "She was a great-looking woman, which means you have to prove yourself doubly and triply."

But even the skeptics had to admit she had an exceptional work ethic. "On any day, when the normal person put in 12 hours, Logan put in 20," says a former CBS colleague. "She was passionate and indefatigable. She went after the story and had more heart for the story than many people in the organization."

And just as important was the enthusiasm of Moonves. "The only person who pushed Lara on Don [Hewitt] was Les," says a CBS staffer familiar with those events. "He said that Moonves loved her."

Logan was not shy about letting people know she had a direct line to the boss. "She was very fond of saying, 'I could end your career with a phone call,' " says a former CBS producer.

After the Iraq invasion, even Rather came to see her as a competitor, edging Logan off the air after the Iraqi capital was secured and he could safely broadcast from a fortified compound. When the story on prison abuses inside Abu Ghraib broke, Logan tried to cover it but was told to stand down—it was Rather's story.

Rather, of course, was soon sidelined by Rathergate, which precipitated the end of his career and prompted a reorganization of the CBS News division that had the effect of buoying Logan's career. Moonves appointed Sean McManus, a sports broadcasting executive, president of CBS News in 2005, and ­McManus immediately revamped the ­foreign coverage to make Logan a star correspondent.

Nobody thought of Lara Logan as particularly political, though producers and crew members I spoke with said she came to stories with strong biases, in keeping with the British press style she cut her teeth on. In some cases, her biases proved correct, like her insistence that Pakistan was a safe haven for terrorists, even as the U.S. government maintained that Pakistan was an ally. But Logan, and 60 Minutes, were partial to stories of military valor and combat—­especially if Logan could co-star in them, which she often did, walking alongside generals and combat troops with whom she was embedded.

Her reputation began to precede her, not only within CBS, where she offended sensibilities by once showing up in a black bustier, but in the military camps where she courted sources. On a list of the top ten reasons to be deployed in Iraq that circulated among soldiers, "Lara Logan in a T-shirt" was ranked high. General David Petraeus had a picture of her in his office. Her proximity to the top brass and her devotion to military interests led to exclusives, like her 2006 interview with General John Abizaid, then the commander of U.S. forces in the Middle East, who described in emotional terms what it was like trying to manage a war with deteriorating support as Logan listened raptly.

Logan was soon running what amounted to her own CBS fiefdom in Baghdad. Her personal life was tightly woven into the tiny subculture of fellow foreign correspondents and the security contractors on whom they relied. Logan traveled with a team of former British special-forces soldiers employed by a security firm called Pilgrims Group, which guarded CBS's bureau in Baghdad and ferried Logan to dangerous locales as well as more prosaic duties. She began an affair with Michael Ware, a swashbuckling correspondent for Time and CNN known for his emotional reportage from the streets of Baghdad. 

[…]

Logan built a domestic existence in Washington, D.C., with Burkett, whom she married around the time they had their first child. But she regularly flew overseas for war stories and was on the front news lines of the uprisings in Egypt that were part of the Arab Spring. It was the kind of story Logan lived for, charged with danger and historic import. But now she was a mother, and the chaos in Egypt created a dangerous and fluid situation for journalists. In early February, when President Hosni Mubarak attempted to crack down on the press, Anderson Cooper reported on CNN the harrowing tale of being attacked by a mob. A day later, an ABC News crew was carjacked and threatened with beheading. Logan was warned not to leave her hotel.

"She was told 15 different ways: 'Do not leave the hotel after curfew,' and she did," says a person familiar with the events that transpired next. On February 3, Logan was detained by Egyptian security forces. Her Egyptian driver was badly beaten. The next day, she and her producer, Max McClellan, left the country.

Logan campaigned to go back as soon as possible. And about a week after leaving, Logan flew back to Cairo, unable to resist covering the events in Tahrir Square, which was now a powerful 24/7 spectacle.

She would later recount what happened next: She and her crew began to receive verbal threats from the crowd, which grew increasingly restive and violent. Logan said she was separated from her handlers and then assaulted by a mob of men who ripped off her clothes and groped her. "I didn't want to let go of him," she said of her bodyguard. "I thought I was going to die if I lost hold of him." She was separated from her crew for 25 minutes, until a group of women and some Egyptian soldiers in the square came to her rescue, she later said.

[…]

It was around this time that her political beliefs began to be expressed more openly. When the late Michael Hastings wrote a story in Rolling Stone about General Stanley McChrystal, exposing offhand criticisms of Barack Obama over Afghanistan and leading to the general's ouster, Logan went on CNN to defend the general—and attack Hastings as a dishonest reporter who had tricked McChrystal. "I don't go around in my personal life pretending to be one thing and then being something else," she said. "I find it egregious that anyone would do that in their professional life.

"Michael Hastings," she added, "has never served his country the way Commander McChrystal has."

Her colleagues at CBS News were appalled by Logan's foray into punditry. But Logan felt emboldened now, making sure to let people know that her war reporting made her a serious person. "I mean, politics are critically important, but it doesn't burn that fire the way it does to be out there in the most impossible situation," she said in an interview. "Doing something that is truly the difference between life and death.

"I've acquired a reputation for having some depth of knowledge," she said.

Asked whether journalists should give their opinions, as Logan was doing, she said, "I think when you are asked for your opinions, you should be entitled to give it and not be vilified for giving it."

Then, at a Chicago luncheon for the Better Government Association in October 2012, she gave a speech claiming the government was propagating a "major lie" about the strength of the Taliban and Al Qaeda in Afghanistan. "You're not listening to what the people who are fighting you say about this fight," she said. "In your arrogance, you think you write the script." The speech came on the heels of her report "The Longest War," about General John Allen's struggles in Afghanistan—and with his superiors in the Obama administration.

Among her colleagues at 60 Minutes, there was shock that Logan's expression of her political opinions in public was met with no blowback from management. But it was her CBS bosses who had helped arrange the speech. While Logan spoke without notes, David Rhodes, the president of CBS News, was sitting in the audience listening.

Fager didn't reprimand Logan. At the time, she was a bright spot for CBS news. She had top sources among the military brass, produced the kind of stories that kept 60 Minutes immune to criticism from the right (Rush Limbaugh hailed her Chicago speech), and was great on TV.

Fager himself had begun to realize that Logan was a risk to be managed. Before her infamous Benghazi report would air, Fager expressed fatalism about her: "Well, we've crossed the Rubicon," he told a colleague.

"I think he meant it literally," says a CBS insider. "We have passed the point of no return with her. We have created this, and now we have to live with this."

As President Obama began to wind down American military involvement in the Middle East, both Logan and Burkett remained enmeshed in the social world of former and current military personnel. Burkett started a company with the wife of the man who owned Blue Hackle—which itself now has former general John Abizaid as a board member.

Logan did nonwar stories, but they didn't garner the same kind of attention. Which is why the attack on Benghazi, with its echoes of 9/11, its cast of Muslim militiamen and shadowy U.S. operatives, offered a return to form. At the time of her speech in Chicago, she had already begun searching for an angle. And while she did so, none of the other 60 Minutes correspondents was allowed to pursue stories on Benghazi. "This was her story, and nobody could do anything on it," says a 60 Minutes staffer.

Then, after months of Logan coming up empty, McClellan was offered an exclusive look at a book published by Threshold Editions, an imprint of Simon & Schuster. Titled The Embassy House, it was written under a pseudonym: Morgan Jones, the cover for the former military contractor named Dylan Davies who purported to be an eyewitness to the Benghazi attack, complete with a ripping tale of smashing the face of an attacker with the butt of an AK-47 and seeing the dead body of Ambassador J. Christopher Stevens in the hospital.

Though CBS has said the segment was a year in the making, the book, which Logan and McClellan had obtained in late spring 2013, would become the majority of the broadcast. Which is why it was unusual that the weekend the report aired, four months after getting the book, the 60 Minutes staff treated it like a breaking-news story being assembled in haste, working after hours to get it ready.

Fager delegated the details of vetting the piece to Owens, whom he'd groomed to be his successor at 60 Minutes but whom some CBS colleagues felt was stretched thin by his duties. Because of the short deadline, and because it was a book by a sister company, 60 Minutes'usual fact-checking procedures were not followed. No calls were made to the State Department or the FBI specifically to vet Davies's claims.

[…]

Benghazi had been thoroughly politicized from the beginning. But rather than steering clear of the political battle, Logan headed right toward it, consulting with Senator Lindsey Graham of South Carolina, a strong critic of the administration's handling of the incident whom she'd met once in Afghanistan. "I really didn't know her until she started doing this piece on Benghazi," he told me.

The two met two or three times to talk about the Libya attack, with Graham telling Logan that from his point of view, it was "a fair thing to say" that there was a "build-up of Al Qaeda types" in the area—a major talking point for the right in arguments that the Obama White House tried covering up alleged terrorist links.

Graham declared Logan's report the "death blow" to the Obama administration's narrative about Benghazi. But doubts about Davies surfaced quickly. The night of the broadcast, October 27, former State Department officials under Hillary Clinton were watching the program with antennae up and exchanged emails. "I think he's lying his head off about where he was and what he did," wrote one former official about the man calling himself Morgan Jones. "I mean, 14 months later we're hearing about this guy for the first time?" The episode set up the inevitable political face-off. The Washington Post soon revealed that Davies had told his own firm, Blue Mountain, a different story.

In the previous months, Logan had been distracted, dealing with an alarming health issue: a diagnosis of breast cancer. She told Esquire magazine, "I think that scarred me worse than what happened in Egypt."

And the Saturday night after the broadcast, Logan made a reference to her Benghazi report while in Buffalo receiving the Gilda Radner Courage Award. "People are saying to me, 'You have to prioritize your health,' " she said to the attendees, "and I'm like, 'I have to prioritize my health, but if I fuck this up, I don't have a career, you know?' "

The next week, Logan defended criticism of her report, telling Bill Carter of the New York Times she regretted that 60 Minutes didn't acknowledge that Davies was selling a book on a right-wing imprint by CBS's parent company. But, she said, "we killed ourselves not to allow politics into this report." Two days later, the Times revealed that Davies's statements to the FBI contradicted what he had told 60 Minutes.

At one point, Logan called Graham and asked for help. "She called afterward and basically said, 'What did he tell the FBI?' " he recalls. "I've never seen the FBI interview, but I talked to the No. 2, who is now gone, and he said that he's looked at the interviews and the guy never mentioned this."

The next day, November 8, Simon & Schuster announced it was pulling the book out of circulation. Faced with overwhelming evidence that Davies had lied to Logan, Logan went on CBS This Morning and admitted, "We were wrong."

Fager commissioned an internal investigation to clear the air after calling the segment "as big a mistake as there has been." The report was drawn up by Al Ortiz, an executive director. Ortiz noted that Davies had confessed to 60 Minutes that he lied to Blue Mountain about his whereabouts on the night of the Benghazi attack, which should have been a "red flag."

"The fact that the FBI and the State Department had information that differed from the account Davies gave to 60 Minutes was knowable before the piece aired," he wrote.

Ortiz concluded that Logan's speech in Chicago conflicted with CBS News standards and that the segment should have been clear about the source of the information behind its claim that Al Qaeda propagated the attack.

Now the news division is wracked by soul searching. "The party line that Jeff is taking—'She's got to make amends for her transgression'—is to perpetuate the fiction that these pieces belong to the correspondents," says Steven Reiner, a former 60 Minutes producer who once worked with Logan, "which 60 Minutes has to perpetuate. She's got to take the hit. But he's really saying, 'We failed her; the system failed her.' "

During an internal teleconference, Moonves expressed shock that Fager had not continued the practice of having an outside screener before airtime, the one-time role of Linda Mason, according to a person familiar with his comment. (That role has since gone to Ortiz.)

The day the report was made public, Fager announced that Logan and McClellan would be put on indefinite leave of absence. But following quickly on the heels of the Benghazi report, a series of 60 Minutes segments came under fire, starting with a positive profile of Amazon's Jeff Bezos by Charlie Rose and a report on the NSA by correspondent John Miller that hewed closely to the NSA's public-relations message. Both segments shared a similar critique: The show was going soft, selling its airtime for exclusive access.

But Fager has been loath to admit further weakness. "His attitude is always 'Fuck them, we're 60 Minutes,' " says a former producer on the program. " 'And we're the greatest thing in the world.' "

The atmosphere at CBS has been toxic in recent months. Producers and correspondents tell me they do not feel empowered to voice criticism. In the course of reporting this story, two people purporting to be staffers from the show sent me anonymous messages to express unhappiness about both Logan and Fager.

Fager has tried to keep Logan out of the spotlight: In recent months, she was scheduled to give several speeches for the Greater Talent Network, some paying as much as $50,000, but was advised by CBS to cancel the appointments. Other 60 Minutes correspondents filled in for her. Fager also took down his framed "Sexty Minutes" story. Logan has spent recent weeks in her house in Washington, D.C., "losing her mind" and "stressing out of her head," according to one CBS source. Carole Cooper, her agent, who is married to Fager's agent, Richard Leibner, has maintained a precarious negotiation with Fager over Logan's return to60 Minutes, which in recent weeks has not appeared certain.

And what about Les Moonves? A well-placed source at CBS suggests that he has soured on Logan. Through a spokesman, Moonves declined to comment.

So Lara Logan may, or may not, return in the fall season. Either way, the show must go on. Waiting in the wings is a new up-and-comer. Attractive, blonde, fluent in three foreign languages. Everybody is talking about 34-year-old Clarissa Ward. "Jeff's very high on her," says a 60 Minutes producer.
(via On CBS's Face The Nation, Marco Rubio Accuses Obama Of 'Emboldening The Taliban')
WASHINGTON — Sen. Marco Rubio (R-Fla.) on Sunday charged President Barack Obama with "emboldening the Taliban," citing details from a new book by former Defense Secretary Robert Gates that harshly criticizes the president's leadership in the war in Afghanistan.

"I don't think we can ignore what's in that book, and I think for many of us it confirms our worst fears," Rubio said on CBS' "Face the Nation." "And that is that this is an administration full of people that either have the wrong convictions or, in the case of former Secretary Clinton, lack the courage of her convictions."

Rubio pointed to parts of Gates' book that suggest Obama didn't feel that the war in Afghanistan was his war, and that his decision to pull out troops was political.

"You saw that reflected in the decision that [Obama] made," Rubio continued. "At the same time that he announced the surge, he also announced an exit date and strategy, thereby emboldening the Taliban to believe they could wait us out."

The Florida senator, whose name has been floated as a 2016 presidential contender, said Obama's actions on Afghanistan have had international repercussions.

"Our allies see us as unreliable, and our enemies feel emboldened," Rubio said. "I think that this confirms our worst fears, that this is an administration that lacks a strategic foreign policy and, in fact, is largely driven by politics and tactics."
WASHINGTON (AP) — The Obama administration says it might leave no troops in Afghanistan after December 2014, an option that defies the Pentagon's view that thousands of troops may be needed to contain al-Qaida and to strengthen Afghan forces.

"We wouldn't rule out any option," including zero troops, Ben Rhodes, a White House deputy national security adviser, said Tuesday.

"The U.S. does not have an inherent objective of 'X' number of troops in Afghanistan," Rhodes said. "We have an objective of making sure there is no safe haven for al-Qaida in Afghanistan and making sure that the Afghan government has a security force that is sufficient to ensure the stability of the Afghan government."

The U.S. now has 66,000 troops in Afghanistan, down from a peak of about 100,000 as recently as 2010. The U.S. and its NATO allies agreed in November 2010 that they would withdraw all their combat troops by the end of 2014, but they have yet to decide what future missions will be necessary and how many troops they would require.

At stake is the risk of Afghanistan's collapse and a return to the chaos of the 1990s that enabled the Taliban to seize power and provide a haven for Osama bin Laden's al-Qaida network. Fewer than 100 al-Qaida fighters are believed to remain in Afghanistan, although a larger number are just across the border in Pakistani sanctuaries.

Defense Secretary Leon Panetta has said he foresees a need for a U.S. counterterrorism force in Afghanistan beyond 2014, plus a contingent to train Afghan forces. He is believed to favor an option that would keep about 9,000 troops in the country.

His statement could be interpreted as part of an administration negotiating strategy. On Friday Afghan President Hamid Karzai is scheduled to meet President Barack Obama at the White House to discuss ways of framing an enduring partnership beyond 2014.

The two are at odds on numerous issues, including a U.S. demand that any American troops who would remain in Afghanistan after the combat mission ends be granted immunity from prosecution under Afghan law. Karzai has resisted, while emphasizing his need for large-scale U.S. support to maintain an effective security force after 2014.

In announcing last month in Kabul that he had accepted Obama's invitation to visit this week, Karzai made plain his objectives.

"Give us a good army, a good air force and a capability to project Afghan interests in the region," Karzai said, and he would gladly reciprocate by easing the path to legal immunity for U.S. troops.

Karzai is scheduled to meet Thursday with Panetta at the Pentagon and with Secretary of State Hillary Rodham Clinton at the State Department.

Without explicitly mentioning immunity for U.S. troops, Obama's top White House military adviser on Afghanistan, Doug Lute, told reporters Tuesday that the Afghans will have to give the U.S. certain "authorities" if it wants U.S. troops to remain.

Rhodes said Obama remains committed to further reducing the U.S. military presence this year, although the pace of that withdrawal will not be decided for a few months.
h/t: AP.org
Throughout Monday night's presidential debate on foreign policy, President Obama used past positions that Mitt Romney has taken over the course of the campaign to depict him as the wrong candidate to run U.S. foreign policy.

Obama used the tactic both to defend his own initiatives — particularly his Libya policy — and to characterize Romney as an untrained foreign policy hand who has been wobbly and inconsistent.

"I know you haven't been in a position to execute foreign policy," Obama said, in summarizing his theme of attack, "but every time you have offered an opinion, you have been wrong."
Russia

Obama took the chance to needle Romney on his adversarial position on Russia. "I'm glad that you recognize al Qaeda is a threat. Because a few months ago when you were asked the biggest threat facing America, you said Russia," Obama said. "The Cold War has been over for 20 years. But governor, when it comes to our foreign policy, you seem to want to import the foreign policies of the 1980s, just like the social policies of the 1950s and the economic policies of the 1920s."

Later Obama said directly to Romney, "You indicated that we shouldn't be passing nuclear treaties with Russia, despite the fact that 71 senators, Democrats and Republicans, voted for it."

Libya

Regarding Romney's campaign positions on the revolution in Libya, Obama said, "[T]o the governor's credit, you supported us going into [L]ibya and the coalition that we organized," Obama said. "But when it came time to making sure that Moammar Gaddhafi did not stay in power, that he was captured, governor, your suggestion was that this was mission creep."

Syria

Responding to Romney's call for arming Syrian opposition and his critique of the Obama administration's more cautious policy, Obama noted that "to get more entangled militarily in Syria is a serious step. And we have to do so making absolutely certain that we know who we are helping, that we're not putting arms in the hands of folks who eventually could turn them against us or allies in the region. I'm confident that Assad's days are numbered. But what we can't do is simply suggest that as governor at times as suggested that giving heavy weapons, for example, to the Syrian opposition is a simple proposition that would lead us to be safer over the long-term."

Osama bin Laden

Obama reprised a familiar line based on Romney's position in the 2008 campaign that locating and killing Osama bin Laden would not be a top priority.

"[Y]ou said we shouldn't move heaven and earth to get one man," Obama said. "If we would have asked Pakistan for permission, we wouldn't have got him."

Iraq

"You say that you're not interested in duplicating what happened in Iraq, but just a few weeks ago, you said you think we should have more troops in Iraq right now," Obama said pointedly. "You said we should have gone into Iraq despite the fact there were no weapons of mass destruction. You said that we should still have troops in Iraq, to this day."

Afghanistan

You said that first we should not have a timeline in Afghanistan, then you said we should. Now you say maybe or it depends. Which means not only were you wrong, but you were confused and sending mixed messages to our troops and allies."
h/t: Brian Beutler at TPM
Mitt Romney has spent considerable effort trying to avoid foreign policy and national security this campaign season. But when he's had to engage, he's forced to strike a delicate balance between satisfying his neocon advisers and right-wing war base on the one hand — while speaking to the rest of the country, which has no appetite for the militaristic Republican policies that have plagued this country since 2001, on the other.

In recent weeks, Romney made good on a promise he made earlier this year to a wealthy donor that he would try to exploit a foreign policy crisis for political gain. "If something of that nature presents itself," Romney said, referring to the Iranian hostage crisis in 1979, "I will work to find a way to take advantage of the opportunity." With the attack that killed four Americans at the U.S diplomatic mission in Benghazi, Libya last month, Romney has done just that.

The basis of Romney's foreign policy critique of President Obama is that Obama went around the world and apologized for America after he became president. Of course, this never happened, but the baseless attack has been a hallmark from Romney's campaign with respect to foreign policy.

– Romney accused President Obama of "mission creep" and "mission muddle" in Libya. "Military action cannot be under-deliberated and ad hoc," he said. Libyan rebels ousted then-Libyan leader Muammar Qaddafi five months later. (In his book, Romney attacked Obama for appeasing Qaddafi.) [4/21/2011]

– Romney announces he is officially running for president and, in doing so, chides Obama for "leading from behind" in Libya. One wonders if Romney would criticize Nelson Mandela, who once said: "It is better to lead from behind and to put others in front, especially when you celebrate victory when nice things occur. You take the front line when there is danger. Then people will appreciate your leadership." [6/02/2011]

– Romney says he will let the generals dictate his Afghanistan policy. "I want those troops to come home based upon not politics, not based upon economics, but instead based upon the conditions on the ground determined by the generals," he said. [6/13/2011]

– Romney continues his call for Obama to ramp up the war rhetoric on Iran. [9/15/2011]

– Romney said the U.S. should "reconsider" its relationship with countries that supported Palestine's bid for U.N. recognition: that could have included Russia, China, India, Brazil, South Africa and the Non-Aligned Movement, a U.N. block consisting of 118 members, including Egypt, Saudi Arabia, Iraq, Pakistan, Chile and Peru. [9/28/2011]

– Romney said he would start foreign aid for every country "at zero" and call on them to make their case for U.S. financial assistance. [11/10/2011]

– The Washington Post fact-checker debunks Romney's oft-repeated claim that Obama "went around the world and apologized for America." "Take it from us," the Post concluded, "The apology tour never happened." [12/10/2011]

– Mitt's Cold War mentality continues. Russia "is without question our number one geopolitical foe," he says on CNN, sparking ridicule from foreign policy experts of all stripes. [3/26/2012]

– Vice President Biden states the obvious: Romney "seems to be uninformed" on foreign policy. [4/01/2012]

– Former Bush administration Secretary of State Gen. 

Colin Powell asks Romney to be more "mature" when talking foreign policy

 and criticized Romney for calling Russia America's "number one geopolitical foe." "Come on Mitt," Powell said, "think." Powell 

also said

 of Mitt's advisers: "I don't know who all of his advisers are but I've seen some of the names and some of them are 

quite far to the right

." ThinkProgress took an in-depth look into some of Romney's far-right foreign policy advisers 

here

. [

5/23/2012

]

– 

The Romney Stimulus

: military spending creates jobs, other government spending does not. [

7/25/2012

]
– Romney breaks with every GOP president, pledging to never criticize Israel. [7/29/2012]

– Romney Shambles. Romney ventures to Europe and Israel in an effort to boost his standing on foreign policy issues. But the trip turns out to be a disaster. Romney ends up offending the British, re-living the Cold War in Poland and claiming Israelis are superior to Palestinians. [7/27 - 8/1/2012]

– International media criticize Romney's foreign trip. 'The Republican has done damage." Even Republicans mock his trip: "Seemed like a good idea at the time." Another Republican says "it made him look like Rip Van Winkle." [7/31/2012]

– Romney refuses to condemn Rep. Michele Bachmann's (R-MN) widely criticized anti-Muslim witch hunt. Bachmann claimed that a top aide to Secretary of State Hillary Clinton is part of a Muslim Brotherhood plot to infiltrate the U.S. government. [8/3/2012]

– Romney spends just 202 words on foreign policy during his Republican National Convention speech. Most of Romney's foreign policy claims were false and misleading. [8/30/2012]

– Romney accuses President Obama of "sympathizing" with the attackers that killed four Americans in an assault on a U.S. diplomatic mission in Benghazi, Libya. Romney had said at a fundraiser in early 2012 that he would try to capitalize politically on a future foreign policy crisis. "If something of that nature presents itself, I will work to find a way to take advantage of the opportunity," he said. (Romney himself had previously warned against placing blame after a terror attack.) [9/11/2012]

– Romney doesn't back away from that statement the next day and his campaign even blamed Obama for the attacks. Romney is widely criticized for politicizing the event, even by Republicans. [9/12/2012]

– In a newly released video from a fundraiser in early 2012, Romney is caught saying "there's just no way" to achieve Middle East peace and that his policy will be to "kick the can down the the field and hope that ultimately, somehow, something will happen and resolve it." [9/18/2012]

– The head of the Office of Legal Counsel under President George W. Bush concluded that any return to the use of torture or any other so-called "enhanced interrogation techniques" would be both "indisputably illegal" and strongly opposed by the interrogators who would be tasked with the torturing. [10/03/2012]

– ThinkProgress outlines four key areas where Romney's alleged "new" foreign policy is identical to Obama's. [10/08/2012]

– Top Romney surrogate Rudy Giuliani says Romney "should be exploiting" the Libya attack for political gain. [10/15/2012]

– The Romney team claims the Obama administration is deliberately misleading the public on the Libya attack. [10/16/2012]

– CNN's Candy Crowley fact checks Romney's false claim during his debate with Obama that Obama waited 14 days to call the Libya attack an "act of terror." (Obama actually called the incident terrorism well before Romney did.) [10/16/2012]

– Obama is still outpacing Romney in military donations. [10/17/2012]

– Romney is again widely criticized for again politicizing the Libya attacks. Richard Clarke, who served as the top counter-terror official in Republican and Democratic administrations, lambasted Romney: "If there were not a presidential campaign going on, a campaign in which the incumbent has a stellar record of fighting terrorism, I doubt Romney would care about the details of what happened in Benghazi." [10/17/2012]
CHARLOTTE — Sen. John Kerry (D-MA), considered a shortlist candidate to be secretary of state if Democrats hold the White House, offered a robust defense of President Obama's national security record and an equally blistering critique of Mitt Romney's limited resume.

"We've all learned Mitt Romney doesn't know much about foreign policy," Kerry said. "But he has all these neocon advisers who know all the wrong things about foreign policy. He would rely on them — after all, he's the great outsourcer."

For Kerry, the speech was at least in part an exorcism of his own foreign policy demons. As the Democratic nominee two election cycles back, Kerry was savaged as a "flip flopper" at the Republicans' 2004 convention. This time, Kerry clearly relished the chance to do the same to another Massachusetts nominee often tagged with the same epithet.

In the most brutal section of his speech, Kerry highlighted Romney's mixed messages on a timetable for withdrawal from Afghanistan and military intervention in Libya.

"It isn't fair to say Mitt Romney doesn't have a position on Afghanistan — he has every position," Kerry said. "He was against setting a date for withdrawal, then he said it was right and then he left the impression that maybe it was wrong to leave this soon. He said it was 'tragic' to leave Iraq, and then he said it was fine. He said we should've intervened in Libya sooner. Then he ran down a hallway to duck reporters' questions. Then he said the intervention was too aggressive. Then he said the world was a 'better place' because the intervention succeeded."

He didn't let up on the flip-flop theme, waiting for the applause to subside before delivering one of the best received lines at the convention.

"Mr. Romney — here's a little advice," he said. "Before you debate Barack Obama on foreign policy, you better finish the debate with yourself!"

"Sarah Palin said she could see Russia from Alaska," he said. "Mitt Romney talks like he's only seen Russia by watching 'Rocky IV.'"

As for Obama, Kerry praised him for his combination of diplomacy to bring America's allies closer and military force to repel its enemies. Equally as important, he contrasted him with Romney as an honest broker who kept his promise to leave Iraq, will keep his promise to leave Afghanistan,and wasn't kidding around when he said in 2008 he'd take the war to al-Qaeda.

"After more than 10 years without justice for thousands of Americans murdered on Sept. 11, after Mitt Romney said it would be 'naive' to go into Pakistan to pursue the terrorists, it took President Obama, against the advice of many, to give that order to finally rid this earth of Osama bin Laden," Kerry said. "Ask Osama bin Laden if he is better off now than he was four years ago!"

While the election has overwhelmingly focused on the economy, with some social issues popping up, Mitt Romney has been a strong critic of the White House on foreign policy. His book "No Apology" in its title alone was a rebuke of what Republicans claim was an "apology tour" by Obama to repair relations abroad after President Bush's unpopular administration. Romney and other Republicans also frequently suggest Obama doesn't believe in "American exceptionalism," a phrase that's come into vogue on the right.
H/T: Benjy Sarlin at TPM
Here's solid irrefutable proof that Dumbya destroyed the economy.
Indeed, the country is still reeling from Bush's disastrous economic stewardship. His irresponsible tax cuts and deregulatory policies have contributed significantly to the slow recovery and are partly responsible for the nation's economic plight. Here are 5 reasons why:

1. Deregulated Wall Street: It was a great time to be a Wall Street executive during the Bush administration. Sweeping financial deregulation helped build the housing bubble and allowed financial institutions to pursue risky trades unchecked. In fact, Bush eliminated the rules that allowed Wall Street to cause the financial crash that plunged the nation into the Great Recession.

2. Cut Taxes For The Wealthy: The Bush tax cuts — over 50 percent of which benefited the richest 5 percent of American taxpayers — cost about $2.5 trillion over the decade after they were enacted. Ten years later, Bush's tax cuts are still the main driving factor of the national debt:

3. Ran Up A Tab On Two Wars: The wars in Iraq and Afghanistan have cost the country trillions of dollars. Combined with Bush's tax cuts, war spending was amain factor in blowing up the deficit and spending the surplus accumulated under Clinton. Lawmakers now use the deficit as an excuse for inaction.

4. Left Homeowners In A Lurch: While Bush was happy to help out the banks in the wake of the housing crisis, he did little to assist struggling homeowners.Hope For Homeowners, Bush's proposal to assist those struggling with their mortgages, was a colossal failure; in its first six months, it helped just one homeowner renegotiate his mortgage. Many mortgage holders — 15.7 million or, one in three — are still underwater today.

5. Weakened Workers: Bush weakened worker safety regulations and collective bargaining rights under the Occupational Safety and Health Administration (OSHA) and the Department of Labor throughout his time in office. Today, corporations are back to making record profits, while workers' incomes are falling.
h/t: Tara Culp-Ressler and Annie-Rose Strasser at Think Progress Economy