Mark Driscoll has resurfaced less than a week after resigning as senior pastor at Mars Hill Church, getting a star's welcome at a major evangelical conference in Dallas/Fort Worth on Monday and saying he wants to "sing, to pray, to learn, to grow, to repent." Driscoll had been

Mark Driscoll has resurfaced less than a week after resigning as senior pastor at Mars Hill Church, getting a star's welcome at a major evangelical conference in Dallas/Fort Worth on Monday and saying he wants to "sing, to pray, to learn, to grow, to repent."

Driscoll had been removed earlier this year as keynote speaker at the annual Gateway Leadership & Worship Conference, a big stop on the evangelical circuit. But the controversy-shrouded mega-church founder was welcomed to the stage by Gateway Church founder-pastor Robert Morris with allusions to Jesus.

"He did make some mistakes," said Morris. "Uh, here's what I figure. We've got two choices. One is we could crucify him. But since someone's already been crucified (hollering) for him, (applause), the other choice is we could restore him with a spirit of gentleness considering ourselves, lest we are also tempted."

Driscoll responded with a homily of self-pity, persecution and limited repentance. He talked of repeated physical threats to his person and family.

"Yah, for me I'm in a season of just, uh, healin' up, praying," he began. "Uh, asking the Lord Jesus through wise counsel to show me any blind spots where I can grow."

He morphed into a discussion of family, and of himself.

"I think there's a lot I could say that would make me feel better," said Driscoll. "I don't know that it would make me look better, but I don't think it would make Jesus look better, so I won't say anything other than, uh, just pray for my family. We've had a very trying season and, uh, just trying to figure out how to be a good pastor to my family first."

"I've cried a lot lately (and) it's been a rough season for the family," Driscoll added. After telling the audience to take a seat, he opined: "I would say don't overlook your family as first ministry."

Driscoll, who has traveled with a bodyguard, detailed attacks that have come his way.

"We've got five kids, three boys, two girls, ages 8 to 17 and, uh, we've moved three times now for safety issues. People arrested at our home, death threats, uh, address posted on line, all kinds of things and, uh, more recently it's gotten very severe.

"We came home from break. There was rusty nails all over the driveway. We, uh, we had a night where the kids wanted to sleep out in the tent and, uh, I got a call that, um, my address was posted on-line by the media and so, we, we, went out of town for a few days …"

When the family returned, the family tried camping out, "woke up in the morning about 6:30 or so and huge rocks about the size of baseballs come flying at my kids, uh, 8, 10, 12 years of age. Call the police. Flee into the house for their safety."

A few days later, he charged, "the media flies overhead with a helicopter and is trying to flush us out for a story." That night, Driscoll claimed, his 8-year-old son asked, "Well, it's bad guys in the helicopter coming to shoot the family, right."

Of course, the most telling damage to Driscoll has been self-inflicted. Twenty-one former Mars Hill elders charged him with threats, intimidation and bullying. Acts29, a global "church planting" network, expelled Driscoll and Mars Hill, with its directors urging Driscoll to leave the ministry and seek help. A similar call came from nine pastors at Mars Hill.

Driscoll has had to explain remarks, such as a posting under pseudonym in which he referred to America as a "Pussified Nation." He had to answer charges of plagiarism. He had to apologize for hiring a consulting firm with Mars Hill money, and using church dollars to artificially puff sales of his book "Real Marriage" to put it on The New York Times bestseller list.,

Driscoll was not about to go to confession before the Gateway Conference.

"I just want to come here to, uh, sing, to pray, to learn, to grow, uh, to repent, to heal anduh, God is surrounding me with some great pastors and friends, and if I could just say anything, it's 'every pastor needs a pastor,'" he said.

The non-mea culpa was greeted with sustained applause and not a few whoops.

Morris stepped in to play the role of confessor and a form of absolution.

"Debbie and I have been able to spend some time with Mark and Grace and talking with them and, uh, we were talking the night before he resigned and talking about that and talking through the situation and you know he, uh, resigned the church he founded and pastored for 18 years."

After drawing his breath, Morris drew lessons.

"He preached 10 to 12 years, 50 weeks a year, sometimes six services a weekend," said Morris. "And, uh, it's just not healthy and so I'm glad that, uh, he's saying, 'Help me. Help me to do it differently and do it better.'

"And so I love him very very much and, um, I'm glad that he's here. Uh, you're going to be blessed." Earlier, Morris said of Driscoll, "We're speaking into his life and he is listening."

He made a final reference to Driscoll receiving "bad media" and went on to introduce the last speaker.

Driscoll will have a cushion with which to pray, learn, grow and minister to his family. He is reportedly receiving a year's severance. The senior pastor's salary has never been disclosed. One memo from (since resigned) deputy Sutton Turner recommended that Driscoll receive a $650,000 salary for 2013.

We have not heard the last from Mark Driscoll.

Source: Joel Connelly for Seattle PI
(RNS) Mark Driscoll, the larger-than-life megachurch pastor who has been accused of plagiarism, bullying and an unhealthy ego that alienated his most devoted followers, resigned from his Seattle church Tuesday (Oct. 14), according to a document obtained by RNS.

The divisive Seattle pastor had announced his plan to step aside for at least six weeks in August while his church investigated the charges against him. Driscoll's resignation came shortly after the church concluded its investigation.

"Recent months have proven unhealthy for our family — even physically unsafe at times — and we believe the time has now come for the elders to choose new pastoral leadership for Mars Hill," Driscoll wrote in his resignation letter.

Driscoll was not asked to resign from the church he started 18 years ago, according to a letter from the church's board of overseers. "Indeed, we were surprised to receive his resignation letter," they wrote.

Seven elders and one member of the board of overseers conducted this investigation, and the board of overseers provided findings and conclusions:

"We concluded that Pastor Mark has, at times, been guilty of arrogance, responding to conflict with a quick temper and harsh speech, and leading the staff and elders in a domineering manner. While we believe Mark needs to continue to address these areas in his life and leadership, we do not believe him to be disqualified from pastoral ministry."
"Pastor Mark has never been charged with any immorality, illegality or heresy. Most of the charges involved attitudes and behaviors reflected by a domineering style of leadership."
"We found some of the accusations against Pastor Mark to be altogether unfair or untrue."
"Other charges had been previously addressed by Pastor Mark, privately and publicly. Indeed, he had publicly confessed and apologized for a number of the charges against him, some of which occurred as long as 14 years ago."

In his resignation letter, Driscoll noted that he was not being disqualified from future ministry.

"You have also shared with me that many of those making charges against me declined to meet with you or participate in the review process at all," Driscoll wrote. "Consequently, those conducting the review of charges against me began to interview people who had not even been a party to the charges."

Driscoll hinted, though, that his continued presence would be a distraction.

"Prior to and during this process there have been no charges of criminal activity, immorality or heresy, any of which could clearly be grounds for disqualification from pastoral ministry," Driscoll wrote.

"Other issues, such as aspects of my personality and leadership style, have proven to be divisive within the Mars Hill context, and I do not want to be the source of anything that might detract from our church's mission to lead people to a personal and growing relationship with Jesus Christ."

Driscoll's boisterous personality seemed to dominate Mars Hill, a congregation he built up to an estimated 14,000 people at 15 locations across five states. Weekly attendance is now reportedly about 7,600.

"The Board of Overseers has accepted that resignation and is moving forward with planning for pastoral transition, recognizing the challenge of such a task in a church that has only known one pastor since its founding," states the letter, signed by Michael Van Skaik, Larry Osborne, Jon Phelps and Matt Rogers.

Mars Hill shuttered its Downtown Seattle and University of Washington District churches due to financial challenges.

"During the month of August, we received $1,552,817 and expenses were $2,222,274, so our net over expenses (loss) after depreciation and capitalizing assets was $647,768," stated a report released to church members in September and obtained byWorld magazine. "Our income target was $1,842,414, and we missed this target by almost 16 percent."

Driscoll, who came into evangelical prominence as multisite churches and podcasts rose in popularity, found a niche within a largely secular Northwest culture. Though he has been controversial for years for statements on women and sexuality, several tipping points likely led up to Driscoll's resignation.

Driscoll admitted to and apologized for comments he made under the pseudonym "William Wallace II" that were critical of feminism, homosexuality and "sensitive emasculated" men.

The church-planting network he founded, Acts 29, removed Driscoll from its membership after influential leaders such as Paul Tripp and James MacDonald stepped down from helping the church. LifeWay Christian Resources, the nation's second largest Christian book retailer, pulled Driscoll's books from its website and its 186 stores.

In the past, Driscoll has been provocative, occasionally profane, and has faced more recent allegations of plagiarism and inflating his book sales. "Mistakes were made that I am grieved by and apologize for," he said late last year of plagiarism charges.

A front-page story in The New York Times on Aug. 23 had suggested that Driscoll's empire was "imploding."

"He was really important — in the Internet age, Mark Driscoll definitely built up the evangelical movement enormously," Timothy Keller, the senior pastor of Redeemer Presbyterian Church in New York, told the Times. "But the brashness and the arrogance and the rudeness in personal relationships — which he himself has confessed repeatedly — was obvious to many from the earliest days, and he has definitely now disillusioned quite a lot of people."

During Driscoll's planned sabbatical, elders within his own church asked him to step down from all aspects of ministry. All nine elders who signed the letter resigned or were laid off.

Members of Mars Hill have sought more transparency from church leadership. A petition was launched requesting the Evangelical Council for Financial Accountability to suspend Mars Hill's membership over allegations of financial impropriety.

At the height of his influence and popularity, Driscoll admitted that he harbored grand ambitions, both for himself and the church he built from scratch.

"I'm a guy who is highly competitive," Driscoll said in a 2006 sermon. "Every year, I want the church to grow. I want my knowledge to grow. I want my influence to grow. I want our staff to grow. I want our church plants to grow. I want everything — because I want to win."

Driscoll conceded that he wouldn't be content with remaining the same.

"That's my own little idol and it works well in a church because no one would ever yell at you for being a Christian who produces results. So I found the perfect place to hide," he said.

"And I was thinking about it this week. What if the church stopped growing? What if we shrunk? What if everything fell apart? What if half the staff left? Would I still worship Jesus or would I be a total despairing mess? I don't know. By God's grace, I won't have to find out, but you never know."

KRE/MG END BAILEY
Former members of Grace Cathedral say televangelist Ernest Angley has turned a blind eye to sexual abuse they reported to him.
[…]
Former members of Grace Cathedral say televangelist Ernest Angley has turned a blind eye to sexual abuse they reported to him.

Shane McCabe is among those who told the Beacon Journal they were molested in the Cuyahoga Falls church.

"I was sexually abused there," said McCabe, who has since moved to Florida with his wife for a new start.

McCabe said the abuse began at age 15 at the hands of a close Angley associate who was frequently in and out of town. It happened several times over the course of a year, he said.

When he finally worked up the courage to talk to Angley about it a few years later, McCabe said, "he basically blew me off."

"He asked if I had told anybody. I said no. He said, 'Let's keep it a secret. This is the way we need to handle it because God's mercy is great.' "

McCabe told Angley he feared the man was prowling for more victims because he had shown up at McCabe's birthday party. But Angley still wouldn't pursue it, McCabe said.

When asked during an interview in his office to comment on McCabe's allegations, Angley responded with one sentence: "I don't think there was anything to that."

At about the same time, McCabe's future wife, Kim, says she also was being abused by a different church member. When she finally told her mother she had been the victim of illicit touching and graphic propositions, she said, her mom immediately called Angley, who told her not to tell anyone else — including her husband.

The mother, a devout follower, told no one.

Shane and Kim dated for years before they even told each other. "We didn't tell anybody," she said.

After they finally spoke up, a close, older girlfriend of Kim's confided that she, too, had been abused.

"We knew that the three of us had had the same thing happen by three different men at the same exact time," Kim said. "And the same thing was done: It was kept quiet."

When Angley was asked why he counseled people to stay silent about such matters, he said: "They shouldn't talk about it, but they can do something about it. But they ought not to spread it abroad, you know, because that hurts others."

But shouldn't others be warned?

"Well, yeah, if they're dangerous," Angley responded. "If it's somebody that, you know, makes a habit of that. We get 'em out. We get them out. We just let them know they have to go."

When asked why he didn't report such issues to authorities, he said, "That isn't my place."

The McCabes wed at Grace Cathedral in 2004 (incurring the church's wrath, they said, because they declined to use the Cathedral Buffet for their reception). By 2010, they had had enough.

During separate interviews, both related what they considered an incredibly odd conversation during their last visit to Angley's office.

They say he expressed absolutely no interest in her complaints but wanted Shane to recount his in minute detail — marking the fourth time, Shane said, that Angley had him tell the entire story.

The second time Angley asked for details, Shane figured Angley was checking to make sure the stories matched, to determine whether he was telling the truth. But after the third and fourth retellings, Shane was certain that wasn't the motive, he said.

At their joint meeting, Kim said, Angley "went into very graphic detail with my husband about, 'What happened to you? Why didn't you [orgasm]? I'm sure it felt good. That would have been natural.'

"It was ridiculous and not something any professional person would ever ask."

Still grieving

Another former member of the church, now 29 and living in Iowa, says she was abused throughout her youth by a different church member and was appalled by Angley's lack of concern when she told him about it.

(Her name and town are being withheld because she says the person who repeatedly sexually penetrated her is still active in the church and is violent, and she fears he will use his connections to have someone harm her.)

When Angley hosted a meeting with the woman and the man she accused, the preacher "gave [the man] a slap on the hand," she said over the phone, sobbing. "He basically 'saved' him again, and had him say another prayer — and started saying it was partly my fault because of my actions. …

"For a long time, I believed it."

Years later, she began to have horrible flashbacks, remembering "his hot breath, and him being big, and coming into the room. It was one flashback after another and I couldn't get it to stop."

Today she has an entirely new set of friends, none of whom know anything about her days at Grace Cathedral.

"I thought about going back just to make a scene, to yell at him. I was so pissed off at Ernest Angley, and I still am.

"What he did — he took my whole childhood from me. He took all that away from me. You only have one childhood."

Arranged marriage

One former member says Angley paved the way for her to marry a man he knew was a convicted sex offender.

C Jay Coker says Angley told her the man, a friend of hers, had been falsely imprisoned because of unspecified, trumped-up charges initiated by an angry ex-wife.

Coker and the man had been exchanging letters and, upon his release, they started dating, with Angley's blessing — although Angley told her to keep the relationship a secret, she said.

"Once we secretly dated for almost a year, Ernest told me to marry him," she said.

Only after their wedding did she discover that he had been convicted of molesting a 5-year-old girl multiple times. She was so upset that she literally vomited.

After sitting through court-ordered counseling and group-therapy sessions in which she "was forced to hear the disgusting thoughts he had about young girls," she started to plan her exit.

Coker, once a member of the choir, looks back in horror on Angley's inordinate influence on her most important decisions. "I'm ashamed of how I let one man ruin my life."

Next: A departed pastor is blasted from the pulpit during an unusual Sunday service.
Previously: Ernest Angley's Grace Cathedral rocked by accusations involving abortions and vasectomies [TW: Sexual Abuse, Homophobia, Religious Indoctrination, Emotional Abuse, Spiritual Abuse]


Depending whom you ask, one of two things is happening at the big Cuyahoga Falls church run by legendary television evangelist Ernest Angley:

[…]

• The devil himself has infiltrated the church, and Angley, who is a prophet of God, has been working tirelessly to fight him off.

• Angley's church is a dangerous cult where pregnant women are encouraged to have abortions, childless men are encouraged to have vasectomies and Angley — who preaches vehemently against the "sin" of homosexuality — is himself a gay man who personally examines the genitals of the male parishioners before and after their surgeries. They also say he turns a blind eye to sexual abuse by other members of his church.

[…]

During the past few months, a tear has ripped through the 3,000-seat auditorium known as Grace Cathedral. One longtime associate pastor resigned, telling friends and family he felt he had been inappropriately touched by Angley for seven years.

The dispute exploded on July 13, when Angley and two others in his camp addressed the situation in a 2½-hour open service. The service was recorded by one of the attendees and shared with the Beacon Journal.

In response to swirling accusations that he is a homosexual who has abused both his associates and members of the congregation, Angley, 93, had this to say to a large Sunday gathering.

"I'm not a homosexual. God wouldn't use a homosexual like he uses me. He calls me his prophet, and indeed I am. …

"They called Jesus a homosexual, did you know that? And still do. Because he was with men. Oh, Mary Magdalene and a few women. But you can't stop the people's lies."

Then he addressed his history of urging the males in his congregation to submit to vasectomies.

"I've helped so many of the boys down through the years," he said in his slow, singsong cadence. "They had their misgivings. Sure, I'd have them uncover themselves, but I did not handle them at all.

"And I would tell them how that would work. And they'd have to watch it. I'd have some of them come back to me that I felt needed to. And I would tell them, I would look at them, their privates — I, so I could tell how they were swelling.

"One young man, he decided to put in a garden [doctors advise against physical exertion after a vasectomy]. And he'd like to died. If he'd just told me — ask me. …

"Another one was constipated. It was awful. And he was just dying deaths.

"And another one, one of his testicles fell out, absolutely fell out. 'It's dangerous, you should have a nurse.' But I knew they wouldn't get one.

"And men's — I was a farm boy. We thought nothing about undressing. We didn't know about homosexuals. We talked about women.

"And some of these turned against me."

They certainly did. In droves.

Many speak out

The Beacon Journal spoke individually with 21 former members of the church who insist that Angley has been running a cult, not a church, and say he consistently threatens and intimidates his flock into following his instructions, bullying them into life-changing decisions that often split up families.

These folks say Angley controls virtually every aspect of their lives, from deciding what they read and watch on TV to whom they will marry and when. The sheer amount of time they are urged to spend at the church — three- to five-hour services, multiple times per week, plus a host of other activities — enables him to limit outside interference, they say.

Angley and other top church officials say the wave of members who left the church this summer was part of a conspiracy to take control of the ministry, and that the former members are "lying" about virtually everything.

But a parade of ex-members — some who departed 25 years ago, some who departed only a few months ago — scoff at those assertions.

"This man is a monster," said Pam Cable of Akron, who left the church in 1988. "He's a monster. And I can't understand why all these years have gone by and nobody's ever really been able to do anything about him.

"The people in Akron, Ohio, have a Jim Jones sitting in their backyard. … These people in his congregation would drink the Kool-Aid if he told them to. They would."

Kenny Montgomery, a former usher, also invokes the name of Jones, the religious leader who in 1978 persuaded 909 of his followers to commit suicide by drinking Kool-Aid laced with cyanide.

"That place is a textbook cult," said Montgomery, whose mother introduced him to the church at age 9. "I'm really scared for my friends and family that still go there."

Preventing children

He and others say Angley holds so much sway over his members' lives that he has persuaded them to get abortions and vasectomies even when they didn't want to.

"None of us have kids because he makes all the men get fixed," said Becky Roadman, 32, who quit the church last year and now lives in Georgia. "You're not allowed to have babies there."

That assertion is seconded by Akron resident Angelia Oborne, who worked in the church's restaurant, the Cathedral Buffet, for 20 years before quitting the church a year and a half ago.

"My husband and I can't have children because my husband had a vasectomy," she said. "We were looking at getting it reversed, but I'm 35 years old and … may not be able to have children anymore.

"And that breaks my heart, because that choice was made for me, because of the brainwashing, the mind control. We weren't allowed to have children. If you turned up pregnant, it's almost as if you had sinned."

Oborne says Angley once advised a friend to think of her growing fetus as "a tumor."

"She was four months pregnant and she sat in the [abortion clinic] waiting room and told her baby that she was so sorry that she was doing this," Oborne said.

"I know another girl — she won't come forward — but she was forced into having four abortions."

Reluctant follower

Among those who have been pressured into abortions is Mimi Camp of Munroe Falls.

Camp was 25 and the mother of two boys when she and her husband moved from Florida to Akron and joined the church. When she became pregnant again and revealed what she figured would be the joyous news, her husband was upset, quoting Angley as saying, "It's against God's will for anyone to have a child."

When they went to talk with Angley, Camp said, their pastor declared that abortion was her only option — "and then he went into some sort of vision and said, 'Thus sayeth the Lord, if you have this child it could take your life or be retarded and you won't be the mother to your other two children.' "

Camp grudgingly, haltingly acceded.

"I actually waited until I was 15 or 16 weeks along," she said. "I was taking my prenatal vitamins and everything because I just didn't want to do it.

"I kept getting pressured. The church recommended the abortion clinic. The first one I went to, I got up and walked out. I couldn't go through with it.

"Then some higher-ups from the church were saying, 'You know, you'd be doing the right thing. You really need to go through with it.' And I went ahead and did it."

She deeply regrets the decision. She experienced early menopause and never had another chance to have the girl she always wanted.

"I thought perhaps it was a girl," she said. "It was terrible. It was absolutely gut-wrenching."

Bad time for kids

During a 90-minute interview in his office, Angley said he doesn't remember Camp's circumstances, doesn't push for abortions and only suggests vasectomies.

"I can't regulate their lives," he said. "But I can advise them about things if they ask me."

Why would the head of a church want to limit the size of his future congregation? Usher Mike Kish, who sat in on the interview, said, "I would hate to even bring a child into the world at this point, being a parent, just having common sense. … If you look at the condition of this world … it just seems to be going downhill."

When Angley was asked whether he agrees that this is a bad time to have children, he responded: "It really is. It really is. I wouldn't want to be brought into this world now."

Even if you had strong faith?

"No, because the people of strong faith go down. And their children are in danger … . It wasn't like that when I was a kid. We could walk up and down the streets, we could play at night and we were not molested at all."

Angley volunteered a story about a male church employee who, Angley believes, wanted a child too much.

"This girl, she wanted a baby, she's a second wife," Angley said. "Those vasectomies can be undone, and he had it undone for her sake.

"I knew he shouldn't have. We almost lost her, and they had twins and one of them died [at birth]. The little boy [who survived], he is something else. He really loves me. … The daddy, he's proud of him. But he knows he did the wrong thing."

Angley and his late wife, Esther (he called her "Angel"), who died in 1970, never had children. When asked why, Angley said: "We didn't want children. We wanted to give our lives to the work of God. … My wife really loved children, but she didn't feel like that we should have them."

Ulterior motive

Some former members believe Angley has an ulterior motive in trying to prevent his parishioners from having children. Among them is Greg Mulkey of Barberton.

Mulkey was a prominent figure at Grace Cathedral, a singer in the Hallelujahs, a group featured on Angley's TV broadcasts, and a key member of the church choir.

"He doesn't want people to have kids because it would take their time and money away from [the church]," he said.

"He really forced people into abortions through scare tactics, as if he were a medical doctor. It turns my stomach."

Mulkey says vasectomies were force-fed as well.

"When you tell another man to have a vasectomy, and you're not a doctor, and you have influence over that person, you're taking away their humanity.

"[It's] his way of controlling everyone. It's very scary stuff."

Given Angley's level of control, ex-members say, parishioners are vulnerable to his advances and those of his associates. That subject will be examined in Part Two.
National Rifle Association board member and conservative commentator Ted Nugent suggested that President Obama is not a Christian and touted Republicans as "the only chance we have" to kill "the wolf at the door" during the 2014 midterm elections.

In an October 8 column for conspiracy website WND, Nugent, claiming to speak on behalf of "we the people," also conspiratorially questioned how unaccompanied children are arriving at the U.S. - Mexico border and wrote that the "vast majority" of those in poverty have "every imaginable luxury known to man":

Now more than ever, we the people are painfully aware that those subject to the separation of powers have become nothing more than a conspiratorial gang against us.

[…]

We refuse to believe that all those children showing up at our southern border just happen to make that near impossible journey all on their own.

[…]

We don't believe that our president is a Christian.

[…]

We can't believe our government squawks about so many living in so-called poverty when the vast majority of such poor people have cellphones and every imaginable luxury known to man.

Nugent, who is also a spokesperson for Outdoor Channel, then engaged in an extended analogy where he argued Americans should support Republican candidates in the 2014 midterm elections in order to kill "the wolf at the door." According to Nugent, "unless we the people get cracking back into the 'experiment in self-government' saddle and do to ravenous wolves what we are supposed to do to them, these killing machines will continue their nonstop freedom killing spree." While writing that "[t]he Republicans aren't exactly the knights in shining armor," Nugent wrote that the GOP "could very well be the only chance we have."

Nugent frequently uses violent rhetoric when talking about removing Democrats from political offices. During a widely reported on rant at the 2012 NRA annual meeting where Nugent said he would be "dead or in jail" if Obama was reelected as president, Nugent analogized Democrats to coyotes who should be shot and said of the 2012 elections, "We need to ride into that battlefield and chop their heads off in November."

Later, after Obama was reelected, Nugent claimed he had not received enough support in his efforts to oppose the president's reelection, complaining, "when I kick the door down to the enemy's camp, would you help me shoot somebody? Just help me clear the room," before adding, "that's a metaphor ladies and gentleman, I'm not recommending shooting anybody."
Religious double standards in the NFL on public displays of religion? 
When a Kansas City Chiefs safety Husain Abdullah scored a touchdown during his team's systematic routing of the New England Patriots last night, he did what many NFL players do: he stopped to say a prayer.

But unlike virtually every other touchdown prayer, Abdullah's drew a penalty.

During the fourth quarter, Abdullah picked off a pass by Patriots quarterback Tom Brady and ran it back for a touchdown. To celebrate the score — just the second of his career — Abdullah slid to his knees and performed sujud, or a Muslim form of prayer. Officials immediately penalized Abdullah for unsportsmanlike conduct, specifically excessive celebration, because of his "going to the ground."

Here is video of the incident:

Abdullah's prayer, of course, wasn't "excessive" at all — unless officials think religion itself excessive. He is a practicing Muslim who fasts during Ramadan —going without food and water every day until sundown during NFL training camp. He also skipped the 2012 season so he and his brother Hamza, another NFL safety who used to play for the Broncos and the Cardinals, could go on the hajj, a Muslim pilgrimage to Mecca.

After the incident, Hamza retweeted a celebratory picture of his brother with the hashtag "#Abdullahing," hinting that his performance of sujud was effectively the Muslim equivalent of "Tebowing," or the kneeling prayer of Tim Tebow, former quarterback for the Denver Broncos and famous evangelical Christian.

But while Hamza was subtle about the connection between Tebow and Husain, others on Twitter were quick to point out what appeared to be a double standard between the celebration of Tebow's public faith and the apparent penalizing of Husain's:

What's the difference? pic.twitter.com/2Je8PSJ8GW

— NFL Memes (@NFL_Memes) September 30, 2014

After a round of criticism, the NFL clarified on Tuesday morning that the celebration should not have drawn a penalty. Michael Signora, the NFL's vice president of football communications, tweeted that the league's celebration rules have an exception for gestures of religious faith:

Abdullah should not have been penalized. Officiating mechanic is not to flag player who goes to ground for religious reasons.

— Michael Signora (@NFLfootballinfo) September 30, 2014

The NFL has made cracking down on celebrations and unsportsmanlike conduct a priority this year, and it's entirely possible that the referee simply didn't understand what Abdullah was doing. It also wasn't immediately clear whether the penalty was issued as a result of Abdullah's prayer or because of his celebratory slide just before he performed sujud. For his part, Abdullah appeared to be gracious about the incident and gave the referee the benefit of the doubt.

"I got a little too excited," Abdullah told KSHB Kansas City news. "The slide before it, I'm pretty sure that did it."

But even with the NFL's clarification, Abdullah's prayer celebration exposes the uphill battle many non-Christian athletes in the United States face just to express their faith. Whereas Christian NFL players such as Tebow, Robert Griffin III, andRussell Wilson can openly perform their religion in ways that elicit praise, athletes like the Abdullah brothers must constantly explain and re-articulate their faith to others, and sometimes even fight for their right to express it during games. The fact that officials might not have been aware that Husain was praying — even though there have been Muslim athletes in the NFL, NBA, on professional boxing circuits, and MLS, including Kei Kamara, who used to play for nearby MLS team Sporting Kansas City — is a well-known frustration to those who follow faiths other than Christianity in the United States.

The incident also came during a period when other athletic institutions are grappling with how to guarantee players the freedom of religious expression. FIBA, basketball's largest international body, drew fire recently for its ban on religious headwear such as Muslim hijabs, Sikh turbans, and Jewish yarmulkes. Similarly, FIFA, the international soccer federation, recently lifted its similar ban on headwear following protests.
Husain Abdullah of  The Kansas City Chiefs should NOT have been penalized for "excessive celebration" just for praying after a touchdown. 
Here's how I see it: Abdullah wrongly got penalized 15 yards just because he was praying while  Muslim, whereas any practicing Christian such as RGIII and Tebow doing something similar gets all sorts of praise and no in-game penalty for freely expressing their faith. 
Evangelicals are often seen as being monolithic on issues of sexuality and LGBT rights. A careful study of responses to homosexuality by evangelical elites, however, shows that this is not the case. Sociologists Jeremy Thomas (Idaho State) and Daniel Olson (Purdue) combed through Christianity Today, evangelicalism's flagship magazine. They uncovered four approaches that evangelicals have taken since the 1960s.

1. Biblical intolerance: "The Bible says it's a sin, that's good enough for me."

Since the 1960s, evangelicals have taken a simple response to homosexuality: it's a sin. Why? Because the Bible says so. End of debate. Even in the 1960s, evangelicals acknowledged that being gay isn't a choice (it was seen as a psychological disorder). Still, the Bible was seen as clear on homosexual behavior. Most evangelicals with this response have opposed gay rights.

 2. Natural intolerance: "It's against human nature."

In the 1980s, some evangelicals began espousing a new argument that turned on issues of health and the natural order. This response emphasizes natural law, not the Bible, as the foundation of public morality and the law. This isn't someone thumping the Bible over someone. Evangelicals may believe in their heart-of-hearts that it's wrong because of what they find in the Bible, but they know that a Bible-based argument will fail. Why bother when you can use science (procreation) and medicine (AIDS and HIV) to make the case. A call to a broader source of morality that is consistent with the Bible but not tied to it allows evangelicals to make moral arguments in the public square.

 3. Public accommodation: "It's a personal sin, but we live in a pluralistic society."

Today, the dominant argument that homosexual behavior as a personal sin, not a public concern. As such, evangelicals should stand firm on biblical morality while recognizing that they live in a pluralistic society in which the rights of everyone should be protected. This response is generally supportive of expanded LGBT rights, including job discrimination protections, adoption, and civil unions. Same-sex marriage, however, remains the proverbially line in the sand that must not be crossed.

4. Personal accommodation. "It's about love and respect, not sex."

The most recently developed argument among is one of personal accommodation. It remains a minority position, but one that is seeing increased attention. Indeed, many evangelical leaders are publicly warning that this response is a threat. Personal accommodation avoids the question of personal morality. Those with this response emphasize their personal experience with LGBT friends. It emphasizes the love (not sex) between same-sex couples, with no judgment of the morality of these relationships. The Bible is invoked, not to discuss sexuality, but to argue for equal rights for everyone.



Chinese government officials announced Thursday that they plan to create a new state-sanctioned version of Christian theology, the latest in an uptick of attempts by the government to curtail the growing influence of religion in Chinese culture.

Speaking to the state-run China Daily newspaper, Wang Zuoan, director of the State Administration for Religious Affairs, told reporters that the new effort would seek to marry Christian theology with established Chinese norms.

"Over the past decades, the Protestant churches in China have developed very quickly with the implementation of the country's religious policy," he said. "The construction of Chinese Christian theology should adapt to China's national condition and integrate with Chinese culture."

The exact details of how and where this new theology will be developed were not immediately clear, but the move appears to be part of a long history of complex — and increasingly conflict-ridden — interactions between religion and politics in China. Religion was recast as a superstition and a foreign intrusion during the Chinese Cultural Revolution of the 1960s and 1970s, when many houses of worship were forcibly closed and congregations disbanded by Red Guards. The government has since loosened its grip on spiritual affairs, but the U.S. State Department's "International Religious Freedom Report for 2013", released in July, still lists China as a "Country of Particular Concern," and cited several major hurdles faced by many Chinese seeking to freely express their religious beliefs.

But despite these challenges, most researchers agree that the Christian population in China is substantial — and growing. An official 2010 Chinese government survey reported the existence of about 23.05 million Christians in the country, but a 2011 Pew Research survey estimated that the real number is actually closer to 67 million. Of these, Pew reported that around 9 million are Catholics, 5.7 million of whom are affiliated with the state-controlled Patriotic Catholic Association — which rejects the authority of the Vatican — while another 3.3 million attend "underground" Catholic congregations who still recognize the pope in Rome. The survey also reported that roughly 23 million Chinese affiliate with the government-sanctioned Protestant Three-Self Patriotic Movement, while around 35 million attend "unregistered" Protestant churches or state-approved churches without having formal membership.

As this Christian population rapidly expands, the Communist Chinese government — which is ardently atheist — has started to push back against the religion's increasingly public role. For years, the pastors and congregants of illegal Protestant "house churches" have been repeatedly detained, imprisoned, and charged for things such as "gathering a crowd to disrupt public order." More recently, the government has started forcibly removing crosses from several churches because they "violated zoning regulations." Even high-profile, state-sponsored churches are starting to feel the heat: despite protests, city officials tore down the famous 180-foot spire of Sanjiang Church in Wenzhou, China in May.

Some, such as Ian Johnson at the New York Times, believe the trend is part of an organized effort on the part of the Chinese government. According to a nine-page provincial policy statement obtained by the Times in May, local politicians have been urged to ramp up efforts to regulate "excessive religious sites" and "overly popular" religious activities — specifically Christianity and its religious symbols, such as crosses.

"The priority is to remove crosses at religious activity sites on both sides of expressways, national highways and provincial highways," the document read. "Over time and in batches, bring down the crosses from the rooftops to the facade of the buildings."

Analysts speculate the government wants to lessen the influence of Christianity because it is seen as a threat to the established government — especially "underground" Protestantism. According to the Times, a "disproportionate number of lawyers handling prominent [civil rights] cases … are Protestant," partially because some Chinese Protestants see rights such as freedom of expression as "God-given."

But the government's tendency to exact control over religion isn't just a Christian problem. China is notorious for its harsh treatment of Tibetan Buddhists and members of the Falun Gong religious sect, and officials have also started to crack down on Islam — particularly the religious practices of Uighurs, a mostly-Muslim minority population that populates China's troubled western region. Local officials banned fasting during Ramadan, the month-long Muslim celebration of fasting and prayer, in the Xinjiang province earlier this year, arguing that they wanted to "protect students' wellbeing." According to the BBC, they also reportedly forced at least three Muslim students to eat and break their fast during that time period.
Over the past five years, an underground movement has been burgeoning on evangelical Christian campuses. Although many of these colleges explicitly ban "homosexual behavior," they are now home to dozens of LGBT-friendly student groups. The umbrella organization Safety Net, founded in December 2011, encompasses groups from approximately 75 different evangelical Christian colleges. Some of these groups are tiny, and many operate in near-secret. But over the past two weeks, an LGBT group at Gordon College has made itself impossible to ignore.

When we, the authors, attended Gordon College over a decade ago, the vast majority of administrators, faculty, and students simply assumed that the Bible prohibited same-sex attraction. Nestled on Boston's North Shore, this small outpost of evangelical Protestantism taught us that it was wrong to be gay—not just wrong, but explicitly condemned by both God and the college code of conduct. Sure, a fledgling group emerged here and there to foster dialogue about homosexuality and Christian faith, exploring the edges of accepted belief, but all of us—questioners and Bible-thumpers alike—signed an agreement, stating in no uncertain terms that we would not take part in homosexual activities of any kind.

Gordon College taught us that it was wrong to be gay—not just wrong, but explicitly condemned by both God and the college code of conduct.

At 10 a.m. on Mondays, Wednesdays, and Fridays, the 1,500 or so of us students filed across the quad towards the brick A.J. Gordon chapel, which stands beacon-like at the campus's head. We worshipped Jesus, studied the Bible, and sought to embody Gordon's slogan: "Freedom within a framework of faith." The college encouraged us to engage with social justice issues such as nationalism, war, poverty, and even corporate power. Yet Gordon's framework of faith was never free for the LGBT among us. LGBT voices were so muffled at Gordon that the majority of students could spend four years at the institution and walk away with a diploma, never having been forced to question their basic assumption that homosexuality was a sin.

Not so for today's Gordon students. This past Monday, President Obama signed the Non-Discrimination Executive Order for LGBT people, which will forbids any federal contractor from discriminating on the basis of sexual orientation or gender identity. Although it's unclear how this order will affect private colleges, Gordon's President D. Michael Lindsay was one of a number of prominent evangelical leaders who sent a letter to President Obama, asking for an exemption. (Other signatories included Catholic Charities head Fr. Larry Snyder and megachurch pastor Rick Warren.) In other words, Lindsay asked Obama for permission to do what the College has always done: refrain from hiring people who engage in "homosexual behavior."

What might have gone unnoticed at Gordon College 10 years ago received widespread coverage in national news outlets, such as The Boston Globe and The Washington Post. The public ramifications were also severe: The mayor of Salem, Massachusetts, cited concerns and canceled a longstanding building contract with Gordon. The New England agency responsible for accrediting private colleges and universities decided to review Gordon College in its upcoming meeting, even though the college had not been scheduled for review until 2022.

Related Story

Schools Are Failing Minority LGBT Students

Even more tellingly, voices of protest also rang out within the Gordon College community. While Lindsay's signature might have once been seen as a reflection of unity—a statement of evangelical Christianity's opposition to homosexuality—the opinions that came forth from Gordon were diverse. Nearly 4,000 students, faculty, alumni, and supporters signed a petition urging President Lindsay to rescind his letter to the White House, and numerous instructors voiced disapproval through op-eds and blog posts.

Meanwhile, OneGordon—a student and alumni LGBT alliance founded in 2012—turned its website and Facebook page into gathering places for dialogue and clearinghouses for media reports and information related to the controversy. Paul Miller, a recent graduate who helped found OneGordon, describes the alliance as, "a handful of the many people making sure that President Lindsay is held accountable for his signature on the letter and its impact on Gordon's reputation, academic community, and student body, which includes a number of LGBT students."

Miller knows firsthand what it's like to be a closeted gay man at Gordon College. "I have a vivid memory of sitting in my dorm room during my junior year," says Miller, "and searching the Internet for even one Gordon group dedicated to LGBT students, to no avail." When Miller helped launch OneGordon a few years later, he didn't expect the group to have a huge impact—until he found out that Gordon's senior cabinet members had met to address the group's existence.

Then he tried to purchase the OneGordon.com domain name. "I discovered that it had been preemptively purchased," says Miller, "along with other LGBT-friendly domain names for other Christian College alliances [such as OneWestmont.com and OneBiola.com] by an individual in Oregon with an anti-gay rights agenda." According to Miller, the individual only relinquished ownership of the domain names after Miller and others threatened legal action.

Since founding OneGordon, Miller has been privately contacted by numerous supportive and support-seeking LGBT Gordon College students and alumni. In the midst of the recent scandal, one gay Gordon student told Miller how he'd felt during an unexpected encounter with President Lindsay: "He recounted working out on an ellipse machine in the Gordon College gym, getting a good sweat on, and bopping to Beyoncé on his headphones, when suddenly he realized that President Lindsay had mounted the ellipse machine next to him, and was starting a workout." The two evangelicals—worlds apart in their beliefs about homosexuality—continued to exercise side by side.

"There used to be no conversation. Now people are talking about LGBT issues all the time, and the university can't pretend that there aren't gay people who attend the school."

Supporting LGBT causes can still have serious repercussions on college campuses. At George Fox University in Oregon, an LGBT group called OneGeorgeFox initially attracted support for many faculty members. Then, according to OneGeorgeFox founder Paul Southwick, the college held "an all faculty meeting, saying that if you support the OneGeorgeFox letter [calling for conversation around LGBT issues] you will be in open violation of your employment agreement." Faculty supporters have been less vocal since that meeting.

Even so, says Southwick, "there used to be no conversation. Now people are talking about [LGBT issues] all the time, and the university can't pretend that there aren't gay people who attend the school." OneGeorgeFox is currently advocating for a transgender student named Jayce, who filed a Title IX discrimination complaint against the university after it denied him housing. The Department of Education sided with George Fox's, granting a religious exemption. But the ensuing controversy inspired new support for LGBT students. Southwick, who is Jayce's lawyer, recalls a student government leader at George Fox who at first denied the campus LGBT group official recognition, but two years later became a public advocate for Jayce. (Earlier this week, George Fox announced a slight change to its policy, agreeing to house transgender students—if they've undergone gender reassignment surgery.)

On the whole, American evangelicals, who comprise roughly 28 percent of the population, are still the largest voting block opposing equal rights for LGBT people. Yet these campus alliances reveal that that evangelicals are not the united front they once were on this issue. In 2004, only about 1 in 10 evangelical Christians supported gay marriage. Just 10 years later, almost a quarter of evangelicals support gay marriage, including a near-majority of evangelicals under 35, according to the Public Religion Research Institute. If this trend continues, it is not an exaggeration to say that the most formidable obstruction to gay rights in the United States will dissolve.

This outcome, however, depends largely on the influence of evangelical Christian Colleges—the 120 member institutions of the Council for Christian Colleges and Universities, which are home, collectively, to over 400,000 students. Indeed, most future evangelical pastors, theologians, and leaders will be graduates of these institutions. Groups like OneGordon make it clear that young LGBT evangelicals are not only grappling with Christian faith and homosexuality; they're also making their presence felt as never before and challenging their peers to lead the movement in definitively new directions.
The protesters were fuming mad. They had come out in droves to block the buses carrying children fleeing poverty and violence in Central America from reaching a Border Patrol processing center in the sleepy Southern California town of Murrieta.

Carrying gigantic American flags and oversized placards decrying "illegals," they jeered at the children behind the windows. Fearing further escalation, federal officials rerouted the buses to San Diego.

It was just the beginning.

Demonstrators shove each other, Friday, July 4, 2014, outside a U.S. Border Patrol station in Murrieta, Calif.

IMAGE: MARK J. TERRILL/ASSOCIATED PRESS

In the days since the July 1 demonstration, the arrival of tens of thousands immigrants from Guatemala, El Salvador and Honduras — mostly children and women — has dominated headlines, with several tumultuous protests taking place in Murrieta. On Wednesday, President Barack Obama travels to Texas to meet with faith leaders to talk about the border crisis.

For one faction of evangelic Christians, fighting immigration has been a long-time crusade, their sometimes vitriolic views communicated via placards in Murrieta, radio shows on American Family Radio, well-trafficked Facebook pages such as Christians Against Illegal Immigration and fundamentalist Christian news sites such as One America News Network.

Christians Against illegal Immigration Facebook page

This faction, known as "Teavangelicals" for their connection to the Tea Party movement, cites the Ten Commandments and the Book of Genesis as proof that anything less than deportation of illegal immigrants violates God's will.

Crossing the border illegally, "coveting" the American lifestyle, "stealing" U.S. jobs and healthcare, immigrants break all kinds of divinely inspired codes, they say. Though God commands them to "care for the strangers and aliens among us," they say this edict doesn't apply when the strangers and aliens are "lawless invaders."

"Illegal immigration is the antithesis of Christianity,"

"Illegal immigration is the antithesis of Christianity," says William Gheen, Raleigh, N.C.-based president of Americans For Legal Immigration. "It's a gross mischaracterization of Christianity to apply it to tolerating the mass lawlessness, death and damages involved in illegal immigration."

Christ-like compassion for those in need? "Where is the compassion for the victims of illegal immigration? Those who have had loved ones murdered by illegal aliens?" American Family Assn. spokesman Bryan Fischer wrote in an April column on his group's news site. "Those whose hospitals have been closed because they have been overwhelmed providing medical care to those who have no right to be in this country and cannot pay?"



When asked about those children crossing the border in search of refuge from gang-related violence and death, Americans for Legal Immigration president Gheen said immigrant children are coached by money-hungry smugglers who give them "cheat sheets" with fabricated stories of woe, crafted to ensure their amnesty. "There's no mass slaughter of children in any of the host countries," Gheen said. "There's no documentation of any mass slaughter…The children are reciting lines. This is being orchestrated."

While the role of so-called coyote smugglers in this latest wave of immigration is unclear, in March, the U.N. Refugee Agency announced that interviews with more than 400 children from Mexico, El Salvador, Guatemala and Honduras found more than half were "forcibly displaced because they suffered or faced harms that indicated a potential or actual need for international protection."

A poll released in March by the Brookings Institution and the Public Religion Research Institute found that white evangelical Protestants were the least likely of the religious groups surveyed to support a path to citizenship for undocumented immigrants.

Border Patrol officers guard the US Border Patrol facility in Murrieta, California on July 3, 2014, where tension is rising over the arrival of undocumented immigrants.

IMAGE: FREDERIC J. BROWN/AFP/GETTY IMAGES

But since many immigrant children and their parents fill the pews of evangelical churches, it's a thorny issue for church leaders.

In 2012, a number of high-ranking, more mainstream evangelical leaders formed the Evangelical Immigration Table (EIT) to lobby Congress to reform immigration law. More than 100 evangelical leaders signed a letter to Congress urging members to address the crisis.

Since Congress still hasn't taken up the issue, EIT began a massive media campaign last year grounded in the Bible, specifically the passage from Matthew 25:35 in which Jesus says: "I was a stranger and you welcomed me in."

From left, Murray Hawkins, of Cedar Plains Park, Calif.; the Rev. David Farley, of Los Angeles; and the Rev. Joel Menchaca, of Las Vegas, gather at the gates of a naval base in Port Hueneme, Calif., Tuesday, July 8, 2014.

IMAGE: VENTURA COUNTY STAR, KAREN QUINCY LOBERG/ASSOCIATED PRESS

"That's a sobering passage for a lot Christians," says EIT field director Matthew Soerens. "There is certainly an element of the American population – evangelical Christians included there – whose response [to immigration] is driven by fear. As a Christian, my response would be that perfect love casts out fear."

EIT also released The Stranger, a 40-minute documentary featuring the stories of three immigrants and interviews with Biblical scholars and economists. More than 1,200 screenings have been scheduled at churches nationally and more than 400 prayer groups have formed on the issue. In April, EIT landed a favorable profile in the New York Times with a headline that read: "For Evangelicals, A Shift in Views on Immigration."

The Teavangelicals weren't pleased.

The founder of Evangelicals for Biblical Immigration, Kelly Kullford, says the EIT campaign ignored the views held by most evangelicals. "It didn't reflect reality at all," Kullford said.

Kullberg says she organized her Ohio-based group in spring 2013 after discovering that progressive liberal philanthropist George Soros was linked to EIT, which she and many others believe proved the group was a front for liberal ideals. (Soerens says no Soros' money has been used directly or indirectly to fund EIT and EIT's board is non-partisan.)

Kullberg rallied more than 1,500 pastors, priests and evangelical leaders who signed a letter to Congress sent in October, that was updated and re-sent last month stating "in Scripture we see both welcome and walls. We do not find blanket amnesty and asylum, nor debt escalation. It is a book of wisdom, not of folly."

Gina Piccalo is a Los Angeles-based correspondent whose writing has appeared in The Los Angeles Times, The Daily Telegraph, The Daily Beast and elsewhere.
It disgusts me as a Christian that some of those evangelicals/fundies claim that opposing immigration reform is seen as a "Biblical mandate." 

h/t: Gina Piccalo at Mashable
Earlier this week Politico published an in-depth article, "Evangelicals Are Changing Their Minds on Gay Marriage." The crux of the argument is this paragraph:

Over the past decade, evangelical support for gay marriage has more than doubled, according to polling by the nonpartisan Public Religion Research Institute. About a quarter of evangelicals now support same-sex unions, the institute has found, with an equal number occupying what researchers at Baylor University last year called the "messy middle" of those who oppose gay marriage on moral grounds but no longer support efforts to outlaw it. The shift is especially visible among young evangelicals under age 35, a near majority of whom now support same-sex marriage. And gay student organizations have recently formed at Christian colleges across the country, including flagship evangelical campuses such as Wheaton College in Illinois and Baylor in Texas.

Politico also points to the $2 million deficit on the National Organization For Marriage's 2012 tax return, and the $4.5 million deficit on the American Family Association's 2012 return, as an indication theocratic extremists are losing their main battle. 

Of course, actual science — especially science with which Evangelical leaders disagree — is anathema to the entrenched religious right.

Enter Russell D. Moore and Andrew Walker, leaders among the southern Baptist convention. In the National Review (Maggie Gallagher's online home,) early this morning, the pair published a defiant refutation of Politico's report.

"A Sexual Revolution for Young Evangelicals? No," the op-ed insists. "Defying the secular culture, churchgoing Christians are sticking to Biblical teaching," they claim.

To prove their point, the Southern Baptists trot out none other than Mark Regnerus, author of the most widely-discredited "study" — purportedly, but almost totally not — of gay parents. They also posted a video of Regnerus explaining his most-recent claims. 

The New Civil Rights Movement alone published over 75 articles chronicling and often leading the charge proving just how false the Regnerus study was.

When Regnerus testified in a federal court case on same-sex marriage the judge in his ruling called Regnerus' testimony before the court, "entirely unbelievable and not worthy of serious consideration."

Moore and Walker in their National Review op-ed, point to "research, to be fully released in September," that was, they say, "introduced in Mark Regnerus's presentation 'Sex in America: Sociological Trends in American Sexuality,' unveiled at a recent gathering of the Ethics & Religious Liberty Commission's leadership summit. According to Regnerus, when compared with the general population and with their non-observant peers, churchgoing Evangelical Christians are retaining orthodox views on Biblical sexuality, despite the shifts in broader American culture."

Politico, as mentioned above, quotes "polling by the nonpartisan Public Religion Research Institute," which finds "among young evangelicals under age 35, a near majority … now support same-sex marriage."


Moore and Walker write that Regnerus' research finds "only 11 percent of young Evangelicals actively expressed support for same-sex marriage."

Whose science should we believe?
WorldNetDaily pundit Burt Prelutsky says it is wrong for Christians to care for undocumented immigrants, decrying such actions as treasonous.

In his column today, Prelutsky writes that such Christians are helping Latinos "overrun America by destroying our schools, undermining our economy and over-taxing our social services" and "encouraging one specific group, Hispanics, to invade this nation" in order to "fill their respective pews."

But he places most of the blame on "homicidal" progressives like President Obama and congressional Democrats who seek to "destroy America" by "weakening our military, alienating our traditional allies, destroying the economy and erasing our borders."

Prelutsky also calls for Republicans to impeach and prosecute Obama, but then adds the caveat that they should wait because otherwise such moves "would only serve to draw attention away from all the scandals bedeviling the Democrats."

There are times when I suspect that people like Obama, Reid, Pelosi, Schumer, Boxer and Durbin, should have their photos on the wall of the post office as suspects in the killing of America. Other times, I remember that all of these people, along with the likes of Elijah Cummings, Brad Sherman, Henry Waxman, Sheila Jackson Lee and Debbie Wasserman-Schultz, have all been elected numerous times, so perhaps it's America that's chosen to commit suicide.

As many of you recall, a doctor named Jack Kevorkian was generally reviled for assisting the terminally ill achieve a painless death. Some people called him a vulture. I was not one of them. It seems to me that if a person chooses to end his pain and suffering by ending his life, he shouldn't be denied that which we bestow, ironically, on both our beloved pets and the vilest serial killers.

But some of us aren't yet ready to go, and we certainly aren't complacent about the homicidal impulses of the so-called progressives. Everywhere we turn, we see them actively attempting to destroy America. We see them weakening our military, alienating our traditional allies, destroying the economy and erasing our borders. And none of these things is happening accidentally or as the result of unfortunate circumstances.

…

But it's not the politicians alone who are guilty of this outrage to our sovereignty. They are aided and abetted by the Catholic and evangelical churches. Priests and ministers collude in claiming they are merely following Christ's teachings when they collect the illegal aliens, feed them, clean them and then bus them to outlying cities and even other states.

Funny, but I don't recall reading where Jesus told anyone to overrun America by destroying our schools, undermining our economy and over-taxing our social services. They can put all the lipstick, mascara and rouge they like on this particular pig, but their main purpose in flouting the law and common sense is to fill their respective pews.

As for the liberal politicians who condone this scandalous behavior, I find it peculiar that at the same time they promote diversity – at least when it comes to pigmentation and sexual proclivities – they're encouraging one specific group, Hispanics, to invade this nation.

For this reason, and so many more, I would like to see Barack Obama impeached. But not now, when it would only serve to draw attention away from all the scandals bedeviling the Democrats. But once the midterm elections are over and the Republicans have taken control of the Senate, I want to see Obama tried for high crimes and misdemeanors. It's bad enough that this bum has managed to conceal all of his essential documents. But it would be criminal if he didn't face prosecution for turning the IRS, the FBI and even the U.S. Patent Office into his own personal attack dogs, and for violating both the letter and the spirit of the U.S. Constitution.



h/t: Brian Tashman at RWW
BREAKING: Ronnie Floyd has been elected the next Southern Baptist Convention President.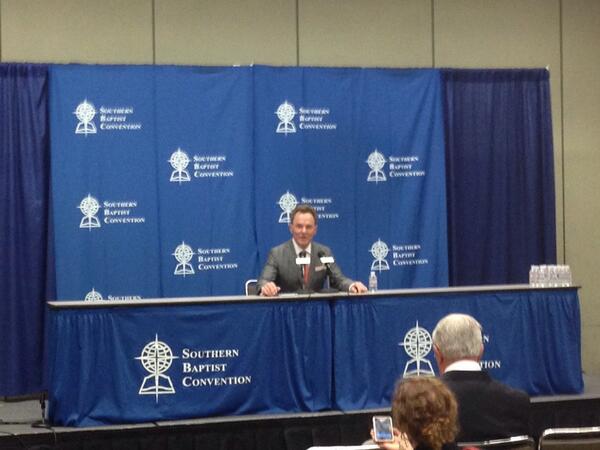 The Southern Baptist Convention, at their 2014 annual meeting in Baltimore, has elected a new President in Ronnie Floyd. 
BREAKING: Ronnie Floyd has been elected the next Southern Baptist Convention President. #SBC14 #SBC #RonnieFloyd

— Justin Gibson (@JGibsonDem) June 10, 2014
Ronnie Floyd Elected Southern Baptist Convention President http://t.co/6IybVp7tes

— Arkansas Business (@ArkBusiness) June 10, 2014
Ronnie Floyd was elected SBC president with 51.62% of the vote. #sbc14

— SBC Annual Meeting (@SBCMeeting) June 10, 2014
This morning in Charlotte, North Carolina, the United Church of Christ filed a lawsuit in U.S. District Court. This suit argues that the current law in North Carolina, as it pertains to marriage, violates religious freedom by prohibiting UCC ministers, and other clergy, from officiating at same-sex marriages.

After the passage of Amendment One in 2012, it became illegal for a member of the clergy to officiate at a wedding where a marriage license is not present. And, of course, in North Carolina, it is impossible for a same-sex couple to obtain a marriage license. That means that any member of the clergy who officiates at a same-sex marriage in the state may be sentenced to "120 days in jail and/or probation and community service."

In other words, the state of North Carolina is telling clergy that it is illegal to pray in the manner in which they see fit.

For those of us who are people of faith, marriage is more than just a civil ceremony. It is also a religious one. And under the current law, even if a member of the clergy is only intending to perform a religious ritual, and not to legally marry a same-sex couple, they could be arrested.

The United Church of Christ, along with several other Christian denominations as well as other religious traditions, has long advocated for equal marriage. In 2005, the denomination passed a resolution which affirmed, "equal marriage rights for couples regardless of gender and declares that government should not interfere with couples regardless of gender who choose to marry and share fully and equally in the rights, responsibilities and commitment of legally recognized marriage."

That means that for the 1 million plus members of the UCC, and especially the members of over 150 UCC churches in North Carolina, state law is requiring them to choose between what is religiously permissible in their denomination and what is legally permissible in their state. In other words, North Carolina state law is making it a crime for some Christians to freely exercise their religion.

We often hear that religious liberty is under attack in our country. Often the fact that same-sex couples are allowed to marry is cited as evidence of this attack. But, as this law makes clear, the religious liberty of same-sex couples and their officiating clergy is what is truly being blatantly attacked. This should outrage anyone who claims to believe in religious freedom.

There are couples in North Carolina who are waiting to be able to legally and religiously marry. There are many clergy who are standing by ready to officiate at their weddings. And there is a law that is stopping them.

Today, the United Church of Christ, along with plaintiffs which include three UCC ministers, two Unitarian Universalist clergy, one Lutheran pastor, one Baptist minister, and one rabbi, as well as the eight extraordinarily courageous and faithful couples they seek to marry, are taking a stand for religious freedom in North Carolina. They are standing up for true religious liberty. And they are saying it is no longer acceptable to oppress the religious rights of all in the name of the religious preferences of the few.

May God bless them, and may God bless North Carolina with true religious freedom.