Evangelicals are often seen as being monolithic on issues of sexuality and LGBT rights. A careful study of responses to homosexuality by evangelical elites, however, shows that this is not the case. Sociologists Jeremy Thomas (Idaho State) and Daniel Olson (Purdue) combed through Christianity Today, evangelicalism's flagship magazine. They uncovered four approaches that evangelicals have taken since the 1960s.

1. Biblical intolerance: "The Bible says it's a sin, that's good enough for me."

Since the 1960s, evangelicals have taken a simple response to homosexuality: it's a sin. Why? Because the Bible says so. End of debate. Even in the 1960s, evangelicals acknowledged that being gay isn't a choice (it was seen as a psychological disorder). Still, the Bible was seen as clear on homosexual behavior. Most evangelicals with this response have opposed gay rights.

 2. Natural intolerance: "It's against human nature."

In the 1980s, some evangelicals began espousing a new argument that turned on issues of health and the natural order. This response emphasizes natural law, not the Bible, as the foundation of public morality and the law. This isn't someone thumping the Bible over someone. Evangelicals may believe in their heart-of-hearts that it's wrong because of what they find in the Bible, but they know that a Bible-based argument will fail. Why bother when you can use science (procreation) and medicine (AIDS and HIV) to make the case. A call to a broader source of morality that is consistent with the Bible but not tied to it allows evangelicals to make moral arguments in the public square.

 3. Public accommodation: "It's a personal sin, but we live in a pluralistic society."

Today, the dominant argument that homosexual behavior as a personal sin, not a public concern. As such, evangelicals should stand firm on biblical morality while recognizing that they live in a pluralistic society in which the rights of everyone should be protected. This response is generally supportive of expanded LGBT rights, including job discrimination protections, adoption, and civil unions. Same-sex marriage, however, remains the proverbially line in the sand that must not be crossed.

4. Personal accommodation. "It's about love and respect, not sex."

The most recently developed argument among is one of personal accommodation. It remains a minority position, but one that is seeing increased attention. Indeed, many evangelical leaders are publicly warning that this response is a threat. Personal accommodation avoids the question of personal morality. Those with this response emphasize their personal experience with LGBT friends. It emphasizes the love (not sex) between same-sex couples, with no judgment of the morality of these relationships. The Bible is invoked, not to discuss sexuality, but to argue for equal rights for everyone.



Chinese government officials announced Thursday that they plan to create a new state-sanctioned version of Christian theology, the latest in an uptick of attempts by the government to curtail the growing influence of religion in Chinese culture.

Speaking to the state-run China Daily newspaper, Wang Zuoan, director of the State Administration for Religious Affairs, told reporters that the new effort would seek to marry Christian theology with established Chinese norms.

"Over the past decades, the Protestant churches in China have developed very quickly with the implementation of the country's religious policy," he said. "The construction of Chinese Christian theology should adapt to China's national condition and integrate with Chinese culture."

The exact details of how and where this new theology will be developed were not immediately clear, but the move appears to be part of a long history of complex — and increasingly conflict-ridden — interactions between religion and politics in China. Religion was recast as a superstition and a foreign intrusion during the Chinese Cultural Revolution of the 1960s and 1970s, when many houses of worship were forcibly closed and congregations disbanded by Red Guards. The government has since loosened its grip on spiritual affairs, but the U.S. State Department's "International Religious Freedom Report for 2013", released in July, still lists China as a "Country of Particular Concern," and cited several major hurdles faced by many Chinese seeking to freely express their religious beliefs.

But despite these challenges, most researchers agree that the Christian population in China is substantial — and growing. An official 2010 Chinese government survey reported the existence of about 23.05 million Christians in the country, but a 2011 Pew Research survey estimated that the real number is actually closer to 67 million. Of these, Pew reported that around 9 million are Catholics, 5.7 million of whom are affiliated with the state-controlled Patriotic Catholic Association — which rejects the authority of the Vatican — while another 3.3 million attend "underground" Catholic congregations who still recognize the pope in Rome. The survey also reported that roughly 23 million Chinese affiliate with the government-sanctioned Protestant Three-Self Patriotic Movement, while around 35 million attend "unregistered" Protestant churches or state-approved churches without having formal membership.

As this Christian population rapidly expands, the Communist Chinese government — which is ardently atheist — has started to push back against the religion's increasingly public role. For years, the pastors and congregants of illegal Protestant "house churches" have been repeatedly detained, imprisoned, and charged for things such as "gathering a crowd to disrupt public order." More recently, the government has started forcibly removing crosses from several churches because they "violated zoning regulations." Even high-profile, state-sponsored churches are starting to feel the heat: despite protests, city officials tore down the famous 180-foot spire of Sanjiang Church in Wenzhou, China in May.

Some, such as Ian Johnson at the New York Times, believe the trend is part of an organized effort on the part of the Chinese government. According to a nine-page provincial policy statement obtained by the Times in May, local politicians have been urged to ramp up efforts to regulate "excessive religious sites" and "overly popular" religious activities — specifically Christianity and its religious symbols, such as crosses.

"The priority is to remove crosses at religious activity sites on both sides of expressways, national highways and provincial highways," the document read. "Over time and in batches, bring down the crosses from the rooftops to the facade of the buildings."

Analysts speculate the government wants to lessen the influence of Christianity because it is seen as a threat to the established government — especially "underground" Protestantism. According to the Times, a "disproportionate number of lawyers handling prominent [civil rights] cases … are Protestant," partially because some Chinese Protestants see rights such as freedom of expression as "God-given."

But the government's tendency to exact control over religion isn't just a Christian problem. China is notorious for its harsh treatment of Tibetan Buddhists and members of the Falun Gong religious sect, and officials have also started to crack down on Islam — particularly the religious practices of Uighurs, a mostly-Muslim minority population that populates China's troubled western region. Local officials banned fasting during Ramadan, the month-long Muslim celebration of fasting and prayer, in the Xinjiang province earlier this year, arguing that they wanted to "protect students' wellbeing." According to the BBC, they also reportedly forced at least three Muslim students to eat and break their fast during that time period.
Over the past five years, an underground movement has been burgeoning on evangelical Christian campuses. Although many of these colleges explicitly ban "homosexual behavior," they are now home to dozens of LGBT-friendly student groups. The umbrella organization Safety Net, founded in December 2011, encompasses groups from approximately 75 different evangelical Christian colleges. Some of these groups are tiny, and many operate in near-secret. But over the past two weeks, an LGBT group at Gordon College has made itself impossible to ignore.

When we, the authors, attended Gordon College over a decade ago, the vast majority of administrators, faculty, and students simply assumed that the Bible prohibited same-sex attraction. Nestled on Boston's North Shore, this small outpost of evangelical Protestantism taught us that it was wrong to be gay—not just wrong, but explicitly condemned by both God and the college code of conduct. Sure, a fledgling group emerged here and there to foster dialogue about homosexuality and Christian faith, exploring the edges of accepted belief, but all of us—questioners and Bible-thumpers alike—signed an agreement, stating in no uncertain terms that we would not take part in homosexual activities of any kind.

Gordon College taught us that it was wrong to be gay—not just wrong, but explicitly condemned by both God and the college code of conduct.

At 10 a.m. on Mondays, Wednesdays, and Fridays, the 1,500 or so of us students filed across the quad towards the brick A.J. Gordon chapel, which stands beacon-like at the campus's head. We worshipped Jesus, studied the Bible, and sought to embody Gordon's slogan: "Freedom within a framework of faith." The college encouraged us to engage with social justice issues such as nationalism, war, poverty, and even corporate power. Yet Gordon's framework of faith was never free for the LGBT among us. LGBT voices were so muffled at Gordon that the majority of students could spend four years at the institution and walk away with a diploma, never having been forced to question their basic assumption that homosexuality was a sin.

Not so for today's Gordon students. This past Monday, President Obama signed the Non-Discrimination Executive Order for LGBT people, which will forbids any federal contractor from discriminating on the basis of sexual orientation or gender identity. Although it's unclear how this order will affect private colleges, Gordon's President D. Michael Lindsay was one of a number of prominent evangelical leaders who sent a letter to President Obama, asking for an exemption. (Other signatories included Catholic Charities head Fr. Larry Snyder and megachurch pastor Rick Warren.) In other words, Lindsay asked Obama for permission to do what the College has always done: refrain from hiring people who engage in "homosexual behavior."

What might have gone unnoticed at Gordon College 10 years ago received widespread coverage in national news outlets, such as The Boston Globe and The Washington Post. The public ramifications were also severe: The mayor of Salem, Massachusetts, cited concerns and canceled a longstanding building contract with Gordon. The New England agency responsible for accrediting private colleges and universities decided to review Gordon College in its upcoming meeting, even though the college had not been scheduled for review until 2022.

Related Story

Schools Are Failing Minority LGBT Students

Even more tellingly, voices of protest also rang out within the Gordon College community. While Lindsay's signature might have once been seen as a reflection of unity—a statement of evangelical Christianity's opposition to homosexuality—the opinions that came forth from Gordon were diverse. Nearly 4,000 students, faculty, alumni, and supporters signed a petition urging President Lindsay to rescind his letter to the White House, and numerous instructors voiced disapproval through op-eds and blog posts.

Meanwhile, OneGordon—a student and alumni LGBT alliance founded in 2012—turned its website and Facebook page into gathering places for dialogue and clearinghouses for media reports and information related to the controversy. Paul Miller, a recent graduate who helped found OneGordon, describes the alliance as, "a handful of the many people making sure that President Lindsay is held accountable for his signature on the letter and its impact on Gordon's reputation, academic community, and student body, which includes a number of LGBT students."

Miller knows firsthand what it's like to be a closeted gay man at Gordon College. "I have a vivid memory of sitting in my dorm room during my junior year," says Miller, "and searching the Internet for even one Gordon group dedicated to LGBT students, to no avail." When Miller helped launch OneGordon a few years later, he didn't expect the group to have a huge impact—until he found out that Gordon's senior cabinet members had met to address the group's existence.

Then he tried to purchase the OneGordon.com domain name. "I discovered that it had been preemptively purchased," says Miller, "along with other LGBT-friendly domain names for other Christian College alliances [such as OneWestmont.com and OneBiola.com] by an individual in Oregon with an anti-gay rights agenda." According to Miller, the individual only relinquished ownership of the domain names after Miller and others threatened legal action.

Since founding OneGordon, Miller has been privately contacted by numerous supportive and support-seeking LGBT Gordon College students and alumni. In the midst of the recent scandal, one gay Gordon student told Miller how he'd felt during an unexpected encounter with President Lindsay: "He recounted working out on an ellipse machine in the Gordon College gym, getting a good sweat on, and bopping to Beyoncé on his headphones, when suddenly he realized that President Lindsay had mounted the ellipse machine next to him, and was starting a workout." The two evangelicals—worlds apart in their beliefs about homosexuality—continued to exercise side by side.

"There used to be no conversation. Now people are talking about LGBT issues all the time, and the university can't pretend that there aren't gay people who attend the school."

Supporting LGBT causes can still have serious repercussions on college campuses. At George Fox University in Oregon, an LGBT group called OneGeorgeFox initially attracted support for many faculty members. Then, according to OneGeorgeFox founder Paul Southwick, the college held "an all faculty meeting, saying that if you support the OneGeorgeFox letter [calling for conversation around LGBT issues] you will be in open violation of your employment agreement." Faculty supporters have been less vocal since that meeting.

Even so, says Southwick, "there used to be no conversation. Now people are talking about [LGBT issues] all the time, and the university can't pretend that there aren't gay people who attend the school." OneGeorgeFox is currently advocating for a transgender student named Jayce, who filed a Title IX discrimination complaint against the university after it denied him housing. The Department of Education sided with George Fox's, granting a religious exemption. But the ensuing controversy inspired new support for LGBT students. Southwick, who is Jayce's lawyer, recalls a student government leader at George Fox who at first denied the campus LGBT group official recognition, but two years later became a public advocate for Jayce. (Earlier this week, George Fox announced a slight change to its policy, agreeing to house transgender students—if they've undergone gender reassignment surgery.)

On the whole, American evangelicals, who comprise roughly 28 percent of the population, are still the largest voting block opposing equal rights for LGBT people. Yet these campus alliances reveal that that evangelicals are not the united front they once were on this issue. In 2004, only about 1 in 10 evangelical Christians supported gay marriage. Just 10 years later, almost a quarter of evangelicals support gay marriage, including a near-majority of evangelicals under 35, according to the Public Religion Research Institute. If this trend continues, it is not an exaggeration to say that the most formidable obstruction to gay rights in the United States will dissolve.

This outcome, however, depends largely on the influence of evangelical Christian Colleges—the 120 member institutions of the Council for Christian Colleges and Universities, which are home, collectively, to over 400,000 students. Indeed, most future evangelical pastors, theologians, and leaders will be graduates of these institutions. Groups like OneGordon make it clear that young LGBT evangelicals are not only grappling with Christian faith and homosexuality; they're also making their presence felt as never before and challenging their peers to lead the movement in definitively new directions.
The protesters were fuming mad. They had come out in droves to block the buses carrying children fleeing poverty and violence in Central America from reaching a Border Patrol processing center in the sleepy Southern California town of Murrieta.

Carrying gigantic American flags and oversized placards decrying "illegals," they jeered at the children behind the windows. Fearing further escalation, federal officials rerouted the buses to San Diego.

It was just the beginning.

Demonstrators shove each other, Friday, July 4, 2014, outside a U.S. Border Patrol station in Murrieta, Calif.

IMAGE: MARK J. TERRILL/ASSOCIATED PRESS

In the days since the July 1 demonstration, the arrival of tens of thousands immigrants from Guatemala, El Salvador and Honduras — mostly children and women — has dominated headlines, with several tumultuous protests taking place in Murrieta. On Wednesday, President Barack Obama travels to Texas to meet with faith leaders to talk about the border crisis.

For one faction of evangelic Christians, fighting immigration has been a long-time crusade, their sometimes vitriolic views communicated via placards in Murrieta, radio shows on American Family Radio, well-trafficked Facebook pages such as Christians Against Illegal Immigration and fundamentalist Christian news sites such as One America News Network.

Christians Against illegal Immigration Facebook page

This faction, known as "Teavangelicals" for their connection to the Tea Party movement, cites the Ten Commandments and the Book of Genesis as proof that anything less than deportation of illegal immigrants violates God's will.

Crossing the border illegally, "coveting" the American lifestyle, "stealing" U.S. jobs and healthcare, immigrants break all kinds of divinely inspired codes, they say. Though God commands them to "care for the strangers and aliens among us," they say this edict doesn't apply when the strangers and aliens are "lawless invaders."

"Illegal immigration is the antithesis of Christianity,"

"Illegal immigration is the antithesis of Christianity," says William Gheen, Raleigh, N.C.-based president of Americans For Legal Immigration. "It's a gross mischaracterization of Christianity to apply it to tolerating the mass lawlessness, death and damages involved in illegal immigration."

Christ-like compassion for those in need? "Where is the compassion for the victims of illegal immigration? Those who have had loved ones murdered by illegal aliens?" American Family Assn. spokesman Bryan Fischer wrote in an April column on his group's news site. "Those whose hospitals have been closed because they have been overwhelmed providing medical care to those who have no right to be in this country and cannot pay?"



When asked about those children crossing the border in search of refuge from gang-related violence and death, Americans for Legal Immigration president Gheen said immigrant children are coached by money-hungry smugglers who give them "cheat sheets" with fabricated stories of woe, crafted to ensure their amnesty. "There's no mass slaughter of children in any of the host countries," Gheen said. "There's no documentation of any mass slaughter…The children are reciting lines. This is being orchestrated."

While the role of so-called coyote smugglers in this latest wave of immigration is unclear, in March, the U.N. Refugee Agency announced that interviews with more than 400 children from Mexico, El Salvador, Guatemala and Honduras found more than half were "forcibly displaced because they suffered or faced harms that indicated a potential or actual need for international protection."

A poll released in March by the Brookings Institution and the Public Religion Research Institute found that white evangelical Protestants were the least likely of the religious groups surveyed to support a path to citizenship for undocumented immigrants.

Border Patrol officers guard the US Border Patrol facility in Murrieta, California on July 3, 2014, where tension is rising over the arrival of undocumented immigrants.

IMAGE: FREDERIC J. BROWN/AFP/GETTY IMAGES

But since many immigrant children and their parents fill the pews of evangelical churches, it's a thorny issue for church leaders.

In 2012, a number of high-ranking, more mainstream evangelical leaders formed the Evangelical Immigration Table (EIT) to lobby Congress to reform immigration law. More than 100 evangelical leaders signed a letter to Congress urging members to address the crisis.

Since Congress still hasn't taken up the issue, EIT began a massive media campaign last year grounded in the Bible, specifically the passage from Matthew 25:35 in which Jesus says: "I was a stranger and you welcomed me in."

From left, Murray Hawkins, of Cedar Plains Park, Calif.; the Rev. David Farley, of Los Angeles; and the Rev. Joel Menchaca, of Las Vegas, gather at the gates of a naval base in Port Hueneme, Calif., Tuesday, July 8, 2014.

IMAGE: VENTURA COUNTY STAR, KAREN QUINCY LOBERG/ASSOCIATED PRESS

"That's a sobering passage for a lot Christians," says EIT field director Matthew Soerens. "There is certainly an element of the American population – evangelical Christians included there – whose response [to immigration] is driven by fear. As a Christian, my response would be that perfect love casts out fear."

EIT also released The Stranger, a 40-minute documentary featuring the stories of three immigrants and interviews with Biblical scholars and economists. More than 1,200 screenings have been scheduled at churches nationally and more than 400 prayer groups have formed on the issue. In April, EIT landed a favorable profile in the New York Times with a headline that read: "For Evangelicals, A Shift in Views on Immigration."

The Teavangelicals weren't pleased.

The founder of Evangelicals for Biblical Immigration, Kelly Kullford, says the EIT campaign ignored the views held by most evangelicals. "It didn't reflect reality at all," Kullford said.

Kullberg says she organized her Ohio-based group in spring 2013 after discovering that progressive liberal philanthropist George Soros was linked to EIT, which she and many others believe proved the group was a front for liberal ideals. (Soerens says no Soros' money has been used directly or indirectly to fund EIT and EIT's board is non-partisan.)

Kullberg rallied more than 1,500 pastors, priests and evangelical leaders who signed a letter to Congress sent in October, that was updated and re-sent last month stating "in Scripture we see both welcome and walls. We do not find blanket amnesty and asylum, nor debt escalation. It is a book of wisdom, not of folly."

Gina Piccalo is a Los Angeles-based correspondent whose writing has appeared in The Los Angeles Times, The Daily Telegraph, The Daily Beast and elsewhere.
It disgusts me as a Christian that some of those evangelicals/fundies claim that opposing immigration reform is seen as a "Biblical mandate." 

h/t: Gina Piccalo at Mashable
Earlier this week Politico published an in-depth article, "Evangelicals Are Changing Their Minds on Gay Marriage." The crux of the argument is this paragraph:

Over the past decade, evangelical support for gay marriage has more than doubled, according to polling by the nonpartisan Public Religion Research Institute. About a quarter of evangelicals now support same-sex unions, the institute has found, with an equal number occupying what researchers at Baylor University last year called the "messy middle" of those who oppose gay marriage on moral grounds but no longer support efforts to outlaw it. The shift is especially visible among young evangelicals under age 35, a near majority of whom now support same-sex marriage. And gay student organizations have recently formed at Christian colleges across the country, including flagship evangelical campuses such as Wheaton College in Illinois and Baylor in Texas.

Politico also points to the $2 million deficit on the National Organization For Marriage's 2012 tax return, and the $4.5 million deficit on the American Family Association's 2012 return, as an indication theocratic extremists are losing their main battle. 

Of course, actual science — especially science with which Evangelical leaders disagree — is anathema to the entrenched religious right.

Enter Russell D. Moore and Andrew Walker, leaders among the southern Baptist convention. In the National Review (Maggie Gallagher's online home,) early this morning, the pair published a defiant refutation of Politico's report.

"A Sexual Revolution for Young Evangelicals? No," the op-ed insists. "Defying the secular culture, churchgoing Christians are sticking to Biblical teaching," they claim.

To prove their point, the Southern Baptists trot out none other than Mark Regnerus, author of the most widely-discredited "study" — purportedly, but almost totally not — of gay parents. They also posted a video of Regnerus explaining his most-recent claims. 

The New Civil Rights Movement alone published over 75 articles chronicling and often leading the charge proving just how false the Regnerus study was.

When Regnerus testified in a federal court case on same-sex marriage the judge in his ruling called Regnerus' testimony before the court, "entirely unbelievable and not worthy of serious consideration."

Moore and Walker in their National Review op-ed, point to "research, to be fully released in September," that was, they say, "introduced in Mark Regnerus's presentation 'Sex in America: Sociological Trends in American Sexuality,' unveiled at a recent gathering of the Ethics & Religious Liberty Commission's leadership summit. According to Regnerus, when compared with the general population and with their non-observant peers, churchgoing Evangelical Christians are retaining orthodox views on Biblical sexuality, despite the shifts in broader American culture."

Politico, as mentioned above, quotes "polling by the nonpartisan Public Religion Research Institute," which finds "among young evangelicals under age 35, a near majority … now support same-sex marriage."


Moore and Walker write that Regnerus' research finds "only 11 percent of young Evangelicals actively expressed support for same-sex marriage."

Whose science should we believe?
WorldNetDaily pundit Burt Prelutsky says it is wrong for Christians to care for undocumented immigrants, decrying such actions as treasonous.

In his column today, Prelutsky writes that such Christians are helping Latinos "overrun America by destroying our schools, undermining our economy and over-taxing our social services" and "encouraging one specific group, Hispanics, to invade this nation" in order to "fill their respective pews."

But he places most of the blame on "homicidal" progressives like President Obama and congressional Democrats who seek to "destroy America" by "weakening our military, alienating our traditional allies, destroying the economy and erasing our borders."

Prelutsky also calls for Republicans to impeach and prosecute Obama, but then adds the caveat that they should wait because otherwise such moves "would only serve to draw attention away from all the scandals bedeviling the Democrats."

There are times when I suspect that people like Obama, Reid, Pelosi, Schumer, Boxer and Durbin, should have their photos on the wall of the post office as suspects in the killing of America. Other times, I remember that all of these people, along with the likes of Elijah Cummings, Brad Sherman, Henry Waxman, Sheila Jackson Lee and Debbie Wasserman-Schultz, have all been elected numerous times, so perhaps it's America that's chosen to commit suicide.

As many of you recall, a doctor named Jack Kevorkian was generally reviled for assisting the terminally ill achieve a painless death. Some people called him a vulture. I was not one of them. It seems to me that if a person chooses to end his pain and suffering by ending his life, he shouldn't be denied that which we bestow, ironically, on both our beloved pets and the vilest serial killers.

But some of us aren't yet ready to go, and we certainly aren't complacent about the homicidal impulses of the so-called progressives. Everywhere we turn, we see them actively attempting to destroy America. We see them weakening our military, alienating our traditional allies, destroying the economy and erasing our borders. And none of these things is happening accidentally or as the result of unfortunate circumstances.

…

But it's not the politicians alone who are guilty of this outrage to our sovereignty. They are aided and abetted by the Catholic and evangelical churches. Priests and ministers collude in claiming they are merely following Christ's teachings when they collect the illegal aliens, feed them, clean them and then bus them to outlying cities and even other states.

Funny, but I don't recall reading where Jesus told anyone to overrun America by destroying our schools, undermining our economy and over-taxing our social services. They can put all the lipstick, mascara and rouge they like on this particular pig, but their main purpose in flouting the law and common sense is to fill their respective pews.

As for the liberal politicians who condone this scandalous behavior, I find it peculiar that at the same time they promote diversity – at least when it comes to pigmentation and sexual proclivities – they're encouraging one specific group, Hispanics, to invade this nation.

For this reason, and so many more, I would like to see Barack Obama impeached. But not now, when it would only serve to draw attention away from all the scandals bedeviling the Democrats. But once the midterm elections are over and the Republicans have taken control of the Senate, I want to see Obama tried for high crimes and misdemeanors. It's bad enough that this bum has managed to conceal all of his essential documents. But it would be criminal if he didn't face prosecution for turning the IRS, the FBI and even the U.S. Patent Office into his own personal attack dogs, and for violating both the letter and the spirit of the U.S. Constitution.



h/t: Brian Tashman at RWW
BREAKING: Ronnie Floyd has been elected the next Southern Baptist Convention President.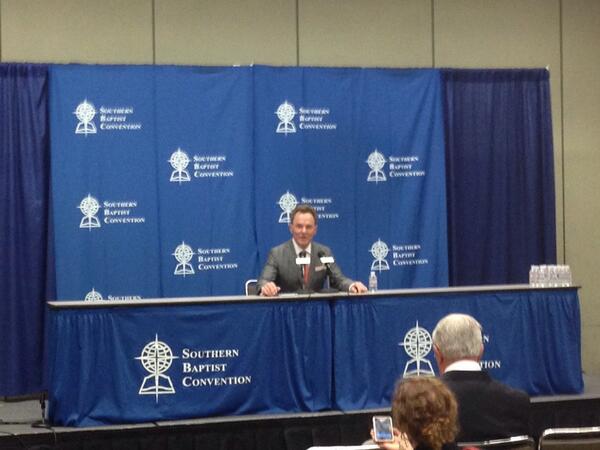 The Southern Baptist Convention, at their 2014 annual meeting in Baltimore, has elected a new President in Ronnie Floyd. 
BREAKING: Ronnie Floyd has been elected the next Southern Baptist Convention President. #SBC14 #SBC #RonnieFloyd

— Justin Gibson (@JGibsonDem) June 10, 2014
Ronnie Floyd Elected Southern Baptist Convention President http://t.co/6IybVp7tes

— Arkansas Business (@ArkBusiness) June 10, 2014
Ronnie Floyd was elected SBC president with 51.62% of the vote. #sbc14

— SBC Annual Meeting (@SBCMeeting) June 10, 2014
This morning in Charlotte, North Carolina, the United Church of Christ filed a lawsuit in U.S. District Court. This suit argues that the current law in North Carolina, as it pertains to marriage, violates religious freedom by prohibiting UCC ministers, and other clergy, from officiating at same-sex marriages.

After the passage of Amendment One in 2012, it became illegal for a member of the clergy to officiate at a wedding where a marriage license is not present. And, of course, in North Carolina, it is impossible for a same-sex couple to obtain a marriage license. That means that any member of the clergy who officiates at a same-sex marriage in the state may be sentenced to "120 days in jail and/or probation and community service."

In other words, the state of North Carolina is telling clergy that it is illegal to pray in the manner in which they see fit.

For those of us who are people of faith, marriage is more than just a civil ceremony. It is also a religious one. And under the current law, even if a member of the clergy is only intending to perform a religious ritual, and not to legally marry a same-sex couple, they could be arrested.

The United Church of Christ, along with several other Christian denominations as well as other religious traditions, has long advocated for equal marriage. In 2005, the denomination passed a resolution which affirmed, "equal marriage rights for couples regardless of gender and declares that government should not interfere with couples regardless of gender who choose to marry and share fully and equally in the rights, responsibilities and commitment of legally recognized marriage."

That means that for the 1 million plus members of the UCC, and especially the members of over 150 UCC churches in North Carolina, state law is requiring them to choose between what is religiously permissible in their denomination and what is legally permissible in their state. In other words, North Carolina state law is making it a crime for some Christians to freely exercise their religion.

We often hear that religious liberty is under attack in our country. Often the fact that same-sex couples are allowed to marry is cited as evidence of this attack. But, as this law makes clear, the religious liberty of same-sex couples and their officiating clergy is what is truly being blatantly attacked. This should outrage anyone who claims to believe in religious freedom.

There are couples in North Carolina who are waiting to be able to legally and religiously marry. There are many clergy who are standing by ready to officiate at their weddings. And there is a law that is stopping them.

Today, the United Church of Christ, along with plaintiffs which include three UCC ministers, two Unitarian Universalist clergy, one Lutheran pastor, one Baptist minister, and one rabbi, as well as the eight extraordinarily courageous and faithful couples they seek to marry, are taking a stand for religious freedom in North Carolina. They are standing up for true religious liberty. And they are saying it is no longer acceptable to oppress the religious rights of all in the name of the religious preferences of the few.

May God bless them, and may God bless North Carolina with true religious freedom.
Ergun Caner was once the high-profile head of Liberty University's seminary but was demoted in 2010 after bloggers and journalists poked holes in the dramatic Jihadi-to-Jesus life story Caner had peddled after 9-11. Arabic-speaking bloggers charged that he was actually speaking gibberish when lapsing into "Arabic." In 2011 he left Liberty to become provost at Arlington Baptist College. And, as RWW reported earlier this year, he was invited to address the Family Research Council's 2013 "Watchmen on the Walls" conference for pastors, a sign perhaps that he'd like to rebuild his public presence in the Religious Right.

Part of Caner's rebuilding strategy seems to be cleansing the Internet of evidence that was used to reveal discrepancies between his actual life and the public persona he had created.  According to Associated Baptist Press (ABP), Caner filed a federal lawsuit earlier this month suing Jonathan Autry and Jason Smathers, who had posted videos produced by Caner and claiming they violated his copyright.

Writes ABP's Bob Allen:

The disputed videos were among a number of blog and media reports alleging inconsistencies, exaggeration and fabrication in Caner's talks and writings claiming he was trained as a terrorist while growing up overseas, and that he intended to carry out a terrorist attack on the United States before his conversion to Christianity at age 18.

Contradictory legal documents indicated that in reality Caner grew up in an Ohio suburb where his family moved when he was 2, and was raised by a Lutheran mother after she and his Muslim father divorced.

Allen reports that Caner is asking the judge to forbid Autry and Smathers from posting any of his copyrighted videos, and is also seeking legal fees.



Ergun Caner has lost his lawsuit against a blogger who criticized the Religious Right figure as a fraud, with a federal judge ruling last week that Caner's case had no merit.

After the September 11 attacks, Caner built a career around his purported conversion from Islamic extremism to Christianity, but his testimony was later exposed as fictitious. Not only did he completely fabricate details about his background — including facts about his birthplace, upbringing, and his family — but he also spoke gibberish during his speeches, which he claimed was Arabic.

Caner led Liberty University's theological seminary at the time but the university cut ties with him following the revelations and he now heads Brewton-Parker College, which is affiliated with the Southern Baptist Convention.

A federal judge dismissed Caner's lawsuit, a thinly veiled attempt to shut down criticism, against blogger Jason Smathers, as the Associated Baptist Press reports today:

Ergun Caner, president of Brewton-Parker College in Mount Vernon, Ga., filed a lawsuit last summer claiming ownership of two videos that Smathers posted of Caner speaking as an expert on Islamic culture in training for U.S. Marines preparing to deploy in 2005.

U.S. District Judge Terry Means, however, said Caner failed to make a case and that Smathers used the material fairly, as copyright law permits, for "purposes such as criticism, comment, [or] news reporting."

"His sole purpose was to expose the inconsistencies in Dr. Caner's biography and criticize a public figure," the judge determined. If the unauthorized reproduction of his lectures caused Caner any financial loss, he continued, it was the result of "legitimate criticism" of his words.

The misuse of video "takedown notices" — the same method employed by another Religious Right activist who tried to shut down Right Wing Watch's YouTube page — was one of the focuses of the trial. As the judge notes in his ruling [PDF], the blogger's actions are protected as fair use.

In 2013, Dr. Caner filed a "takedown notice" with Viddler.com, claiming that the videos were posted without authorization and in violation of his copyright. Smathers challenged the removal of the videos, which ultimately resulted in the present lawsuit by Dr. Caner, alleging copyright infringement in violation of 17 U.S.C. §§ 106,506.

…

Smathers claims that he posted he videos featuring Dr. Caner as a religiously based criticism of a public figure and, thus, his posting constituted fair use.

The Court notes that Dr. Caner has apparently conceded this issue since he has offered no argument in his response with respect to Smathers's assertion of fair use.

…

Dr. Caner's concession notwithstanding, the facts of this case support the application of fair use.

The affirmative defense of fair use is codified at 17 U.S.C. § 107 and provides that "the fair use of a copyrighted work, including such use by reproduction in copies … , for purposes such as criticism, comment, [or] news reporting … , is not an infringement of copyright."

…

All of Dr. Caner's claims of copyright infringement against Smathers are hereby DISMISSED WITH PREJUDICE.



Ergun Caner = harming Christianity. 
h/t: Brian Tashman at RWW
Poor Bill O'Reilly. His tender fee-fees were so hurt by a sign saying "Nobody died for our "sins" Jesus Christ is a myth" it's threatening his whole Easter or his whole faith or something. And persecuted Christian Laura Ingraham is suffering right along with him!

Doesn't this sound like grievance mongering?

O'REILLY: If you are in Madison, Wisconsin and you go to the Capitol Building, you may be very insulted this Holy Thursday.

O'REILLY: Fair minded people know that's appalling.

INGRAHAM: Every Christian holiday, we see something like this.

O'REILLY: They want to hate and disparage people like you and me.

INGRAHAM: I am praying for the redemption of the nasty folks over at (Freedom From Religion Foundation). I don't know if it will work or not.

O'REILLY: These people want to insult - and that's what it is - it's insulting. They want to insult people with whom they disagree. And there's no reason for it.

INGRAHAM: The culture is already predominantly atheistic. …So, they have enormous power, I think, already in the culture that doesn't address religion at all. But that's not enough for them. They want to mock and demean. …This doesn't surprise me at all. I expect this to happen. …Why is it always the Christians the only ones that get the mud slung at them? I don't know why it's just Christians.

So what do you think O'Reilly's reaction would be if two African Americans had this discussion about being stopped and frisked by the police for no reason? I think we have a good idea.
A peculiar phenomenon recently cropped up in the anti-gay conservative community that has the power to rip the entire movement apart: condemning those who use the free market to effect social change while simultaneously using those same tactics to maintain a rigid hold on what's viewed as the 'right and moral' status quo. We briefly examined this issue last week when we reported on the conservative backlash currently occurring against Mozilla for their company's former CEO Brendan Eich's voluntary decision to step down from his position after pressure from his board, company employees, and the free market at large. Many of the same organizations joining this boycott are the very organizations that decry the left for utilizing the free market to effect social change. Several of these organizations initially blamed the LGBT left for Mozilla despite no left-leaning organization making a statement on the issue until after Eich had already stepped down.

 

That's par for the course though in an era where political advocacy groups attempt to shape the parameters in which they're willing to operate. Just weeks prior to this, conservatives appeared on the opposite side of the argument when a Christian organization (World Vision) freely chose to become more diverse in accepting legally married LGBT couples into their organization. Despite conservatives' claims that boycotts and use of free market pressure is "Marxist," "facisct," and any other host of "-ist" words they look up in their thesaurus when writing scathing articles denouncing liberals, World Vision became the target of the anti-gay right and eventually relented to their demands after 48 hours of non-stop social media, email and telephone contact organized by the very organizations that claim to loathe organized free market action. World Vision caved, rescinded their rules (in the United States), and retained their policies that discriminate against legally-married LGBT couples.

 

Matt Barber, the Liberty Counsel attorney is among the quickest to jump in whoever an anti-LGBT person faces intra-company pushback for his or her view, is starting his week by going after Christian publisher WaterBrook Multnomah Publishing Group. That publishing house's one and only "wrongdoing": publishing a book, through one of its various imprints that is specifically geared toward works "that encourage an open, inclusive, and culturally engaged exploration of faith," that pro-3D-BookLGBT author Matthew Vines wrote in defense of marriage equality. To Mr. Barber, this simple act of putting intellectual fodder out into the public is an unthinkable act, which he compares to the recent World Vision fracas. 

The publishing house operates a separate arm specifically for these types of publications for a reason: to maintain their corporate values and retain their "traditional' Christian audience while reaching out to the more progressive Christian crowd via a separate entity name. Their effort has nothing to do with attempting to cause problems in the anti-gay community; rather, it has everything to do with economics, the free market, and the great American conquest for wealth.

 

"WaterBrook Multnomah Publishing Group is planning to release, through its liberal imprint Convergent Books, a manuscript titled God and the Gay Christian: The Biblical Case in Support of Same-Sex Relationships. Is the Christian world about to suffer through another World Vision moment? The book's author, Matthew Vines, is a homosexual activist and Bible revisionist known for manipulating Christian terminology to advance the counter-Christian homosexualist agenda."

Throughout the remainder of the article Barber cites an email from an internal employee that views himself/herself as a "whistleblower" telling on his/her employer for (publicly) operating a progressive imprint that is (publicly) publishing a book that portrays the LGBT community in a positive light. One has to wonder where exactly the scandal and whistleblowing actually occur.

 

But that's not the point though; the point is that Barber sees fit to demonize anyone who utilizes the free market to effect change in corporate America while writing articles (like this one) and organizing boycotts of companies who have done nothing other than adhere to their own publicly-stated corporate values. Call it the "do as I say, not as I do" effect - that appears to be the only way to describe cognitive dissonance prevalent in the anti-gay conservative free market mentality.



Just days after announcing that it was revising its handbook to allow the hiring of Christians who are in same-sex marriages, World Vision leaders said Wednesday that the organization had "failed to be consistent" with the Bible and had reversed its decision after a board meeting.

"The board acknowledged they made a mistake and chose to revert to our longstanding conduct policy requiring sexual abstinence for all single employees and faithfulness within the Biblical covenant of marriage between a man and a woman," said a statement signed World Vision President Richard Stearns and Jim Beré, Chairman of the World Vision U.S. Board.

World Vision, one of the largest international relief organizations, was both cheered by LGBT advocates and heavily criticized by conservative Christians when it announced its first change to allow married LGBT employees.
Reaction to its reversal played along similar lines.

"This whole situation has left me feeling frustrated, heartbroken, and lost. I don't think I've ever been more angry at the Church, particularly the evangelical culture in which I was raised and with which I for so long identified," wrote Rachel Held Evans, a popular blogger who had rallied her readers to donate to World Vision during the short period when it allowed married LGBT employees. "I confess I had not realized the true extent of the disdain evangelicals have for our LGBT people, nor had I expected World Vision to yield to that disdain by reversing its decision under pressure. Honestly, it feels like a betrayal from every side."

Meanwhile, Russell Moore, president of the Ethics and Religious Liberty Commission of the Southern Baptist Convention, who had loudly criticized the initially change in World Vision's policy, applauded the reversal.

"World Vision's right decision, as articulated in their board letter, conveys a spirit of Christlikeness and humility in tone and content," he tweeted. "World Vision has done the right thing. Now, let's all work for a holistic gospel presence, addressing both temporal and eternal needs."
Terrible move, World Vision USA! 
h/t: Huffington Post
World Vision's American branch will no longer require its more than 1,100 employees to restrict their sexual activity to marriage between one man and one woman.

Abstinence outside of marriage remains a rule. But a policy change announced Monday [March 24] will now permit gay Christians in legal same-sex marriages to be employed at one of America's largest Christian charities.

In an exclusive interview, World Vision U.S. president Richard Stearns explained toChristianity Todaythe rationale behind changing this "condition of employment," whether financial or legal pressures were involved, and whether other Christian organizations with faith-based hiring rules should follow World Vision's lead.

Stearns asserts that the "very narrow policy change" should be viewed by others as "symbolic not of compromise but of [Christian] unity." He even hopes it will inspire unity elsewhere among Christians.

[Editor's note: All subsequent references to "World Vision" refer to its U.S. branch only, not its international umbrella organization.]

In short, World Vision hopes to dodge the division currently "tearing churches apart" over same-sex relationships by solidifying its long-held philosophy as a parachurch organization: to defer to churches on theological issues, so that it can focus on uniting Christians around serving the poor.

Given that more churches and states are now permitting same-sex marriages (including World Vision's home state of Washington), the issue will join divorce/remarriage, baptism, and female pastors among the theological issues that the massive relief and development organization sits out on the sidelines.

World Vision's board was not unanimous, acknowledged Stearns, but was "overwhelmingly in favor" of the change.

"Changing the employee conduct policy to allow someone in a same-sex marriage who is a professed believer in Jesus Christ to work for us makes our policy more consistent with our practice on other divisive issues," he said. "It also allows us to treat all of our employees the same way: abstinence outside of marriage, and fidelity within marriage."

Stearns took pains to emphasize what World Vision isnotcommunicating by the policy change.

"It's easy to read a lot more into this decision than is really there," he said. "This is not an endorsement of same-sex marriage. We have decided we are not going to get into that debate. Nor is this a rejection of traditional marriage, which we affirm and support."

"We're not caving to some kind of pressure. We're not on some slippery slope. There is no lawsuit threatening us. There is no employee group lobbying us," said Stearns. "This is not us compromising. It is us deferring to the authority of churches and denominations on theological issues. We're an operational arm of the global church, we're not a theological arm of the church.

"This is simply a decision about whether or not you are eligible for employment at World Vision U.S. based on this single issue, and nothing more."

Yet the decision is still likely to be regarded as noteworthy by other evangelical ministries. Aside from World Vision's influential size—it took in more than a billion dollars in revenue last year, serves an estimated 100 million people in 100 countries, and ranks among America's top 10 charities overall—World Vision also recently fought for the right of Christian organizations to hire and fire based on faith statements all the way to the U.S. Supreme Court—and won. It also opposed a 2012 attempt by USAID to "strongly encourage" faith-based contractors to stop discriminating against gays and lesbians in order to receive federal funds.

In other words, other Christian organizations look to World Vision for leadership on defending faith hiring practices. Stearns acknowledges this, but wants observers to understand why World Vision is voluntarily changing its own policy.

Stearns said World Vision has never asked about sexual orientation when interviewing job candidates. Instead, the organization screens employees for their Christian faith, asking if they can affirm the Apostles' Creed or World Vision's Trinitarian statement of faith.

Yet World Vision has long had a Christian conduct policy for employees that "holds a very high bar for all manner of conduct," said Stearns. Regarding sexuality activity, World Vision has required abstinence for all single employees, and fidelity for all married employees.

However, World Vision now has staff from more than 50 denominations—a handful of which have sanctioned same-sex marriages or unions in recent years, including the United Church of Christ, The Episcopal Church, the Evangelical Lutheran Church in America, and the Presbyterian Church (USA). Meanwhile, same-sex marriage is now legal in 17 states plus the District of Columbia, and federal judges have struck down bans in five other states (Utah, Texas, Oklahoma, Virginia, and—most recently—Michigan) as well as required Kentucky to recognize such marriages performed in other states. (All six rulings are stayed until the appeals process is complete.)

Stearns said World Vision's board has faced a new question in recent years: "What do we do about someone who applies for a job at World Vision who is in a legal same-sex marriage that may have been sanctioned and performed by their church? Do we deny them employment?

"Under our old conduct policy, that would have been a violation," said Stearns. "The new policy will not exclude someone from employment if they are in a legal same-sex marriage."

Stearns said the new policy reflects World Vision's parachurch and multi-denominational nature.

"Denominations disagree on many, many things: on divorce and remarriage, modes of baptism, women in leadership roles in the church, beliefs on evolution, etc.," he said. "So our practice has always been to defer to the authority and autonomy of local churches and denominational bodies on matters of doctrine that go beyond the Apostles' Creed and our statement of faith. We unite around our [Trinitarian beliefs], and we have always deferred to the local church on these other matters."

The reason the prohibition existed in the first place? "It's kind of a historical issue," said Stearns. "Same-sex marriage has only been a huge issue in the church in the last decade or so. There used to be much more unity among churches on this issue, and that's changed."

And the change has been painful to watch. "It's been heartbreaking to watch this issue rip through the church," he said. "It's tearing churches apart, tearing denominations apart, tearing Christian colleges apart, and even tearing families apart. Our board felt we cannot jump into the fight on one side or another on this issue. We've got to focus on our mission. We are determined to find unity in our diversity."

Stearns was adamant the change will not impact World Vision's identity or work in the field. "World Vision is committed to our Christian identity. We are absolutely resolute about every employee being followers of Jesus Christ. We are not wavering on that," he said.

"This is also not about compromising the authority of Scripture," said Stearns. "People can say, 'Scripture is very clear on this issue,' and my answer is, 'Well ask all the theologians and denominations that disagree with that statement.' The church is divided on this issue. And we are not the local church. We are an operational organization uniting Christians around a common mission to serve the poor in the name of Christ."

In recent years, World Vision and other evangelical organizations that partner with Uncle Sam to deliver humanitarian aid overseas voiced concern over USAID attempts to "strongly encourage" all contractors to develop anti-discrimination policies covering sexual orientation or risk losing federal funding.

"Concerns over government funding had no impact on this decision," said Stearns, noting that World Vision caps federal funding at 35 percent of its cash revenues. "We fought for the whole Christian community, reminding USAID that faith-based organizations have a religious exemption and are not required to follow government hiring guidelines.

"If the U.S. government ever requires us to give up our religious hiring rights in exchange for grants, we would walk away from U.S. grants. World Vision's ministry is not for sale."

World Vision's 2010 victory before the Ninth Circuit Court of Appeals on faith-based hiring practices was watched closely by many Christian organizations (500 people signed up within 24 hours for a related ECFA webinar in April 2010). World Vision general counsel Steve McFarland later gave a series of ECFA webinars advising how other ministries could best structure their statements of faith to defend their hiring practices.

Yet Stearns said World Vision is not suggesting other ministries should now follow its lead.

"We made this decision for our organization based on who we are. Every organization has to come to its own conclusion," he said. "We are still passionate about protecting religious hiring rights—making sure that every Christian organization gets to decide this issue for themselves and not have the government decide it for them." (The latest example: World Vision's amicus brief on Hobby Lobby's Supreme Court case against Obamacare's contraceptive mandate.)

"We're not doing this for any legal reasons," he said. "If we wanted to, we would fight another battle on this all the way to the Supreme Court."

So the question becomes: Will supporters, particularly theologically conservative ones, let World Vision adopt a neutral stance on same-sex marriage?

Maintaining neutrality on such divisive issues is proving increasingly tricky for Christian organizations with broad coalitions. The most recent example is Thrivent Financial for Lutherans, which has declared neutrality on abortion, same-sex marriage, and guns as it seeks to encompass more Christians yet preserve its diverging base of 2.5 million Lutherans. Yet Thrivent's theologically conservative wing has not been pleased.

And the policy change comes as World Vision has reduced its U.S. workforce by 10 percent over the past 15 months as expenses have risen and government grants have decreased,reports The News Tribune in nearby Tacoma, Wash. "The last 12 to 24 months have been among the most challenging of any we have ever faced," Stearns wrote to 408,000 donors in a January letter that marked "the first time Stearns had sent out a letter asking child sponsors to increase their giving due to cutbacks," the newspaper reported.

Stearns hopes World Vision will not experience similar division like Thrivent and risk losing conservative supporters as a result.

"I don't want to predict the reaction we will get," he said. "I think we've got a very persuasive series of reasons for why we're doing this, and it's my hope that all of our donors and partners will understand it, and will agree with our exhortation to unite around what unites us. But we do know this is an emotional issue in the American church. I'm hoping not to lose supporters over the change. We're hoping that they understand that what we've done is focused on church unity and our mission."

And Stearns believes that World Vision can successfully remain neutral on same-sex marriage.

"I think you have to be neutral on hundreds of doctrinal issues that could divide an organization like World Vision," he said. "One example: divorce and remarriage. Churches have different opinions on this. We've chosen not to make that a condition of employment at World Vision. If we were not deferring to local churches, we would have a long litmus test [for employees].What do you believe about evolution? Have you been divorced and remarried? What is your opinion on women in leadership? Were you dunked or sprinkled?And at the end of the interview, how many candidates would still be standing?

"It is not our role to take a position on all these issues and make these issues a condition of employment."

Stearns said he doesn't expect any outcry among World Vision's 100 country affiliates, since World Vision International allows each country to set its own hiring policies appropriate to its local legal context. Even in Uganda, where a high-profile new law criminalizing gays and lesbians has been opposed by World Vision Uganda, it stated: "The issue of same-sex relationships will neither prevent us from serving children, families and communities around the world, nor obstruct our collaboration with one another and with our partner organizations."

The policy change will also not affect World Vision's partnership with ministries that maintain current faith-based bans on same-sex behavior. "This is a very narrow policy change. It's strictly about whether this issue should be a condition of employment at World Vision."

How would Stearns respond to critics who bemoan the decision as yet another Christian organization caving before the advancing gay rights movement?

"We're not trying to do anything that's symbolic for the rest of the church," he said. "But if we're making a statement at all, I hope it's a statement about unity.

"I hope it's a statement that says when Christ left, he gave us the Great Commission [to make disciples] and the Great Commandment [to love others as ourselves], and we're trying to do just that," said Stearns. "Bridging the differences we have, and coming together in our unity."

Stearns has evenwritten bookson this subject. "In some manner we haven't finished Christ's mission for the church because we've been divided and distracted by too many other things," he said. "We've got to find our way to unity beyond diversity in the Christian church.

"I know the Evil One would like nothing better than for World Vision to be hobbled and divided on this issue, so that we lose our focus on the Great Commandment and the Great Commission," said Stearns. "And the board is determined not to let that happen.

"I hope if it's symbolic of anything, it is symbolic of how we can come together even though we disagree. We—meaning other Christians—are not the enemy. We have to find way to come together around our core beliefs to accomplish the mission that Christ has given the church.

"We feel positive about what we've done. Our motives are pure," said Stearns. "We're not doing this because of any outside pressure. We're not doing this to get more revenue. We're really doing this because it's the right thing to do, and it's the right thing to do for unity within the church.

"I'm hoping this may inspire unity among others as well," he concluded. "To say how can we come together across some differences and still join together as brothers and sisters in Christ in our common mission of building the kingdom."
In my opinion, 
World Vision USA
 is doing the right thing by hiring Christians in same-sex marriages. Even if ticks off a lot of hard-right homophobes, so be it. 
Given Matt Barber's own penchant for extremely harsh rhetoric, it's not surprising that his newish website BarbWire has become a home for anti-gay hostility and Religious Right alarmism over the impending death of religious freedom in America.

Today's offering comes from Gina Miller, who is described as "a conservative Christian political writer and radio/television voice professional." Miller's article, "Why Are Christians (Really) the World's Most Persecuted Group?" was written in response to a column from Middle East Forum that BarbWire had linked to. Its author had argued that Christians are persecuted because Christianity is the world's biggest religion, it seeks converts, and is a religion of martyrdom. No, Miller says, Satan is the reason Christians are persecuted. And Satan is operating through a lot of channels.

Islam, she says, is Satanic.

Islam is a demonic, militant-political-religious ideology born of the children of Ishmael, and like them, it has greatly proliferated.  It is one of Satan's premiere deceptions, tyrannically ensnaring countless millions of people….

Those who adhere to Islam naturally have a demonically-inspired hatred for the people of the Lord, but as the Bible says, they hate everyone.  However, it is with the deepest of hatreds that they regard Christians and Jews, because their hatred is Satan's hatred, and it goes well beyond simple dislike or disagreement on principles.  It goes to the heart of the spiritual essence of the foundational struggle, to the basic forces of darkness and light.

But it's not just Islam. Every non-Christian religion is Satanic, she says, and so are liberal Christians:

From the beginning of time, Satan and the other fallen angels (demons) have made war against the Lord and His creation.  It is their sole mission to steal, kill and destroy what God has made and to keep as many people as possible from the knowledge of salvation through Jesus.  In this mission, they have heaped deception upon deception for mankind.  They have created countless false doctrines and distractions to mislead and deceive people into taking the path to Hell.  The world's false religions—all those whose foundation is not solely the Gospel of Christ—lead to one place:  eternal damnation and separation from God.  This includes false, so-called "Christian" religions that deny Christ as the only Way to salvation, and instead, rely on traditions of men and on works to "earn" salvation, something we could never earn.

The frenzied, irrational hatred people of the world have for Christians is inspired by, and based in, Satan's hatred for God and His people.  It's a demonic hatred found in people who have rejected the Lord.  Have you ever noticed that there is not the same deep hatred for non-Christians and non-Christian religions?  Satan doesn't hate his own work; he aggressively promotes and supports it.  Supernatural hatred for Christians and Jews exists because they are God's people, the real deal, chosen by Him from the foundation of the world to be miraculously reconciled to Him.  We simply remind Satan of his eternal defeat and the fact that his time as "the god of this world" is short and growing to a close.  He is furious in his great loss.

And, of course, supporters of church-state separation (described by Miller as people who want to "eradicate all vestiges of Christianity in America") are Satanic:

At the same time, as we watch our world marching inexorably toward the horror of the very last days and the period of great tribulation, those of us who put our trust in the Lord must not lose courage or hope.  The Word of the Lord is true, and every bit of it will come to pass.  This is why we see such a feverish effort by satanically-inspired people to eradicate all vestiges of Christianity in America today.  The campaign has its source in the demonic realm.  

Barber himself is no stranger to such rhetoric.  He has said Satan is behind the marriage equality movement and the Obama administration's support for LGBT equality.