Georgia Democratic Senate candidate Michelle Nunn is pushing back against 

David Perdue's despicable, false ads

 claiming that, under Nunn's leadership, George H.W. Bush's Points of Light organization funded terrorists. Nunn's simple, spare ad focuses on a decency and character message, hitting Perdue hard for his lies while claiming the moral high ground:




David Perdue is running ads saying that while I led President Bush's Points of Light foundation, we funneled money to terrorists.

That's a terrible lie, and an insult to the millions of volunteers I worked with to make a difference. David Perdue's ad has been called the worst in America, and President Bush's son called it shameful.

I'm Michelle Nunn. These kind of attacks are what's wrong with politics. I'm determined to bring decency to Washington.

Perdue's ads have been near-universally trashed by fact-checkers, with excerpts of those trashings shown briefly during Nunn's ad. Nunn's ad, meanwhile, is drawing 

positive local coverage

.
 

David Perdue, the Republican candidate for Georgia's open US Senate seat, released another ad on Wednesday doubling-down on his debunked claim that Democratic opponent Michelle Nunn funneled money to terrorist organizations through the Points of Light Foundation. The foundation was started by former President George H.W. Bush and is now run by his son, Neil Bush. Nunn served as CEO of the foundation prior to her running for office. Perdue initially targeted Nunn and the foundation with an attack ad last week. He released another ad Wednesday morning making many of the same claims.

Below is the first ad:

 

Below is the ad that was released on Wednesday:

On Tuesday, Neil Bush called on Perdue to take down and denounce the first ad. Bush said he found it "shameful" and "disrespectful." Considering that his dad had just endorsed Perdue, even though Nunn had worked for his organization, you can see why Neil Bush would be highly upset that Perdue's campaign would try to smear Nunn via the Points of Light Foundation. Neil Bush said the following to the Atlanta Journal-Constitution regarding the first ad:

"That's ridiculous. It really makes my blood boil to think that someone would make that kind of an allegation, whether it's an independent political group or a candidate for office."

Neil Bush also released a statement to the AJC formally asking Perdue to denounce the ad.

"Neither Points of Light nor Michelle Nunn have had anything to do with funneling money from our organization to terrorists organizations. Anyone who makes that claim needs to understand the facts and then they need to denounce those claims. To attack an organization founded by my father, whose integrity is unimpeachable, to smear our organization for political gain, is in my opinion shameful.

"It's just wrong to suggest that Points of Light, or in the context of Points of Light, Michelle Nunn, had anything to do with funneling money to terrorists. If those allegations are being made, it's symptomatic of what I consider to be one of our country's growing problems. It really does upset me, honestly. Which is why I'm talking to you.

"To have a blemish on the great work that's being done by Points of Light, to blow wind into the sails of a national service movement – it's hurtful to our cause, and it's disrespectful to our founder."

Of course, since Perdue apparently has no moral compass, his campaign released the other ad the day after the younger Bush asked him to pull the first ad and repudiate it. Media outlets in the Atlanta area ripped Perdue for the dishonest ad. AJC's Jay Bookman slammed the new ad as being 2014's worst. After detailing the reasons why the ad is unbelievably dishonest, Bookman ended his article with the following statement:

Again, we've all grown too accustomed to dirty politics, and both sides indulge in it. But given our nation's recent history and the threat posed by terror, this particular allegation borders on a charge of treason, not just against Nunn but against a non-partisan organization with a proud record of service. It also gives unintentional credence to the basic thrust of Nunn's campaign against the stridently partisan, win-at-any-cost mentality that has afflicted our national discussion.

Frankly, the charge is also insulting to Georgia voters, treating them as extremely dumb and easily manipulated. We're better than that, and those seeking to represent us ought to recognize that fact.

Meanwhile, 11Alive in Atlanta gave the ad a 7 (on a scale of 10) on its Bullmeter. The station pointed out that while Nunn's campaign did claim that there could be distortions of her record, with opponents attempting to claim that she helped give money to inmates and terrorists, her campaign never actually claimed this was true. It just acknowledged that it was possible that an opportunistic candidate could try to make hay by connecting some dots that still didn't lead to terrorism.

The claim that Points of Light funded organizations linked to terrorists is debatable. But the Nunn plan contains no admission of that. Instead, it refers to it only as a potential attack by Republicans –which they are doing now.

The whiff of bull is pretty strong here, according to our Bullmeter — giving this claim a pungent rating of seven out of ten possible Bull points.

It is apparent that Perdue is getting desperate. Despite Georgia being a solid red state, Perdue is unable to shake Nunn, and some recent polls actually show her with a lead. Due to that, Perdue is trying to appeal to the lowest common denominator (i.e. the base) and frame Nunn as a terrorist funding, amnesty loving commie. The thing is, he is angering a number of allies and Republicans along the way. That doesn't sound like a winning plan to me.
The news was flagged by the Atlanta Journal-Constitution. In a longwinded email state Sen. Frank Millar (pictured) rants that Georgia Gov. Nathan Deal "appointee Interim CEO Lee May has disappointed those of us that hoped he could help bring the county together."

Millar goes on to note that DeKalb county happens to include a number of African American mega churches.

"Now we are to have Sunday voting at South DeKalb Mall just prior to the election," Millar wrote in the email. "Per Jim Galloway of the AJC, this location is dominated by African American shoppers and it is near several large African American mega churches such as New Birth Missionary Baptist. Galloway also points out the Democratic Party thinks this is a wonderful idea – what a surprise. I'm sure Michelle Nunn and Jason Carter are delighted with this blatantly partisan move in DeKalb."

Millar's vow comes in response to news that DeKalb plans to reserve Oct. 26 for early voting. He ends the email saying he's spoken with other lawmakers.

"I have spoken with Representative Jacobs and we will try to eliminate this election law loophole in January. Galloway summed it up, 'Democrats are showing their hand on how they might boost their numbers.' For this to be called a 'non-partisan opportunity' by Interim CEO is an insult!"

(H/t: Rick Hasen)
It's safe to say that this past week was not the best for Nathan Deal. It must be hard to be the governor of Georgia, what with all those pesky whistleblowers, journalists and students. In the …

Source: Team Carter for Buzzfeed Community
A new television ad by the Nunn campaign targeting businessman David Perdue, the Republican nominee Nunn is facing in the Georgia Senate race, hits the former CEO for his time as the head of Pillowtex in North Carolina. The company went bankrupt soon after. The ad features people in neighboring Salisbury, N.C., many of them elderly, describing how the bankruptcy devastated many of the employees while Perdue "walked away with his $1.7 million."

"Just months after David Perdue abandoned Pillowtex, the company went bankrupt," the ad said.

"All we were was people to make money off our backs," one of the people in the video, Cynthia Hanes, who the ad said worked at Pillowtex for 31 years, said near the end.

The one-minute ad is actually similar to the anti-Romney ads the pro-Obama Democratic super PAC Priorities USA made in 2012 that hit the former Massachusetts governor for his time at Bain Capital, painting him as a cold businessman who was willing to cut jobs as long as he made a profit. National Journal points out that Nunn has actually got Schor Johnson Magnus, the same strategists who made the Romney ads for Priorities USA, working for her campaign.

National Journal also notes that one of the anti-Romney ads, "Stage" was the "single most effective" ad of the entire campaign cycle, according to television analytics company Ace Metrix.

Watch Nunn's new ad:

And compare it to the ad "Stage," below:

Below is the TPM Polltracker average of the Georgia Senate race.

(Photo credit: Youtube)
A cop literally tried to sodomize a woman with his own service pistol. And now he is allowed to carry a firearm again.
The AJC's Political Insider spoke to Jason Carter's spokesperson about his stance on marriage equality after noting the GA Voice's editorial on Tuesday saying it was time for him to state his public position on the matter. And this is what Carter's spokesperson Bryan Thomas told the AJC: "Jason has long supported marriage equality, and …

The AJC's Political Insider spoke to Jason Carter's spokesperson about his stance on marriage equality after noting the GA Voice's editorial on Tuesday saying it was time for him to state his public position on the matter.

And this is what Carter's spokesperson Bryan Thomas told the AJC:

"Jason has long supported marriage equality, and has said so to anyone who asked him. He doesn't think we should ever be in a position of telling churches what to do, but has long been on the record in support of civil marriage equality."

The AJC said our editorial was "puzzling" because reporters there were sure they had heard him state this position before.

During Carter's four years in the Senate, the state's constitutional ban on gay marriage never became an issue, even at the committee level, so the video record is slim.

But we're pretty sure we've heard Carter, whose Decatur-based district is very gay friendly, express himself on the issue.

We scoured the AJC archives and could not find anything. We scoured the internet seeking seeking anything about what Carter's stance may be. Nothing except a dodge of the question in a Huffington Post interview in March. We even tried to ask him the question at the Atlanta HRC dinner this year and he declined to answer any questions.

We've been requesting interviews with Sen. Carter for months so we could ask him this question, and many others, to no avail. And now that a lawsuit has been filed in Georgia challenging the state's constitutional ban on same-sex marriage, and governors across the country are taking sides on the issue, we felt it was only fair Sen. Carter have the opportunity to answer.

Carter is joining fellow Democrat Greg Hecht in supporting marriage equality. Hecht is also running for state-wide office in a campaign to defeat Attorney General Sam Olens and has said if he was elected he would not defend the lawsuit seeking to overturn the state's ban on marriage equality.

We are grateful that Georgia Equality Jeff Graham told the AJC that "he was pleased by the above statement, but suggested that the Carter campaign might want to be more responsive to LGBT media in the future."

Kudos must also be given to Project Q Atlanta for writing the story that prompted our editorial about an LGBT fundraiser for Carter in which nearly $100,000 was raised without Carter having to even say the word "gay" or "LGBT."

And we are very grateful and hopeful now that state Sen. Carter's has cleared up any confusion on the matter. Thank you, Sen. Carter, for your leadership in making Georgia even better. LGBT and progressive voters should be fired up to head to the polls to oust Nathan Deal and put a man with experience, knowledge, compassion, smarts and strong leadership skills to make Georgia a place we can all be proud to call home.
ATHENS, Ga. (AP) — Republicans are on the offensive in the opening days of Georgia's Senate campaign, hammering Democrat Michelle Nunn as a rubber stamp for President Barack Obama and questioning her resume as a non-profit executive — the very experience that anchors her appeal as a moderate who gets things done without partisan wrangling.

It's a preview of a high-profile clash between two first-time candidates, Nunn, 47, and former corporate executive David Perdue, 64, with the outcome helping to decide which party controls the Senate for the final two years of Obama's presidency.

Nunn is one of the Democrats' few hopes to pick up a GOP-held Senate seat as they try to hold their majority and establish Georgia as another Southern swing state alongside Virginia and North Carolina. Republicans need six more seats to run the chamber and know they can't afford to let Nunn succeed retiring Sen. Saxby Chambliss. There's also a little-known Libertarian on the Nov. 4 ballot.

Both sides agree that with no sitting politician left in the race, Nunn and Perdue will clash over personalities and backgrounds as they try to capitalize on voter discontent. They're trying to energize their core partisan supporters even as Nunn, especially, focuses on independents.

Perdue now sounds a more partisan tone after spending months blasting Rep. Jack Kingston and two other sitting congressmen as being part of the problem in Washington. Fresh off defeating Kingston in a primary runoff, Perdue promised to "prosecute the failed record of the Democratic administration over the last six years."

He urged Georgia voters not to give Senate Majority Leader Harry Reid "one more vote" in the chamber and called for the repeal of Obama's health care law and the Dodd-Frank law that changed financial regulations after the 2008 market collapse. Earlier in the year, Perdue said he wanted to work with Democrats to amend Dodd-Frank, not repeal it. And as a business executive, he once said that it would take a federal solution to reduce the number of uninsured Americans.

Meanwhile, a conservative Super PAC launched a television ad telling voters that Nunn supports "Obamacare." The ad also notes that she presided over layoffs when one of her earlier foundations merged with former President George H.W. Bush's Points of Light organization. Ending Spending Action Fund, the conservative political action committee, is backed by Joe Ricketts, founder of TDAmeritrade and owner of the Chicago Cubs baseball franchise.

Nunn uses those attacks to tie Perdue to her usual critique that "our political system is broken."

Even more pointedly, Perdue dismissed Nunn's experience running Points of Light. Perdue argues that her post at the foundation does not prepare her for tackling issues in the free-enterprise system. His own background is in for-profit firms such as Reebok, Dollar General and the failed textile company Pillowtex.

Nunn has echoed criticisms that Perdue weathered from his Republican rivals, namely that he presided over layoffs and outsourcing. "My record, obviously, is around building communities, lifting people up, trying to make a difference, working in collaboration with folks from the other side," said Nunn, whose father, Sam, represented Georgia in the Senate for 24 years.

She has a tough contest on her hands. She's running in a state Obama lost twice — even if by much closer margins than the rest of the Deep South. And now Perdue's victory over Kingston takes away her opportunity to continue her "outsider" campaign against an 11-term congressman.

Nunn treads lightly on her party affiliation. Her ads don't mention she's a Democrat. She talks repeatedly of "moderation," noting the word is part of the Georgia state motto: "Wisdom Justice Moderation."

Yet she's voiced support for a path to citizenship for people in the U.S. illegally, in a recent nod to liberals she has often avoided, even while calling for tighter border security.

Democrats say Nunn can succeed with a campaign that mixes her arguments about Washington's ineffectiveness with direct attacks on Perdue's record.

At the Democrats' national Senate campaign office, spokesman Justin Barasky skewered Perdue for "a record of tearing apart companies and communities by slashing thousands of jobs." Georgia Democratic Party Chairman DuBose Porter compared Perdue to Mitt Romney, whose wealth became a liability for the 2012 Republican presidential nominee.

Perdue said that doesn't worry him: "Well, I have lived through about six months of that. How'd that work?"
h/t: Bill Barrow and Christina A. Cassidy at AP, via HuffPost Politics
Could a Carter from Georgia once again win because of a scandal-plagued Republican? Democrat Jason Carter—grandson of former President Jimmy Carter—is challenging first-term Georgia Gov. Nathan Deal this fall, and the incumbent Republican is facing an ethics controversy that could imperil his reelection chances.

Deal has been embroiled for years in a low-grade scandal regarding allegations that his staff smothered a state ethics investigation of his campaign finances. But the controversy has recently heated up. This spring, a former head of the state's ethics commission won a lawsuit in which she claimed that she was improperly pushed out of her job for digging into Deal's campaign. Her replacement—fearing that she might also be jettisoned from the commission—has now come forward and alleged that the governor's aides tried to interfere with the ethics commission.

Last week, the Atlanta Journal-Constitution reported that in July 2012 Holly LaBerge, the current head of the state's ethics commission, wrote a memo outlining political intimidation by Deal's staff. In the memo, she noted that the governor's top lawyer, Ryan Teague threatened to strip her agency of its rulemaking authority in order to deep-six the investigation of Deal's 2010 gubernatorial campaign. LaBerge's memo also said that Deal's chief of staff, Chris Riley, pressured her to close the matter, which the commission eventually did. "I was mad that the governor's legal counsel thought he could call me up and threaten me and threaten my agency," LaBerge told the local Fox station.

The FBI and the state inspector general have been reviewing the ethics commission's activities, and LaBerge's attorney said the ethics chief would want whistleblower protections for her cooperation. If she is granted protection, she might be in the position to disclose more about this episode, and Deal could face more damaging stories.

Deal's ethics commission troubles date back to 2011. Then LaBerge's predecessor, Stacey Kalberman, and Kalberman's deputy, Sherilyn Streicker, began examining Deal's 2010 campaign spending. They suspected that Deal, who had served nine terms in Congress before running for governor, might have improperly directed campaign funds to businesses to which he had ties. Kalberman and Streicker alerted the ethics panel's five commissioners of their intention to issue subpoenas for information. The commissioners responded by slashing Kalberman's salary by $35,000, effectively forcing her out, and eliminating Streicker's job.*

This April, a jury sided with Kalberman in a lawsuit claiming that she was targeted for political retribution, granting her $700,000 in compensation. (The case ended up costing the state over $1.1 million, including legal fees.) "I always knew it was about somebody's desire to quash the Deal investigation," Kalbermantold the local NBC affiliate, after the case concluded.

Once Kalberman left the state ethics commission in 2011, LaBerge filled the post. She was chosen at the suggestion of Deal's chief lawyer. At the alleged urging of Deal's staff, LaBerge—who would later complain of being strong-armed—quickly dispensed with the investigation Kalberman had initiated, and the commission dismissed the case against Deal, with the governor's campaign agreeing to pay a mere $3,350 for minor filing problems.

Deal has denied any wrongdoing on the part of his aides. "They were simply urging the [ethics commission] staff to proceed in a timely fashion," the governor told the Atlanta Journal-Constitution.

Prior to the state ethics commission's quashed inquiry, Deal had another run-in with government watchdogs. In 2010, when Deal was a congressman, the Office of Congressional Ethics—an independent, bipartisan panel—examined allegations that he had used his House seat to benefit his family business, Gainesville Storage & Disposal. Deal denied abusing his power, calling the investigation a "politically motivated witch hunt." But the congressional ethics panel found that Deal had failed to disclose $75,000 in wages from a car salvage company—violating congressional limits on outside income.

The congressional investigation also charged that Deal exploited his position to dissuade state officials from changing an automobile inspection program in a way that would harm his business. "It is undisputed that as a 'public servant,' Representative Deal took active steps to preserve a purely state program, one that had generated financial benefit for Representative Deal and his business partner," the panel's report said. Deal resigned right before the House ethics committee's deadline for taking action and ran for governor—and the inquiry came to an end.

Georgia voters didn't place too much stock in Deal's House-era ethics troubles, electing him governor with 53 percent of the vote in 2010. But polls show they might not be so forgiving the second time he claims innocence. RealClearPolitics' average of polls has Deal up by just 1.7 percent. A poll conducted last week by Landmark Communications for a local TV station, the first since LaBerge's memo became public, put Carter ahead with an 8-point advantage. Deal is clearly in a tight race, and he surely won't be helped if the Case of the Smothered Ethics Investigation becomes a full-fledged scandal.
FLASHBACK: In the 2002 #GASen election, outgoing Senator Saxby Chambliss (R) distastefully smeared triple amputee veteran and then occupant Max Cleland (D) in an ad by comparing him to Osama Bin Laden and Saddam Hussein.  Sadly, Chambliss's smear propelled him to a victory.

Thankfully, this rotten asshole's leaving office after this year, and better yet, this seat should hopefully go back to the Blue column with a Michelle Nunn win this November as just desserts for this ad in 2002. 
BREAKING: David Perdue wins #GASen GOP Runoff, will face off against Michelle Nunn in November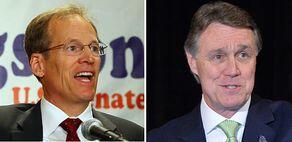 BREAKING: David Perdue has won the #GASen GOP Runoff over Jack Kingston, faces off against Michelle Nunn in November. #GASenRunoff #GAPol

— Justin Gibson (@JGibsonDem)

July 23, 2014
We have a 5-minute warning for Kingston to take the stage. Sounds like a concession…. #gapol #GASen

— Daniel Malloy (@ajconwashington)

July 23, 2014
#GASen will now be a tossup/Tilt R affair between David Perdue (R) and Michelle Nunn (D) this November. #GAPol

— Justin Gibson (@JGibsonDem)

July 23, 2014
AP calls #gasen for David Perdue

— Sahil Kapur (@sahilkapur)

July 23, 2014
With a possible Michelle Nunn win in November, seat could be back in the Dems hands as just desserts for Saxby's classless 2002 ad. #GASen

— Justin Gibson (@JGibsonDem) July 23, 2014
Let's go, Ms. Nunn this November!!!!'
He compares the lack of a parent of one gender in a same-sex couple with children to "losing mom or dad in a car accident."

Jody Hice is a pastor running to replace Rep. Paul Broun in Georgia's 10th Congressional district. He also hosts The Jody Hice Show, a local radio show in Georgia "that is centered around defending liberty."

Hice says marriage equality will have an "enormous, erosive effect on marriage and family."

He says "homosexuals have the right to be married" just not "to one another."

And that children need two parents of different genders to grow up in the most "healthy, psychological, emotional, spiritual, physical" environment.

Hice calls it "totally unreasonable" to compare marriage equality with the Civil Rights struggle because "you cannot change your race" but "thousands and thousands of people" have chosen not to be gay.

He adds that "our Constitution does not protect sexual preference," and compares the lack of a parent of one gender in same-sex couple with children to "losing mom or dad in a car accident."

Source: Andrew Kaczynski for Buzzfeed
BREAKING: Jody Hice wins #GA10 GOP Runoff over Mike Collins
BREAKING: Jody Hice, a much crazier version of Paul Broun, wins the #GA10 GOP runoff. #GARunoff #JodyHice #GAPol

— Justin Gibson (@JGibsonDem) July 23, 2014
ALERT: Bob Barr's comeback bid has been dented, as Barry Loudermilk wins the #GA11 GOP runoff. #GARunoff #GAPol
ALERT: Bob Barr's comeback bid has been dented, as Barry Loudermilk wins the #GA11 GOP runoff. #GARunoff #GAPol

— Justin Gibson (@JGibsonDem) July 23, 2014
In a poll by Landmark Communications released Sunday, Democrat Michelle Nunn has a commanding lead against both of her potential challengers in Georgia's US Senate race

In a poll by Landmark Communications released Sunday, Democrat Michelle Nunn has a commanding lead against both of her potential challengers in Georgia's US Senate race. Against Rep. Jack Kingston (R-GA) Nunn is up by eight points, 49% to 41%. The poll also shows her with a nice lead against businessman David Perdue as Nunn leads him 48% to 42%. Perdue and Kingston are heading into a GOP primary runoff this coming Tuesday. The survey shows Kingston with a sizable lead as he is ahead by seven points, 48% to 41%.

While Nunn holds leads against both men, the thought is that she'd prefer to face Kingston in the general election. Atlanta-based political analyst Bill Crane had the following to say after this poll was released.

"I think Michelle Nunn would prefer to run against Jack Kingston. Twenty-two year incumbent, PAC money, special interest, her preferred race is the race that I think she's going to get."

Nunn taking the Georgia Senate seat would put a huge crimp in the plans of Republicans who feel they can take over the US Senate this November. Currently, the GOP needs to net six seats in the midterm to become the majority party in the Upper Chamber. Losing a Senate seat in a deep-red state that was previously held by a Republican will almost certainly prevent Republicans from taking over the Senate. While it is nearly a given that Democrats will lose seats this November, it is looking more and more promising that they will be able to retain control of the Senate.

Besides this race, Dems have a very good chance of flipping another Republican-held seat. Senate Minority Leader Mitch McConnell is in real danger of losing to Kentucky Democrat Alison Lundergan Grimes this November. Polls show the race in a virtual tie and Grimes has been able to energize Democrats in Kentucky. Also, McConnell's insistence on running against Obamacare is likely to backfire as the health care law has been a raging success in Kentucky. Toss in the fact that Grimes has attracted national attention, with big names coming to Kentucky to campaign for her, and all the arrows point to an embarrassing loss for McConnell.