BREAKING: Jay Carney has resigned, Josh Earnest takes over as new Press Secretary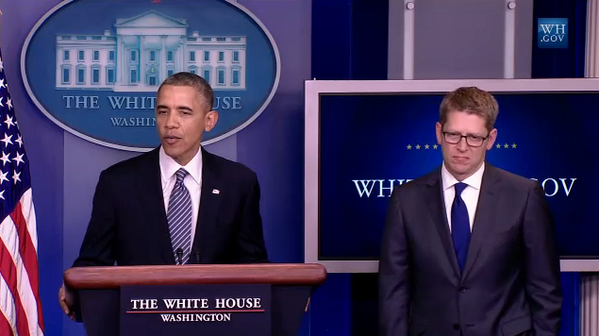 White House press secretary Jay Carney resigns (Photo: AP) http://t.co/6SYzGuOIH2 pic.twitter.com/Ej2Z2GmOCx

— GuardianUS (@GuardianUS) May 30, 2014
UPDATE: Jay Carney resigns; Josh Earnest to be new White House Press Secretary http://t.co/2XJY5HXppU

— NBC News (@NBCNews) May 30, 2014
Obama administration spokesman Jay Carney is leaving the White House - @ZekeJMiller http://t.co/iaUXcUuhat

— Breaking Politics (@breakingpol) May 30, 2014
President Obama will unveil a sweeping set of gun-control proposals at midday Wednesday, including an assault weapons ban, universal background checks and limits on the number of bullets that ammunition clips can hold, according to sources familiar with the plans.

The announcement, which press secretary Jay Carney said is scheduled for about 11:45 a.m. at the White House, is also expected to include a slate of up to 19 executive actions that the Obama administration can take on its own to attempt to limit gun violence.

The White House has invited key lawmakers as well as gun-control advocates to appear at Wednesday's policy rollout, according to two officials who have been invited to the event.

Joining Obama and Vice President Biden for the announcement will be children from across the country who wrote Obama letters after last month's elementary school shooting in Newtown, Conn., Carney said.

Carney declined to provide details on the administration's gun proposals, and he acknowledged that there are "limits" to what Obama can achieve through executive action alone.

"I will not get ahead of the president in terms of what his package of proposals will include," he told reporters Tuesday. "I will simply note that the president has made clear that he intends to take a comprehensive approach."
h/t: WaPo
(via Rove Echoes Myth That Obama Doesn't Receive Intel Briefings To Attack Him Over Libya | Research | Media Matters for America)
Wash. Post's Thiessen: Obama Skipped Intelligence Briefings "One Day After A Terrorist Attack." In his September 13 Washington Post column, Marc Thiessen claimed that Obama had been skipping intelligence meetings in the lead-up to the Benghazi attack. Specifically, he wrote that Obama "was scheduled to hold [his daily] intelligence meeting at 10:50 a.m. Wednesday, the day after the attacks," but that it was canceled so that he could comfort State Department employees. Thiessen then claimed that "instead of rescheduling the intelligence briefing for later in the day, Obama apparently chose to skip it altogether." [The Washington Post,9/13/12]
Rove Suggests That After Benghazi Attack, Obama Failed To Meet With "Intelligence Chiefs." On Fox's America's Newsroom, while discussing the October 11 vice presidential debate with host Bill Hemmer, Rove said that the one substantive issue in the debate that would linger is the Obama administration's handling of the Benghazi attack. Rove suggested that Obama canceled his presidential daily briefing and did not later receive a briefing on the situation from intelligence officials:
ROVE: Well, if there was one substantive issue that came out of last night that's going to remain and linger, it's exactly that, Libya. What did the administration know and when did they know it? And it fits into a broader context, which is the handling of this. Remember, the president of the United States receives news on the night of September 11 in Washington, D.C., that our ambassador has been killed at the consulate in Benghazi, and he cancels, the next morning, his presidential daily brief with the intelligence community in order to go to the State Department, console the foreign service.

And then he — rather than returning to the White House and meeting with the intelligence chiefs, he gets on an airplane, flies to Las Vegas in order to attend a fundraiser and campaign event, flies to Denver overnight so he can have a campaign event in Colorado the next day. [Fox News, America's Newsroom, 10/12/12]
In Fact, Obama Received Multiple Intelligence Briefings Following The Attack, Including On Sept. 12 …
White House Press Secretary Says Obama Received Briefing From Deputy National Security Adviser On September 12. During a September 13 a press gaggle, reporters asked White House press secretary Jay Carney whether Obama was monitoring the protests over an anti-Muslim video in Cairo. Carney responded that after the incidents in Cairo and Benghazi, Obama directed security to be enhanced and diplomatic facilities around the world. He added, "I meant to and neglected to last night read out a briefing he received from his Deputy National Security Advisor Denis McDonough that was focused specifically on developments in the region with regards to the protest, but especially on the progress of efforts underway to enhance security at our facilities." Carney added that Obama would also have a briefing later that day with senior members of his national security team. [WhiteHouse.gov, 9/13/12]
Carney: Obama Was Briefed Twice On September 13. In a September 14 press briefing, Carney said that in addition receiving the presidential daily briefing, as he does every day, Obama was briefed "directly, by National Security Advisor Tom Donilon, by Deputy National Security Advisor Denis McDonough, by Homeland Security and Counterterrorism Advisor John Brennan, and others, including a secure call at 2:00 p.m. yesterday and another briefing at 10:00 p.m. yesterday." [WhiteHouse.gov, 9/14/12]
Mitt Romney is once again going after President Obama's handling of the deadly attack in Libya that killed Ambassador Christopher Stevens, this time accusing him of minimizing his death's importance.

In two separate interviews Monday, Romney took aim at Obama's remark in a interview on CBS's "60 Minutes" that aired Sunday that "there are going to be bumps in the road" as the US builds a relationship with new governments emerging from the Arab Spring. The Republican nominee said Obama triviliazed events overseas. "I can't imagine saying something like the assassination of ambassadors is a bump in the road," Romney said in an interview with ABC News Monday.

The last time Romney went after Obama's handling of the unfolding crises in Libya and Egypt, his inaccurate attack backfired as polls showed voters disapproved of his remarks.

This time, Romney is trying to turn the tables on the president. Romney has a history of rebutting criticism from Obama by attacking the president in similar terms. In this case, Romney is arguing that Obama is acting insensitively by dismissing the scale of the problem.

"[Obama's] indication that developments in the Middle East represent 'bumps in the road' is a very different view than I have," Romney told ABC News. "The president — I can't imagine saying something like the assassination of ambassadors is a bump in the road, when you look at the entire context: the assassination, the Muslim Brotherhood president being elected in Egypt, 20,000 people killed in Syria, Iran close to becoming a nuclear nation. These are far from being bumps in the road."

Romney launched into the same attack at the beginning of an interview with NBC on Monday, doubling down on his interpretation of Obama's comments as a general dismissal of recent events in the region. "When the president was speaking about bumps in the road he was talking about the developments in the Middle East and that includes an assassination, it includes a Muslim Brotherhood individual becoming president of Egypt, it includes Syria being in tumult, it includes Iran being on the cusp of having nuclear capability, it includes Pakistan being in commotion," Romney said. "Considering those events, either one of them or all of them collectively, as bumps in the road shows a person who has a very different perspective about world affairs and the perspective I have."

The White House pushed back Monday, accusing Romney of playing politics again. "[T]here is a certain rather desperate attempt to grasp at words and phrases here to find political advantage, and in this case that's profoundly offensive," White House Press Secretary Jay Carney told reporters in his daily briefing.
h/t: Pema Levy at TPM
The White House is standing by Attorney General Eric Holder as the House prepares to vote on a resolution finding him in contempt of Congress next week for allegedly not complying with a subpoena seeking documents related to the botched ATF operation known as Fast and Furious.

"The president has full confidence in the attorney general," White House Press Secretary Jay Carney said Thursday. "

Separately, House Minority Whip Steny Hoyer (D-MD) told reporters he thought Rep. Darrell Issa (R-CA) was grasping for a scalp because – despite declaring Obama "one of the most corrupt presidents in modern times" – he has failed to make any big waves as chairman of the House Oversight Committee. 
h/t: TPM LiveWire