Laurie Higgins of the Illinois Family Institute, last heard yearning for the creation of a children's book about kids celebrating the death of their gay parents, wrote today in BarbWire that there is no comparison between anti-miscegenation laws and marriage equality bans.

Higgins wants everyone to know that unlike people who supported bans on interracial marriage, anti-gay activists like herself have "nothing to do with hatred." (Of course, opponents of interracial marriage also insisted that they didn't subscribe to racial animus and were simply acting on their deeply-held religious beliefs formed by their reading of the Bible).

"Post-modernism, the sexual revolution, and a television-dominated culture created the wormy subsoil into which two other cultural phenomena have taken root and grown into a felicitous political environment for homo-activism," Higgins adds.

"This is a stealth insurgent assault on the First Amendment, and it's being opposed by a feeble, emasculated counter-insurgency effort."

First, those who opposed interracial marriage did not argue that such unions were not marriages. They argued that such marriages were not proper. And their opposition to interracial marriage was motivated by false ideas about racial superiority and by actual hatred. While it is appropriate to make moral distinctions among volitional behaviors (e.g., homoerotic activity vs. heterosexual activity), it is inappropriate to posit some people as ontologically superior to others or to hate people.

Supporters of true marriage are making a wholly different argument—one which has nothing to do with hatred. They're making the argument that marriage has a nature central to which is sexual difference. They're arguing that a union of two people of the same sex is in reality not a marriage—even if the law permits it. They're arguing that the law can no more make a non-marital same-sex union into a marriage than it can make a wholly human African American into 3/5 a person.

…

Counter-insurgency needed

Post-modernism, the sexual revolution, and a television-dominated culture created the wormy subsoil into which two other cultural phenomena have taken root and grown into a felicitous political environment for homo-activism. With large corporations dominating employment in America and the Internet disseminating information, disinformation, and demagoguery with lightening speed, homosexual activists are able to advance their doctrinaire and dogmatic ideology while undermining both religious liberty and speech rights. This is a stealth insurgent assault on the First Amendment, and it's being opposed by a feeble, emasculated counter-insurgency effort.
h/t: Brian Tashman at RWW
This past weekend, National Organization for Marriage President Brian Brown was scheduled to stop in France on his way back from Moscow to train activists with the French anti-gay group Manif Pour Tous. Manif Pour Tous is the most prominent organization working against LGBT rights in France, and has strong ties with American groups, as evidenced by its president Ludovine de la Rochère's appearance at this year's March for Marriage in Washington, D.C.

So what was the Manif Pour Tous event that Brown participated in like? A reporter from the French publication Le Nouvel Observateur went to the group's " summer university ," where she was barred from individual workshops like Brown's, but did sit in on the general sessions, where she captured the following astounding quote from de la Rochère:

Depuis l'adoption de la loi du mariage pour tous, il y a eu 721 requêtes d'adoption par des couples homosexuels. Donc il va y avoir 721 enfants orphelins de plus, au nom de la loi!

Which translates roughly to:

Since the adoption of the law of marriage for all, there were 721 requests for adoption by homosexual couples. So there will be 721 more orphaned children, in the name of the law!

Yes, according to de la Rochère, children adopted by same-sex couples end up as orphans.

This kind of rhetoric is similar to what Brown has been pushing in his travels, warning Russian lawmakers last year that adoption by same-sex couples deprives children of their "right to have normal parents: a father and a mother."



h/t: Miranda Blue at RWW
If the justices pick any of these seven same-sex marrage cases, the impact could be huge.

Supporters of gay marriage have been on a roll: In the past year, federal courts across the country have nullified same-sex marriage bans in more than a dozenstates.

Yet these victories are complicated by the lack of a national legal standard on gay marriage: For now, it remains a state-level question. But that could change if the US Supreme Court steps in. Last week, the high court announced that it will review a package of seven gay-marriage cases from five states in late September when it chooses which cases to consider in their 2014-2015 term.

Legal experts say it's likely that the court will hear at least one of the cases. "I think they're going to take a case," says Dale Carpenter, a professor of civil liberties law at the University of Minnesota law school. "The only question is which one. They know whichever they take, it's going to be momentous."

This cluster of cases centers on two key questions: All seven ask SCOTUS to consider whether a state law limiting marriage to a union between a man and a woman violates the 14th Amendment. Six of the seven cases also raise the question of whether states must recognize same-sex marriages performed in other states.

"I think they're going to take a case. They know whichever they take, it's going to be momentous."

The Supreme Court ruled on two landmark gay marriage cases in 2013: Hollingsworth v. Perry, which overturned California's Proposition 8, and US v. Windsor, which invalidated the Defense of Marriage Act. But neither weighed in on the constitutionality of same-sex marriage bans, leaving the choice to allow gay marriage up to each individual state. If the court takes one of these new cases, it's likely that its decision will have a broad and more definitive impact. "Should they decide that the 14th Amendment actually protects the rights of same-sex marriage, that would have the effect of being binding on the federal government," says Jane Schacter, a professor at Stanford Law School.

The cases before the court involve the 14th Amendment's guarantees to equal protection under law and due process. If the high court rules that it is a violation of either promise for one state to deny a marriage license to a same sex couple, then it would become unconstitutional for any state to do so. Any state that failed to comply with the ruling, Carpenter elaborates, "would face immediate lawsuits—a complete waste of time and money."

It's anyone's guess which case (or cases) SCOTUS may choose. The justices will choose between three Virginia cases, and one each from Utah, Indiana, Oklahoma, and Wisconsin. Ted Olson and David Boies, the attorneys on one of the Virginia cases, successfully argued Hollingsworth v. Perry last year. The attorney on one of the other Virginia cases is Paul Smith, who has argued multiple cases before SCOTUS, including Lawrence v. Texas in 2003, which struck down state sodomy laws. Carpenter says that the cases from Utah, Indiana, or Wisconsin might prove the most comprehensive choices for the court. "Utah, Indiana, and Wisconsin involve the marriage issue and the recognition issue and the state attorney generals are fully defending those laws. You have all the elements together in those cases," he says. "The Supreme Court might want to just take a very clean case in which you've got the state squarely taking the position and defending its law."

The Supreme Court could take multiple cases or all of them. It could also consolidate cases, something the court has done in the past with hot-button issues. (For example, 1954's landmark Brown v. Board of Education combined six desegregation cases.) "All these plaintiffs want to be the chosen one," says Schacter. "But it wouldn't surprise me at all if they take more than one case."

Here's a closer look at all seven cases being considered by the court, and what's at stake in each:

1. Herbert v. Kitchen (Utah): SCOTUS briefly dealt with this case earlier this year. In December 2013, a federal district court struck down Utah's ban on same-sex marriage. Weddings began immediately. In January, the high court issued a temporary stay, putting a halt to marriages while the state's appeal was considered. In June, the 10th Circuit Court of Appeals upheld the lower court's ruling that the state's same-sex marriage ban was unconstitutional.

2. Smith v. Bishop (Oklahoma): First filed in 2004, this case originally sought both to overturn Oklahoma's ban on same-sex marriages and to recognize marriages performed in other jurisdictions. In January, a district court judge ruled that the state's ban is unconstitutional, but dismissed the portion of the lawsuit addressing marriages from other states, ruling that the plaintiffs lacked standing. Both sides appealed to the 10th Circuit Court of Appeals, which affirmed the district court on both counts. In its appeal to SCOTUS, the state of Oklahoma isasking the court to rule exclusively on the marriage question.

3. Bogan v. Baskin (Indiana): This case began as three separate suits filed on behalf of a widow and 11 couples. Several plaintiffs have same-sex marriage licenses from other states that are unrecognized in Indiana. In June, a district court judge consolidated the suits into Baskin, and struck down the state's ban on gay marriage. He did not stay the decision, allowing marriage licenses to be issued immediately. Earlier this month, the 7th Circuit Court of Appeals upheld the lower court's decision.

4. Walker v. Wolf (Wisconsin). In February, the American Civil Liberties Union filed this case on behalf of eight same-sex couples, three of whom had married in other places. In March, a district court judge denied the state's requests to dismiss the case. In June she ruled in favor of the plaintiffs, overturning Wisconsin's ban on same-sex marriage. Her ruling was unclear on whether marriages could begin or not: Still, clerks in some cities began marrying couples immediately. Earlier this month, the 7th Circuit Court of Appeals upheld the lower court's decision.

5, 6, and 7. Rainey v. Bostic, Schaefer v. Bostic, and McQuigg v. Bostic (Virginia): These three cases are different iterations of a suit filed in July 2013 by plaintiffs Timothy Bostic and Tony London, who seek to get married in Virginia. Carol Schall and Mary Townley joined the case in September 2013. They were legally married in California in 2008, but their union is not recognized in the Old Dominion. This has made it impossible for Schall to formally adopt her own daughter. In February, a district court judge ruled on all three cases, concluding that the state's laws barring in-state gay marriages and prohibiting recognition of out-of-state marriage licenses is unconstitutional. In July, the 4th Circuit Court of Appeals affirmed the lower court's ruling. A fourth case, Harris v. Rainey, a class action suit, has been incorporated into Rainey v. Bostic.
To date, four federal circuit court rulings in cases from five states have been appealed to the Supreme Court of the United States

UPDATE: Today the Supreme Court scheduled marriage equality cases from all five states for consideration at its Sept. 29 private conference.  The nine justices will meet that date to consider a large number of case requests that have come before them this summer.  There's no guarantee as to whether the Court will take up a case or cases, or put the issue off for a later conference.  

————————-

Yesterday state officials in Indiana and Wisconsin formally petitioned the Supreme Court of the United States for writ of certiorari (here and here), asking the highest court in the nation to hear their appeals of circuit court rulings striking down their states' marriage bans.  The plaintiffs challenging the bans filed responses to those petitions (here and here), urging the justices to take up their cases and decide the issue of marriage equality nationwide once and for all.

One hilarious, albeit insulting, tidbit from Indiana's petition to the court takes issue with the Seventh Circuit's assertion that state marriage bans target gays and lesbians for unfair discrimination. The state's response?

"The [marriage ban] itself makes no mention of sexual orientation, and as the case record in this case amply demonstrates, homosexuals often do marry members of the opposite sex in Indiana."

Basically, gay people can legally marry in Indiana – as long as it's to someone of the opposite sex. So technically there's no discrimination happening.

To date, federal appeals court rulings in marriage cases out of Utah, Oklahoma, Virginia, Indiana and Wisconsin have been appealed to the Supreme Court.  The Court is under no obligation as to which case or cases – if any – it choses to hear on appeal.   However, Justice Ruth Bader Ginsburg recently told reporters the Court will not "duck" a marriage case.  "I think the court will not do what they did in the old days when they continually ducked the issue of miscegenation," Ginsburg said. "If a case is properly before the court, they will take it."

The Court announces cert decisions as part of an orders list, which is generally released on the Monday morning after the Justices' private conference.  The opening conference for the October 2014 term is Monday Sept. 29th, meaning that Monday Oct. 6th is likely the earliest day for a possible announcement.

To learn more about the cases pending before the Supreme Court and the dozens of others working their way through the courts across the country, visit AmericansForMarriageEquality.org.
On yesterday's edition of "Crosstalk," Voice of Christian Youth America's Vic Eliason and Liberty Counsel's Mat Staver connected same-sex marriage in the U.S. to beheadings committed by the terrorist group ISIS.

Discussing recent marriage equality legal victories, Staver made his standard prediction that the legalization of same-sex marriage will pave the way for polygamy. Eliason responded by accusing gay rights advocates of destroying morality and biblical values, leading to a decadent, anything-goes society.

"People see something they want, they steal it or they kill somebody or behead them. Some of this stuff now that's going on, the beheading, which has become literally a religious, I don't know what you'd call it— it becomes a very sacred thing to the Islamics to behead somebody because that is a special right that is deserved by the infidels," Eliason said.

Staver naturally agreed and said it was all President Obama's fault: "Yeah, that's exactly right. I think what we're seeing today is a meltdown of morality. That's what certainly President Obama has been pushing, he is very much pushing a disintegration of Judeo-Christian values not just here in the United States but he's actively doing that around the country [sic] promoting abortion and same-sex marriage, he's trying to do that in every way possible across the world."
h/t:  Brian Tashman at RWW
Evangelicals for Marriage Equality says evangelical Christians can support marriage equality in the civil sphere regardless of their churches' beliefs on the issue.

Marriage equality is getting support from an unexpected source with today's launch of Evangelicals for Marriage Equality.

"As Evangelicals for Marriage Equality, we believe you can be a devout, Bible-believing evangelical and support the right of same-sex couples to be recognized by the government as married," reads the organization's statement of belief on its website. "Our commitment to following Christ leads us to speak out for equal treatment under the law for others — whether or not they share our religious convictions."

The Washington, D.C.-based group was founded by two young, straight evangelical Christians — Josh Dickson, the former deputy director of faith outreach for the Democratic National Committee, and Michael Saltsman, vice president at a research and communications firm in D.C. and a frequent commentator in newspapers and on television.

Their view reflects the strong support for marriage equality among members of the millennial generation, says Brandan Robertson, an evangelical Christian blogger and activist who serves as national spokesman for the group.

"As spokesperson for the organization, I represent a growing number of millennial evangelicals that believes it's possible to be a faithful Christian with a high regard for the authority of the Bible and a faithful supporter of civil marriage equality," Robertson writes in an article published today on Time's website. He notes that 43 percent of evangelicals aged 18 to 33 support marriage equality, compared with 27 percent of evangelicals overall, according to the Public Religion Research Institute.

"Are evangelicals who support civil marriage for same-sex couples watering down their faith to adapt to secular society?" Robertson asks in the piece. "Not at all. Instead, we're making a distinction between theology and politics." Some evangelicals believe same-sex relationships are sinful, he says, but others do not. It's possible, he says, for churches to maintain their right not to solemnize same-sex marriages while supporting the freedom to marry in the civil sphere.

As the group launches, it's apparent that it's meeting some resistance in the evangelical world. According to a post on its website, it had planned to run a full-page ad in an evangelical publication to announce its formation, but it was rejected by three — Christianity Today, Relevant, and World Magazine. The first two objected to the ad's content, while a World spokesman said simply that the magazine would "pass on the opportunity." The ad reads in part, "There are hundreds of verses in the Bible that talk about love. There aren't any that talk about the definition of civil marriage. It's time for a new evangelical conversation about civil marriage equality."
In an interview last month on the Daystar program "Joni," Fox News commentator Todd Starnes agreed with the suggestion that marriage equality will legalize man-dog marriage.

Discussing the case of a Colorado bakery that denied service to a same-sex couple (and which ironically baked a cake for a "dog wedding"), Starnes agreed with cohost Rachel Lamb's assertion that man-dog marriage is on its way, saying, "when you redefine marriage, that means anything goes."

Starnes also said gay rights will lead to the imprisonment of pastors and restrictions on the freedom of speech, adding that Christians in America are being "persecuted" and "beat up" just like Chinese Christians.

H/T: Brian Tashman at RWW
Everyone's favorite insanely bigoted pastor James David Manning believes that same-sex marriage, or as he refers to it, "legalized perverted orgies," will pave the way for child-marriage when "someone like Michael Sam or others" legally weds a 9-year-old boy.

Manning shares his theory in a video posted on his website today:

Manning is also upset that the New York St. Patrick's Day Parade is the latest "victim" of "the power of sodomy" that is "spreading like wildfire."

"St. Patrick's Day Parade has fallen to this wickedness spreading across America," Manning said, even calling Cardinal Timothy Dolan the "sodomite leader."

 
h/t: Brian Tashman at RWW 
The above-named religious groups have filed an amicus brief asking the Supreme Court to uphold Utah's ban on same-sex marriage. Via the Associated Press: 

The religious groups urged the Supreme Court on the basis of tradition and religious freedom to uphold a state's right to disallow gay and lesbian couples to wed. "Legal uncertainty is especially burdensome for religious organizations and religious believers increasingly confronted with thorny questions," the brief says. "Is their right to refrain from participating in, recognizing or facilitating marriages between persons of the same sex, contrary to their religious convictions, adequately shielded by the First Amendment and other legal protections? Or is further legislation needed to guard religious liberties in these and other sensitive areas?" Last month, attorneys for three Utah gay and lesbian couples formally asked the U.S. Supreme Court to take Utah's appeal of a favorable gay marriage ruling.

The brief is relatively short. Equality Case Files has the full filing.
On yesterday's "Hagee Hotline," Matthew Hagee told his viewers that, as Christians, they are required to "vote the Bible," which means that they cannot ever vote for any candidate who supports reproductive rights or marriage equality.

Hagee declared that if Christians would just vote the Bible on these two issues alone, "we would find ourselves with principled leadership that can lead this country back to what we are supposed to be."

"If you see a politician who says that he's pro-choice or she's pro-choice, you cannot vote the Bible and vote for that politician," Hagee said. "If you see a politician that wavers on what the definition of a marriage should be, you cannot vote the Bible and vote for that individual":
h/t: Kyle Mantyla at RWW
NEW ORLEANS — A federal judge has upheld upholds Louisiana's ban on same-sex marriage, refusing to recognize out-of-state same-sex unions.

NEW ORLEANS — A federal judge has upheld upholds Louisiana's ban on same-sex marriage, refusing to recognize out-of-state same-sex unions.
The fight against LGBT equality in Florida is being spearheaded by John Stemberger, a man who claims homosexuality is a "pathology" and believes marriage equality will indoctrinate "schoolchildren into a gay lifestyle."

Stemberger, who is president of the Florida Family Policy Council (FFPC), made national headlines this month after he asserted that "inner city" residents "have almost a barbarian society" due to the decline of marriage. During a July 30 interview on 100.7 WFLA, Stemberger suggested that allowing gay people to marry would ultimately destroy the institution of marriage, saying:

STEMBERGER: Marriage is a unique institution that does many, many things that are productive, so you want to encourage marriage. In the inner city right now we see what happens when marriage is gone. You have almost a barbarian society. It's a very simple society. When marriage is gone, bad things happen in society.

His remarks were condemned as racist, but they're just the latest in a long line of inflammatory comments from Stemberger. Through his work at the FFPC, frequent media appearances, and his founding of an anti-gay alternative to the Boy Scouts, Stemberger has emerged as one of the most virulently anti-gay social conservatives in the country.

The Florida Family Policy Council

Established in 2004, the FFPC is a state chapter of Focus on the Family, with a self-proclaimed mission "to strengthen Florida's families through public policy education, issue research, and grassroots advocacy." While not formally affiliated with the organization, the FFPC is also closely tied to the Family Research Council (FRC), which has been branded an anti-LGBT hate group by the Southern Poverty Law Center (SPLC).

As one of the best-funded social conservative organizations in the state - the FFPC was among the anti-gay groups to receive funding from Chick-fil-A's charitable division - the FFPC boasts ties to prominent Florida conservatives, including U.S. Sen. Marco Rubio, who keynoted the group's Policy Awards Dinner in 2013. The FFPC focuses its efforts on advocating the teaching of creationism in public schools, abstinence-only sex education, and school vouchers, in addition to its crusades against reproductive rights, stem cell research, and LGBT equality.

The group is also a vehicle for a distinctly theocratic brand of conservatism. Stemberger has said that "no religion can save [America] except for Christians" and declared that public policy should be guided by "scripture."

Most recently, the FFPC featured prominently in the debate over Florida's anti-gay marriage amendment, which a federal judge struck down on August 21. Despite having slammed Republican state attorney general Pam Bondi in 2010 for being childless and "liv[ing] with her 60-year-old doctor boyfriend," the FFPC lauded her defense of the state's marriage equality ban in court, hailing Bondi as "an example of courage and responsible stewardship of her authority as the highest law enforcement officer in the state."

The FFPC's anti-gay agenda extends far beyond opposing marriage equality. The organization opposes gay 
adoption, calling same-sex parents "objectively inferior" to married heterosexual parents, despite study after study demonstrating that children of same-sex parents fare as well or better than those raised by opposite-sex parents. Moreover, the FFPC supports discredited "ex-gay" therapy programs, with a page on its website listing resources for "leaving [the] gay lifestyle."

Meanwhile, the FFPC's "gay rights" page provides links to rabidly anti-gay commentary, featuring articles like "What Homosexuals Want" (courtesy of the anti-LGBT hate group the American Family Association) and "The Gay Agenda and Manipulation." The page also links to an FRC pamphlet which asserts that homosexuality is linked to higher rates of pedophilia - a claim with no empirical basis.

Stemberger's Anti-Gay Bigotry

After a decade at the helm of the FFPC, Stemberger has produced a lengthy track record of anti-gay rhetoric, including referring to homosexuality a "pathology."

Among Stemberger's most persistent fixations is how gay men express their sexuality. He finds "in-your-face" gay men particularly irksome. Denouncing "the social construct called 'gay,'" Stemberger once defined that "construct" as "in your face, it's shoving down your throat, and it's intimidation." During the run-up to the Boy Scouts' 2013 vote on allowing openly gay members, Stemberger, in a Washington Times column, deemed those "who have same-sex attractions" acceptable members of the Scouts, but only if they were "discreet" and not "loud and proud."

That fear of proud gay men may stem from Stemberger's fondness for the anti-gay trope that gay men want to "recruit" young boys - an assertion he made during a July 2013 interview with hate group leader Peter LaBarbera:

Similarly, as Florida prepared to vote on its anti-gay marriage amendment in 2008, Stemberger justified the ban by stating that allowing gay marriages in the state "could result in the indoctrination of schoolchildren into a gay lifestyle." Stemberger also sees a plot against young innocents in Walt Disney World's Gay Days, which he has assailed as an opportunity for gay men to "flaunt" themselves in front of children while they enjoy "unbridled debauchery."

Trail Life USA

Perhaps the seminal moment in Stemberger's career of anti-gay extremism came during the debate over the Boy Scouts of America's (BSA) policy banning gay scouts. Stemberger became one of the most prominent supporters of the BSA's gay ban, appearing on CNN and Fox News to defend the policy.

Stemberger's argued that accepting gay scouts would sexualize the organization and cause churches to pull their support for the organization. Speaking to CNN's Don Lemon, he predicted that allowing for gay scouts would "literally destroy the program."

Speaking with LaBarbera, Stemberger also predicted that allowing openly gay Scouts would "increase sexual abuse" between boys:

When the BSA decided to end its ban on gay scouts, Stemberger lamented that it had been "one of the sadest [sic] days of my life":

Stemberger responded to the vote by founding Trail Life USA, an anti-gay alternative to the BSA. In a September 2013 interview with right-wing radio host Janet Mefferd, Stemberger said that Trail life would not "tolerate activists. We're not going to tolerate somebody who's, you know, here and queer, loud and proud, all of that nonsense":

Trail Life launched to much fanfare, with Fox News host Mike Huckabee delivering the keynote address at the group's inaugural convention. The group's membership policy appears to bar not only gay participants, but also gay rights supporters, stating that "[w]e grant membership to adults and youth who do not engage in or promote sexual immorality of any kind." Although chapters had been established in 40 states by March, an assessment by the Associated Press deemed Trail Life a "tiny movement" overall.

Local media has rightly lambasted Stemberger for his "barbarian" comment, but his record of extreme and offensive rhetoric is far more extensive than is being reported. As the legal battle over Florida's marriage ban intensifies, outlets are likely to continue turning to Stemberger for a "conservative" voice on LGBT issues. If and when they do, they should be prepared to shine a light on the animus and extremism that motivate his work. 

Previously:

Orlando Sentinel Whitewashes Boy Scout Alternative's Anti-Gay Bigotry

Trail Life USA's John Stemberger: Affirming Gay Youth Is "Tantamount To Abuse … Absolutely Nonsense"

Fox's Huckabee To Keynote Event For Anti-Gay Boy Scouts Alternative
The United States Court of Appeals for the Seventh Circuit is a very conservative court. Seven of its ten active judges are Republicans, and these Republicans include some committed allies of the conservative Federalist Society. Nevertheless, anti-gay conservatives are likely to have little to celebrate once the Seventh Circuit hands down its closely watched decision in a pair of marriage equality cases the court will hear Tuesday. The Seventh Circuit just announced the three-judge panel who will hear this case — Judges Richard Posner, Anne Claire Williams and David Hamilton — and that appears to be very good news for Team Equality.

Judge Posner is the sole Republican on the panel — he's served on the Court since President Reagan appointed him in 1981 — but he is a highly idiosyncratic judge who has grown increasingly critical of his fellow partisans in recent years. In a 2012 interview, for example, Posner complained that "there's been a real deterioration in conservative thinking. And that has to lead people to re-examine and modify their thinking." He added that he has personally "become less conservative since the Republican Party started becoming goofy."

On the specific issue of gay rights, Posner's views are a bit nuanced, but he is openly sympathetic to the case for equality. In a 2013 essay entitled "How Gay Marriage Became Legitimate," Posner questioned the view that the courts have played much of a role in advancing LGBT equality. Using antiquated language, Posner's bottom line was that "the growing acceptance of homosexual marriage seems a natural consequence of the sexual revolution that began in the 1960s rather than an effect, even to a small degree, of litigation." Yet he was also dismissive of arguments against gay equality. "[I]t is hard to make a case for discriminating against [gay people]," Posner wrote, "apart from a religious case based largely on Roman Catholic doctrine."

Judge Williams is less outspoken than Posner — few, if any judges, share Posner's affection for expressing his views in public — but she is a Clinton-appointee to the Seventh Circuit who is widely viewed as left-of-center. Given the overwhelming consensus among federal judges that marriage equality is required by the Constitution, it is unlikely that Williams will break with this consensus.

That leaves Judge Hamilton. Hamilton was literally the first judge President Obama nominated to a seat on the federal bench. Although the White House attempted to sell Hamilton as a moderate, most Senate Republicans filibustered his nomination in large part due to a handful of opinions he handed down as a federal district judge on social issues such as abortion and religion. As with Williams, it is unlikely that Hamilton will break with the widespread judicial consensus supporting equality.

All of this, of course, is said with a standard caveat. It ain't over until the court issues its mandate, and there is no way to be certain about how any of these judges will rule. Nevertheless, marriage equality supporters should be very pleased with this panel.
BREAKING: Federal judge rules Florida's constitutional ban on #MarriageEquality unconstitutional statewide, ruling stayed.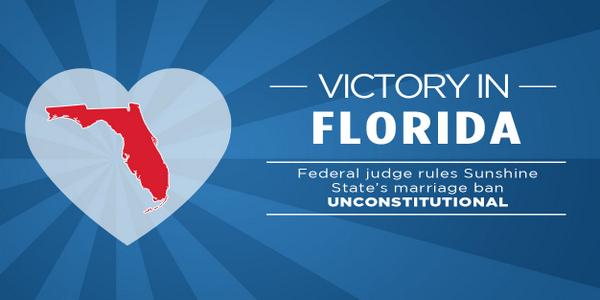 BREAKING: Federal judge rules Florida's constitutional ban on #MarriageEquality unconstitutional: ruling stayed. #FL4M

— Justin Gibson (@JGibsonDem) August 21, 2014
Ecstatic about today's ruling by Fed. judge that #Florida ban on same sex marriage is unconstitutional #loveislove http://t.co/F7dHzuZm8r

— D. Wasserman Schultz (@RepDWStweets) August 21, 2014
BREAKING: Federal judge rules Florida ban unconstitutional - http://t.co/zKtMqXTVhS First federal judge to do so pic.twitter.com/54Zzwm3bUT

— AmericanEqualRights (@AFER) August 21, 2014
Federal judge's ruling striking down gay marriage in Florida puts Rick Scott in a pickle. Will he appeal?

— Sahil Kapur (@sahilkapur) August 21, 2014
BREAKING: Federal judge halts enforcement of Florida #marriage ban! Full @ACLUFL @SAVELGBT press release coming shortly.

— ACLU of Florida (@ACLUFL) August 21, 2014
BREAKING: #SCOTUS puts #MarriageEquality on hold in Virginia.