Paul Ryan is once again attempting to stoke his carefully cultivated Republican Who Cares About Poverty image. Naturally, he's doing so with 

a proposal that would hurt poor people

. Ryan wants to consolidate as many as 11 anti-poverty programs into one block of funding that states could do with as they wished, provided they instituted work requirements, limited the duration of benefits, and provided what Ryan refers to as accountability. Ryan insists that this isn't about cutting benefits but about using them differently, but here's a clue to what he's envisioning: elderly and disabled people, as "two especially vulnerable groups" which "need specific kinds of care," would get a host of special protections. In other words, the people Ryan classifies as deserving poor would be protected from what he plans to do do all the other poor people.

As for the non-deserving (in Ryan's eyes) poor?

In the envisioned scenario providers would work with families to design a customized life plan to provide a structured roadmap out of poverty. When crafting a life plan, they would include, at a minimum:

• A contract outlining specific and measurable benchmarks for success
• A timeline for meeting these benchmarks
• Sanctions for breaking the terms of the contract
• Incentives for exceeding the terms of the contract
• Time limits for remaining on cash assistance

And screw you if there are no jobs available or if the jobs available leave you in poverty because Republicans like Paul Ryan refuse to raise the minimum wage. You're still getting punished for not magicking yourself out of poverty according to the terms of the contract you were forced to sign in order to get enough to eat. And while Ryan insists that he's not cutting aid overall, he is building a massive amount of bureaucracy into his requirements. More money might go to things like figuring out whether people should be punished for remaining poor, cutting into the amount available to actually help them. That's not even getting into the privatization aspects of Ryan's plan, either, but he would require that states use 

private service providers

, including "approved non-profits, for-profits or even community groups unique to [the recipient's] neighborhood."

It's a recipe for a fragmented, punitive system with much of the responsibility for shaping programs turned over to state governments—to governors like Texas' Rick Perry and Florida's Rick Scott, to the same politicians who refused to expand Medicaid. In other words, it's just what you'd expect of Paul Ryan: the ultimate heartless Republican attempt to slash the safety net into ribbons, cloaked in the guise of concerned condescension.
h/t: Laura Clawson at Daily Kos Labor  
Thank the Lord he's NOT our VP right now. 
House Majority Leader Eric Cantor's stunning loss to his tea party challenger on Tuesday will create the biggest disruption for GOP lawmakers since the departure of Tom DeLay eight years ago, and throws open the question of who will be the next speaker after John Boehner leaves.

It's unclear how long Boehner plans to stay on, or whether Cantor's defeat will alter the Ohio Republican's thinking on his own future. There has been speculation for months that Boehner could step down after Election Day, or before the end of the next Congress, with Cantor in place as his certain successor.




Now, 

with Cantor's shocking defeat, the GOP succession question for the "after Boehner" period is wide open, and Republicans will spend at least the next five months jockeying for a newly open spot at the leadership table.

Majority Whip Kevin McCarthy, the current No. 3 in the House, is all but certain to run for the majority leader post, GOP sources said. McCarthy's office declined to comment on Cantor's loss or McCarthy's plans.

But the California Republican likely will be challenged by a member of the conservative wing of the House GOP Conference, potentially including Reps. Jeb Hensarling of Texas, Jim Jordan of Ohio or Cathy McMorris Rodgers of Washington.

And a full-scale war will break out for majority whip, with Scalise, McMorris Rodgers and Reps. Pete Roskam (R-Ill.) and Pete Sessions (R-Texas) all possibilities for that post.

(Also on POLITICO: Cantor loses)

Roskam had already started unofficially running for whip, if the job came open. A GOP aide said Rep. Steve Scalise (R-La.) decided to officially seek the whip job after receiving a number of calls Tuesday night from conservatives in the party urging him to run after Cantor lost.

GOP Rep. Paul Ryan is next in line for the Ways and Means Committee gavel and has said he wasn't running for leadership, a stance he may now have to rethink.

Other leadership hopefuls could also emerge, especially among freshmen or sophomore members, although some of the most visible members those classes are running for Senate, leaving Congress or have other roles at this time. This group includes Reps. Jim Lankford (R-Okla.), who is running for Senate; Cory Gardner (R-Colo.), another Senate hopeful; Tim Griffin (R-Ark.); and Trey Gowdy (R-S.C.), who is chairing the Benghazi select committee.

(PHOTOS: Scenes from Eric Cantor HQ)

Yet Cantor's pending disappearance from the top Republican ranks, coupled with questions over Boehner's future, mean this leadership scramble could decide who runs the GOP Conference for the next decade, similar to how the Boehner-Roy Blunt battle to replace Tom DeLay played out in 2006.

Boehner, of course, won that fight and eventually became speaker when Republicans took back the House in 2010. For those Republicans eyeing leadership runs, the lessons from that fight could tempt them to go for the brass ring now, or risk losing out to a more ambitious rival and facing long-term fallout.

"You've seen the shadow campaigns … that get talked about all the time but then [members] deny it," said a former Republican leadership staffer. "Tomorrow, you're going to start hearing that people are seriously considering a run. It will be blown up. By the end of the week, we're going to see who is interested and who is not."

(Also on POLITICO: Nancy Pelosi: "Whole new ballgame")

"This flushes out the Hensarlings and the Jordans. If they say they are not interested, then they are not interested and the conference has to move on. It's important to make sure the conference has time to move on and vet a leader," the former staffer added.

Republicans were stunned by Cantor's defeat, as was all of Capitol Hill. Cantor had spent part of the day in House leadership meetings and on the floor dealing with a 2015 spending bill, and his staff and allies expressed total confidence that he would win. Cantor's office had already released a memo outlining the June voting schedule, and his aides were trying to assemble an even longer-range floor schedule.

"Eric Cantor and I have been through a lot together. He's a good friend and a great leader, and someone I've come to rely upon on a daily basis as we make the tough choices that come with governing," Boehner said in a statement late Tuesday night. "My thoughts are with him and Diana and their kids tonight."

McMorris Rodgers also praised Cantor, saying it was an "honor" to work with him.

"I've known Eric since I first came to Congress, and he's been a great friend and colleague. It is a true honor serving with him — as a leader for both the people of Virginia and America. My thoughts are with Eric, Diana, and their family," she said.

When the news broke on Tuesday evening, House members were still in the Capitol for a series of evening votes. The results began trickling in showing Cantor losing, which led to the unthinkable question, "What if Cantor loses?

Cantor's loss could also dramatically alter the Republican legislative agenda for the next five months. Cantor had been scrambling to craft GOP health care bill to replace Obamacare — trying to piece together plans from wide corners of the party that could win support from a majority of Republicans. GOP leadership aides were tentatively planning for a series of health care related votes following the July 4th recess.

If a number of Republican Study Committee members hop into the race, it could raise the prominence of their health care alternative. Scalise launched a push just last month to pressure Cantor to schedule a vote on that bill.

Immigration reform will be another victim of the loss. Cantor was a moderate supporter of Republican plans to overhaul the current system — a point Brat used against him in the race. With such a high-profile sacrifice, it's likely that even moderate Republicans will back away from reform or risk being labeled amnesty backers.




Dark Horse candidates that I'd also wager: Tim Huelskamp, Marsha Blackburn, Todd Rokita, and/or Jim Bridenstine could be considered for leadership roles. 
h/t: Lauren French and John Bresnahan at Politico
BREAKING: Wisconsin's constitutional ban on marriage equality has been overturned. #WI4M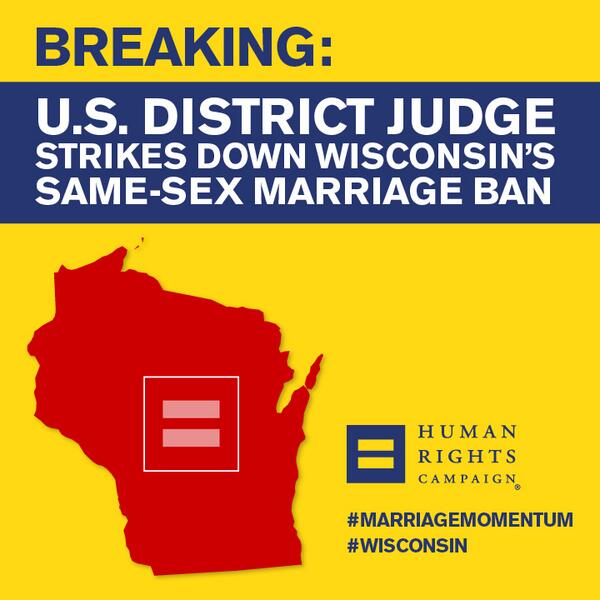 Wisconsin will become the 20th state to legalize marriage equality, once the likely stay gets lifted. Three states bordering Wisconsin have legalized such marriages: Iowa, Minnesota, and Illinois.  

And the likes of Scott Walker, Rebecca Kleefisch, Glenn Grothman, Mark Belling, Paul Ryan, VCY America, and Charlie Sykes are not happy about this news at all.
The Wisconsin ruling on marriage will not go into effect immediately. More info here: http://t.co/tCUtwYOf4p #gay #lgbt

— freedomtomarry (@freedomtomarry) June 6, 2014
A federal judge in #Wisconsin has ruled in favor of the freedom to marry, the 20th pro-marriage ruling since #Windsor. #WhyCourtsMatter

— One Iowa (@OneIowa) June 6, 2014
BREAKING NEWS: Wisconsin same-sex marriage ban struck down http://t.co/eU5r8uxDY3

— Aaron Camp (@AaronApolloCamp) June 6, 2014
BREAKING: Federal judge strikes down #Wisconsin ban on same-sex marriage - http://t.co/4UXPGVCICC pic.twitter.com/xRIf8xYckq

— LGBTQ Nation (@lgbtqnation) June 6, 2014
BREAKING: Federal court strikes down #Wisconsin marriage ban #out4freedom #LoveIsLove pic.twitter.com/auSEnxlvEX

— ACLU National (@ACLU) June 6, 2014
Wisconsin gay marriage ban ruled unconstitutional http://t.co/hhdSKO1PqU #breaking

— WISN 12 News (@WISN12News) June 6, 2014
BREAKING: U.S. District Judge strikes down ban on marriage equality in Wisconsin. http://t.co/kMIubD8pXa #LGBT pic.twitter.com/rqGSKaBQLn

— HumanRightsCampaign (@HRC) June 6, 2014
The House Budget Committee chairman's newest budget blueprint would make seniors pay more for their health care.

On Tuesday, House Budget Committee Chairman Rep. Paul Ryan (R-WI) released his new budget blueprint for fiscal year 2015. It contains many of the same cuts to social safety net and low-income assistance programs as his previous proposals — including sweeping changes to Medicare that would turn the health care program for the elderly into a "premium support" plan that forces American seniors to pay more for their coverage.

Ryan's new Medicare proposal hews to the same basic structure as his previous premium support plans — in essence, a system of insurance vouchers. Under the plan, future Medicare beneficiaries would have the option of choosing between traditional fee-for-service Medicare or a list of private health plans and receive a subsidy to help pay the chosen policy's premium. Unlike previous Ryan budgets, however, seniors who are currently 55 or younger would be forced into this alternative system, likely breaking a pledge House Republicans made last year promising that current 55-year-olds would be able to stay on traditional Medicare.

Ryan emphasizes that his proposal still gives seniors the choice of remaining in regular Medicare. But what he doesn't mention is that his plan makes Medicare so expensive that millions of seniors will likely be forced to switch into the private plans. While Ryan employs a different type of bidding system for private health plans under his 2015 blueprint that softens his plan's topline effect on beneficiaries' costs, an earlier Congressional Budget Office (CBO) analysis of Medicare premium support systems found that plans such as Ryan's would increase traditional Medicare premiums by a staggering 50 percent.

The millions of seniors who are forced over to private plans would also find themselves with different doctors and narrower coverage networks under Ryancare — ironic considering Republicans' unabashed outrage over news that the Affordable Care Act had canceled about three or four million skimpy insurance policies. But unlike Obamacare, Ryan doesn't require his replacement private plans to have a more robust base level of consumer protections and benefits than beneficiaries' previous coverage.

Low-income seniors would be particularly hurt by the Ryan approach to Medicare since it would also raise the Medicare eligibility threshold. Since Ryan's plan also dismantles Obamacare, including the health law's Medicaid expansion, this would be a major blow to the poor and elderly who are just on the cusp of Medicaid eligibility. These people would be unlikely to qualify for Medicaid absent the ACA's expansion and many of them would be forced to continue working simply for the sake of retaining their employer-sponsored coverage, a phenomenon known as "job lock." Seniors who aren't lucky enough to receive employer coverage would have to try their luck in an individual market absent Obamacare's consumer protections and industry reforms, meaning they may be charged exorbitant rates for having poor health or denied health insurance altogether.

A full CBO analysis of Ryan's new budget plan is necessary in order to evaluate its overall effect on seniors. But the blueprint Ryan released today suggests that it boils down to seniors paying a bigger chunk of money for their care or having fewer coverage options.
Congresswoman Barbara Lee (D-CA) condemned Fox News host Bill O'Reilly's "divisive" remarks labeling her a "race hustler" in a statement released Wednesday.

In a March 26 statement, Lee responded to O'Reilly description of her as a "race hustler" and called for an end to the use of such language in the national discourse. Lee was attacked by O'Reilly for her reaction to comments by Rep. Paul Ryan (R-WI) that blamed poverty on a "real culture problem" he said persisted "in our inner cities"  where men were not "learning the value and the culture of work." Lee took offense to those comments as a "thinly veiled racial attack." She called O'Reilly's comments "disgusting and divisive" and said that they "should never be accepted in our national discourse."

During the March 25 edition of Fox News' O'Reilly Factor, O'Reilly attempted to defend the remarks made by Ryan by attacking Lee and accused her of exploiting Ryan's comment for political gain, deeming her a "race hustler." 
Will Mark Levin's vulgar analysis of Hillary Clinton finally be enough to keep top GOP officials off his show?

On the March 21 edition of his radio show, Levin highlighted a Gallup poll showing that the majority of respondents, 18 percent, feel Clinton's gender is the most positive aspect of her potential presidency. Levin summarized the results by asking "Hillary Clinton's gender? Do they mean her genitalia is her top 2016 selling point? Is that what that means?" Levin later said "But the key is it's her genitalia. That's why so many people would vote for her. I wonder if Bill Clinton would vote for her because of that. He seems to — well, he likes genitalia but maybe not hers."

Levin has a long history of offensive commentary on his radio show. He has accused President Obama of abusing children, compared marriage equality to incest, polygamy, and drug use, compared supporters of the Affordable Care Act to Nazi "brown shirts," and advocated for Obama to be impeached.

Despite this rhetoric, prominent conservatives have given tacit approval to Levin's views by appearing on his show. Sen. Ted Cruz (R-TX) and Rep. Louie Gohmert (R-TX) called into his show as recently as February. Levin hosted House Budget Committee chairman Rep. Paul Ryan (R-WI) to talk about the new budget agreement reached in December. Levin criticized Ryan's budget deal with Sen. Rand Paul (R-KY) later that month.

Levin's hateful rhetoric has also earned him praise from the conservative community — he was recently named the winner of the Conservative Political Action Conference's Andrew Breitbart Defender of the First Amendment Award. He is also listed as one of the speakers on the NRA's "Leadership Forum" in April, speaking alongside other prominent conservative GOP leaders like Louisiana Gov. Bobby Jindal (R-LA) and Sens. Mitch McConnell (R-KY) and Marco Rubio (R-FL).
From the 03.21.2014 edition of Premiere Radio Networks' The Mark Levin Show:
Republicans are showing no signs of abandoning their anti-Obamacare crusade any time soon.
On this anniversary, ThinkProgress takes a look back at all of the milestones in the GOP's ongoing campaign to undermine a law that has defined national politics for half a decade:

MARCH 23, 2010: An immediate push to repeal.

Immediately after President Obama signed the Senate health care bill into law, 13 Republican state attorneys general file a federal lawsuit against the overhaul and Sens. Jim DeMint (R-SC), Rep. Michele Bachmann (R-MN) and Rep. Steve King (R-IA) introduce legislation to repeal the law. King even offers a discharge petition. "If we can get to 218, we can force Nancy Pelosi to bring a repeal to the floor for a vote. If the Senate can do that…we have a chance to put a repeal on President Obama's desk and make him veto that bill," King explained. "Repeal and replace will be the slogan for the fall," Minority Leader Mitch McConnell (R-KY) predicts. Watch a compilation:

Virginia Attorney General Ken Cuccinelli files a separate lawsuit in Virginia challenging the constitutionality of the law.
John Boehner (R-OH) — then the House Minority Leader — promises that Republicans will seek to defund the measure. "You just gotta take appropriated funds to actually come through the process to fund the hiring of new employees, to create these new bureaucracies. I can't imagine a Republican Congress is going to give this President the money to begin this process," he tells Fox News.
Meanwhile, Democratic lawmakers who voted for the bill are receiving death threats and experiencing vandalism. Vandals struck the Tuscon office of Rep. Gabrielle Giffords (D-AZ), the Monroe County Democratic Committee headquarters in upstate New York, Rep. Louise Slaughter's (D-NY) Niagara Falls office, the Knox County Democratic headquarters in Ohio, and the Sedgwick County Democratic Party headquarters in Wichita, KS. Majority Whip James Clyburn (D-SC), the highest-ranking black lawmaker in the House, has said "he received an anonymous fax showing the image of a noose" and authorities in Virginia are investigating "a cut propane line" at the home of a brother of Rep. Tom Perriello (D-VA).
Sarah Palin labels a map of vulnerable lawmakers' districts with crosshairs on her Facebook page and tweeting, "Commonsense Conservatives & lovers of America: "Don't Retreat, Instead – RELOAD!"

CREDIT: SARAHPACT/FACEBOOK

The ACA prohibits women from using premium affordability tax credits or cost-sharing payments to pay for abortions but also reinforces states' ability to prohibit insurers from providing any form of abortion coverage within the exchange. The day before Obama sings the Affordable Care Act into law, a Missouri Senate committee votes 5-1 to advance a bill that would deny insurers the right to offer abortion coverage in any government exchange. A total of 23 states now prohibit abortion coverage in their marketplaces.

Some Republicans are initially wary about repealing the law in its entirety. For instance, in January, Eric Cantor told Politico's Mike Allen that Republicans "WILL NOT campaign for full health care repeal, but will demand partial repeal, including mandates for health coverage."
Rep. Phil Gingrey (R-GA) admits there are portions of the legislation he likes – including the provision that would allow parents to carry their offspring on their insurance until age 26. "When we say start over, we don't mean throw everything out – throw out the baby with the bath water. We mean, take the best of this bill and combine it with our ideas like buying insurance across state lines and equalizing the tax treatment and creating high-risk pools." "Of course, all of the language regarding electronic medical records I'm in favor of. So I might not fully agree with completely repealing and starting over."

APRIL 2010: Republicans actually take credit for parts of Obamacare.

Republicans admit that repeal is unrealistic. "The fact is that's not going to happen, OK?" Sen. Bob Corker (R-TN) tells an audience at Vanderbilt University. Sen. Richard Burr (R-NC) agrees: "It may not be total repeal at the end of the day. It may be a series of fixes over the course of this bill getting enacted that allow us to change and possibly bend that cost curve down."

Rep. Jack Kingston (R-GA) tells a town hall meeting, "There are a lot of things in this bill I think you and I certainly like." "I think as a practicality you're going to have trouble repealing the whole deal… there ought to be areas where Democrats and Republicans can come together."

John Boehner tries to take credit for some provisions included in the bill and promised to keep them in place.

His refusal to call for a full repeal betrays a growing rift between leadership and the more conservative members of the Republican party. Rep. Steve King (R-IA) —has repeatedly warned Republicans that "if we leave any component of it in there, it has, it's just become a malignant tumor that's attacking our liberty and our freedom and it's diminishing our aspirations and it saps our overall productivity as a nation," King says. "If we can't come to that conclusion, then I want some new people to come help me." In April, repeal legislation had no more than 62 co-sponsors in the House and 20 in the Senate.

States like Ohio and Alabama approve petitions to remove their residents from requirements to purchase health insurance and to participate in the law's health plans. The effort was being orchestrated and organized by the American Legislative Exchange Council [ALEC], a "business-friendly conservative group that coordinates activity among statehouses." The Council is pushing model legislation to protect "the rights of patients to pay directly for medical services" and prohibit the individual mandate. Multiple states pass similar measures, though the effort never proves popular.

MAY 2010: Republicans offer a 9-page alternative.

Republicans prepare to re-litigate the health care reform debate by blocking the nomination of Donald Berwick, a Harvard University professor, to head the Center for Medicare and Medicaid Services (CMS). The Republican Policy Committee preparesa memo linking Berwick to the British health care system and presents him as someone who supports rationing and a government takeover of health care. Obama recess appoints Berwick in July of 2010.

Watch Republicans go at it:

Republicans object to government-printed mailers informing Medicare beneficiaries about how the new health care law will improve the program. "This goes beyond propaganda and is blatantly political. If this document is really about Medicare, then why is there information in there about 26-year-olds being able to stay on their parents' policies?" Rep. Dave Camp (R-MI) asks. "The brochure fails to inform seniors that the president's new law cuts $550 billion from their Medicare," Sen. John Barrasso (R-WY) adds.
Republican leadership in the House introduces a 9-page "bill" to repeal the health care law and replace it with the Republican alternative already defeated on the House floor in November 2009. This is the third repeal bill introduced by the GOP, but the first to replace the law with different legislation. The Congressional Budget Office found that under the GOP alternative, the number of uninsured Americans would increase to 52 million by 2019. The bill could slightly reduce premiums for Americans who purchase coverage independently.

JUNE 2010: Republicans make first effort to repeal the individual mandate, while arguing parts of reform should be better funded.

Congress rejects a Republican effort to strip the individual health insurance mandate from the new health care law. Twenty-one Democrats cross party lines to vote in favor of the measure, while one Republican, Rep. Joseph Cao (R-LA), votes against it. The effort is led by Rep. Dave Camp (R-MI), who attempts to attach the measure to a motion that would have sent a small business tax credit bill back to committee with instructions to insert language invalidating the measure.
Camp claims that the mandate violated "the basic principle of freedom and individual choice." "No American should be forced to buy or purchase health insurance they don't want or can't afford," Camp says, arguing that the measure would "uphold the freedom upon which this nation was founded" and obfuscate the need for more IRS agents. Highlights from the debate:

Florida Senate candidate Marco Rubio — who had signed a pledge to fully repeal the law — tells reports that he would maintain the law's pre-existing conditions exclusions and the provisions that allow children to stay on their parents' policies until age 26. "A small group of reporters in a D.C. coffee shop, chatting with Florida Republican Senate candidate Marco Rubio. He just mentioned that there are two parts within the Obamacare legislation that he doesn't want repealed. The first is the ban on insurance companies denying coverage based on preexisting conditions and the second is that he thinks that children up to age 26 should be allowed to "buy into" their parents' coverage," National Review's Jim Geraghty reported. Rubio later backs away from those comments.

CREDIT: AP

John Boehner and Eric Cantor sign onto two discharge petitions offered by Steve Kin and Wally Herger (R-CA). The petitions will need to attract 218 members to force the House to take up repeal legislation that would eliminate the entirety of the health law. Herger's measure would also replace the law with "common-sense reforms." The move was a significant departure for the Republican leaders who have previously claimed that they would like to preserve the more popular elements of health care reform and repeal "the other" mandates.
28 Senate Republicans write to Health and Human Services Secretary Kathleen Sebelius arguing that the law's high-risk insurance pools "will fail to provide the assistance promised by supporters of the new law." The office of Rep. Dave Camp (R-MI) put out an entire release complaining about the lack of funds.

AUGUST 2010: Republicans continue to attack HHS education campaigns.

GOP Senators write a letter to HHS Secretary Kathleen Sebelius expressing their "profound concern" about a television campaign featuring Andy Griffith promoting the health care law. "The Administration's clam to "correct the record" is misleading and offensive. We can debate the relative merits of the new law, but co-opting public funds during a recession, to make a political, poll tested argument about the new law, is wrong," the write. Watch the ad:

SEPTEMBER 2010: Republicans go after reform's regulations.

Speaking at the Values Voters Summit in Washington, D.C., Newt Gingrich likened Kathleen Sebelius' warning to insurers against increasing health care premiums exponentially to "Soviet tyranny" and said that a Republican-controlled House should ask for her resignation and defund her office in the Department of Health and Human Services. Watch it:

Republicans unveil a 'Pledge To America,' an agenda which promises to "repeal" all of these benefits — as well as the entire health care law — and replace it with "reforms that lower costs for families and small businesses, increase access to affordable, high-­‐quality care and strengthen the doctor-­‐patient relationship." The document provides almost no specifics about what the party would do to control health care spending, improve quality, or pay for its reforms. And at least 7 of the GOP's ideas on health care are already included in the health care law.
Sen. Mike Enzi (R-WY) offers a resolution to weaken the law's "grandfathering" rule, which allows plans that existed before March 23, 2010 — the date the healthcare law was signed — to be exempt from certain consumer protections enacted in the law. Republicans argue that they need to enact the change in order to realize Obama's promise of "if you like your coverage, you can keep it."
GOP Senators began to speak out against regulations on the Senate floor, claiming that "there will be 100 pages of regulation for each page of that bill." "There are 2,700 pages in that bill. That means there are going to be 270,000 pages of regulation," Sen. Mike Enzi (R-WI) said. Sen. John McCain (R-AZ) came up with a different estimate, projecting that there would be 121 pages of regulation for every 2 pages in the bill.

OCTOBER 2010: "There will be no insurance industry left in three years."

Sen. Tom Coburn (R-OK) predicts that reform would end the health insurance industry. "There will be no insurance industry left in three years," Coburn tells the Republican Women's Club of Tulsa County. "That is by design. You're going to make insurance unaffordable for everyone — which is what they want. Because if there's no private insurance left, what's left? Government-centered, government-run, single-payer health care."

CREDIT: AP

Many Republican governors are slow to accept federal grants to help implement the health care law. They turn down funds to establish high-risk insurance pools or other programs, arguing that they'd prefer to wait for the Supreme Court to rule on its constitutionality. "Let's finish this lawsuit and see if the individual mandate gets overturned," Alaska Gov. Sean Parnell (R) says. "That will directly bare on the health insurance exchanges and we got three years more, four years more until we've got to buy into a system that right now, I don't buy." However, almost all of the states that sued the federal government over the constitutionality of the law accept some of the early benefits of reform.

NOVEMBER 2010: Republicans re-take House in midterm elections.

GOP pledge to use committee hearings and "oversight" investigations to build public support for repealing the law. Appearing on Meet the Press Gov. Haley Barbour — then chairman of the Republican Governors Association — predicts that if Republicans aren't successful in repealing the health care law outright, "they will make such big changes in it over the next three years that you won't recognize it."
Voters in the 2010 midterm elections are bombarded with anti-reform advertising:
<href="http: www.politico.com="" static="" ppm110_101103_health_care_post_elect.html"="" style="box-sizing: border-box;">70% of voters who saw an Obamacare ad say the ad was in opposition to the Obama plan, 8% in support, with another 20% of voters saying they recall advertising on both sides of the issue."

After reclaiming the House, Republicans pledge not to fund the health care law. "We don't have to defund it, we just don't have to pass the funding for it," then Sen. Jim DeMint (R-SC) says. "The majority in the House can control the appropriation bills and we can just not include in those appropriation bills the funding for the implementation of ObamaCare. The president may fight us on it and it could be a very intense show down. But Republicans are in a position now to make sure no funding goes forward for Obamacare." Watch it:

Senate Minority Leader Mitch McConnell (R-KY) promises that Republicans don't plan to shutdown the government over reform. "We're not talking about shutting down the government. What we're doing here is talking about responding to the American people's desire that this bill not become law." Watch it:




JANUARY 2011: The first vote to repeal Obamacare.

Republicans in the House vote to repeal the health care law, while dismissing a Congressional Budget Office report showing that it would increase the deficit by $230 billion. "I do not believe that repealing the job-killing health care law will increase the deficit," Boehner said of the score. "CBO is entitled to their opinion, but they're locked within constrains of the 1974 Budget Act." Watch it:

Republicans prohibited Democrats from offering any significant amendments to H.R. 2, the GOP's Repealing the Job-Killing Health Care Law Act and allowed just seven hours of debate on the floor. The measure passed 245 to 189. '




FEBRUARY 2011: Governors seize on court ruling to abandon implementation.

After a federal judge rules that it was unconstitutional for Congress to enact a health care law that required Americans to obtain commercial insurance, a handful of conservative leaders announce that they will stop implementing the measure in their states.

MARCH 2011: Republicans discover Obamacare bombshells.

Michele Bachmann discovers a "bombshell" of $105 billion in mandatory spending included in the health care law. "This is something that wasn't known," Bachmann said on Meet The Press. "This money was broken up, hidden in various parts of the bill." Congressional Budget Office Director Douglas Elmendorf later told Congress the funding was, in fact, widely publicized.

CREDIT: AP

Sen. Ron Johnson (R-WI) pens an op-ed suggesting that his daughter Carey may have died from a heart condition were she treated under the Affordable Care Act.
The Republicans on the Energy and Commerce Committee issue a press release in which they claim to have discovered "a $5 billion bailout fund for state governments, Fortune 500 companies, and Hollywood unions." The program was so secretive that it was extensively covered by the press and regularly touted by Democrats as an example of how the Affordable Care Act would help businesses struggling with growing health care spending and prevent companies from dropping early retiree coverage (seniors 55-64 years old who are not yet eligible for Medicare) before the exchanges begin in 2014.

APRIL 2011: Vulnerable Americans "wouldn't survive" with "socialized medicine."

Republicans seize on President Barack Obama's proposal to expand the cost-cutting authority of the Independent Payment Advisory Board (IPAB) — a commission created by the Affordable Care Act to help reduce health care costs in Medicare. "His plan for changing Medicare is to increase the authority and the ability for price controls from the Individual Payment Advisory Board, which is nothing but say we are going to ration care," Tom Coburn says. "He wants to delegate more power to this IPAB, it's like 12 people who can't be controlled by Congress who can just unilaterally ration and price control health care through Medicare," Paul Ryan adds.
Sarah Palin may have been the first Republican to argue that her son Trig would be harmed by the Affordable Care Act, but Rick Santorum (R-PA) is not far behind, telling reporters in Iowa that his daughter Bella — who was born with a genetic abnormality — wouldn't survive in a country with "socialized medicine."

MAY 2011: Republicans link Obamacare to Romneycare.

With the 2012 election heating up, Republican presidential hopefuls begin attacking Obamacare for its similarity to the reform Gov. Mitt Romney enacted in Massachusetts. Consider this graphic in Rick Santorum's fund-raising email:

"The reality is that Obamacare and Romneycare are almost exactly the same," former New York Mayor Rudy Giuliani would say during an appearance in New Hampshire later that summer. "It's not very helpful trying to distinguish them. I would think the best way to handle it is to say, it was a terrible mistake and if I could do it over again, I wouldn't do it."
After the administration granted waivers to businesses and policyholders from the Affordable Care Act, excluding those entities from having to offer a minimum amount of coverage annually, Republicans attack Democrats for helping their campaign contributors. "Of the 204 new Obamacare waivers President Barack Obama's administration approved in April, 38 are for fancy eateries, hip nightclubs and decadent hotels in House Minority Leader Nancy Pelosi's Northern California district," the Daily Caller wrote. Newt Gingrich and Tim Pawlenty jump on the story, thought it was later reported that Pelosi had nothing to do with securing the waivers and a government report would later clear the administration of any wrongdoing. Republicans continue to portray the nearly 1,400 waivers distributed by HHS as evidence that the law isn't working or that the administration is using the process to grant exemptions to and reward its political allies.

JUNE 2011: Obamacare "ends Medicare as we know it."

WIth his Medicare "premium support" reforms under attack, Paul Ryan appears on Fox News to argue that it's actually the Affordable Care Act that "ends Medicare as we know it." "Millions of dollars of negative ads are being run to try and scare seniors and trying to confuse seniors. You know, the irony of this Bill, is with all this Mediscare that the Democrats are running, it's Obamacare itself that ends Medicare as we know it." Watch it:
Michele Bachmann attacks Tim Pawlenty for endorsing the goal of universal coverage in 2006. "I think it will concern the voters," she tells conservative talk show host Laura Ingraham. Bachmann adds that it's important to have candidates who have been consistent on issues like healthcare reform, saying she has been consistent in opposing President Obama's healthcare law. "We need to have people who have enough foresight and common sense to know these programs aren't going to work. I'm that kind of person," she says.
During an appearance on Fox News Sunday, Pawlenty comes out swinging against Romney's law. "President Obama designed Obamacare after Romneycare and basically made it Obamneycare," he says. "We now have the same features, essentially the same features. The President's own words is that he patterned Obamacare in large measure after what happened in Massachusetts." Watch it:

During a primary debate, Pawlenty fails to confront Romney over the similarities of the two plans, effectively ending his campaign:

The Commonwealth Fund publishes a report examining why enrollment trends in the Affordable Care Act's high risk insurance pools — temporary coverage programs for uninsured people who can't find coverage in the individual market — have generally fallen below expectations. Besides the structural challenges, Jean P. Hall and Janice Moore also suggest that the GOP's efforts to repeal the law may already be undermining the high risk insurance program.

AUGUST 2011: Obamacare's birth control coverage will result in "dying civilization."

Conservatives lash out at the Obama administration's decision to accept the Institute of Medicine's recommendations and require new health insurance plans to cover birth control with no co-pays. During a floor speech, Steve King adds his voice to the conservative chorus denouncing the very idea of birth control. In apocalyptic tones, King warned that free birth control would "prevent a generation" from being born and make America a "dying civilization." Watch it:




SEPTEMBER 2011: Lindsey Graham tries to block implementation of reform.

Republicans introduce legislation prohibiting the enforcement of any requirement or regulation related to existing health policies, effectively gutting consumer protections for millions of Americans with private coverage. The GOP also offered bill to repeal medical loss ratio (MLR) regulations that require plans that don't spend 80 to 85 percent of premium dollars on health care costs to issue rebates to their enrollees. Forty-eight national and state consumer advocacy organizations would later release a letter condemning the measures.
Senate Democrats rebuff "a GOP attempt to attach language to the annual financial services spending bill that would block implementation of a portion of the 2010 health care law." The Senate Committee on Appropriations "rejected, 14-16, an amendment by Lindsey Graham, R-SC, that would prohibit funds in the bill allocated for the IRS from being used to implement part of the health care law, including the mandate that individuals have health insurance starting in 2014."

OCTOBER 2011: Obamacare will force the nation to "go to a single-payer system."

A group of Republican senators and representatives convene a Senate Swamp to present 1.6 million petition signatures "from American citizens who are urging Congress to immediately repeal Obamacare." The lawmakers argu that health care reform has undermined job creation and pledged to repeal the law before the Supreme Court rules on its constitutionality in the summer of 2012. Rep. Louie Gohmert (R-TX) went a step further, suggesting that the justices should find the law unconstitutional in order to protect their own medical privacy. "Any president they don't like will have access to any Justice's health care records and as I understand — I haven't read the agreement between the administration and GE — GE will have access to their health care records," he said.
"If president Obama is reelected within a year or two he'll throw his hands in the air and say, 'it's not working we have to go to a single payer system," Sen. Orrin Hatch (R-UT) predicts during a speech at the Heritage Foundation.

CREDIT: AP

The House Oversight and Government Reform committee publishes a new report arguing that the health care law implements a "marriage penalty tax" that will over time "directly cause fewer individuals to marry."

FEBRUARY 2012: The contraception wars begin.

Republicans attack the Obama administration's regulation requiring employers and insurers to provide reproductive health care services — including contraception — by arguing that the rule is undermining the religious liberties of Catholics and imposing "a secular vision on Americans who believe that they should not have their religious freedom taken away." The administration eventually announces an accommodation for religious liberties that allows religious nonprofits to avoid providing contraception. The GOP still attacks the new rule as inadequate, suggesting that it is even worse than the original guidelines.

CREDIT: AP

Democrats tear into House Oversight Committee Chairman Rep. Darrell Issa (R-CA) for preventing women from testifying before a hearing examining the Obama administration's regulation requiring employers and insurers to provide contraception coverage to their employees. Ranking committee member Elijah Cummings (D-MD) had asked Issa to include a female witness at the hearing, but the Chairman refused, arguing that "As the hearing is not about reproductive rights and contraception but instead about the Administration's actions as they relate to freedom of religion and conscience, he believes that Ms. [Sandra] Fluke is not an appropriate witness." Reps. Carolyn Maloney (D-NY) and Eleanor Holmes Norton (D-DC) walked out of the hearing in protest of his decision, citing frustration over the fact that the first panel of witnesses consisted only of male religious leaders against the rule. Issa also dismisses Fluke as a "college student' who does not "have the appropriate credentials" to testify before his committee.

A picture of the witness table:

Obama will later poke fun at the hearing during White House Correspondents' Dinner, joking, "Jimmy [Kimmel] got his start years ago on the Man Show. In Washington, that's what we call a Congressional hearing on contraception." Watch it:




MARCH 2012: McConnell says he no longer wants to vote on repeal.

The Supreme Court hears oral arguments in the case challenging the constitutionality of the Affordable Care Act. Outside of the Court steps, Texas Rep. Louie Gohmert (R) says that Americans will "die early" if the law remains in place and the Court finds it constitutional. Watch it:




APRIL 2012: Republicans go after prevention.

House Republicans pass legislation that would require families who qualify for subsidies in the health care exchanges to pay higher taxes if their incomes change mid-year. The change could dissuade people from purchasing insurance, disproportionately impact women (who are more likely to experience income fluctuations), and could increase costs for the entire population.
House Republicans pass a bill preserving lower interest rates on student loans by gutting the Affordable Care Act's Prevention and Public Health Fund. The GOP measure — which passed in a vote of 215-195, with the support of 13 Democrats — finances the $5.9 billion cost of maintaining the 3.4 percent interest rate on Stafford loans for one year by repealing the Fund in its entirety and rescinding all unobligated balances, including money being spent in 2012.

MAY 2012: Catholic groups sue over contraception requirement.

The University of Notre Dame, Catholic University of America, the Archdiocese of Michigan, and the Archdiocese of New York have file a lawsuit against an Obama administration regulation requiring employers and insurers to offer preventing health services — including contraception — without additional cost sharing. The suit, one of 12 filed, argues that the requirement violates the Catholic institutions' religious freedom — even though regulators have included an accommodation for religious organizations.
Republicans criticize the Department of Health and Human Services for signing a $20 million contract with a public relations firm to educate Americans about the preventive health benefits included in the Affordable Care Act. The campaign — mandated by the law — "must describe the importance of prevention while also explaining preventive benefits provided by the healthcare law," essentially informing the public about the availability of preventive services without additional co-pays.

JUNE 2012: Supreme Court upholds Obamacare, Republicans turn back to repeal.

Wisconsin Gov. Scott Walker (R) had promised in January that he would not implement a state exchange program until after the Supreme Court ruled on the Affordable Care Act, but now says he won't act on the law no matter what the ruling is. Walker says he won't do anything until after the election in November in the hopes that Romney wins. At least eight governors continue to hold out hope — and postpone implementation — even after the Supreme Court upholds the law.

CREDIT: AP

The Supreme Court upholds the individual mandate as a tax. The Medicaid expansion is limited, but not invalidated, the court found. In short, it decided that if a state does not expand the Medicaid program, as required by the law, the federal government cannot withhold Medicaid funds. With some news networks erroneously reporting that the Supreme Court struck down the Affordable Care Act's individual health care mandate just moments after the justices released their opinion, outgoing Rep. Jean Schmidt (R-OH) screamed with joy at the false news that the Court invalidated the requirement. Watch it:

Republicans immediately announce that they will take another vote on repealing the law the week of July 9th.

JULY 2012: More than a dozen governors refuse Medicaid funds following Supreme Court ruling.

Fox News's Chris Wallace asks Mitch McConnell how he would provide coverage to the uninsured should they repeal the health care law. After McConnell meandered through the typical GOP talking points that they plan to allow the sale of health insurance across state lines and that they will institute medical malpractice reform, he finally settled on an answer: Insuring Americans "is not the issue."
Tom Coburn claims that the Affordable Care Act will "Sovietize the American health care system" because "it means the bureaucrats and politicians are in charge of your health care." Watch it:

Following the Supreme Court ruling, Republican governors begin considering refusing billions in Medicaid funds. A ThinkProgress survey finds that ten GOP governors have said definitively that they will not accept the funds, while 19 are still considering other options. Sixteen states, all with Democratic governors, have committed to expanding their programs

:

Gov. Rick Perry (R) announces that Texas won't create a state insurance exchange nor accept expanded Medicaid funds outlined in the Affordable Care Act. In a statement, Perry said, "Neither a 'state' exchange nor the expansion of Medicaid under this program would result in better 'patient protection' or in more 'affordable care.'"
Marsha Blackburn (R-TN) defends the GOP's 31st vote to repeal the Affordable Care Act, arguing that it is more than "political theater," and that she wishes they could vote to get rid of Obamacare "every single day." Watch it:

Republicans continue to insist that they will unveil their health care reform plan as soon as they repeal Obama's law. Watch it:

AUGUST 2012: Romney/Ryan hit Obama for cutting Medicare funding.

Romney selects Paul Ryan as his running mate and begins attacking the Medicare reductions included in the Affordable Care Act. The law reduces future Medicare spending by $716 between 2013 and 2022 and Ryan maintains the savings in his own Medicare proposal. The Romney campaign, however, tries to gloss over the similarity and attack the president for approving reductions that the Republican runningmate also supports. In the days that follow the Romney/Ryan campaign twists itself into a pretzel attacking President Obama for "stealing" $716 billion from Medicare, while trying to explain why Paul Ryan included the savings in his FY 2013 budget:

Romney even offers a white board presentation during a news briefing in South Carolina that tries to untangle the campaign's contradictory message about Medicare.

Between September 1 and October 1, an array of conservative outside groups will spend about $8 million in attack ads, repeating the false claim about Medicare cuts against House and Senate candidates across the country.

SEPTEMBER 2012: Hobby Lobby files suit to deny contraception coverage to its employees.

Crafts store Hobby Lobby sues the federal government claiming it should not be forced to provide workers with health insurance that covers the morning-after and week-after pills. The Christian-owned store operates 500 arts and crafts stores in 41 states.

CREDIT: AP

NOVEMBER 2012: "Obamacare is the law of the land."

On election day, five states tack on symbolic measures onto their ballots purely to oppose the Affordable Care Act. Wyoming's Amendment A, Florida's Amendment 1, Alabama's Amendment 6, and Montana's Measure LR-122 would all prohibit state residents and employers from being forced to purchase insurance or participate in any externally-imposed health care system. In Missouri, Proposition E seeks to prevent the state from instituting its own health insurance exchange.
Following President Obama's re-election, Eric Cantor predicts that House Republicans will continue to resist any revenue increases in favor of deep cuts to the social programs during negotiations to resolve the so-called fiscal cliff. Cantor makes it it clear that that this includes slashing funding for health care programs like Obamacare, Medicare, and Medicaid.
John Boehner confirms that the House GOP will no longer attempt to repeal the Affordable Care Act. Asked about the future of the health care reform law, Boehner says "the election changes that" and "Obamacare is the law of the land." Boehner does suggest that some parts of the law could "be on the table as lawmakers work toward a balanced budget. However, just moments after making comments, Boehner backpedals, saying that he remains committed to repealing Obamacare. He plater pledges "[v]igorous oversight of the health care law by the House."

FEBRUARY 2013: Jindal suggests delaying Obamacare to avoid sequestration.

Though a growing number of Republican governors are implementing parts of the law — including Medicaid expansion — Republicans in Congress are still holding firm. During a Budget Committee Hearing, Sen. Jeff Sessions (R-AL) announced that the Affordable Care Act — which had been projected to reduce the deficit by billions over 10 years — would actually increase long-term debt by $6.2 trillion. Sessions was citing a government report that estimated what would would happen if the cost containment provisions in the law — the Independent Payment Advisory Board, excise tax on high-cost plans, and reductions in Medicare payments to providers — are "phased out over time" while the coverage provisions remain.
Appearing on Meet The Press, Louisiana Gov. Bobby Jindal (R-LA) advises Obama to put off implementing the Affordable Care Act's health care exchanges that are due to go online in 2014 and the expansion of the Medicaid program to offset the looming sequester cuts.

MARCH 2013: Headed towards a government shutdown.

Marco Rubio joins fellow Tea Party favorites Sens. Ted Cruz (R-TX) and Mike Lee (R-UT) in demanding that a continuing resolution to fund the government for the rest of the fiscal year include provisions to defund Obamacare in its entirety. " I don't think anyone is in favor of shutting down the government, but I think that's where we're headed ultimately here," Rubio told conservative talk show host Hugh Hewitt.
A group of top House Republicans write a letter to President Obama asking him to preserve a temporary program included in the law that provides health care coverage to people with pre-existing conditions. The so-called Pre-Existing Condition Insurance Plan (PCIP) was designed as a bridge to the exchanges for families and individuals who don't have an offer of coverage from an employer and cannot find insurance in the individual market. The $5 billion program, which covers only sick people is incredibly costly, and will soon stop processing new applicants. "Your administration's action will leave thousands of Americans with pre-existing conditions without access to health care," the group of House Republicans write. The letter reiterates the GOP's opposition to the Affordable Care Act as a whole but notes, "to allow PCIP to continue to accept new enrollees, we urge you to support efforts to transfer the funds necessary from other PPACA programs, such as the Prevention and Public Health Fund, the Secretary's transfer authority to assist with state based exchanges, comparative effectiveness, planning, or another similar program to PCIP." The GOP would later schedule a vote to shift money from the portion of Obamacare that invests in prevention and use it to expand the temporary initiative, only to pull it at the last minute.

APRIL 2013: House freshman ask for an opportunity to vote on repeal.

Freshman House Republicans push for another vote on repealing the health care law, even though they acknowledge the effort is "just symbolic," so they can tell their constituents they tried to get rid of the law. "The guys who have been up here the last two years, we can go home and say, 'Listen, we voted 36 different times to repeal or replace ObamaCare.' Tell me what the new guys are supposed to say?" one member said Wednesday at a forum sponsored by the Heritage Foundation. They will get the opportunity later in the year.

MAY 2013: Republicans seize on IRS targeting scandal to undermine reform.

Four days after news broke that the Internal Revenue Service (IRS) had improperly targeted conservative political groups for scrutiny, GOP Sen. Dean Heller (NV) threatens legislation to "deny the IRS funds to hire new agents to implement Obamacare." The bill would effectively make it impossible for the agency to provide millions of Americans with federal subsidies to buy the very health coverage they are required to have under the law. Should Heller's bill become law, the government wouldn't be able to collect the penalties or pay out subsidies. It would also struggle to capture revenues from fees on medical devises, health care insurers and high-cost plans.
Sen. Lamar Alexander (R-TN) criticizes Sebelius for asking businesses and other community organizations to support an enrollment campaign spearheaded by Enroll America, a nonprofit organization working to convince people to sigh up for health care coverage. Alexander said Sebelius' actions should "cease immediately and should be fully investigated by Congress."
JUNE 2013: Critics outspend supports of the law 5:1.

Marco Rubio proposes a constitutional amendment that, if approved, would nullify Obamacare's individual mandate. The "Right to Refuse" amendment would make any laws that tax Americans who fail to purchase goods or services unconstitutional, targeting the Affordable Care Act's stipulation that nearly all Americans must purchase health insurance.
A new analysis of advertisements about Obamacare aired since 2010 finds that the health law's critics have spent a whopping $400 million on television spots criticizing the law. That's over five times the $75 million that the law's supporters have spent on ads promoting Obamacare and outreach efforts meant to educate Americans about reform.

Rep. Steve Scalise (R-LA) sends a letter to NBA and NFL league commissioners, probing them about recent talks between the organizations and the Department of Health and Human Services (HHS) on a potential deal to promote enrollment into Obamacare's insurance marketplaces. "I contend that the effects of this [Obamacare] train wreck will have a devastating impact on your fans and business partners across the country… I would caution you against being coerced into doing [the Obama administration's] dirty work for them," writes Scalise.
Mitch McConnell also urges 6 professional sports leagues not to support the law. In letters to the leagues, McConnell and Cornyn cited an announcement by federal Health Secretary Kathleen Sebelius that she is in talks with the NFL, the NBA and others about campaigns to educate the public about healthcare reform."

CREDIT: AP

Reps. Tim Huelskamp (R-KS) and Jason Chaffetz (R-UT), announce that their offices would not reply to voters who phoned in with questions about how to enroll in the exchanges or qualify for the subsidies. However, other Republicans — including Rep. Paul Ryan (R-WI) — promise to to aid voters.

JULY 2013: Republicans threaten to block government funding bill.

15 Republicans sign-on to a letter pledging to block a bill to fund government operations unless Obamacare is defunded.

AUGUST 2013: States refuse to enforce Obamacare provisions.

Officials in Texas and five other GOP-led states are refusing to oversee even Obamacare's most basic — and popular — consumer protections and insurance market reforms. That includes the law's ban on denying coverage or charging more because of a pre-existing condition and discriminating against women on the basis of gender. The decision could present major hurdles to Americans who buy health insurance through federally-run marketplaces in the Lone Star State, Arizona, Alabama, Missouri, Oklahoma, and Wyoming. Below is a chart of efforts to sabotage Obamacare on the state level by undermining education campaigns, hampering enrollment efforts, and even outright blocking some of Obamacare's provisions:

SEPTEMBER 2013: "I intend to speak in support of defunding Obamacare, until I am no longer able to stand."

Republican kick off an investigation into community-based groups who received Navigator grants to help uninsured people enroll in the exchanges established by the Affordable Care Act, demanding that the organizations answer detailed questions and produce thousands of reams of documents. Fifteen Republican members of the House Committee on Energy and Commerce, including Chairman Fred Upton (R-MI), are requesting detailed responses and thousands of pages of documents from approximately 60 percent of Navigator-recipients across the country by Sep. 13. Numerous states have also passed laws regulating navigators.
Eric Cantor announces that the party won't support raising the nation's $16.7 trillion borrowing limit unless President Obama agrees to a one-year delay of the health care law.

CREDIT: AP

Ted Cruz announces that he will launch a "speaking filibuster" in favor of defunding the Affordable Care Act until he is physically unable to stand. Cruz's speech is not technically a filibuster, as either way the Senate will vote on the continuing resolution to keep the government from shutting down. Even though the vote will happen regardless of the length of his speech, Cruz vowed when he took the Senate floor, "I intend to speak in opposition to Obamacare, I intend to speak in support of defunding Obamacare, until I am no longer able to stand." Watch it:




OCTOBER 2013: Republicans seize on the Obamacare rollout debacle.

Unable to reach agreement over Obamacare funding, Republicans shutdown the government while HealthCare.gov opens for business. Users immediately begin reporting long delays, problems creating online account, the website freezing and numerous other glitches.

CREDIT: HealthCare.gov

Meanwhile, Republicans unsuccessfully try to add the so-called Vitter amendment, a proposal that removes the employer contributions for the insurance plans offered to Congress members and their staff. Without that employer contribution — which currently covers about 75 percent of Congressional staffers' health costs — the lower-paid staffers on Capitol Hill will ultimately need to seek out government subsidies to purchase plans on the Obamacare exchanges. The measure will essentially amount to a big pay cut, since it will end up significantly hiking their premium costs. Sen. Ron Johnson (R-WI) will later file a lawsuit to prevent Congressional staffers and lawmakers from receiving subsidies.
With the government re-opens, Republicans turn their political attention to Obamacare and begin holding a series of hearings examining the law's rocky implementation. Marco Rubio introduces legislation to delay the individual mandate by six months, arguing that Americans should not be penalized for failing to buy coverage they cannot easily access through HealthCare.gov.
House Republicans portray the website as an insecure portal that will endanger the privacy of American's medical information during a House Energy and Commerce Committee hearing focusing on the implementation of the Affordable Care Act. The accusations led one Democratic lawmaker to label the hearing "a monkey court." Watch it:

Policyholders across the country begin receiving cancellation letters from insurers, undermining President Obama's promise that you can keep the coverage you have and save thousands of dollars doing so. Next, the NBC News investigations unit reports that "50 to 75 percent of the 14 million consumers who buy their insurance individually can expect to receive a 'cancellation' letter or the equivalent over the next year because their existing policies don't meet the standards mandated by the new health care law" — a fact administration officials knew but kept from the public. Republicans immediately seize on the story and accuse Obama of lying to the American people in order to pass health care reform.

CREDIT: AP

Lawmakers and the media begin profiling countless middle class Americans who claim that the new health care law will force them to pay more for coverage. The stories are not always accurate, though conservative advocacy organizations will repeatedly try to inflate and in some cases invent victims of the law.
Obama apologizes to the millions of Americans in the individual health care market who are seeing their policies cancelled, during an interview with NBC's Chuck Todd, promising to "do everything we can to deal with folks who find themselves in a tough position as a consequence of this."
Lawmakers from both sides of the aisle soon introduce different proposals to allow Americans to keep their existing health care plans. Republicans prevent the House of Representatives from considering a measure that would have extended additional consumer protections to beneficiaries who remain in their existing individual health care plans.
As lawmakers on both sides of the aisle are endorse legislation to allow Americans purchasing health care coverage in the individual market to stay in their existing insurance plans, they ignore a far more pressing coverage problem in the 26 states that have yet to expand their Medicaid programs. There, five million working poor Americans could be denied access to affordable insurance altogether. The failure of some states to expand Medicaid coverage to 133 percent of the federal poverty line, as envisioned by reform, is actually far more disastrous and undermines the promise of health care for the millions who earn "too much to qualify for Medicaid but not enough to qualify for Marketplace premium tax credits."

DECEMBER 2013: Republicans agree to 2-year funding deal to focus on Obamacare repeal.

Paul Ryan and Senate Budget Chair Patty Murray (D-WA) extolled their bipartisan budget deal, which will spare the nation from more government shutdowns over the next two years. But Ryan also suggested that it will help the House GOP's never-ending attempts to repeal the Affordable Care Act. "We also don't want to have shutdown drama so we can focus on replacing Obamacare, so we can focus on showing better ideas and what this is coming in. Cause we don't think people like this law and we don't think it's gonna get any more popular," he says. Watch it:



2014: The 51st vote to repeal Obamacare.

House Republicans float a strategy to raise the nation's debt ceiling for one year in exchange for a repeal of Obamacare's so-called "risk corridors" — a temporary financial shock absorber that the GOP is misleadingly castigating as an "insurance company bailout."
House Republicans are planning to unveil a unified alternative to the Affordable Care Act this spring. Though details of the plan remain sketchy, the measure is "hardly intended as a full replacement of the federal health-care law" and will focus on filling gaps in the health care system. Lawmakers will road test the ideas at town halls, but have no timeline for releasing the alternative.
House Republicans vote to repeal a part of the health care law for the 51st time.
Paul Ryan triggered a firestorm of recrimination this week. Speaking recently on Bill Bennett's Morning in America radio program, the Wisconsin Republican and self-styled budget wonk linked poverty to "this tailspin of culture, in our inner cities in particular, of men not working and just generations of men not even thinking about working or learning the value and the culture of work."

Setting aside the factual claim—the notion that poverty is especially concentrated in America's inner cities is an increasingly antiquated one—these comments elicited a quick and forceful rebuke from Rep. Barbara Lee (D-Calif.), who decried them as "a thinly veiled racial attack." She explained: "[W]hen Mr. Ryan says 'inner city,' when he says, 'culture,' these are simply code words for what he really means: 'black.'"

Ryan has since backpedaled, protesting that race was nowhere in his thoughts: "This has nothing to do whatsoever with race. It never even occurred to me. This has nothing to do with race whatsoever."

Maybe so, but there's a history here that the Republican Party can't ignore—one that explains why Lee was so quick to jump on his comments, why the Congressional Black Caucus announced themselves "deeply troubled" by remarks they described as "highly offensive" and why so many others have sharply criticized Ryan.

By calling out his use of "code words," Lee put Ryan in the company of past politicians who have blown the proverbial dog whistle—using surreptitious references to race to garner support from anxious voters. Examples of dog whistling include Barry Goldwater's endorsement of "states' rights"; Richard Nixon's opposition to "forced busing"; Ronald Reagan's blasts against "welfare queens"; and George H.W. Bush's infamous Willie Horton ad.

These instances of racial pandering typically have been treated as disconnected eruptions, when in fact the GOP has made a concerted effort to win support through racial appeals. This pattern is so entrenched—and so well known—that two different chairs of the Republican National Committee have acknowledged and apologized for this strategy.

"By the seventies and into the eighties and nineties," RNC chair Ken Mehlman said in a 2005 speech before the NAACP, "Republicans gave up on winning the African American vote, looking the other way or trying to benefit politically from racial polarization. I am here today as the Republican chairman to tell you we were wrong." Five years later, his successor Michael Steele similarly acknowledged that "for the last 40-plus years we had a 'Southern Strategy' that alienated many minority voters by focusing on the white male vote in the South."

Despite the mea culpas, race baiting has continued: recall New Gingrich's 2012 tarring of Barack Obama as "the best food-stamp president in American history." Or consider another Gingrich jibe from the last election: "Really poor children in really poor neighborhoods have no habits of working and have nobody around them who works," he claimed. "So they literally have no habit of showing up on Monday. They have no habit of staying all day. They have no habit of 'I do this and you give me cash,' unless it's illegal."

What, then, of Paul Ryan? Was he dog whistling? To many, his strong echoing of Gingrich, coupled with the larger GOP history of racial pandering, suggested so. Nor did Ryan help himself by invoking the conservative scholar Charles Murray—a man who co-wrote a controversial 1994 book, The Bell Curve, tying intelligence to race, and who in 2000 explained that genetics will likely show, "One reason that we still have poverty in the United States is that a lot of poor people are born lazy."

But what of Ryan's insistence he did not consider race whatsoever, or his later explanation that he had been "inarticulate" in his comments? Perhaps Ryan genuinely did not recognize the racial narrative embedded in his remarks about an inner city culture that devalues work. But at best, this suggests that Ryan has uncritically adopted the charged rhetoric of his party without understanding its racial undertones.

Less charitably, in weighing Ryan's protestations of innocence, we should be clear that denying racial intent is par for the course in dog whistling. The whole point of speaking in coded terms is to transmit racial messages that can be defended as not about race at all. Today's broadly shared anti-racist ethos condemns naked appeals to racial solidarity; those politicians who nevertheless seek to trade on racial provocations must do so in ways that maintain plausible deniability.

Another defense is to insist that Ryan is no bigot. Here's one version, from Republican political strategist Ron Christie: "Rep. Paul Ryan (R-WI) is not racist nor did he blow a 'dog whistle' to launch a thinly veiled racist attack against black people. I offer this from the perspective of someone who has known Paul for more than 20 years: there is not a racist bone in his body." The fact that Christie is black no doubt lends credibility to his testimony.

But this retort misses the point. Dog whistling is not rooted in fiery hatred but rather in cool calculation—it's the strategic, carefully considered decision to win votes by stirring racial fears in society. Suppose we stipulate that Ryan is no bigot. So what? The question is not one of animus on Ryan's part, but of whether—as a tactical matter—he sought to garner support by indirectly stimulating racial passions.

Of course, an individual's mindset in any particular instance is almost impossible to know. We cannot be certain what Ryan intended. Nevertheless, there's no doubt that Ryan employed rhetoric closely connected to a dismal history of Republican racial demagoguery.

Barbara Lee was correct to respond forcefully. In our political culture, dog whistling all too often takes the form of warnings about a "tailspin of culture" in the "inner cities" and "generations of men not even thinking about working." Sharply rebuked, hopefully Ryan and others will think twice—or, if Ryan is to be believed, then think for the first time—about using political rhetoric imbued with ugly racial stereotypes.
Silly me: President Obama's executive order to expand opportunities for overtime pay Thursday seemed like a win-win. Currently, if you make more than $23,000, you can't necessarily receive overtime; the president's order would raise that cap, and also make it harder for employers to classify people with almost no supervisory duties as "supervisors" and thus exempt.

Where's the downside? Newly qualified workers currently being forced to work overtime without pay will now get higher wages. Or, if their employer doesn't want to spring for the overtime pay (traditionally time and a half), they will have to expand their workforce to get the work done. Higher wages and/or more jobs: Sounds good, right?

Not to Republicans, of course. The backlash to the president's overtime-pay expansion just makes clear what we've known for a long time: They oppose every attempt by government to reward hard work and protect the rights of workers – unless it applies to the very wealthy.

Speaker John Boehner sounded unusually befuddled opposing Obama's move. "If you don't have a job, you don't qualify for overtime. So what do you get out of it? You get nothing," he told the Washington Post. "The president's policies are making it difficult for employers to expand employment. And until the president's policies get out of the way, employers are going to continue to sit on their hands."

The president's policies are in fact making it harder for employers to exploit their workers. That's all. As Jared Bernstein told the New York Times. "I think a potential side effect is that you may see more hiring in order to avoid overtime costs, which would be an awfully good thing right about now."

Or you'll see higher wages, which would also be an awfully good thing. One of the major causes of rising income inequality is that back in the 1970s, rising productivity suddenly became detached from rising wages. For decades — since the labor-rights reforms and social welfare advances of the '30s and '40s — the two lines climbed in tandem, with higher productivity translating into higher paychecks. The two came apart, in what's become known as "the great divergence," at the same time as income inequality began to climb. There are many reasons for the productivity-wage split, including a stagnant minimum wage, declining union membership, and weaker labor rights overall – including less compensated overtime.

Republicans no longer accept that it was government intervention in the economy, first in the Progressive era and then, more forcefully, after the Great Depression, that created the greatest economic boom and the biggest middle class in history. The 40-hour work week. The weekend. Vacations. Child labor laws. The minimum wage. Social Security. Health and safety protection. All of these represented government intervention on the side of working people, to balance the playing field with exploitive employers, and to carve out a realm of family and personal life that could be protected from ceaseless labor. Progressive public policy essentially created childhood, as a time when kids who weren't wealthy might be educated and protected from labor abuse.

These became bipartisan values, with some debating around the margins, through Richard Nixon's administration. But then a pro-business backlash put all of those gains back on the table. Republicans are now trying to repeal the 20th century.

"The federal government, in particular, shouldn't be involved in labor markets in any way, shape or form," says Jeffrey Miron, economic studies director at the Cato Institute. Cato is a libertarian think tank, but Miron's once-radical point of view is now the GOP mainstream.

We've seen Republicans, like friend-of-the-poor Paul Ryan, fiercely oppose even modest increases in the minimum wage – even though earlier hikes always had a decent amount of bipartisan support. In fact, more Republicans today are openly insisting there shouldn't even be a minimum wage, from formerly sensible Tennessee Sen. Lamar Alexander to Texas Gov. Rick Perry and his home state ally Rep. Joe Barton. GOP Senate candidates in North Carolina and Iowa have made abolishing the minimum wage a pillar of their campaigns.

We already know Republicans hate unions, whether public or private sector. One of the hottest CPAC sessions last week focused on "the Wisconsin model" of public sector union busting, but we also saw how hard GOP elected officials in Tennessee fought a union drive among Volkswagen workers there.

Some on the right have even clamored to bring back child labor. Newt Gingrich suggested poor kids should work as janitors to earn their school lunches, in order to fight the "culture" of poverty. (Like Paul Ryan, he doesn't seem to see that food is the best answer for hunger.) Utah's Tea Party Sen. Mike Lee has declared federal child labor laws "unconstitutional," while up in Maine, wingnut Gov. Paul LePage would like to lower the legal working age from 16 to 12.

I've never understood why Republicans believe rich people need more money to ensure they'll work harder, but the non-rich don't deserve such incentives. From skyrocketing CEO pay to lower tax rates, the GOP defends putting more money in the hands of rich folks as a good thing. Giving more money to working people, by contrast, only encourages slackers and moochers. The president can't wait for Republicans to join the 21st century while they're busy repealing the 20th. He's right to do whatever he can to boost workers' wages on his own.
It was adopted in the Senate primaries by Rep. Jack Kingston (R-GA), who suggested in December that school kids "maybe sweep the floor of the cafeteria" if they want to avail of free lunches. Kingston, who is struggling in a three-way race with two ultraconservative opponents, was later found to have expensed nearly $4,200 in meals to his congressional office.

Last April, a state lawmaker in West Virginia, Ray Canterbury (R), argued during a school lunch debate that it'd be a "good idea" to have "the kids work for their lunches." He proposed that they take out the trash, sweep the hallways or mow the lawns in order to earn their food.

Sometimes the sentiment materializes into action. In the Salt Lake City School District in January, lunch trays were swiped away from dozens of elementary school children before they could eat anything, as officials told those students it was because they had negative balances in their accounts. (Officials later apologized after an outcry from parents.)

The National School Lunch Program, which provides federal assistance for public and private schools to offer lunch to children, has been around since 1946. It feeds 17.5 million kids with free or reduced-cost lunches every school day. The lunch is free if their household earns below 130 percent of the federal poverty line, and cheaper if it's between 130 and 185 percent of poverty. It aims to address a real problem: three out of five teachers report that kids in their classrooms regularly come to school hungry, and a majority says the problem is getting worse, according to a survey by the advocacy group No Kid Hungry.

So, what's really behind the antipathy toward government-subsidized school lunches?

It stitches together a panoply of notions that are popular with conservatives: that the government spends too much money helping the poor, that free lunches are emblematic of wealth redistribution and that families (rather than the state) should look after children. It's also a dog-whistle to the idea, which has grown popular on the right in the Obama era, that too many able-bodied people are lazy and mooching off the federal government. A corollary to this is the claim that liberals don't value the dignity of work. Wound together, "no free school lunches" serves as a rallying cry that plays to the GOP base's primal ideological convictions.

The idea that kids should work was also test-driven by Newt Gingrich during the 2012 GOP presidential primaries: he suggested that schools fire their janitors and have kids clean.

A parallel story that is aggravating conservative sentiments is First Lady Michelle Obama's effort to make kids healthier by overhauling nutrition standards for school lunches. Not only has it prompted howls of outrage from radio host Rush Limbaugh, it has motivated three Republican congressmen to introduce legislation that requires the White House and U.S. Department of Agriculture to abide by the same nutrition standards.

Conservative news outlets have tapped into the zeitgeist. Back in July 2012, Fox News aired a segment about the "controversy" of "taxpayers feeding every child, whether they're needy or not." The segment was about the summer lunch program, which is there to assist kids who rely on assistance for lunches through the school year. An anchor said, "It's a valuable resource for families who are struggling and, critics say, a nice freebie for those who are not."

By the time Ryan — the House's budget chairman and a rumored 2016 presidential hopeful — seized on the notion, it was well-worn in his movement. Last week he spoke to conservatives of a young, poor boy who didn't want a free lunch and instead wanted one that his parents made for him. "The left is making a big mistake here. What they're offering people is a full stomach and an empty soul," he said. "The American people want more than that."

It is a testament to the power of the idea among conservatives that Ryan's tale was not only second-hand from a state official in Wisconsin but also fictitious. He ended up apologizing for "failing to verify the original source of the story."
Conservative extremists want to make children work (likely a violation of child labor laws) for their school lunches and/or end the programs altogether. Also, it is part of their strategy of dog-whistling tactics to shame the poor and attacking unionized school personnel.
h/t: Sahil Kapur at TPM
Economists: Paul Ryan misusing our data to misinform about poverty programs.


Your Least Surprising News Item of the Day. If he's not just stupid and misunderstanding the data, then Paul Ryan is deliberately twisting the data to attack poverty programs that he knows work. If you ever needed proof that Ryan's concern for the poor is as fake as a game show host's grin, this ought to do the trick.

That doesn't say good things about Paul Ryan's moral code or his economic priorities.
(via truth-has-a-liberal-bias)
Monday marks the five-year anniversary of the passage of the American Recovery Act, President Obama's $800 billion stimulus stimulus package that invested in everything from infrastructure projects to electronic medical health care records and alternative energy sources. Every single Republican in the House and almost every Republican in the Senate — with the exception of Former Sens. Olympia Snowe (R-ME), Arlen Specter (R-PA), and Sen. Susan Collins (R-ME) — voted against the measure and today the GOP continues to deride the law as wasteful an ineffective.

But as ThinkProgress reported throughout 2009, over half of the GOP caucus praised the effects of the stimulus or took credit for the federal dollars in their home districts and states — despite repeatedly voting against it in Washington D.C. Below is a list of the top 13 stimulus hypocrites:

1. Paul Ryan requested stimulus funds for jobs in his district.

CREDIT: AP

The Wall Street Journal reported "Ryan, a Wisconsin Republican who called the stimulus a 'wasteful spending spree' that 'misses the mark on all counts,' wrote to Labor Secretary Hilda Solis in October in support of a grant application from a group in his district which, he said, 'intends to place 1,000 workers in green jobs.'" Ryan also wrote letters to the Secretary of Energy requesting stimulus funds for a local energy company in 2009. Ryan repeatedly voted against the stimulus.

2. Eric Cantor held a job fair with organizations that received stimulus funds, supported using stimulus funds.

CREDIT: AP

As the Washington Post reported, "nearly half of the 30 organizations participating in a job fair Cantor is holding Monday in Culpeper were recipients of the stimulus." That summer, Cantor also "came under fire after he talked about his support of using stimulus money to build a rail project from Washington to Richmond." Cantor repeatedly voted against the stimulus.

3. Mitch McConnell bragged about stimulus projects, requested more money.

CREDIT: AP PHOTOS/SUSAN WALSH

McConnell and Rep. Ben Chandler (D-KY) toured a construction site at the Blue Grass Army Depot in Madison County, Kentucky. McConnell quickly took credit for the new construction, noting that he and Chandler had inserted an additional $5 million into the 2010 budget. McConnell bragged: "This is going to be a source of significant employment. At the peak, we could have up to 600 people working on this, and we believe the substantial majority of those workers will be Kentuckians." However, McConnell conveniently forgot to mention that even more additional funds for facility construction were awarded through the stimulus. A Defense Department report states that $5,876,000 has been allocated from the Recovery Act to the Blue Grass facility for repairs. (Chandler voted for the stimulus.) McConnell repeatedly voted against the stimulus.

4. John Boehner admitted stimulus funds would create "much needed jobs."

CREDIT: AP PHOTO/J. SCOTT APPLEWHITE

Despite repeatedly voting against the American Recovery Act, Boehner thanked federal officials for stepping in and ordering the state "to use all of its construction dollars for shovel-ready projects that will create much-needed jobs."

[…]

9. Phil Gingrey handed out giant stimulus checks in Georgia.

CREDIT: AP

Rep. Phil Gingrey (R-GA) appeared in the city of Cedartown, Georgia, to present a giant check of $625,000 in stimulus funds to the city commission to help fund the the city's Streetscape project, which will install new sidewalks and infrastructure. Gingrey repeatedly voted against the stimulus.

[…]

11. Louie Gohmert signed a letter requesting stimulus funds for NASA.

CREDIT: AP

According to the Houston Chronicle, Rep. Louie Gohmert (R-TX) penned a letter arguing that stimulus funds for NASA would "secure good jobs and stabilize our economy." Gohmert repeatedly voted against the stimulus.

12. John Cornyn wrote two letters asking for stimulus funds.

CREDIT: AP

The Wall Street Journal report: "The Environmental Protection Agency received two letters from Sen. John Cornyn of Texas asking for consideration of [stimulus] grants for clean diesel projects in San Antonio and Houston." Cornyn repeatedly voted against the stimulus.

13. Lindsey Graham claimed it would be "crazy" not to accept recovery dollars.

CREDIT: AP

During an interview with CNN's Wolf Blitzer, Sen. Lindsey Graham (R-SC) was asked whether South Carolina should "take the [stimulus] money," to which he replied, "I think that, yes, from my point of view, I — you don't want to be crazy here. I mean, if there's going to be money on the table that will help my state, but I've got a job to do up here, and that is to try to help people and not damn the next generation." Graham repeatedly voted against the stimulus.
As the Senate takes up a measure to extend unemployment insurance, Republicans in the House of Representatives are looking to make 2014 another banner year for anti-abortion laws.

A panel of 12 men on the House Judiciary Committee will hold a hearing on a bill Thursday that would deny tax subsidies to women and small businesses who purchase health insurance plans that include abortion coverage. The bill only makes an exception for rape and incest victims and women who would die without abortion care, which opponents say could prompt the IRS to audit any woman who claims one of these exceptions.

Rep. Paul Ryan (R-Wis.) has also promised to fight for a rider in the appropriations package Congress is expected to pass next week that would allow employers to refuse to cover contraception in their health insurance plans for moral reasons. And the Republican National Committee has announced it plans to delay its annual winter meeting this year so that members can attend the annual March for Life, an anti-abortion rally in Washington, D.C.

"I'm not a psychologist, but we're dealing with behavior that, to me, appears obsessive," Ilyse Hogue, president of NARAL Pro-Choice America, told HuffPost in an interview. "The jury is in from the rest of country as well — they want Congress to legislate on issues that are priorities for all Americans. But Republicans don't hear it, because it's an obsessive-compulsive behavior, their focus on rolling back women's rights. They can't stop themselves."

The bill the House is hearing on Thursday, called the No Taxpayer Funding For Abortion Act, would severely limit women's ability to buy insurance plans that cover abortion in the Obamacare exchanges, even though the law already contains a provision separating public funds from the private premiums people would pay for abortion coverage. Rep. Chris Smith (R-N.J.) said when he introduced the bill last May that the legislation is intended to make it more difficult for women to access abortion care.

"President Obama has said he wants abortion to be rare," Smith said. "To Mr. Obama I say, 'Here is a bill for you.'"

Before Obamacare went into effect, more than 80 percent of private insurance plans in the United States covered abortion as if it were any other medical procedure. But banning the insurance coverage of abortion has recently become popular among state legislatures as a way to prevent women for being able to pay for the procedure.

"Up until recently, the private insurance market has seen abortion coverage as routine and non-controversial, and now we have Congress and politicians reaching into the private sector to try and get rid of abortion using this approach," said Susan Wood, associate professor of health policy at George Washington University.

Elsewhere, Ryansaid in a radio interview last monththat Republicans plan to push for a "conscience clause" in the upcoming omnibus spending bill, which would allow employers to opt out of covering their employees' contraception. "I'm fighting for a conscience clause rider on appropriations because I'm very worried about religious freedom," he said.

Senate Appropriations Committee Chair Barbara Mikulski (D-Md.) told Fox News this week that abortion is currently one of the key sticking points in discussions over the omnibus bill. Ryan's and Mikulski's offices did not respond to requests for further comment.

Smith's bill faces slim chances in Congress, because the Democratic-controlled Senate would not likely take it up even if the House passed it. But the scheduled House hearing, along with Ryan's anti-contraception clause and the RNC's March for Life announcement, provide a sneak preview of the GOP's priorities for the coming year.

The House Pro-Choice Caucus, chaired by Reps. Louise Slaughter (D-N.Y.) and Diana DeGette (D-Colo.), is gearing up for the upcoming battles.

"Here we go again," DeGette said Wednesday. "Republicans appear intent on continuing their extreme anti-choice agenda. Instead of constantly trying to interfere with a woman's personal medical decisions, Republicans should be focusing their efforts -– and our precious time –- on issues that will get Americans back to work and strengthen our economy."

"After waging an all-out assault on women's health in state capitols across the country, Washington Republicans are again planning to force their anti-choice views on American women at the federal level," Slaughter added. "Americans want to see Congress create jobs and fix our crumbling infrastructure, not launch more anti-woman crusades."
Wis. Teacher Refuses Award From Paul Ryan During MLK Ceremony: 'Lackey for the 1%'


A Wisconsin teacher refused to accept an award from Rep. Paul Ryan during a ceremony last week, saying he couldn't do so "in good conscience" because of the Republican congressman's politics.

Al Levie, a high school social studies teacher in Racine, Wis., was one of three recipients of a Martin Luther King Jr. humanitarian award during a celebration honoring the late civil rights leader. Ryan, who represents the district, was on hand to present congressional recognitions to each award winner, the Kenosha News reported:

After Ryan spoke, Levie criticized the congressman's policies before being walked off the stage. Levie had earlier stated that he would like to see collective bargaining restored in Wisconsin, fair immigration reform and a fair tax system among other suggestions.

In a video of the ceremony, Ryan is seen stepping from behind the podium to hand the award to Levie, who backs away and instead turns to speak to the audience. His words aren't audible, but according to the video's captions he said, "I can't in good conscience accept this award, as a humanitarian, Paul Ryan stands for everything I don't believe in."

"Oh come on," one person is heard saying.

"For the kids!" someone else adds.

[…]

"I would not accept the award from Paul Ryan because Paul Ryan is a lackey for the 1 percent," he said. "Paul Ryan had no business at a Martin Luther King event, it's totally hypocritical. On the one hand he votes to slash health care, while on the other hand, King dedicated his life and he died for it, for people to have adequate healthcare, to have adequate jobs."

"King made it very clear that he was on the side of working people," he continued. "Ryan on the other hand, he has absolutely no affinity for the working class and for him to come to an event where somebody of King's stature was honored is wrong."
Al Levie is a hero for standing up to low-life Congressscum Paul Ryan and telling him to pike off.

Walker and the disastrous extremist GOP agenda's toast in 2014!!
H/T: Yahoo! News 
On NBC's Meet the Press Sunday, House Budget Chair Paul Ryan (R-WI) and Senate Budget Chair Patty Murray (D-WA) extolled their bipartisan budget deal, which will spare the nation from more government shutdowns over the next two years. But Ryan also suggested that it will help the House GOP's never-ending attempts to repeal the Affordable Care Act.

Asked by host David Gregory about how Obamacare could possibly survive given that one poll showed 50 percent opposition, Murray told a story about a woman she recently met with a 29 year old son with a disability. With her son now able to obtain insurance thanks to the law, the mother explained, she is able to sleep at night for the first time in a long time. As people see the law implemented, Murray explained, they would like it more.

Ryan responded that that America needs to get rid of the law and that the GOP would replace it with something that prevented discrimination based on preexisting conditions — but one that would not require a "government takeover."
Congressman Paul Ryan, you are delusional if you think that repealing Obamacare countless more times is a good idea.