CREDIT: SHUTTERSTOCK

Cristina was 18 years old when something went wrong with her pregnancy. Her family found her in the bathroom, unconscious and covered in blood, and rushed her to a hospital. When she got there, hospital staff asked her, "Why did you kill your child?" She was sentenced to 30 years in prison for trying to have an illegal abortion.

That's just one of the stories collected in a new report about a country with one of the harshest abortion bans in the world. Cristina lives in El Salvador, where abortion is illegal for any reason — even in cases where it's necessary to save a woman's life — and where women are frequently jailed for illegally ending their pregnancies.

Officials from Amnesty International, the group that released the report on Thursday, call the grim reality facing women in El Salvador "truly shocking and akin to torture." And disturbingly, there are aspects of El Salvador's policies that resemble what's facing some pregnant people in the United States.

"One way in which El Salvador is very different from other countries with complete bans on abortions is this demonstrated record of going out and prosecuting women," Larry Ladutke, who serves as the country's specialist at Amnesty International, told ThinkProgress in an interview. "That includes women and girl who are accused of having had an abortion, but also women and girls who have had miscarriages and are then charged with aggravated homicide."

In El Salvador, women like Cristina can be sentenced to decades in prison after being charged with killing a family member, which carries a harsher sentence than other types of homicide. Often, there's no clear evidence they actually did anything to cause harm to their fetuses; miscarriage, after all, is a relatively common experience for pregnant women. Human rights lawyers have been working to overturn the sentences on those grounds. Cristina served four years before her own sentence was thrown out.

While that's certainly extreme, it's not entirely unheard of in the developed world. Here in the U.S., even though abortion is legal under most circumstances, women are increasingly being charged under allegations that they intentionally harmed their pregnancies. This can occur if a woman is accused of using drugs while she is pregnant, even if there's no scientific evidence that the drug will pose long-term harm to the fetus. It can also occur in cases when women are suspected of having an illegal abortion.

In one recent case in Mississippi, for example, a 16-year-old mother faced a potential life sentence for giving birth to a stillborn child. She was accused of "unlawfully, willfully, and feloniously" causing her child's death by using cocaine, even though it's not clear that cocaine poses a risk to pregnancy outcomes in the first place. In another case in Montana, a woman was charged with child endangerment when she was just 12 weeks pregnant, effectively blurring the lines between women's rights and fetuses' rights.

That's why advocates argue that the trend of criminalizing pregnant women — there are "fetal homicide" laws on the books in 38 U.S. states, and they're increasingly used to prosecute women for their own behavior during pregnancy — represents a dangerous threat. Just like in El Salvador, they make women more vulnerable for prosecution simply because of their gender.

"They violate people's rights, and even more so women's rights, because a man is never going to have a miscarriage," Cristina told Amnesty International in an interview included in the new report. "This has got to be underlined: the issue is women's inequality."

The dynamic also has a serious impact on women's ability to seek medical care. According to the Guttmacher Institute, approximately 40 percent of the women who have illegal abortions experience complications that require follow-up treatment. But if they're worried about getting in trouble with the law, they might not want to show up at a hospital asking for help.

"Medical professionals in El Salvador have been filing complaints and providing evidence against women who they suspect of having had an abortion," Ladutke told ThinkProgress. "So then it becomes a question: Do I go to the doctor and risk going to jail, or do I wait and see and potentially risk my life?"

Doctors here in the United States also may notify authorities if they suspect a woman did something to illegally end her pregnancy. A woman in Indiana, for example, is currently facing decades in prison after she sought treatment in a hospital for a miscarriage. Her doctors called the police, who found her fetus in a dumpster. A women in Pennsylvania is currently serving jail time for giving her daughter abortion-inducing drugs that she bought online, something she didn't realize was illegal at the time. Although her daughter didn't have any adverse side effects, a doctor reported them to the state's child-protective services when she sought follow-up treatment for the bleeding that can result from either this type of abortion or from a miscarriage.

Ladutke pointed out that women should not have to fear going to her doctor and seeking emergency attention after having a clandestine abortion. Medical experts make the same arguments about women here in the U.S., who are increasingly being dissuaded from seeking medical treatment because of the laws that threaten to criminalize pregnancy. "If we want pregnant women to obtain prenatal care and drug-treatment therapies, they have to trust that a trip to the doctor won't end with the police at her doorstep," reproductive health activists in Montana pointed out after the arrest of the pregnant woman who was just 12 weeks along.

"No one should have a criminal record for having had an abortion," Ladutke, whose organization is hoping to put international pressure on the Salvadoran government to relax its abortion ban and review the cases of the women who still imprisoned, said. But with an increasing number of U.S. states finding ways to prosecute women for their pregnancy outcomes, that's not necessarily a guarantee here at home either.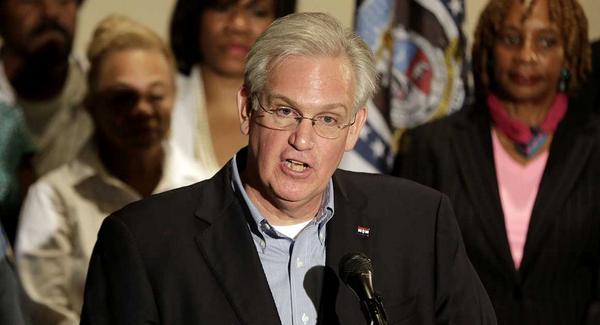 BREAKING: @GovJayNixon is deploying the #NationalGuard to #Ferguson. Via @AlanBlinder at @nytimes: https://t.co/PZNIn9GgLb

— Justin Gibson (@JGibsonDem)

August 18, 2014
BREAKING: Gov. Jay Nixon signs executive order directing Missouri National Guard resources to #Ferguson http://t.co/IKvWveyT40

— KMOX St. Louis News (@kmoxnews)

August 18, 2014
Gov. Nixon orders National Guard resources to aid law enforcement in #Ferguson.

— KSDK NewsChannel 5 (@ksdknews)

August 18, 2014
The president weighs in on the death of the Missouri teenager, as violence between protestors and police continues.

President Obama urged "reflection and understanding" Tuesday after the shooting of a Missouri teenager by a police officer, calling Michael Brown's death "heartbreaking."

The full statement:

The death of Michael Brown is heartbreaking, and Michelle and I send our deepest condolences to his family and his community at this very difficult time. As Attorney General Holder has indicated, the Department of Justice is investigating the situation along with local officials, and they will continue to direct resources to the case as needed. I know the events of the past few days have prompted strong passions, but as details unfold, I urge everyone in Ferguson, Missouri, and across the country, to remember this young man through reflection and understanding. We should comfort each other and talk with one another in a way that heals, not in a way that wounds. Along with our prayers, that's what Michael and his family, and our broader American community, deserve.

Source: Katherine Miller for Buzzfeed News
WASHINGTON — The Senate passed a compromise bill allowing veterans to seek private care and adding $17 billion to the Department of Veterans Affairs to hire doctors to address long wait lists. The final vote in favor was 91-3.

The bill, which was rushed through before the August recess so it could be sent to President Obama, would require VA to make up $5 billion by taking it from other programs.

The House passed the compromise bill earlier this week.

Veterans enrolled in emergency care as of Aug. 1 who face long wait times, or live more than 40 miles from a VA facility could seek private care. It also gives VA $1.3 billion to open 27 new outpatient clinics, allows the VA secretary to fire top officials, allows veterans to qualify for in-state status for tuition at public colleges, and provides care for veterans who were sexually assaulted during their service.

It also cuts funding for VA employee bonuses by $40 million less than last year.

"The veterans of this country are entitled to quality and timely health care," Sen. Bernie Sanders, I-Vt., said in a statement. "This legislation will take us a long way toward making good on that promise."

Republican Leader Mitch McConnell said in a statement, "When veterans are denied care, it's a priority deserving of bipartisan attention, and this legislation will help ensure the VA lives up to the promises that we made to our veterans. We owe them no less."

The three senators who voted against the bill were Tom Coburn, R-Okla., Bob Corker, R-Tenn., and Jeff Sessions, R-Ala.
BREAKING: The Frivolous Lawsuit Against President Obama has passed the US House 225-201-7. #P2 #UniteBlue #GOPLawsuit
The GOP putting politics over the American People as usual, edition 4,500. 
BREAKING: The Frivolous Lawsuit Against President Obama has passed the US House 225-201-7 #P2 #UniteBlue #GOPLawsuit pic.twitter.com/pvfXEsbN5y

— Justin Gibson (@JGibsonDem)

July 30, 2014
 
The GOP is moving forward with their lawsuit. Show them you're standing with President Obama: http://t.co/CWae4QEr7G pic.twitter.com/6SPygcl2AI

— The Democrats (@TheDemocrats)

July 30, 2014
The GOP's vote to proceed the frivolous lawsuit against our President is just another tool to destroy our country. #GOPLawsuit #p2

— Justin Gibson (@JGibsonDem)

July 30, 2014
Rather than acting to improve America, House Republicans are pursuing a meritless lawsuit at a cost of millions of dollars to taxpayers.

— Senator Harry Reid (@SenatorReid) July 30, 2014
Today's vote in the House to sue the President was a shameful display of political pandering & misplaced priorities. http://t.co/elGGg4k0mn

— D Wasserman Schultz (@DWStweets) July 30, 2014
US House passes resolution to authorize lawsuit accusing President Obama of executive overreach - @LukeRussert http://t.co/vlMalQIWf2

— Breaking News (@BreakingNews)

July 30, 2014
House resolution to sue Obama passes 225-201. Five Republicans join all Democrats in voting against it. http://t.co/Tm0lTmx2tN

— Sahil Kapur (@sahilkapur)

July 30, 2014
Five GOPers voted against, most likely because it didn't go far enough:
Five Republicans voted AGAINST the resolution authorizing a lawsuit against Pres Obama: Massie Jones Broun (GA) Stockman Garrett

— Frank Thorp V (@frankthorpNBC)

July 30, 2014
We are now officially at a tipping point in marriage equality. We're likely to have marriage equality nationwide before the 2016 presidential election. Wow.
The most authoritative paper in the United States has put its weight behind the federal legalization of marijuana, a momentous endorsement in the prolonged fight to end to the criminalization of marijuana that has been in place since 1937. Debutin…

The most authoritative paper in the United States has put its weight behind the federal legalization of marijuana, a momentous endorsement in the prolonged fight to end to the criminalization of marijuana that has been in place since 1937.

Debuting what is to be a six-part series, The New York Times editorial board called for an end to the "prohibition" of marijuana, saying the current ban "[inflicts] great harm on society just to prohibit a substance far less dangerous than alcohol." The interactive series is to run from July 26 to August 5, beginning with Saturday's editorial, "High Time: An Editorial Series on Marijuana Legalization." An accompanying blog post by editor Andrew Rosenthal stated the decision to back legalizing marijuana was "long in the making," and "as more and more states liberalized their marijuana laws in open defiance of the federal ban, it became clear to us that there had to be a national approach to the issue."

The board argues that after weighing the pros and cons of legalization, the scale tips in favor of ending the ban. The Times acknowledges that there are concerns about certain forms of marijuana use, including that by minors. Thus, the board advocates for restricting sales of marijuana to those under the age of 21. Addressing other health, social and legal concerns, the board writes that "there are no perfect answers … but neither are there such answers about tobacco or alcohol." But as the Times argues, the concerns are outweighed by the "vast" social costs of marijuana laws.

From the Times editors:



There were 658,000 arrests for marijuana possession in 2012, according to F.B.I. figures, compared with 256,000 for cocaine, heroin and their derivatives. Even worse, the result is racist, falling disproportionately on young black men, ruining their lives and creating new generations of career criminals.



As Politico notes, the "The Times is the biggest U.S. newspaper to endorse the legalization of marijuana." Adding to the significance is the Times' history of being conservative when it comes to legalization. In 2013, an article stressed the dangers of more potent forms of marijuana as well as use of the drug by teenagers. Following Colorado's legalization of marijuana in January 2014, a Times article sounded alarm over having more users of the drug behind the wheel. The article was accompanied by a photo of Tommy Chong and Cheech Marin in the film "Up in Smoke," lighting up in a vehicle. Fears over food laced with marijuana being more accessible to children were sparked by tales of a rise in youth being taken to the emergency room after consuming snacks with the drug. As Washington state moved to join Colorado in legalizing recreational marijuana, the Times wrote on the manyhurdles that medical marijuana providers would encounter. In June, the Times hosted an op-ed column where the writer said "Marijuana is more dangerous than many of us once thought," pointing to a link between marijuana use and schizophrenia. And of course, there was New York Times columnist Maureen Dowd's "bad trip," where she detailed being "curled up in a hallucinatory state for the next eight hours," after trying a marijuana candy bar while on assignment.

Given the Times influence, it could be that the endorsement of federal legalization of marijuana could spur politicians, organizations and publications to do in kind. The Times' endorsement is strengthened by the paper's history on issues concerning marijuana and strong language, likening the ban on marijuana to the prohibition of alcohol. Set beside an interactive American flag where stars transform to marijuana leaves as readers scroll, the editorial opens:



It took 13 years for the United States to come to its senses and end Prohibition, 13 years in which people kept drinking, otherwise law-abiding citizens became criminals and crime syndicates arose and flourished. It has been more than 40 years since Congress passed the current ban on marijuana, inflicting great harm on society just to prohibit a substance far less dangerous than alcohol.



The Times editors close with certainty, "It is long past time to repeal this version of Prohibition."

President Barack Obama said in 2012 that prosecuting pot users in states that have legalized it would not be a top priority for his administration, telling ABC News' Barbara Walters, "We've got bigger fish to fry." The New York Times editorial board endorsement of legalizing marijuana counts as another key voice sounding for a change in how the U.S. approaches marijuana.

CORRECTION: 10:30 p.m. ET — This article previously stated that marijuana had been banned in the United States for 40 years. As Frontline notes, the Marijuana Tax Act effectively criminalized marijuana in the U.S. in 1937.
President Obama made history this morning, signing an executive order barring federal contractors from discrimination because of sexual orientation or gender identity. 
There are no religious exemptions in the executive order President Obama signed this morning in a formal ceremony at the White House. From this day forward, no federal contractor, no matter how religious he claims to be, will be allowed to discriminate against an employee because of sexual orientation or gender identity.  

Today President Obama amended Executive Order 11246, which already prohibits federal contractors from discriminating on the basis of race, color, religion, sex, or national origin, by adding sexual orientation and gender identity to the order.

Today President Obama amended Executive Order 11478 prohibiting discrimination in the federal civilian workplace, which already includes sexual orientation, to include gender identity."

Saying "Our government - government of the people, by the people and for the people - will become just a little bit fairer," President Obama set strong new standards for federal contractors, which employ 20 percent of the American workforce. Under these executive orders, an estimated 14 million more American workers will be now be protected from discrimination on the basis of sexual orientation or gender identity.

The Human Rights Campaign reports that the manner in which the White House chose to extend LGBT workplace protections will make them very difficult for a future administration to reverse:

In the part that applies to federal contractors, the Obama administration declined to create a separate carve-out or standard for LGBT employees. Instead, the President elected to narrowly amend Executive Order 11246, first signed by President Lyndon B. Johnson in 1965—placing sexual orientation and gender identity on equal footing with race, color, religion, sex and national origin, and thus making these protections virtually politically impossible for a future administration to undo. 

Fears that the president would include a religious exemption that would allow federal contractors to excuse their discrimination toward LGBT workers proved unfounded. Though more than 140 religious leaders requested an exemption, the White House declined to include one. 

The Rev. Fred Davie, Executive Vice President at Union Theological Seminary, who was a guest at the signing this morning, declared the lack of a religious exemption a great victory:

"This is a tremendous victory for those of us who believe that as people of faith we should be exemplary, not exempted. Religions of the world across the ages have engendered and supported discrimination and bigotry from deceptively genteel to utterly horrific. We have also sacrificed our very lives for our neighbors in response to God's radical and unrelenting call to love others as much as we love ourselves."

In response to the executive order, HRC president Chad Griffin issued the following statement:

"With this action, President Obama has cemented his legacy as a transformative leader. Consistently, this administration has taken unprecedented and historic executive actions to advance LGBT equality in this country and around the world."
It's being heralded as a triumph for science.

The news: Teaching students that creationism is an evidence-based theory is now banned in all public schools across the United Kingdom, according to new documents from the British government. Here are the new standards, which institute a:

…requirement for every academy and free school to provide a broad and balanced curriculum in any case prevents the teaching of creationism as evidence based theory in any academy or free school.

According to io9, this means any "academy or free school" in the U.K. which teaches creationism to students would be breaking its funding agreement with the government. Academies are roughly equivalent to charter schools in the U.S., while "free schools" are nonprofit independent schools funded by taxpayer dollars, which can be organized by parents, teachers, charities and businesses. The new language updates a 2012 rule which required all future free schools that teach the theory of natural selection alone to include academies and all existing free schools.

This means that the U.K. is on track to more or less completely end the practice of teaching creationism in publicly funded schools. However, it does permit creationism and other beliefs about the origin of the Earth and life to be taught in classes on religion, so long as they are not presented as valid alternatives to scientific theory. While there are further reforms needed in other educational sectors across the U.K., it looks like the biggest step toward getting religion out of taxpayer-funded science classes has just been accomplished.

Contrast that to the U.S.: In the U.S., some $1 billion in taxpayer funding across 14 states goes to private schools. Earlier this year, Politico reported that those private schools included "hundreds of religious schools that teach Earth is less than 10,000 years old, Adam and Eve strolled the garden with dinosaurs and much of modern biology, geology and cosmology is a web of lies."

In the U.S., just the states of Louisiana and Tennessee currently permit creationism and its offshoot, intelligent design, to be taught as alternatives to evolution in public schools. But across much of the South and Midwest, private schools that teach creationism are able to accept millions of dollars in public funding. Slate has a relatively up-to-date, comprehensive map of such schools here. There really are hundreds of them.

Map of schools teaching creationism. Image Credit: Slate

From Politico's report:

… many of these faith-based schools go beyond teaching the biblical story of the six days of creation as literal fact. Their course materials nurture disdain of the secularworld, distrust of momentous discoveries and hostility toward mainstream scientists. They often distort basic facts about the scientific method — teaching, for instance, that theories such as evolution are by definition highly speculative because they haven't been elevated to the status of "scientific law."

One set of books popular in Christian schools calls evolution "a wicked and vain philosophy." Another derides "modern math theorists" who fail to view mathematics as absolute laws ordained by God. The publisher notes that its textbooks shun "modern" breakthroughs — even those, like set theory, developed back in the 19th century.

In the U.S., the settled science of evolution is still pretty touchy. Missouri, for example, is considering a bill that would "alert" parents to any discussion of natural evolution in schools. And a 2013 Pew poll found that just 6 in 10 Americans believe that life evolved over time (including via the guidance of a supreme being), compared to 87% of scientists.

Why you should care: Pew found that Americans widely disagree with scientists on a variety of issues, including embryonic stem cell research, the use of animals in laboratory testing, nuclear power, childhood vaccinations and the causes and scale of global warming. At a time when the economy increasingly values education in highly technical STEM fields and large-scale scientific projects are more important than ever before, it would be nice if taxpayer dollars funded secular, scientific education instead of religious dogma.

Source: Tom McKay for Policy Mic

BREAKING: Jay Carney has resigned, Josh Earnest takes over as new Press Secretary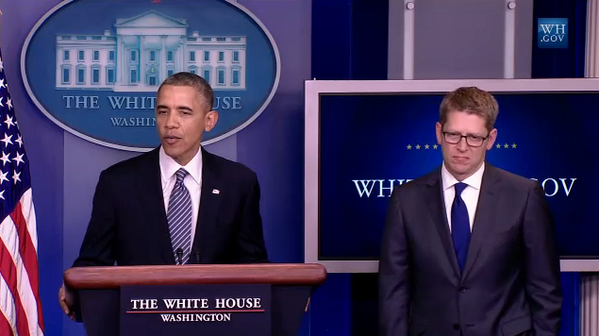 White House press secretary Jay Carney resigns (Photo: AP) http://t.co/6SYzGuOIH2 pic.twitter.com/Ej2Z2GmOCx

— GuardianUS (@GuardianUS) May 30, 2014
UPDATE: Jay Carney resigns; Josh Earnest to be new White House Press Secretary http://t.co/2XJY5HXppU

— NBC News (@NBCNews) May 30, 2014
Obama administration spokesman Jay Carney is leaving the White House - @ZekeJMiller http://t.co/iaUXcUuhat

— Breaking Politics (@breakingpol) May 30, 2014
BREAKING: Houston City Council has voted YES to #HERO 11-6. #HOUequality
Hooray!!! Houston did it!!! 
BREAKING: Houston City Council votes YES to #HERO 11-6. #HOUEquality #LGBTQ #HOUCouncil #TXPOL #UniteBlue #P2 #HTX pic.twitter.com/17UCWyfhDb

— Justin Gibson (@JGibsonDem)

May 29, 2014
Houston, TX Passes Equal Rights Ordinance Protecting all Houstonians from discrimination http://t.co/y0LWnLYDHz pic.twitter.com/Z1hpPqekHU

— HumanRightsCampaign (@HRC)

May 29, 2014
BOOM! Houston, YOU did it! The largest city in Texas has a nondiscrimination ordinance. #HERO pic.twitter.com/nT2PJn5Pal

— Tx Freedom Network (@TFN)

May 29, 2014
BREAKING: Houston City Council Approves Sweeping Nondiscrimination Protections - http://t.co/6VvoYZmakT #LGBT #HOUequality #HERO

— ThinkProgress LGBT (@TPEquality)

May 29, 2014
Crowd erupts as #HERO passes 11-6! #HOUequality

— ACLU of Texas (@ACLUTx)

May 29, 2014
Houston: We have a #HERO! City Council passes Equal Rights Ordinance. #HOUequality @EqualityTexas Please RT pic.twitter.com/ibgnbDkqEz

— Equality Texas (@EqualityTexas)

May 29, 2014
Item passes 11-6. Opposed: Stardig, Boykins, Martin, Pennington, Kubosh, Christie #HOUequality #houcouncil

— Mike Morris (@mmorris011)

May 29, 2014
Cheers to @AnniseParker on bringing nondiscrimination protections to Houston! An important accomplishment! #HERO #HOUequality

— Zack Ford (@ZackFord)

May 29, 2014
Houston makes history approving trans-inclusive non-discrimination ordinance http://t.co/Mm6tsaOxFy #HERO #houequality

— GLAAD (@glaad)

May 29, 2014
Proud of Houston for passing an inclusive equal rights ordinance to ensure the #LGBT community and all Texans are treated fairly. #HERO

— Wendy Davis (@WendyDavisTexas) May 29, 2014
I applaud the work of @AnniseParker & HOU city council on passing an equal rights ordinance to protect LGBT citizens pic.twitter.com/3IJDEtmOmK

— Leticia Van De Putte (@leticiavdp) May 29, 2014
BREAKING: President Barack Obama has decided to draw down the US Military presence in Afghanistan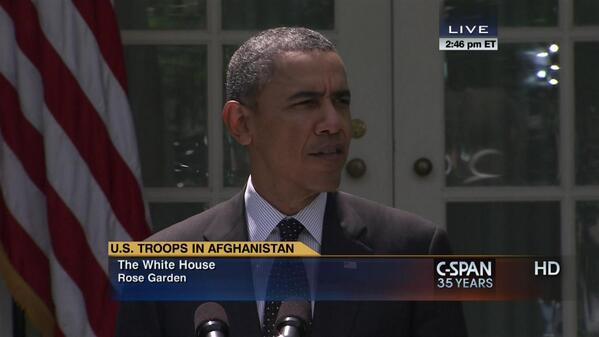 Details on Obama's plan to keep 9,800 US troops in Afghanistan after 2014 http://t.co/4asN3repou via @attackerman

— GuardianUS (@GuardianUS)

May 27, 2014
Obama: US will have 9800 service members in #Afghanistan by the beginning of 2015. That will be reduced by half by end of 2015.

— T.J. Holmes (@tjholmes)

May 27, 2014
Obama troop drawndown plan: Current: 32,800 End of 2014: 9,800 End of 2015: 4,900 2016: Reduced to Embassy presence @6News @LMartinezABC

— NewsBreaker (@NewsBreaker)

May 27, 2014
Obama on Afghanistan: "This year, we will bring America's longest war to a responsible end." http://t.co/5w4WWIEwVk

— NBC News (@NBCNews)

May 27, 2014
"This is the year we will conclude our combat mission in Afghanistan" – Pres. Obama pic.twitter.com/DXcMti2IXU

— NBC Nightly News (@NBCNightlyNews)

May 27, 2014
The Census Bureau, which struggles to keep up with the rapid changes in American life, is about to start categorizing same-sex married couples as families.

The 2013 American Community Survey results, which will be reported in September, will mark the first time the census integrates an estimated 180,000 same-sex married couples with statistics concerning the nation's 56 million families. Until now, they had been categorized as unmarried partners, even when couples reported themselves as spouses.

Because of the large disparity between the number of gay and straight married households, combining the two is not expected to have a significant effect on the statistics that scholars and planners use to analyze how families are changing. Its significance is largely symbolic of the growing acceptance of gays in American society.

"I think the American public already thinks same-sex married couples are families, and the Census Bureau is just catching up with public opinion," said Andrew J. Cherlin, a sociologist at Johns Hopkins University who studies families.

The Supreme Court's decision in 2013 in United States v. Windsor, which struck down the Defense of Marriage Act, paved the way for the census to change the way it tracks same-sex households after years of discussions about doing so.

"Windsor didn't obligate us to do anything," said Rose Kreider, chief of the fertility and family statistics branch of the Census Bureau. "But it in some ways made it easier to say: It's legally recognized federally, so it's time for us to throw them in with all married couples."

Same-sex couples have been counted for almost a decade, but the statistics have not been included as part of the data on families. Instead, they have been segregated.

The Census Bureau is continually reassessing the questions it asks and how it phrases them. For example, it is considering a combined race and ethnicity question because many Hispanics are confused about how to identify themselves racially.

Typically, the Census Bureau undertakes years of consultation and testing before it adds or alters the wording of a question. Its attention to detail means that changes often come years after they have become a familiar part of the culture.

Kreider noted that the census didn't account for unmarried couples living together in a separate category until 1990.

"Given the changes in living arrangements, we probably could have used that category in 1970," she said. "The legalization of same-sex marriage is fairly recent. You can never say a bureaucracy moves quickly, but we're not as far behind as we could be."

The Census Bureau started collecting data on same-sex couples when the unmarried partner category was added in 1990. Although legalizing same-sex marriage was more than a decade away, some people of the same gender said they were married. Because that was not legally possible, the census unilaterally changed the sex of one partner.

The 2000 Census categorized all same-sex households as unmarried partners, regardless of whether the couples said they were married.

Efforts to count the relatively small slice of same-sex couples who are married have been beset by accuracy problems. Following the 2010 Census, statisticians reduced the estimate of same-sex married couples by 28 percent after concluding that more straight couples had mismarked the gender categories. The census adjusted the results by looking at first names and changing the gender when there was a 95 percent chance of a mistake.

"While I fully endorse this change, because it's the right thing to do, we're not completely sure how reliable the data will be to start," said Gary Gates, who studies gay demographicsat the Williams Institute at the University of California at Los Angeles Law School. "But on the social and cultural side, it's important to tell researchers and the public that the federal government views these people as families and these couples as married. That in itself has utility."

Census officials hope the accuracy will be improved by the 2020 Census. They are testing questions that they hope to introduce in surveys — but not until 2016. People will be given four explicit options to check about their relationship — opposite-sex spouses, opposite-sex unmarried partners, same-sex spouses or same-sex partners. They also will be asked whether they are in a registered domestic partnership or a civil union.

"We're trying to make changes that reflect what's happening with American families," Kreider said. "We've been working on it for some years, and we're continuing to work on it to improve the measurement of American families and emerging family forms."
TRIGGER WARNING FOR GRAPHIC CONTENT, SEXISM, MISOGYNY, VIOLENCE AGAINST WOMEN

Santa Barbara shooter wrote about putting women in concentration camps, starving them - http://t.co/J0E4wBCC1C pic.twitter.com/OCfqs4UFEk

— Matthew Keys (@MatthewKeysLive) May 24, 2014

UCSB shooting suspect's manifesto: "I will punish everyone. And it will be beautiful." - http://t.co/J0E4wBCC1C pic.twitter.com/Ji9nXLEhZ0

— Matthew Keys (@MatthewKeysLive) May 24, 2014

More from the Santa Barbara shooter's manifesto - http://t.co/uV61dJiOv6 pic.twitter.com/U6h4s13Und

— Matthew Keys (@MatthewKeysLive) May 24, 2014

Santa Barbara shooting suspect wrote about intention to target UCSB Alpha Phi sorority - http://t.co/J0E4wBCC1C

— Matthew Keys (@MatthewKeysLive) May 24, 2014

Elliot Rodger wrote he postponed the mass shooting until May 24 because he came down with a cold - pic.twitter.com/ekbupet72l

— Matthew Keys (@MatthewKeysLive) May 24, 2014

Manifesto: Police conducted welfare check after seeing YouTube videos showing Santa Barbara shooting suspect - pic.twitter.com/WVKfm2Lm3z

— Matthew Keys (@MatthewKeysLive) May 24, 2014

Manifesto: Police conducted welfare check after seeing YouTube videos showing Santa Barbara shooting suspect - pic.twitter.com/WVKfm2Lm3z

— Matthew Keys (@MatthewKeysLive) May 24, 2014

The full manifesto below [TRIGGER WARNING FOR GRAPHIC CONTENT, SEXISM, MISOGYNY, VIOLENCE AGAINST WOMEN]:

Elliot Rodger, Santa Barbara mass shooting suspect, "My Twisted World" manifesto by Matthew Keys
It feels like the map of which states have extended marriage to same-sex couples changes almost daily, but right now, here's what the map looks like right now.

It feels like the map of which states have extended marriage to same-sex couples changes almost daily, but right now, here's what the map looks like right now.

Blue states have marriage equality, red states have bans on marriage equality, but with at least one active lawsuit filed to bring about the freedom to marry. Gray means the state  – in this case, just North Dakota — has banned same-sex marriage and does not have a lawsuit filed to bring equality. (Puerto Rico has a lawsuit pending.)

Same-sex couples can marry in 19 states: California, Connecticut, Delaware, Hawaii, Illinois (June 1), Iowa, Maine, Maryland, Massachusetts, Minnesota, New Hampshire, New Jersey, New Mexico, New York, Oregon, Pennsylvania, Rhode Island, Vermont, Washington, and the District of Columbia.

Marriage bans have been ruled unconstitutional in Arkansas, Michigan, and Utah, but those rulings are on hold pending appeal. Hundreds of same-sex couples in each state have already married.

In 31 states and Puerto Rico, it is currently illegal for same-sex couples to marry.

Freedom To Marry has an excellent breakdown of the laws in each state, and of litigation pending in each state.

Marriage Equality USA has a detailed map including LGBT protections by state.