The hosts of Fox & Friends on Monday turned video of NFL player Ray Rice punching his then-girlfriend unconscious in an elevator into a joke, saying that in the future she should "take the stairs."

After TMZ released a leaked surveillance video that showed what happened when Rice knocked out the woman inside the elevator, the Fox News hosts asked viewers if a two-game suspension had been appropriate.

"We should also point out, after that video — and now you know what happened in there — she still married him," host Steve Doocy explained. "They are currently married."

"Rihanna went back to Chris Brown right after [he assaulted her]," co-host Brian Kilmeade noted. "A lot of people thought that was a terrible message."

"I think the message is take the stairs," he added, as co-host Anna Kooiman giggled.

"The message is, when you're in an elevator, there's a camera," Doocy concluded.

Watch the video below from Fox News's Fox & Friends, broadcast Sept. 8, 2014.

(h/t: Sports Grid)
440K views in one day of this YouTube clip in which a kid comes out to his family, only to have them curse him because Jesus, then physically attack him. Dan Savage writes: 

"That was hard to listen to. Jesus. Fucking. Christ. My heart breaks for that poor, brave, tough kid. What the fuck is wrong with these people? We could have a fundraiser up and running for this poor kid by morning—if we knew who he was and where he was."

Stay out of the YouTube comments, seriously.

UPDATE: A fundraiser has been set up.


Pictures: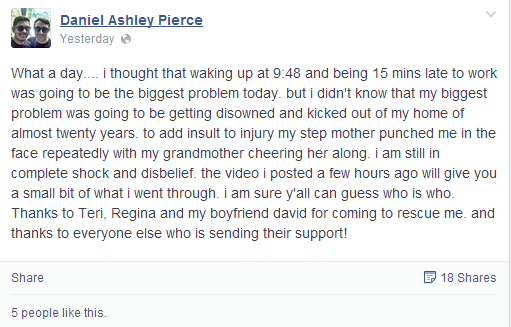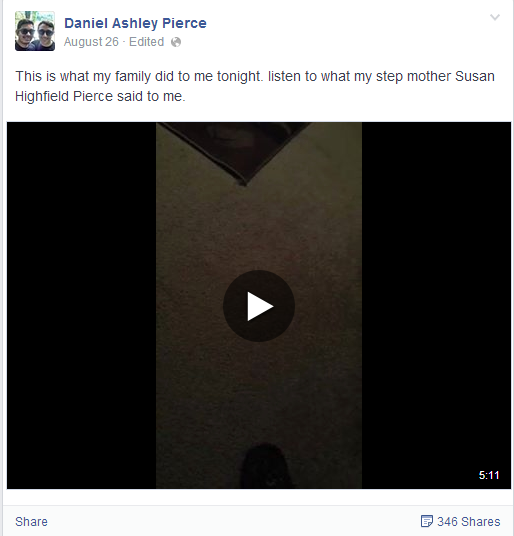 H/T: Joe.My.God
The Asian American Journalists Association (AAJA) and the Muslim Public Affairs Council (MPAC) are demanding action from Fox News after a host linked all Muslims to terrorists and advocated for violence against practitioners of the faith. 

In an August 27 statement, the Asian American Journalist Association condemned Fox co-host Andrea Tantaros for making blanket statements conflating all Muslims to the Islamic State and advocating for violence against them. AAJA called on the network to apologize:

AAJA calls for Tantaros and Fox News to apologize for the irresponsible, inflammatory statements. We also call on Fox News to discourage its journalists from making blanket comments that serve to perpetuate hate and Islamophobia.

Muslims and Islam are not interchangeable terms with terrorists or ISIS. We in the media know better and must be vigilant in our choice of words.

The AAJA joined the Muslim Public Affairs Council in their outrage over the offensive Fox segment. MPAC previously called for the network to fire Tantaros following her inflammatory statements.

The growing call for action from Fox News comes after an August 20 segment of Outnumbered featured co-host Andrea Tantaros discussing the death of journalist James Foley at the hands of the Islamic State. Suggesting that the history of Islam set a precedent for the murder, Tantaros declared that "this isn't a surprise," and that the only way to solve the situation was "with a bullet to the head. It's the only thing these people understand":
Writing trolly things is one way to stay relevant…

Kevin Sorbo has a few thoughts on Ferguson, and they are very, very, very bad (I guess that's how a B-list actor manages to stay relevant these days?) The former "Hercules" star has penned a truly insane, horrible, racist rant on Facebook, calling the protestors in Ferguson "losers" and "animals." Ferguson, a predominantly black community, is just one of the many that has experienced racial profiling by police who see black kids as thugs, and Old Herc apparently agrees with that sort of profiling.

Therefore, Sorbo can't seem to understand why people are upset that police shot and killed an unarmed kid and then used excessive force against everyone who spoke out against it (including journalists who were there to report on it).

Read more at Salon  »>
Fox host Tucker Carlson has a message for male victims of domestic violence: "That is embarrassing, getting beaten up by your girlfriend." 

But domestic violence against men, carried out by women, is no small problem. In 2013, the CDC reported that 29% of heterosexual men in the U.S. reported being victims of domestic violence at the hands of their female partners. And that doesn't account for the number of assaults that go unreported.

If anyone should be "embarrassed," it should be Fox, given Tucker Carlson's repulsive behavior. Rhetoric like his is a perfect example of why male victims may be less inclined to speak out about their abuse. 

Carlson's minimizing abuse of men in no isolated incident. In early June, the same host said that teenage boys think that sexual harassment from a female teacher is the "greatest thing that ever happened." A month later he attacked a kid for reporting statutory rape as "whiny."
Go fuck a cactus, Tucker! 
SiriusXM announced today that it has fired Anthony Cumia, co-host of the popular radio show "Opie and Anthony," after a he published a racist tirade on Twitter. The outburst occured after Cumia alleged he was assaulted by a black woman on the street. He called the woman an "animal bitch" and "savage," among other things:
The satellite radio provider said they fired Cumia because his comments were "abhorrent to SiriusXM, and his behavior is wholly inconsistent with what SiriusXM represents." But the comments also couldn't have come as much of a surprise.

The show and the "shock jocks" who host it was previously fined by the FCC for a segment in 2000 in which "a 17-year-old girl was instructed to take off her panties and rub a telephone across her pubic area." They were also fined in 2004 for a contest "in which people were encouraged to have sex in a public area."

In 2007, the show was suspended by Sirius for letting a man they called "Homeless Charlie" wonder around the studio. The hosts spoke with Charlie about raping Condoleeza Rice and Laura Bush.
Kudos to SiriusXM for canning his ass off the airwaves! 
A criminal grand jury has launched a probe into Gov. Pat Quinn's troubled anti-violence program —  once likened to "a political slush fund" — delivering a major blow to the Democrat as he seeks re-election this fall. 

On Tuesday, the Quinn administration turned over 1,000 documents pertaining to the Neighborhood Recovery Initiative to the Cook County State's Attorney Anita Alvarez following a subpoena from her office. 

The request was issued to the Illinois Department of Commerce and Economic Opportunity on March 19 and sought records tied to the Neighborhood Recovery Initiative — including those for the Chicago Area Project, a program tied to the husband of Cook County Circuit Court Clerk Dorothy Brown. 

The Sun-Times previously reported that almost seven percent of the $2.1 million in funds given to the Chicago Area Project meant to combat crime in West Garfield Park went to Brown's husband, Benton Cook III.

A copy of the subpoena bore Brown's signature, but it was unclear if she personally signed it or someone else in the circuit court clerk's office did so on her behalf.

The subpoena, however, is not limited to that Chicago Area Project, but asks for extensive information about the overall anti-violence program, including "files, notes, memos and correspondence pertaining to all grants," documents obtained by the Chicago Sun-Times through the Freedom of Information Act show. 

RELATED:
Dorothy Brown's husband got 7% of anti-violence grant cash
Quinn aide: Gov was unaware of pol's husband's windfall
State auditor slams Quinn's $54.5 million anti-violence program
Another pol's spouse got money from Quinn's anti-violence program
'Thug' in Quinn anti-violence program accused in teen's murder

Correspondence from Alvarez's office asked for "names and identities of all grantees participating in the Neighborhood Recovery Initiative, including, but not limited to Chicago Area Project."

The subpoena also asked for "copies of all payment instruments issued as grant disbursements, along with all related payment invoices" as well as "names and identities of any and all related DCEO field auditors and/or program compliance monitors."

News of the probe, first reported on Early & Often, the Chicago Sun-Times' political portal, threatens to tarnish the one-term governor's reformer image — not to mention dog him throughout a heated race against multi-millionaire Republican Bruce Rauner.

On Tuesday, Rauner's campaign pounced — looping in a mention of an inspector general inquiry into hiring practices at the Illinois Department of Transportation and tying Quinn to imprisoned former Gov. Rod Blagojevich. 

"Today we learned of two major pending investigations into Pat Quinn's administration," said Rauner spokesman Mike Schrimpf. "That's a troubling low even by Quinn-Blagojevich standards."

Quinn was lieutenant governor under Blagojevich.

The actual subpoena was withdrawn at the request of the Quinn Administration because the Department of Commerce and Economic Opportunity promised to provide the information. The department turned over information to the state's attorney's office on Tuesday.  

"Around April 15, we provided to them more than 1,000 pages of documents — some with just minor redactions for people's personal information. We were advised just today that they were not satisfied with even those limited redactions in there, so we've given them the whole thing," department spokesman Dave Roeder said Tuesday.

 The state's attorney's request targeted grants distributed out of the Department of Commerce and Economic Opportunity, which handled about $10 million in projects under the anti-violence program. The specific mention of the Chicago Area Project makes clear the office is keying in on — but not limiting its probe  — of money that flowed into that program. 

"The director of DCEO Adam Pollet has no tolerance for any misconduct or misuse of funds by our grantees. We are actively working with the state's attorney's office to provide all the records and information it requests," Roeder said.

The state's Auditor General, William Holland, slammed the governor's anti-violence program in a February audit, saying Quinn's administration didn't "adequately monitor" how state grant dollars were spent or on whom; community organizations that hired people with those funds weren't maintaining time sheets; and city aldermen dictated where funding was to be steered.

During the primary, political opponents likened the entirety of the Neighborhood Recovery Initiative to a "political slush fund." 

One of the  program's leading legislative critics praised Alvarez's move to investigate but urged that all facets of the program be investigated — not, for example, just the potential piece involving Brown's husband.

"This is appropriate. We have felt all along that law enforcement should be examining what happened in that program," Radogno told the Chicago Sun-Times. "However, that's Cook County. We are hoping the scope of this investigation remains broad and that the money spent everywhere is examined."

A spokesman for Dorothy Brown did not return a message left Tuesday evening on her voicemail, seeking comment on whether the circuit clerk believed her husband might be a focal point in the Cook County criminal investigation.

The Quinn administration has said the $50 million  Neighborhood Recovery Initiative was set up in response to a violent summer over 2010. Later,  in 2012, the governor supported legislation that moved oversight of the program from the Illinois Violence Prevention Authority to the Illinois Criminal Justice Information Authority.

The Criminal Justice Information Authority said it had received no inquiries into the program by authorities.  

In the governor's proposed 2013 budget, Quinn called for gutting the anti-violence program – now called Community Based Organizations for Violence Prevention program — which received about $15 million in funding over the last two years. 

The Cook County  inquiry comes after Republicans called for a criminal probe following Holland's findings. 

Holland had turned over his audit to U.S. Attorney James Lewis, who oversees the Central District of Illinois, and to state Executive Inspector General Ricardo Meza. The Central District has handled a series of grant fraud cases, including that of Former Country Club Hills Police Chief Regina Evans, who faces sentencing on Thursday. 

In his review, Holland further found that the state did not allow for a competitive, open application for the money and instead sought recommendations from Chicago aldermen as to what community organizations should get money in the Neighborhood Recovery Initiative.

Requests for proposals, the applications that were to be filled out to tap into the anti-violence money, were sent by Quinn's administration only to agencies that aldermen recommended, Holland reported.

The former Illinois Violence Prevention Authority "failed to conduct its due diligence to document that the decisions related to the selection of lead agencies were free of any conflict of interest, the appearance of conflict of interest or that the agencies selected were the best entities to provide the needed services," Holland's audit said.

Following the audit, the Chicago Sun-Times also reported that the program employed two gang members on the South Side, who were paid $8.50 an hour to hand out anti-violence literature. One of those teens is now dead, shot in the head with a shotgun, and his colleague is charged with the youth's murder.
From the 04.15.2014 edition of FNC's
Hannity
:
Bill O'Reilly wants to pummel the mayor of New York City, Bill de Blasio, for demonizing the wealthy. "I want to beat him up," the Fox News anchor said of Hizzoner. (You can hear the audio above.) O'Reilly revealed his violent wish at a Thursday fundraiser for the Church of Saint Mary, a Catholic parish and K-12 school in the Long Island hamlet of Manhasset. As the Bible says: The rich will inherit the Earth.

O'Reilly, along with Fox colleagues Megyn Kelly and Brian Kilmeade, appeared before an audience of 2,000 at Long Island University's Greenvale campus. After delivering their individual speeches, all three personalities gathered on stage for a combined Q&A session. Billed as an "inside-baseball" look at cable news, the 30-minute forum quickly devolved into a rolling pro-Fox rant, complete with references to Benghazi, accusations of anti-Christian media bias, and complaints about America's growing moocher class.

Even Kelly—who claims she is "not a political person"—joined O'Reilly in slamming Mayor de Blasio for supposedly enabling the takers over the makers.

The hysterics began when Brian Kilmeade read aloud a pre-selected audience question: Have we reached the point where there are more people on the free ride—for example, the people on the free ride getting welfare—than those who are actually working for a living?

After describing his upbringing in Levittown, New York, O'Reilly answered: "Today, a lot of Americans, you know, Hey, gimme gimme gimme, you know, they're not willing to pay the price to succeed. It's growing, I'm hoping we can reverse that, but it's growing."

Then the question turned to Kelly, who agreed with O'Reilly. After describing her own upbringing and her father's early death, she explained:

Kelly: I don't personally know the people who think somebody else should support them. Everybody I know works hard, and has come from a family who works hard.

O'Reilly: I want to introduce you to de Blasio. [Applause]

Kelly: The thing is, you work so hard, and you finally start earning some money, and you have people like de Blasio telling you you're not paying your fair share, that you're somehow bad, that you need to pay more, and you haven't earned it.

O'Reilly: I want to beat him up. [Applause]

Kilmeade: Give him a little Levittown!

While Fox is notoriously secretive about anchors' compensation, O'Reilly, Kelly, and Kilmeade all earn seven-figure salaries.

President O'Reilly

Before all that, the fundraiser opened with speeches by Kilmeade and Kelly, both of whom were featured in a short, family-friendly highlight reel from the event that aired on Friday morning. But things only really picked up, as they often do on Fox, when O'Reilly took the stage.

After detailing his post-college career in journalism, the O'Reilly Factor anchor told a lengthy, mostly positive tale about his recent Super Bowl interview with President Obama. "An interview like this is a prize fight," he explained, describing the president's "agility" and, after the interview, his tour of the White House's Lincoln Bedroom, where Obama showed him a handwritten copy of the Gettysburg Address.

"Barack Obama has helped me dramatically to raise money for Wounded Warriors," O'Reilly said, "so I have no personal animus toward him."

Keeping to his trademark style, however, O'Reilly ended his bit by contemplating an alternate history in which Bill O'Reilly were President:

What would I do, Bill O'Reilly, if I were President, what would I do about the gulf oil spill? There's really nothing that a President could do. But there really was something, there was something, and Barack Obama was not willing to do it. And it really struck me.

The only thing that could've capped that oil well was if you lowered Joy Behar down — [laughter, applause] — That could have done it! She would have given her life, but I'm sure she would have for her country! Now you could have done it with Rosie O'Donnell but there's not a crane in the world that could have done it.

(Both Behar and O'Donnell have publicly feuded with O'Reilly.)

Benghazi

While the Fox personalities stuck, individually, to personal stories (both in and out of television), the Q&A session served as an impromptu advertisement for Fox News and its coverage of Obamacare and the September 2012 attacks in Benghazi, Libya.

To a question about what motivates her every day, Kelly answered:

I don't want to sound trite, but I take very seriously, and I'm honored by the opportunity, to provide the news to the viewers. And I think that the Fox News Channel is the only place people can go right now for fair and balanced news. It's truly the only place. [Applause, whistles]

So, if you wanted to know what's happening with Obamacare, where are you going to go? You're going to get the straight story any place other than Fox? I don't think so. You're getting so much spin, and so much spin still keeps coming out.

Even, for example, those Medicaid numbers Obama keeps touting, well they're not true, they're not true! OK, and that's not spin. They are false. And he's overstating it. And the Washington Post is giving him three Pinocchios, but nobody else will tell you that!

O'Reilly agreed: "Yesterday, there were some pretty intense hearings on Benghazi. Nobody covered it but Fox."

Later, Kelly added:

One of the beauties of working at the Fox News Channel is you are challenged often. And there's pushback, a lot, from the outside world, [they say] not to cover that story, Benghazi, that's not a story, that's just a Fox story.

Killing Jesus

After the tut-tutting of de Blasio's class warfare, Kilmeade floated another question submitted by an audience member, this one named "Jay": What benefit is there to the various media outlets to not report the truth, or not reporting events at all?

In a solemn tone, Kelly responded:

There's clearly a bias in the media. They cover the stories they want to cover, and they don't cover the other stories. And then the extra layer of it is, some of them will engage in the shaming of media outlets that do cover the stories that they don't think are stories, because they want us to shut up.

In an equally solemn tone, O'Reilly followed:

People running the news now, the network news operations and the editors of the major newspapers, are ex-hippies. You gotta understand this. They're ex-hippies. They're all my age, maybe a little bit older or a little bit younger, but they're ex-stoners, sex-drugs-rock-n-roll, we're-going-to-change-the-world, you know, we're-going-to-be-Janis-Joplin, or whatever, that's their mindset. And now they have power. Alright. And power basically says to them, you know what, if we think it's right, or if we think somebody's wrong, we're not gonna bother with them.

Here's the proof of that. Killing Jesus [by Bill O'Reilly], the top-selling book in the country in 2013 by far, by far, [for a] non-fiction book, nobody was close.

No major newspaper reviewed it. [Audience: Ohhh] Not one. Because they had to mention the word "Jesus" if they did. Alright. And that's how biased the news media is.

(Killing Jesus is a quasi-historical novel based on O'Reilly's personal interpretation of biblical accounts of the Crucifixion.)

Very Important People

After the main show concluded, a portion of the audience swarmed a large, glassy room, located just outside the auditorium's doors, that had been fashioned to look like an aquarium, or perhaps the bottom of the ocean. Festooned with blue streamers and decorated with various sea animals hung from the ceiling, this was the event's makeshift VIP Lounge. Price of entry: $303.

I didn't have a VIP ticket, so I went outside and looked for the concrete pavilion near the lounge's exit-only door, where a sprinkling of non-VIP guests were watching as their betters inside either picked over a table of food or lined up to be photographed with the night's headliners.

"There must be 150 people in there," I said to a woman, standing nearby, who seemed to be a campus employee.

"Oh, honey, there are so, so many more. So many more."

O'Reilly, Kelly, and Kilmeade plunged in, looking thrilled to be there, excited by the crowd's pure delight at their presence. Everyone, including those on the outside, was smiling in the trio's direction. It was for a good cause..
UPDATE: I don't often embed tweets because they would vanish here if deleted. But this one I did embed so that you can click to read reactions and see the number of retweets. I'm adding a screencap, just in case.
Pat Dollard is an Islamophobic asshole. 
BarbWire editor Jeff Allen keeps trying to top his own rabidly anti-gay columns, warning previously that "homo-maniacal" "queer terrorists" are engineering an anti-Christian Holocaust.

Now today, Allen is predicting that the "Gay-KK" will "lynch" Christians and put them in the "gallows."

Are you ready for a lynching? Well, ready or not, guess who's been selected to take the long walk to the gallows?

…

Hey, it is what it is. As a matter of fact, it's getting harder every day to tell our modern homo-fascists from the Nazis of the 1930s and 40s. "Gay"-stapo or Gestapo, could somebody please tell me the difference?

…

In the meantime, the Gay-KK can keep their noose "on ice."

Allen adds in a separate column that gay people operate as a "monolithic monster" and a "totalitarian regime" seeking to outlaw Christianity and overturn the Constitution.

As I share a few examples of the deep-seated scheming of the homo-suppressionists, one of the first reactions will invariably be, "Not all homosexuals are like this!" Then, it's about high time for the liberty-lovers in the homosexual ranks to start loudly condemning the "gay" onslaught against free speech, conscience rights and religious expression (just to name a few). Because one thing is for sure, those who "are like this" haven't held back their aggression one bit; they have nearly drowned out all rational, civil debate. In fact, if they had their way, Christianity would be a criminal act or certainly banished from "polite society." So, the deafening silence of these mysteriously absent "reasonable" homosexuals is starting to make me think that they actually operate more as a monolithic monster.

The homosexual effort to silence all voices of dissent seems today like some sort of evil Energizer Bunny. They never give it a rest. The homo-maniacal foot soldiers are constantly on the march/watch for the next perceived "violation" of the fascist "gay" dogma. Their modus operandi sounds eerily similar to totalitarian regimes which recruit family members to spy on one another. Step out of line, and who knows what will happen.

…

This battle for truth and freedom is not for the faint of heart, but we must oppose them now before it's too late. Or the U.S. Constitution will become nothing more than a museum piece in memorial to a period long past. Liberty will only be a faint memory of a bygone era, unless we draw a line and stand our ground.
h/t: Brian Tashman at RWW
Perhaps we shouldn't have been surprised that Catholic Family & Human Rights Institute head Austin Ruse wanted to have liberal and women's studies professors "taken out and shot," as he once called for the murder of Hillary Clinton.

Back in 2001, Catholics for Choice released a report [PDF] on Ruse and his lobbying efforts at the United Nations, especially his campaign against the Convention on the Elimination of All Forms of Discrimination against Women and the Beijing Platform for Action, which he dubbed the work of "radical feminists."

The report notes that in a 2000 address to the Cardinal Mindszenty Foundation, Ruse told a story about talking to a Catholic priest about killing Clinton: "Hillary [Clinton] is the 'conquering queen' at the United Nations…I was standing on the floor of the UN a couple of months ago, when she was thinking about running, and I was talking to a priest from the Holy See delegation and — I shouldn't tell you this but he offered me guaranteed absolution if I just took her out — and not on a date."

Catholics for Choice adds that Ruse sees his conflict with "radical feminists" in "terms of war and attacks and battles."
See Also: RWW's Brian Tashman: Austin Ruse, while filling for Sandy Rios, advocates "left-wing professors to be shot."


h/t: Brian Tashman at RWW
Austin Ruse is upset that we reported on comments he made yesterday on Sandy Rios In The Morning, the American Family Association radio program he is guest hosting, where he said that "the hard left, human-hating people that run modern universities," especially the women's studies departments, "should all be taken out and shot." Ruse, who heads the Catholic Family & Human Rights Institute (C-Fam), spent yesterday and today lashing out at critics on Twitter, saying liberals are "dumb," "stupid" and "idiots."

Ruse started today's show by explaining that his remarks yesterday weren't serious and that liberals should "turn to Wikipedia or the Internet, I don't know if they know how to use the Internet."

"The pajama boys over at Right Wing Watch have their panties all in a twist about what I said, and I sometimes think that the left is really dumb, these are the low-information voters that make all of these mistakes when they get into the ballot box and all of these mistakes as they go through their lives and one of the reasons is because they are so dumb," he said.

After calling liberals "dumb" and "pajama boys," he then criticized them as "smear merchants" who "call [people] names" and want to shut him up.

"These people, these dumb leftists, are really smear merchants, they're out to hurt, to harm, to isolate," Ruse said. "They don't like me, they don't like you, they don't like your children, they don't like anything about you and they want you to basically shut up and go away…. It's quite astounding what these folks are able to get away with and it's also astounding how dumb they are."
From the 03.13.2014 edition of AFR's Sandy Rios In The Morning:
Austin Ruse, you got caught, and so you need to fess up!
h/t: Brian Tashman at RWW
Cunning, Ruse.
RWW's Brian Tashman: 
While filling in today for American Family Radio host Sandy Rios, Austin Ruse commented on the media frenzy surrounding a Duke University freshman who announced that she is a porn actress.

Ruse, who leads the ultraconservative Catholic Family & Human Rights Institute (C-Fam), promptly blamed the college's women's studies department and said that "the hard left, human-hating people that run modern universities" should "all be taken out and shot."
Congressman Threatens Reporter: "I Will Break You In Half" (VIDEO)

Rep. Michael Grimm (R-NY) confronted a reporter and threatened him on camera after refusing to…