Bill O'Reilly has an idea: employ an "anti-terror army" of 25,000 "English-speaking" mercenaries to take on all terrorists around the world.

Thankfully, U.S. Naval War College Professor Tom Nichols didn't hesitate to decimate O'Reilly's "terrible idea" while appearing on Fox:

It's a morally corrosive idea to try to outsource our national security. This is something Americans are going to have to do for themselves. We're not going to solve this problem by creating an army of Marvel's Avengers or the Guardians of the Galaxy. We're gonna have to do it ourselves.

While the U.S. certainly used mercenaries before, the national security expert pointed out that we've never used them "to do the bulk of our fighting."

Update: On CBS News, Bill O'Reilly stood by his suggestion, saying that a mercenary force would "take the politics out of it." He predicted, "It's going to happen. This anti-terror army is going to happen."

Because we all know how well it works out when the U.S. wages a war against a faceless, shapeless enemy, justifying military intervention in any part of the world… 
BREAKING: President Barack Obama has announced airstrikes and airdrops against #ISIS if they strike against US's interests. #Obama #Iraq
BREAKING: President @BarackObama has announced airstrikes and airdrops against #ISIS if they strike against US's interests. #Obama #Iraq

— Justin Gibson (@JGibsonDem)

August 8, 2014
Obama says 'today America is coming to help' Iraqis targeted by ISIS http://t.co/Min8COZti9

— NBC News (@NBCNews)

August 8, 2014
Obama: "I will not allow the United States to be dragged into another war in #Iraq."

— T.J. Holmes (@tjholmes)

August 8, 2014
President Obama is putting emphasis on "empowering" Iraqi citizens to prevent future situations.

— USA TODAY (@USATODAY)

August 8, 2014
Obama: "i will not allow" the US "to be dragged into another war in Iraq." there will be no ground troops, Obama says

— E McMorris-Santoro (@EvanMcSan)

August 8, 2014
Obama: 'We support our allies when they are in danger' http://t.co/wvVteHN4KR

— NBC News (@NBCNews)

August 8, 2014
"Today, America is coming to help," Obama says of Iraq. Emphasizes no US ground troops. Only targeted strikes/humanitarian aid for Yazidis.

— jennifer bendery (@jbendery)

August 8, 2014
BREAKING UPDATE: Pres. Obama: Airstrikes authorized against ISIS to prevent genocide, protect American interests: http://t.co/081FkM5NC7

— ABC News (@ABC) August 8, 2014
Obama: American combat troops will not be sent back to Iraq.

— U.S. News (@usnews) August 8, 2014
Seems important to note: Obama is authorizing targeted air strikes to protect Americans specifically IF ISIS moves toward Irbil.

— jennifer bendery (@jbendery) August 8, 2014
In a first for international politics, the president of Azerbaijan appears to have declared through Twitter the resumption of what had been a dormant conflict with its neighbor Armenia over a plot of territory that both claim as their own.

At stake is the land known as Nagorno-Karabakh, a strip of land located entirely within Azerbaijan's current borders. The territory, however, boasts a large ethnic Armenian population, a legacy of Josef Stalin's 'divide and conquer' tactics in the Soviet Union. When the USSR collapsed in the early 1990s, the two countries fought a full-fledged war over the land, one that ended in a ceasefire rather than a lasting peace deal. Since then, Nagorono-Karabakkh has been held by Armenian troops and local ethnic Armenian fighters.

CREDIT: WIKIMEDIA

In recent days, the long-simmering tensions in the region have begun to boil over again. Over the weekend, clashes between Azeris and Armenians left at least 15 soldiers dead and the ceasefire that has lasted for twenty years at risk. The upswing in violence led to a number of concerned statements from both Russia and the United States, who together are co-chairs of the Minsk Group that has mediated the conflict. "We are seriously concerned about the recent upsurge in violence along the line of contact," U.S. co-chair James Warlick said in a tweet. "The ceasefire needs to be respected."

On Thursday, however, Azeri president Ilham Aliyev (İlham Əliyev) took to Twitter to declare firmly that in any conflict, it would be Azerbaijan who prevailed. In a lengthy rant, which at times referred to Armenia solely as "the enemy," repeatedly hit on the patriotism of the Azeri people and the willingness of the Azerbaijan army to take on Armenia in any renewed conflict. "The whole world recognizes Nagorno-Karabakh as an integral part of Azerbaijan and will never recognize the self-styled Nagorno-Karabakh as an independent entity," he declared. "The Azerbaijani state will never tolerate a second Armenian state on its territory."

"Azerbaijani citizens are not pleased with the activity of mediators because the main mission of mediators is to settle the conflict, not to keep it in a frozen state and conduct confidence building measures," he continued, in a dig at the Minsk Group's lack of progress to date. "The biggest confidence building measure would be the withdrawal of occupying forces from our lands." The Organisation for Security and Cooperation in Europe (OSCE), which houses the Minsk Group, declined to comment on Aliyev's statement, as it is "not in the position to comment on statements of the heads of our individual participating States." Instead, ThinkProgress was pointed to the latest statement from the co-chairs, who "expressed their deep concern" over the escalation and urged a resumption of negotiations between Armenia and Azerbaijan.

View selected excerpts from President Alivev's rant below:

As a result of attacks launched by Armenian occupying forces, our army suffered losses. Several servicemen have become martyrs.

— Ilham Aliyev (@presidentaz) August 7, 2014

May Allah rest their souls in peace! However, their blood has been avenged. The Azerbaijani army has dealt a very severe blow to the enemy.

— Ilham Aliyev (@presidentaz) August 7, 2014

According to the information available to us, dozens of occupiers have been killed.

— Ilham Aliyev (@presidentaz) August 7, 2014

Our territorial integrity will be restored. There are several factors that enable this conclusion. Azerbaijan is getting stronger.

— Ilham Aliyev (@presidentaz) August 7, 2014

Nagorno-Karabakh, the occupied territories are our native lands.

— Ilham Aliyev (@presidentaz) August 7, 2014

From the perspective of international law, Nagorno-Karabakh is an integral part of Azerbaijan.

— Ilham Aliyev (@presidentaz) August 7, 2014

After returning to the currently occupied territories, we will restore all our cities and villages.

— Ilham Aliyev (@presidentaz) August 7, 2014

Azerbaijani citizens are not pleased with the activity of mediators because the main mission of mediators is (cont) http://t.co/BxieWS36R8

— Ilham Aliyev (@presidentaz) August 7, 2014

The biggest confidence building measure would be the withdrawal of occupying forces from our lands.

— Ilham Aliyev (@presidentaz) August 7, 2014

The Azerbaijani army is showing its strength, which is having an impact on the talks.The enemy is clearly seeing that it can't cope with us.

— Ilham Aliyev (@presidentaz) August 7, 2014

If the Azerbaijani army starts an offensive, the enemy will find itself in a very difficult situation.

— Ilham Aliyev (@presidentaz) August 7, 2014

This is known to us, the enemy and the mediators.

— Ilham Aliyev (@presidentaz) August 7, 2014

Therefore, I believe that the developments of recent days will prompt mediators to take some action.

— Ilham Aliyev (@presidentaz) August 7, 2014

The aggressor state should receive an explicit message that this aggression must be stopped.

— Ilham Aliyev (@presidentaz) August 7, 2014

The war is not over. Only the first stage of it is. But the second stage may start too.

— Ilham Aliyev (@presidentaz) August 7, 2014

No-one can rule that out. We don't want war, we want peace. But at the same time, we want our lands back.

— Ilham Aliyev (@presidentaz) August 7, 2014

Armenia wants to preserve the status quo. The main wish and essence in the activities of mediators is to prevent a resumption of war.

— Ilham Aliyev (@presidentaz) August 7, 2014

We don't want war either. But unlike them, we want our lands back. We want the lands of our ancestors back.

— Ilham Aliyev (@presidentaz) August 7, 2014

Justice and international law support our position. Therefore, the situation of neither peace nor war cannot last any longer.

— Ilham Aliyev (@presidentaz) August 7, 2014

We will restore our sovereignty. The flag of Azerbaijan will fly in all the occupied territories, including Shusha and Khankandi.

— Ilham Aliyev (@presidentaz) August 7, 2014

Just as we have beaten the Armenians on the political and economic fronts, we are able to defeat them on the battlefield.

— Ilham Aliyev (@presidentaz) August 7, 2014

Just as we have beaten the Armenians on the political and economic fronts, we are able to defeat them on the battlefield.

— Ilham Aliyev (@presidentaz) August 7, 2014

The Armenian barbarians and vandals have razed the city of Agdam to the ground. he ruins of the city of Agdam are clearly visible from here.

— Ilham Aliyev (@presidentaz) August 7, 2014

We will restore all of the occupied and destroyed cities. We will return to this land, we live and will live with this idea.

— Ilham Aliyev (@presidentaz) August 7, 2014
h/t: Hayes Brown at Think Progress World 
GAZA CITY, Gaza Strip (AP) — Thousands of Israeli soldiers invaded the Gaza Strip on Thursday, a military spokesman said, escalating a 10-day military operation to try to destroy Hamas' weapons arsenal, rocket firing abilities and tunnels under the Palestinian territory's border with Israel.

GAZA CITY, Gaza Strip (AP) — Thousands of Israeli soldiers invaded the Gaza Strip on Thursday, amilitary spokesman said, escalating a 10-day military operation to try to destroy Hamas' weapons arsenal, rocket firing abilities and tunnels under the Palestinian territory's border with Israel.

It was the first major Israeli ground offensive in Gaza in just over five years and came after Egyptian-led efforts to broker a cease-fire failed. Earlier Thursday, 13 Hamas militants tried to infiltrate Israel through a tunnel under the Gaza-Israel border, but were stopped by an Israeli strike at the mouth of the tunnel.

The military said the operation was open-ended and would be carried out on several fronts in the coastal strip.

"Our forces, large ground forces accompanied by massive air force support, naval forces and intelligence, are taking over targets in Gaza, operating against tunnels and terror activists and infrastructure," Israel's chief military spokesman Brig. Gen. Motti Almoz said.

He called on Gaza residents to evacuate areas where the military is operating, warning the "military is operating there with very great force."

Thousands of soldiers backed by tanks and huge DC9 bulldozers entered the Hamas-ruled territory after 10 p.m. Thursday, Israeli spokesman Lt. Col. Peter Lerner said.

Hamas spokesman Fawzi Barhoum said Israel "will pay dearly" for the assault. "Hamas is ready for a confrontation," he said.

An official in the Gaza security operations room reported heavy Israeli tank shelling along Gaza's border areas with Israel since 8 p.m. Thursday.

"All border areas are under fire. There is a tank shell every minute," said the official, speaking on condition of anonymity in line with briefing regulations. "There is also fire from the sea toward police checkpoints."

Thousands of Israeli soldiers had massed on the border with Gaza in recent days, waiting for the order to go in.

Israel had called up 48,000 reserve soldiers, and later Thursday the Cabinet authorized the military to call up 18,000 more, the military said.

The ground operation followed a brief truce earlier Thursday in which Israel held fire to allow Gazans to stock up on food and other necessities after being largely holed up at home since the conflict began last month.

Since July 8, Israeli strikes have hit more than 2,000 targets in Gaza and Hamas launched nearly 1,500 rockets at Israel, the Israeli military has said.

Israeli Prime Minister Benjamin Netanyahu's office said he instructed the army to go ahead after Hamas rejected an Egyptian cease-fire plan earlier in the week and after Hamas militants tried to infiltrate into Israel through a tunnel from Gaza.

"In light of the despicable and relentless aggression by Hamas and the dangerous infiltration into Israel, Israel is obliged to protect its citizens," the statement said.

Israel last carried out a major ground offensive in Gaza in January 2009. The ground operation came toward the end of a three-week military campaign.
The radical militants of ISIS continue to expand their control over the Anbar region of Iraq, capturing their fourth town in just two days.

Update

The radical militants of ISIS continue to expand their control over the Anbar region of Iraq, capturing their fourth town in just two days. Among the conquests was the town of Rutba, which is located just 90 miles east of the Iraqi border with Jordan.

After taking Rutba, the Islamic State is 100km from the#SaudiArabian and #Jordanian border with empty desert between pic.twitter.com/fnmtMSfMnv

— Abu Umar (@AbuUmar8246) 

June 22, 2014

As the Associated Press reports, by wresting control of Rutba, ISIS now runs a strip of a major highway, "a key artery for passengers and goods" heading to and from neighboring Jordan. The capture of al-Qaim, as we noted earlier, has already given ISIS control of a vital border crossing post between Iraq and Syria.

ISIS also took the towns of Rawah and Anah, which some fear will lead to the capture of Haditha, home to an important dam that, if destroyed, could cause massive flooding and damage the country's electrical grid.

This is the latest in a continuing series of setbacks for Prime Minister Nouri al-Maliki, whose Shiite government has failed to stop the advance of ISIS across western and northern Iraq. His government is awaiting the arrival of 300 military advisers from the United States to help Iraqi forces find a way to stabilize the country.

Iran is now voicing its opposition to any "intervention" by the Americans, whom Supreme Leader Ayatollah Ali Khamenei accuse of trying to re-take control of the country.

American authorities are trying to portray this as a sectarian war, but what is happening in Iraq is not a war between Shi'ite and Sunnis."

Let's hope he watches the Sunday shows this morning.

Meanwhile, U.S. Secretary of State John Kerry, arriving in Cairo this morning, plans to ask the leaders of a number of Arab states to use their influence with Iraqi politicians to convince them to form a government that appeals to broader parts of Iraq's population. According to the New York Times, Kerry will also push governments to stem the (sometimes covert) flow of funds to ISIS.

Original Post

After a fierce battle with Iraqi forces, the Sunni militant group ISIS took control of a crossing on the border between Iraq and Syria, making it easier for the group to shuttle weapons and supplies between the two countries. 

By the day's end, a number of Islamic State of Iraq and Syria (ISIS) fighters and Iraqi troops had died in clashes, mainly over the strategic town of Al-Qaim, near the border with Syria. Once the town was under ISIS control, the border crossing was abandoned, giving the group unfettered access to move fighters, weapons, and supplies between the two frontiers. 

Sunni militants have taken control of the Iraq-Syria border point at Al-Qaim http://t.co/iaMAMYUE9I

— Agence France-Presse (@AFP) 

June 21, 2014

Syria and Iraq comprise the basis for the area that ISIS aims to use to establish a new Islamist state in the Middle East.

Elsewhere in the country, Baghdad was the site of a massive parade by Shiite militiamen, a show of force against what's seen as an inevitable ISIS offensive against the Iraqi capital. Crowds amassed as groups in all different uniforms marched with guns, swords, rocket launchers, and rifles.

Jaish al-Mahdi marching in Baghdad this evening. This unit chanted: "We will crush ISIS's heads under our boots." pic.twitter.com/rDU8gUXVk3

— C.J. Chivers (@cjchivers) 

June 20, 2014

In recent days, ISIS has captured Iraq's largest oil refinery as well as Saddam Hussein's old chemical weapons plant. They've also displaced tens of thousands of Iraqis, bringing the tally of refugees to over a million this year.

UN has raised Iraq's crisis to a Level 3 humanitarian disaster, which is also the designation for Syria's crisis.http://t.co/OPqQ1F9ZXf

— Anup Kaphle (@AnupKaphle) 

June 18, 2014

Source: Adam Chandler for The Wire
Let's NOT restart the Iraqi War. It was foolish in the 1st place to even invade that nation back in 2003, and will be much more foolish to invade it again now. 
"After more than a decade of Afghan war, 'Now we are finishing the job we started," Obama said Tuesday. "This year, we will bring America's longest war to a responsible end.&…

Updated — 2:57 p.m. ET

AP Photo/ Evan Vucci, File

President Barack Obama speaking during a troop rally on May 25 after arriving at Bagram Air Field for an unannounced visit, north of Kabul, Afghanistan.

President Obama announced Tuesday that he wants to keep 9,800 troops in Afghanistan after the U.S. combat mission ends this year, according to a senior administration official.

The White House issued the following statement Tuesday ahead of the president's announcement:

This afternoon the President will make an announcement about the next steps in winding down the war in Afghanistan. He will announce that our combat mission will be over by the end of 2014. He will make clear that we are open to continued efforts in Afghanistan on two narrow missions after 2014: training Afghan Forces and supporting CT operations against the remnants of al Qaeda. We will only sustain a military presence after 2014 if the Afghan government signs the Bilateral Security Agreement. Both Afghan presidential candidates recently reiterated their intentions to sign the agreement quickly if elected. Assuming a BSA is signed, at the beginning of 2015, we will have 9,800 U.S. service members in different parts of the country, together with our NATO allies and other partners. By the end of 2015, we would reduce that presence by roughly half, consolidating U.S. troops in Kabul and on Bagram Airfield. And one year later, by the end of 2016, we will draw down to a normal Embassy presence with a security assistance office in Kabul, as we have done in Iraq.

The announcement comes just two days after Obama made an unannounced visit to the troops at Bagram Air Field, north of Kabul, Afghanistan.

AP

On a conference call Tuesday, senior administrative officials said the White House hopes to cut the 9,800 troops in Afghanistan "by roughly half" at the end of 2015 and further reduce to a "normal embassy presence" by 2016.

Officials reiterated that the combat mission will conclude at the end of 2014, and U.S. military efforts will focus on training and counterterrorism thereafter.

The White House praised the Afghan national security forces for "stepping up" at this time and "growing in not only size but capability."

On the issue of what message the U.S. is sending to Al Qaeda and Taliban with this draw down, officials said "there will be violence, there will be challenges in Afghanistan" and they acknowledged that there continue to be Al Qaeda threats in the region. However, the White House believes now is the time for the Afghans to be responsible for securing their own country and they believe Afghan forces are "prepared to step forward."

"This is a moment of some momentum in Afghanistan," a senior administration official said on the conference call.

President Obama is expected to elaborate on U.S. counterterrorism in Afghanistan when he speaks from West Point on Wednesday.

Source; Mike Hayes for Buzzfeed
BREAKING: President Barack Obama has decided to draw down the US Military presence in Afghanistan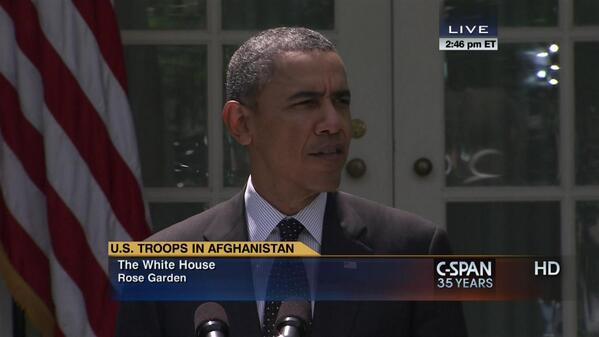 Details on Obama's plan to keep 9,800 US troops in Afghanistan after 2014 http://t.co/4asN3repou via @attackerman

— GuardianUS (@GuardianUS)

May 27, 2014
Obama: US will have 9800 service members in #Afghanistan by the beginning of 2015. That will be reduced by half by end of 2015.

— T.J. Holmes (@tjholmes)

May 27, 2014
Obama troop drawndown plan: Current: 32,800 End of 2014: 9,800 End of 2015: 4,900 2016: Reduced to Embassy presence @6News @LMartinezABC

— NewsBreaker (@NewsBreaker)

May 27, 2014
Obama on Afghanistan: "This year, we will bring America's longest war to a responsible end." http://t.co/5w4WWIEwVk

— NBC News (@NBCNews)

May 27, 2014
"This is the year we will conclude our combat mission in Afghanistan" – Pres. Obama pic.twitter.com/DXcMti2IXU

— NBC Nightly News (@NBCNightlyNews)

May 27, 2014
"I think he's proud of it," Pelosi added when Crowley asked if there could be proof that Cheney did give the CIA orders on interrogation.
Right on, Nancy Pelosi! 
"The same forces that provoked the intervention in Crimea are trying to do the same here in Donetsk."

DONETSK, Ukraine — Was the stabbing death of a 22-year-old man here on Thursday night a horrific incident resulting from the passion of protest — or was it due to deliberate provocations from Russia? No one in this eastern Ukrainian city knows the answer, and that's why they're all on edge.

Some think the man's death, coming at the tail end of a protest between pro-Ukraine and pro-Russia activists, can be blamed on unrest stirred by Moscow, seeing it as the next step in its designs on the country, following its occupation of the Crimean peninsula. The man died from stab wounds sustained after pro-Russia demonstrators attacked their rivals, in jarring violence that left at least 17 more people injured, some critically.

"The same forces that provoked the intervention in Crimea are trying to do the same here in Donetsk," said Nikolai Yacubovich, an advisor to Ukraine's minister of police and the head of a local group of pro-Ukraine activists who have organized themselves for what they call civil defense. "Nobody knows how serious the threat is."

Yacubovich puzzled over reports that police stood idly by as the attack unfolded. Were the cops just afraid — or was their inaction part of something bigger? "We cannot explain why the police did that," he said.

With reports of Russian military amassing on the country's western border with Ukraine, fears that the Kremlin could move into the east have grown. Vladimir Putin, the Russian president, reserved the right to deploy throughout the country in war powers he sought from Russian lawmakers late last month. And early Friday, the Russian foreign ministry issued a harsh statement and flipped Thursday night's events on their head, claiming that the fatal attack — the first in this city — had been initiated by "right-wing groups" against a peaceful pro-Russia side. The statement concluded with a warning: "Russia is aware of its responsibility for the lives of compatriots and fellow citizens in Ukraine and reserves the right to take people under its protection."

As in much of Ukraine's east, there are close ties to Russia here — in language, in culture, in business and in extended family. The fear is that Russia will use the same pretext to send in troops — that of protecting the locals said to self-identify with it — as it did in invading Crimea.

The fears extend beyond Russia and Ukraine. A senior diplomat based in the region for a NATO power said he believed Russia could stir tensions or send troops into eastern Ukraine if the crisis continued much longer. "It's not a chess game — it's more like a game of chicken," the diplomat said. "Both sides are trying to pressure each other into stepping back."

Echoing the concerns of many in Donetsk, he expected the crisis to reach a head on Sunday, when Crimea holds its disputed referendum on joining Russia. "After a certain amount of time you can no longer find a face-saving formula — or an off-ramp, as the Americans are calling it," he said. "And in the mean time, we are seeing, as yesterday, provocations in eastern Ukraine that could develop into a possible trigger."

Signs of this tension are on full display in Donetsk. Konstantin Lavrov, the leader of a local civil defense group, said he fully expected an invasion — and spoke of responding with violence. He also ticked off the unproved rumors that have made many activists in the city increasingly suspicious of the pro-Russia camp ahead of a large march it has planned for Saturday: people with Russian accents pouring into the city; misbehaving on public transportation; struggling to buy a ticket for the trolley. "You don't need to be a military analyst to see how many Russian troops are gathered near the Russian-Ukrainian border here. But the plan is the destabilization of the whole situation first," he said. "Our country is in a great danger at the moment, even though it might look like things are calm."

As one activist put it after Thursday night's violence, which badly shook many in Donetsk: "I feel like someone is playing his cruel games with us."

Speaking in London on Friday after a five-hour meeting with Secretary of State John Kerry, Lavrov said Russia had no plans to invade eastern Ukraine. Russia has also denied having troops in Crimea, and has presented all its actions in Ukraine as motivated by humanitarian concerns.

Donetsk's new authorities — appointed only recently after the government in Kiev fell following month of sustained protests — were scrambling to get a handle on the crisis. On his first day on the job on Wednesday, before the deadly attack, Nikolai Frantovsky, the city's chief prosecutor, said he suspected that some officials from the old government had collaborated with the Russians. He said he and his colleagues would be working to root out conspirators who hadn't already been replaced. Frantovsky said he worried Donetsk would face a scenario like Crimea — "prepared well in advance, and the authorities let it happen."

Amid the competing factions in Donetsk, Alexander Kruschev, an official with a local NGO, said: "I have never seen our civil servants so scared."

Alexander Efremov, a senior regional official with the Security Services of Ukraine (SBU), the country's national agency focused on anti-terrorism and intelligence, said in an interview Friday that the city's pro-Russia movement had been small and scattered before the momentous events of last month. But after protesters toppled the government in Kiev, many in Donetsk became suspicious of its Western sympathies, and a counter-movement quickly grew.

Efremov said he believed it was likely helped along by Russian agents. "We are investigating the appearance of members of the Federal Security Service [the SBU's Russian counterpart] who are engaging in shadow activity and meeting with citizens around the Donetsk region," he said.

Their purpose, he said, was to instigate protests, and to make "the promise of Russian support [for these groups], as in Crimea." 

Efremov also said that members of the Russian parliament had met with pro-Russia activists in Donetsk, and that citizens from the nearby Russian region of Rostov-on-Don had likewise been collaborating with these activists. He presented an information sheet on Pavel Gubarev, a local activist who had been calling for a referendum to join Russia, and whom the SBU arrested on charges of separatism last week.

He also said that the SBU had arrested one Russian man in Donetsk that it believed to be a spy: "We have some proof, but he is not saying anything to us at the moment."

These are the kind of charges that Donetsk's pro-Russia activists deny — for the most part, at least. Andrei Porgin, the co-founder of Donetsk Republic, one of the pro-Russia groups against whom opponents often cast suspicions of conspiracy, said his group had never taken money or direction from Russia. "The only support we've received is moral support, in the Russian media," he said.

As to accusations of Russian citizens helping to fill out the ranks of the pro-Russia demonstrations: "Maybe there are 20 or 50, but they don't make the weather."

Porgin said there were more hardline pro-Russia groups in Donetsk than his, and that he supported decentralizing power from Kiev, not joining Russia. But if Russian troops came to Donetsk, he added, "I would be calm."

"The Russians are acting according to their own interests and own security questions," he said. "If the situation gets worse here, it will impact Russia, so Russia would be forced to react."

As Irina Popova, a deputy in the regional government from Ukraine's Communist Party, put it: "The Russians are not our enemies. We will not fight against them. If they will come, they will come. We consider them our family."

Popova has been accused of being a separatist, but like Porgin said she wants only federalism. Most of those who were looking to Russia in Donetsk, she said, did so because they felt threatened. "The government in Kiev is the question. The West is the question," she said. "Russia is a consequence. When people are afraid and have nowhere to turn, they ask the assistance of Russia."

Source: Mike Giglio for Buzzfeed
Senior officials say goal is to avoid further incursion as administration seeks to apply economic and political pressure

The US conceded on Sunday that Moscow had "complete operational control of the Crimean peninsula" and announced that the secretary of state, John Kerry, will fly to Kiev in an attempt to halt a further Russian advance into Ukraine.



Senior US officials dismissed claims that Washington is incapable of exerting influence on the Russian president, Vladimir Putin, but were forced to admit that Crimea had been successfully invaded by 6,000 airborne and ground troops in what could be the start of a wider invasion.

"They are flying in reinforcements and they are settling in," one senior official said. Another senior official said: "Russian forces now have complete operational control of the Crimean peninsula."

On Monday, the Russian foreign minister, Sergei Lavrov, said he had discussed Ukraine with his Chinese counterpart and their views coincided on the situation there.

Lavrov said in a statement that the two veto-wielding UN security council members would stay in close contact on the issue. 

Meanwhile, Ukrainian border guards reported a buildup of armoured vehicles near a ferry port on the Russian side of the Kerch Channel – a narrow sea channel dividing Russia and the Ukraine. A statement from the guard spokesperson said Russian ships had also been moving in and around the city of Sevastopol, where the Russian Black Sea fleet has a base, and that Russian forces had blocked telephone services in some areas.

Although President Barack Obama's administration called for Putin to withdraw troops to Russian military bases on the peninsula, its objective appeared to have shifted to using political and economic threats to prevent any further military incursion.

One senior official said the major decision facing Putin was whether to "continue to escalate troop movements into other parts of Ukraine".

"We've already seen the intervention in Crimea," the official said. "It would be even further destabilising to expand that intervention into eastern Ukraine."

The official added: "Our bottom line is they had to pull back from what they've already done, go back into their bases in Crimea. We'll be watching very, very carefully of course and will be very, very concerned if we saw further escalation into eastern Ukraine."

Kerry will fly to Kiev on Tuesday, to meet Ukraine's new government and display "strong support for Ukrainian sovereignty", a state department official said. However, in Washington there were mounting questions, particularly from Republican opponents of the administration, about the influence Kerry and other officials have over Moscow.

Kerry, Obama and other senior officials spent the last 24 hours frantically attempting to rally an international coalition of countries to condemn Moscow over the Crimea invasion, and commit to economic sanctions in order to prevent a further advance into other pro-Russian parts of Ukraine.

Obama spoke by phone with the British prime minister, David Cameron, Polish president Bronisław Komorowski and the German chancellor, Angela Merkel.

"We are concerned as we watch this situation that the Russians have badly miscalculated," one of the senior officials said. "There is a very fierce and proud tradition in Ukraine of defending their sovereignty and territorial integrity. So far Ukraine has showed, and Ukrainians individually have showed, marked restraint … but the longer this situation goes on, the more delicate it becomes."

Earlier on Sunday, Kerry told CBS leading western nations were prepared to enact economic sanctions against Russia over what he called an "incredible act of aggression".

"You just don't in the 21st century behave in 19th-century fashion by invading another country on completely trumped up pretext," Kerry said. "It is really a stunning, wilful choice by President Putin to invade another country. Russia is in violation of the sovereignty of Ukraine. Russia is in violation of its international obligations."

Asked how the US and its allies might respond, Kerry stressed the economic harm that could befall Russia if it continued its occupation of Crimea, but repeatedly said "all options" were under consideration.

However, in a conference call with reporters later on Sunday, three senior US administration officials made clear that the "menu" of options before the White House does not include military action.

"Frankly, our goal is to uphold the territorial integrity and sovereignty of Ukraine, not to have a military escalation," one of the officials said. "I don't think we're focused right now on the notion of some US military intervention. I don't think that would be an effective way to de-escalate the situation."

During the call, which last almost an hour, the officials said they were looking to provide Russia with "off-ramps" that would enable Putin to reverse his course, and were applying pressure through a broad international coalition that had agreed to to ostracise Moscow.

That process has begun with major powers pulling out of preparatory meetings ahead of the G8 summit which is due to be hosted in Sochi in June, as well as the cancellation of other trade-related meetings with Russia planned for this week. In effect, Russia is being threatened with expulsion from the G8 group of countries, unless it withdraws from Ukraine.

That will quickly escalate to possible sanctions, including potential visa and banking restrictions targeting Russians close to Putin. Currently, the US is reviewing "all of our economic and trade cooperation with the Russian Federation", one official said, and all 28 members of Nato were planning to sign up to a single statement, strongly condemning Moscow.

President Barack Obama talks on the phone with Russian President Vladimir Putin. Photograph: The White House/Getty Images

"He [Putin] is not going to have a Sochi G8, he may not even remain in the G8 if this continues," Kerry told NBC earlier in the day. "He may find himself with asset freezes, on Russian business, American business may pull back, there may be a further tumble of the ruble."

The Obama administration is also working with the European Union and International Monetary Fund to fast-track a package of financial aid and loans, in order to shore-up Ukraine's economy.

The officials argued that Russia had miscalculated by invading Ukraine and effectively conquering the Crimean peninsula. What US officials described as the Russian "intervention" was likely to bolster "the people of Ukraine's desire to reorient towards Europe", an official said.

Another senior official said: "When it comes to soft power, the power of attraction, Vladimir Putin has no game. So he's left with hard power and it's a very dangerous game to play."

However, the senior officials sounded flustered as they struggled with accusations from reporters that Obama had shown himself to be powerless in the face of Russian aggression.

On Friday, Obama made a forceful public address, warning Putin that there would be "costs" if Russia intervened in Ukraine. On Saturday he spent 90 minutes on the phone with the Russian leader, ultimately failing to dissuade him from taking military action.

Asked if Obama had a "credibility problem", one senior official replied: "The premise of your question is he [Putin] is strong and [the] president of the United States is weak. He [Putin] is not acting from a position of strength right now."

The official added: "You're seeing the ability of the United States to bring with us … the rest of the G7 countries, the rest of Nato, and frankly the large majority of the world in condemning this action."
America must move off a permanent war footing.
Obama at #SOTU2014. 
(via On CBS's Face The Nation, Marco Rubio Accuses Obama Of 'Emboldening The Taliban')
WASHINGTON — Sen. Marco Rubio (R-Fla.) on Sunday charged President Barack Obama with "emboldening the Taliban," citing details from a new book by former Defense Secretary Robert Gates that harshly criticizes the president's leadership in the war in Afghanistan.

"I don't think we can ignore what's in that book, and I think for many of us it confirms our worst fears," Rubio said on CBS' "Face the Nation." "And that is that this is an administration full of people that either have the wrong convictions or, in the case of former Secretary Clinton, lack the courage of her convictions."

Rubio pointed to parts of Gates' book that suggest Obama didn't feel that the war in Afghanistan was his war, and that his decision to pull out troops was political.

"You saw that reflected in the decision that [Obama] made," Rubio continued. "At the same time that he announced the surge, he also announced an exit date and strategy, thereby emboldening the Taliban to believe they could wait us out."

The Florida senator, whose name has been floated as a 2016 presidential contender, said Obama's actions on Afghanistan have had international repercussions.

"Our allies see us as unreliable, and our enemies feel emboldened," Rubio said. "I think that this confirms our worst fears, that this is an administration that lacks a strategic foreign policy and, in fact, is largely driven by politics and tactics."
WASHINGTON — When a less-gray-haired Sen. Barack Obama declared, early in his first presidential campaign, that he would be willing to meet with the leaders of estranged nations like Iran and Syria without preconditions, he was roundly chastised by both Democrats and Republicans alike for naivete.

But now, after six arduous, solitary years of standing by a policy of preferring accord with rogue nations over recourse to full-on war, his approach seems to be on the verge of bearing fruit.

In Syria, President Bashar Assad has agreed to open his chemical weapons program to international oversight, and eventual destruction, after a furious round of diplomacy involving Secretary of State John Kerry and top Russian diplomats. And in Iran, a new, moderate president has responded to a personal letter from Obama, engaging in direct communication for the first time in years and hinting that he might be willing to pull back from his country's controversial nuclear program in exchange for a reduction of painful economic sanctions.

None of the developments has occurred without context or notes of caution, but it's nevertheless a remarkable turn of events for a president whose foreign policy, even a month ago, appeared to be in hapless disarray. If the diplomatic tracks in Syria and Iran pan out, proponents say they could point the way to the resolution of two of the most significant international crises facing the nation, without any American-caused warfare.

"The administration's willingness to show both strength and smarts is paying off," said Joel Rubin, the director of policy at the Ploughshares Fund and a former State Department official, who has worked to promote conflict resolution in the Middle East through discourse.

"On Syria, the president demonstrated that there was a clear point that he did not want the regime to pass, and then took a window of opportunity to cut a deal that actually advances American security interests even more," Rubin added. "An ancillary benefit has been that it's demonstrated to the Iranians that the U.S. is thinking before it's shooting, and that's a pretty new trend for the U.S."

Next week, the new Iranian president, Hassan Rouhani, travels to New York for the opening session of the United Nations General Assembly (UNGA). His arrival brings perhaps the greatest hope for a diplomatic breakthrough between Washington and Tehran in recent memory, and in turn, a possible vindication of Obama's refusal to condone military strikes against the country.
President Barack Obama has authorized the United States government to provide chemical weapons-related assistance to groups in Syria, including training for chemical weapons attacks and protective equipment for "select vetted members" of Syrian opposition forces.

In an order issued today, the White House said the president is waiving provisions of the Arms Control Export Act (ACEA) that restrict the U.S. from providing munitions, credits and licenses to countries supporting acts of terrorism.

According to the ACEA, those prohibitions can be waived "if the president determines that the transaction is essential to the national security interests of the United States."