The 5-2 ruling upholds the signature policy achievement of Walker in its entirety and is a major victory for the potential 2016 GOP presidential candidate, who is seeking re-election this year.

The ruling also marks the end of the three-year legal fight over the union rights law, which prohibits public worker unions for collectively bargaining for anything beyond base wage increases based on inflation. A federal appeals court twice upheld the law as constitutional.

"No matter the limitations or 'burdens' a legislative enactment places on the collective bargaining process, collective bargaining remains a creation of legislative grace and not constitutional obligation," Justice Michael Gableman wrote for the majority.

The high court ruled in a lawsuit filed by the Madison teachers union and a union representing Milwaukee public workers. They had argued that the law, which came to be known as Act 10, violated workers' constitutional rights to free assembly and equal protection.

Walker's spokeswoman said the governor would be issuing a statement later Thursday morning.

Walker introduced the proposal shortly after taking office in 2011, a move that was met with fierce resistance from teachers, other public workers and their supporters who flooded the Capitol for weeks in an effort to block the bill's passage. Democratic state senators fled the state for two weeks in a failed attempt to block the bill's passage.

The law bars automatic withdrawals from members' paychecks and requires annual elections to see if members want their unions to go on representing them. It also requires public employees to contribute more toward their health insurance and pension costs, moves that Walker said helped local governments and schools save enough money to deal with other cuts done to balance a state budget shortfall.

Walker's opponent for re-election, Democrat Mary Burke, supports the higher pension and health insurance contributions. But while she supports restoring collective bargaining, Burke has not promised to work for the repeal of Act 10 if elected.

Walker was forced to stand for recall in 2012, a move largely motivated out of anger over the union law. He won, becoming the first governor in U.S. history to defeat a recall.

The union law has been challenged on several fronts since it was introduced, but it's withstood them all.

The state Supreme Court decided to take the case it ruled on Thursday after a Dane County judge sided with the unions and ruled in September 2012 that major portions of the law were unconstitutional.

Gableman, who wrote the opinion, is part of the conservative majority of the state Supreme Court. Chief Justice Shirley Abrahamson and Justice Ann Walsh Bradley, the court's two most liberal members, dissented. They argued the law unconstitutionally infringes on protected rights.
Scott Walker's cronies have ruined Wisconsin once again. It's time to get rid of him at the ballot box in November! 

h/t: Scott Bauer at TPM
Iowa radio host Steve Deace was on Larry Pratt's Gun Owner's News Hour last week to promote his new electoral strategy book, "Rules for Patriots." The two spent quite a bit of time lavishing praise on Wisconsin Gov. Scott Walker for his crusade to bust his state's public-sector unions.

Deace shared his theory that that public-sector unions are one of the "four pillars of the leftist, statist, Marxist movement," along with "the child-killing industry, the homosexual lobby" and "government education" (which is "how they get the next generation to indoctrinate them").

He praised Walker for removing "one of the four pillars," namely "the worker bees, the grassroots, the mobocracy, the 'Hail Satan' chanters down in Texas last year, that's the government-sector employee unions." Deace apparently thinks that five anonymous teenagers yelling "hail Satan" at a pro-choice protest in Texas means that all public employees are Satanists.

Deace counseled Republicans against supporting any GOP politician who supports any one of the "four pillars."

Pratt agreed, adding that the public-sector employees, including teachers' unions, that protested at the Wisconsin state capitol in 2011 were "such ugly, dirty people" that nobody would want teaching their children.

Deace: There are four pillars of the leftist, statist, Marxist movement in America: the child-killing industry, the homosexual lobby, government education – that's sort of their youth ministry, that's how they get the next generation to indoctrinate them. The homosexual lobby and the abortion industry is where they get their mega, mega hundreds of millions to fund their schemes. But the worker bees, the grassroots, the mobocracy, the 'Hail Satan' chanters down in Texas last year, that's the government-sector employee unions. And if you cut them off, that's like cutting off the recruiting ability of a college football team. That's the lifeblood of their program is those government-sector employee unions.

And if you do some of the math, I think the average annual union due in Wisconsin is like $1,500 a year for an AFSCME member. And if they truly lost 40,000 members, Larry, 40,000 times 1,500, you can pretty much buy the Wisconsin state government every year for that kind of money. And to have him cut off the head of the snake like that, he removed one of the four pillars. He's maybe the only elected Republican in my lifetime I can think of who's actually removed one of their pillars. And now you know why they have done everything they can possibly do to get rid of him.

And I would just say to your audience, if you're supporting a Republican who doesn't threaten at least one of those pillars, you're wasting your time. If you're supporting a Republican who aids and abets or collaborates with one of those four pillars, I don't care how good he is on every other issue, he's actually working for your opponent. Because that's the infrastructure of the American left, those four facets.

…

Pratt: When Scott Walker had those union thugs lying all over the lobby of the capitol dome, the capitol building itself, they were such ugly, dirty people. 'Those were teaching my kids?,' I think people might have been thinking. They lost so much stature, it was just amazing what was happening.
From the 04.12.2014 edition of Republic Broadcasting Network's Gun Owner's News Hour:


 h/t: Brian Tashman at RWW
Madison — Gov. Scott Walker's controversial limits on collective bargaining for public workers will return Monday to the state Supreme Court, with justices hearing arguments to determine whether to reinstate in full the law known as Act 10.

As part of the multilayered case, the court will also consider whether to block a Dane County judge's finding that Walker's labor commissioners were in contempt of court for continuing to apply Act 10 to local government unions even after he had declared the law unconstitutional.

It is the second time Act 10 has come to the high court, but the first time the court will take up the law on its merits.

The last time the law was in front of the high court, the justices ruled 4-3 that Republicans had properly passed Act 10 because they found lawmakers can easily sidestep the state's open-meetings law. Tensions on the court were so high over that case that Justices David Prosser and Ann Walsh Bradley got into a physical altercation in front of all but one of the other justices.

This time, the court will consider the law itself, deciding whether it is constitutional for teachers and employees of local governments. The case does not deal with state workers, but a challenge from them is expected if the Supreme Court sides with the unions.

Already, the court has shown divisions over the case, ruling 4-3 late Friday that some unions could not participate in Monday's oral arguments. That order was issued shortly after 10:30 p.m. — a highly unusual time for any ruling by the high court — and included sharp words from the dissenters.

Act 10 has been the subject of intense litigation. The unions have seen some initial success in lower courts, but higher courts have sided with Walker.

In 2011, shortly after he came into office, Walker unveiled his plan to restrict collective bargaining. It was met with massive protests, and a week into the debate all Democratic state senators fled the state in an attempt — ultimately unsuccessful — to block the measure.

Act 10 limited collective bargaining for most public workers so that only wages could be negotiated, and any increases were limited to the rate of inflation. Vacation, sick leave, workplace safety and other matters that had been the subject of bargaining for decades could no longer be part of labor contracts.

In other changes, Act 10 barred government employers from deducting union dues from employee paychecks, which had been common.

Walker's law also required unions to hold annual elections to maintain the ability to negotiate with their employers. In those elections, the unions had to win 51% of the vote from all employees, not just those voting.

Madison Teachers Inc. and Public Employees Local 61, which represents city workers in Milwaukee, sued. They contended Act 10 violated workers' rights to freedom of speech, freedom of association and equal protection under the law.

In September 2012, Dane County Judge Juan Colás agreed with the unions and declared unconstitutional the main elements of the law, such as the ones dealing with dues collection and annual union elections.

He also found another aspect of Act 10 — one requiring government employees to pay more for their pensions — violated the "home rule" clause of the state constitution when it comes to City of Milwaukee workers. That part of his ruling did not change the requirement that all public workers pay more for their health care and did not change the requirement that public workers outside of Milwaukee pay more for their pensions.

Attorney General J.B. Van Hollen appealed, and in June the Supreme Court agreed to take the case.

It is expected to rule by next summer, though it could issue part or all of its decision much sooner.

Even if the unions win the case, they will not restore labor law to what it was before Act 10. That's because Act 10 ended arbitration for disputes over labor agreements, so school districts and other local governments could simply impose what they considered their best offers on the unions.

A win would nonetheless be significant, because the unions would gain the ability to bargain with their employers over a broader set of issues, and they would also have an easier time collecting dues from their members.





h/t: JSOnline.com
(via Daily Kos: Ed Schultz Skewered Scott Walker Last Night On The Ed Show (awesome video))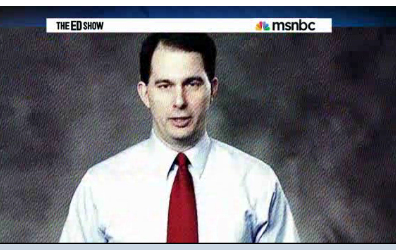 This was the leadoff story, the first national coverage of the multiple arrests in our State Capitol for the crime of "singing" or "observing" or "standing around" while not a supporter of Scott Walker and his band of Not So Merry Men, and an amazing compellation Walkers extremism and poor record.

Ed and his panel roasted Walker over the open flame of his own dismal record.  The only thing missing was an apple in his mouth.

[…]

Yes, Scott Walker has been out of state more than he's in the state (a good reason that his Governors schedule remains secret to this day).  He's raising money.  Lots of money.  Figures for his recall election alone reveals at least 60% of his funds were from out of state and that he spent $30 million on his lying anti-recall campaign.  And that's not counting all the mega money from Koch sponsored astroturf groups.  
"Right to work" is the most dishonest phrase in American political discourse. It sounds like it's defending people's right to earn a living. But as used by its supporters, it means making it impossible for workers to form an effective union, couched in the language of "freedom" and "choice."

Specifically, it means laws banning "union shops," in which everyone in a workplace has to join the union or pay a fee to cover the cost of union representation. Twenty-four states have such laws. All were in the South and West until last year, when Indiana and Michigan enacted them. Michigan's law was rammed through the Republican-dominated legislature in a lame-duck session last December.

The Michigan law was "pretty devastating for the labor movement," says Erin Johansson of American Rights at Work. It came in the state where the United Auto Workers' six-week occupation of General Motors plants in Flint in 1937 won the victory that opened the doors for unions throughout American industry, the state whose union labor defined the working-class prosperity of World War II to the 1970s.

Both Michigan Gov. Rick Snyder and Dick DeVos, the heir to the multibillion-dollar Amway fortune who bankrolled the campaign for the law, stuck to the party line about "freedom." Snyder said the law would give workers "the freedom to choose" and unions "an opportunity to be more responsible to their workers," because instead of automatically collecting dues, they'd have to show workers "a value proposition."

"Absolute horseshit," responds Ed Ott, former head of the New York City Central Labor Council. "This is a total offensive against workers. They don't want workers to have any say. After workers vote for a union, they don't want them to maintain membership."

This year, "right to work" measures were introduced in 17 states, according to Peggy Shorey, director of state government relations at the AFL-CIO. Ten were defeated, including those in Missouri, Kentucky, and New Hampshire, where Gov. John Lynch vetoed one in 2011. Republicans in the Ohio legislature introduced one in early May, but the state senate president said he didn't want to give Democrats an issue to raise funds on. (Ohio voters overwhelmingly overturned draconian limits on unions in 2011.) Sen. Rand Paul (R-KY) introduced one in January, but it hasn't gotten a committee hearing.

"It's striking that they were not successful in passing it in Missouri," says Shorey. The most significant measures still pending, she says, are in North Carolina and Pennsylvania. In North Carolina, House Speaker Thom Tillis proposed making the state's "right to work" law and a ban on public-worker unions an amendment to its constitution, after declaring that he wanted to keep North Carolina "the least unionized state in the United States." In Pennsylvania, the sponsor is Rep. Daryl Metcalfe, chair of the State Government committee, who also sponsored the state's voter-ID law and fulminates against "illegal alien invaders."

Neither measure has made it out of committee, but "after Michigan, anything could happen," warns Ott.



The Michigan and Indiana laws came as part of the 2011–'12 offensive against worker rights in the upper Midwest, but the concept emerged after the great union victories of the late 1930s. The phrase "right to work" was coined in 1941 by William B. Ruggles, an editorial writer at the Dallas Morning News who didn't want to join a union. His bosses feared that federal laws and regulations backing union rights were forcing unions down the throats of employers and socializing industry. Ruggles proposed a constitutional amendment guaranteeing the right to work with or without union membership.

Lobbyist Vance Muse, founder of an organization called the Christian Americans, picked up the campaign—but realized that it would be much easier to win state laws than a constitutional amendment. Without such a law, he argued. "white women and white men will be forced into organizations with black African apes whom they will have to call 'brother' or lose their jobs." He also said the law would help "good niggers, not these communist niggers."

He won support from business groups, and Texas outlawed the union shop in 1943. Arkansas followed in 1944. The Taft-Hartley Act of 1947, which restricted strikes and banned communists from being union officials, specifically allowed states to pass such laws, in its Section 14(b). By 1960, 18 states had done so, and Wyoming, Louisiana, Idaho, and Oklahoma trickled in over the next few decades.

In 1961, the Rev. Martin Luther King, Jr. called "right to work" a "fraud," saying that it "provides no 'rights' and no 'works.' …Its purpose is to destroy labor unions and the freedom of collective bargaining." In 1965, the high-water mark of liberal power in Congress in the last 70 years, the House voted to repeal Section 14(b) of the Taft-Hartley Act, but a filibuster in the Senate preserved the provision.

In today's network of anti-union think tanks and lobbying groups, the two most concerned with right to work are the National Right to Work Committee and its offshoots, based in Washington's Virginia suburbs, and the Mackinac Center for Public Policy, in Michigan.

The National Right to Work Committee, founded in 1955, has grown to include a legal offshoot, the National Right to Work Legal Defense Foundation, and the National Institute for Labor Relations Research. Reed Larson, who headed NRTWC for 45 years, touts the Foundation, established in 1968, as the nation's first conservative litigating organization.

The committee proclaims that it is "dedicated to the principle that all Americans must have the right to join a union if they choose to," but its masthead motto is "No one should have to be forced to pay tribute to a union boss to get or keep a job."

Asked what these organizations have done to support the right to join a union, spokesperson Patrick T. Semmens says that there's no risk that union membership will be outlawed, but "the right not to join or associate with a union…is not currently the law and therefore is our focus."

In practice, responds Erin Johansson, if a worker complains to the National Labor Relations Board that she was illegally fired for union activity, it can take eight or nine years to get her job back. "We have nothing now. We don't have a functioning NLRB," she adds.

Republicans in the Senate have filibustered President Obama's nominees to the NLRB for years, to prevent if from having a majority that recognizes workers' legal rights. If the vacant seats are not filled by August, the board won't have a quorum. In January, a federal court said Obama's recess appointments were unconstitutional, and voided rulings they participated in. The National Right to Work Foundation filed an amicus brief in that case, the result of a lawsuit filed by the Chamber of Commerce-backed Coalition for a Democratic Workplace.

The Foundation has won several Supreme Court decisions banning unions from using dues collected from nonmembers for activities not directly related to collective bargaining—that is, supporting pro-union candidates or legislation. It's also represented people who don't want to join unions or pay dues, and calls strikebreakers "courageous individuals."

The Foundation's list of "Big Labor's Top Ten Special Privileges" includes just about anything that would make a union effective.

It claims that union "monopoly bargaining" is "depriving employees of the right to make their own employment contracts." In other words, it denies them their right to ask for a raise on their own and not get one—or to undercut the union by agreeing to work for less.

It claims that unions have the privilege to "strong-arm employers into negotiations," because "unlike all other parties in the economic marketplace, union officials can compel employers to bargain with them." As opposed to employers' right to ignore workers or tell them, "you're fired, don't let the door hit you in the ass on the way out."

It claims that union workers have the privilege to "refuse to work while keeping their job," because they can't be fired for going on strike. This isn't exactly true. Employers can't fire workers striking against unfair labor practices, but they can legally "replace" workers striking for more money. The union movement of the mid-20th century was strong enough so employers rarely did that until after 1981, when President Ronald Reagan fired striking air-traffic controllers. And if employers can fire striking workers, that makes it next to impossible to have a successful strike.

If one wants proof of the union slogan that "right to work" really means "right to work for less," it's in a book excerpt posted on the National Right to Work Committee's Web site. In Stranglehold: How Union Bosses Have Hijacked Our Government, Reed Larson blames the New Deal for establishing the plague of "compulsory unionism." He writes that the National Industrial Recovery Act of 1933, by setting minimum wages in various industries, "trampled the rights of workers" by denying them the freedom to make a contract to work for less money.



The "right to work" network's other main argument is that weakening unions stimulates job growth, that jobs are increasing in states with right-to-work laws. As companies often prefer to move to places with the lowest wages and the weakest safety regulations—witness the garment industry's migration from the Triangle Shirtwaist Company to the Rana Plaza factory in Bangladesh over the last century—this makes sense, although Armelagos says, "companies are still moving out of Indiana."

It's harder to sell low wages to the public. In 2012, according to the Bureau of Labor Statistics, the median weekly wage for union workers was $943 a week, compared to $742 for nonunion workers. To get around this, they argue that per capita income in "right to work" states, adjusted for the cost of living, is equal to, almost equal to, or more than it is in "forced union" states.
When Wisconsin Gov. Scott Walker (R) initiated a high-profile effort to bust his state's public sector unions in 2011, he said that he had no interest in pursuing similar efforts against private sector unions. "Private sector unions are my partner in economic development," Walker has said. The Milwaukee Journal Sentinel noted that he "has consistently downplayed seeking any restrictions on private unions in public statements."

Walker also said in December that "he wouldn't pursue any new bills on public or private unions in the coming legislative session." However, word evidently did not get down to his Republican colleagues, who introduced and are fast-tracking a bill to allow employers to cut hours of union workers without the unions' consent:

Republicans are hurrying bills through the Wisconsin Legislature that they say could prevent layoffs by allowing companies to cut back workers' hours, but Democrats on Tuesday called them a renewed GOP attack on unions.

The bills wouldn't require companies to negotiate with unions about cutting back hours, in contrast to almost all similar laws in other states. But a spokeswoman for the author of the Assembly version of the Wisconsin proposal said there was no intent to harm organized labor.

The Wisconsin GOP is moving this bill under the guise of creating a "work-sharing" program, which is an idea aimed at using government support to allow businesses to cut back worker hours while not laying off employees (with the government picking up the tab for the hours workers miss).

"Republicans began their war on bargaining rights with Act 10, and with this bill they have nowturned their attention to private sector unions," said state senate Minority Leader Chris Larson (D). "This bill is a clear opening shot at undermining private sector unions." "The Farrow-Brooks bill says that private sector unions shouldn't be able to negotiate for their members. It's one more step toward their goal of ending the right of Wisconsin citizens to have their voice heard in the workplace," added State Senator Julie Lassa (D).
MADISON, Wis. — A law enforcement union filed a lawsuit Tuesday challenging the constitutionality of a Wisconsin law effectively ending collective bargaining for most public workers.

The lawsuit brought by the Wisconsin Law Enforcement Association seeks to strike down the law, championed by Republican Gov. Scott Walker, as a violation of constitutional rights of free speech, association and equal protection. While state troopers and motor vehicle inspectors were exempted from the law, University of Wisconsin officers, Capitol police and Department of Transportation field agents were not.

Attorney General J.B. Van Hollen's spokeswoman Dana Brueck issued a statement saying the complaint was under review.

"We believe (the law) is constitutional, and that we'll ultimately prevail," she said.

The lawsuit comes less than two months after a Dane County judge ruled the law unconstitutional as it applies to school district and local government workers. That ruling came in a case brought by Madison teachers and Milwaukee city workers. It did not apply to state workers. Van Hollen is appealing that ruling.

The new lawsuit filed in Dane County Circuit Court challenges the law as it pertains to law enforcement officers who had been represented for collective bargaining purposes by the Wisconsin Law Enforcement Association.

The law, which applies to nearly all public workers, allows collective bargaining only for base salary increases no greater than the rate of inflation. Collective bargaining over other issues, such as workplace safety, hours and job security, is not allowed.

It also required workers to pay more for their health insurance and pension benefits, a move Walker said was necessary to plug a $3.6 billion budget gap. It also did away with automatic union dues withdrawals and forced annual votes to keep unions organized.

Walker's opponents said his true intent was not to balance the budget but to quash public unions, a strong political force typically for Democrats.

The WLEA said in a statement that the law "fractured the union and the solidarity of its members, undermining their ability to join together and advocate for the best conditions to keep Wisconsin roads and communities safe."
h/t: HuffPo
MADISON, Wis. — A judge has rejected the state of Wisconsin's request to put on hold his earlier ruling striking down large portions of Republican Gov. Scott Walker's contentious collective bargaining law.

Dane County District Judge Juan Colas on Monday released his ruling rejecting the request for a stay.

Colas in September ruled the law stripping most public workers of nearly all their union rights violates teachers and local government workers' free speech, free association and equal protection rights.

Republican Attorney General J.B. Van Hollen had asked for a stay while he appeals. 
h/t: Huffington Post
Suck it, Walker!
MADISON, Wis. (AP) — A Wisconsin judge has struck down the state law championed by Gov. Scott Walker that effectively ended collective bargaining rights for most public workers.

Dane County Circuit Judge Juan Colas ruled Friday that the law violates both the state and U.S. Constitution and is null and void. The ruling comes after a lawsuit brought by the Madison teachers union and a union for Milwaukee city employees.

Walker spokesman Cullen Werwie says he is confident the decision will be overturned on appeal.
h/t: Yahoo! News
Made in the style of a "Behind the Music" episode, this film is a shocking account of Scott Walker's tarnished legacy. It traces his rise to Tea Party stardom, and his bitter fall from grace with average Wisconsinites.
The Democratic National Committee is asking its national supporters in an email Wednesday to contribute to the recall fight against Gov. Scott Walker.

A party official said the solicitation is going out to "millions" of people who have supported the party and the Obama campaign in the past.

The national party has been criticized by some on the left for not doing more for Tom Barrett's campaign against Gov. Scott Walker.

Party officials have pushed back against that criticism. 

In the fundraising e-mail, Wasserman Schultz says:

"Of all the elections we are preparing for in 2012, one of the most important ones isn't happening in November.

On June 5th, the people of Wisconsin will have their chance to recall Governor Scott Walker, whose attacks on workers' and women's rights are the definition of a fireable offense. Democrats are rallying around our nominee, Milwaukee Mayor Tom Barrett, and with just 14 days to go before the election, we're organizing one of the largest get-out-the-vote efforts in state history.

Will you donate today to help Wisconsin Democrats build the grassroots organization it's going to take to beat Scott Walker and win in 2012? 

It's up to Democrats across the country to help win this thing."
It's about damn time that DWS and the Dems do something about the Recall race!
Janesville, Wisconsin, teachers who signed—or simply may have signed—petitions to recall Gov. Scott Walker are being targeted by an anonymous group. The group, fronted for by Citizens for Responsible Government, a conservative Milwaukee organization, filed freedom of information requests and obtained the names, job titles, and salaries of every teacher in Janesville, then produced a flier listing the names and salaries of the 321 highest-paid teachers. The flier urges recipients to look for the teachers' names on a list of recall petition signers and:

At the bottom of the flier is a "Parents' Rights Protection Form" urging parents to send it to Superintendent Karen Schulte and request that "my child be assigned to a classroom taught by a non-radical teacher during the 2012-2013 school year." […]

Schulte said if she receives any of the requests, "they're going in the trash."
When Wisconsin Governor Scott Walker met with a billionaire campaign donor a month before he launched his attack on the collective-bargaining rights of public-sector workers and public-school teachers, he engaged in a detailed discussion about undermining unions as part of a broader strategy of strengthening the position of his Republican party.

After he initiated those attacks, Governor Walker testified under oath to a Congressional committee. He was asked during the April 2011 hearing to specifically address the question of whether he set out to weaken unions—which traditionally back Democrats and which are expected to play a major role in President Obama's 2012 re-election campaign—for political purposes. Walker replied: "It's not about that for me."

So, did the governor of Wisconsin lie, under oath, to Congress? The videotape of Walker talking with Diane Hendricks, the Beloit, Wisconsin, billionaire who would eventually give his campaign more than $500,000, surfaced late last week. Captured in January 2011 by a documentary filmmaker who was trailing Hendricks, the conversation provides rare insight into the governor's long-term strategy for dividing Wisconsin. And the focus of the conversation and the strategy is by all evidence a political one.

In the video, Walker is shown meeting with Hendricks before an economic development session at the headquarters of a firm Hendricks owns, ABC Supply Inc., in Beloit. After Walker kisses Henricks, she asks: "Any chance we'll ever get to be a completely red state and work on these unions?"

"Oh, yeah!" says Walker.

Henricks then asks: "And become a right-to-work [state]?"

Walker replies: "Well, we're going to start in a couple weeks with our budget adjustment bill. The first step is we're going to deal with collective bargaining for all public employee unions, because you use divide and conquer."

After describing the strategy, Walker tells the woman who asked him about making Wisconsin a "completely red state": "That opens the door once we do that."

The videotape from several months earlier, in which Walker speaks at length with his most generous campaign donor, suggests a very different answer to the questions from Murphy and Connolly. Indeed, the videotape shows Walker having just such a conversation.
It's imperative that fucking bastard gets his pink slip on June 5th!
Aside from getting tons of money from out of state corporate interests, Walker is on record with the single biggest donor to his campaign admitting that his union busting policies were never about "fiscal responsiblity" as he claimed to the voters.  He admitted that it's about "Divide and Conquer." Then he lied to congress about it.

From the transcript:

» any chance we'll get to be a completely red state and work on these unions and become a right to work? what can we do to help you?

» we're going to start in a couple of weeks with our budget adjustment. the first step is deal with collective bargaining for all public employees. use divide and conquer.

» it's a look inside the governor's head and agenda less than one month before he staged an all out assault. at the time he lied about his reasons for gutting the public sector. his biggest lie happened during congressional testimony in april of 2011.

» have you ever had a conversation with respect to your actions in wisconsin in using them to punish members of the opposition party and their donor base?

» no.

» you've never had such a conversation?

» no.

» let's go back and take another look at what the he told billionaire donor three months earlier.

» the first step is we're going to deal with collective bargaining for all public employees. use divide and conquer.

One would think the DNC would want to run with this tell all video of Walker's confession to a fellow corporatist.

One would think the DNC would recognize the importance of the recall election, to the people of Wisconsin who have been through corporatist hell, thanks to Walker and his puppet masters, the Koch Brothers.

Let's encourage the DNC to get off its ass and help Tom Barrett.

Moveon.org has a petition going calling on the DNC to:

invest now in the crucial fight to remove Scott Walker from office in Wisconsin–the people have worked hard and it's time to help.

Sign it! Share it! Tweet it!

The reality is, the GOP is in it to win it and they are putting their money where their corporate speech is.

It's time for the DNC to stand up for the people of Wisconsin!

(via Tell the DNC to Get Off Its a$$ and Help Beat Walker! | Nuts and Dolts)