There are about 80 protesters. Patricia Bynes is here too. 

#

ferguson

Apparently police are being instructed to get in riot gear. 

#

Ferguson

Bad situation. Reports of a cop killed. Angry cops, angry people in 

#

Ferguson

.

Nothing confirmed on massive police presence. Cops arriving from both directions on w Florissant. Hearing rumors of shooting. 

#

Ferguson

No picture can do justice to the number of police. No less than 50 cars. 

#

Ferguson

Unconfirmed Reports of cop shot in 

#

Ferguson

. Multiple PD on scene. 

#

EMS

leaves lights and sirens with police escort.

St. Ann, St John PD, MO State Troopers, Normandy, Breckenridge, STL County all on West Florissant by the Conoco

BREAKING: Officer Shot in 

#

Ferguson

 please stay away from that area, they say around QT they got K9 and helicopter

Apparently suspect with shotgun ran into woods. Neighborhood is closed off.

#

Ferguson
Breaking news on James Traficant:
WASHINGTON — Attorney General Eric Holder, the first African-American to hold the nation's top law enforcement position, plans to announce on Thursday that he will resign the post he's held for nearly six years as soon as a successor can be confirmed.

Holder plans to make the announcement, which was first reported by NPR's Carrie Johnson, at a press conference at the White House on Thursday afternoon. The 63-year-old will call his tenure as attorney general the "greatest honor" of his professional life, according to a Justice Department official.

President Barack Obama, who has a close personal relationship with Holder, will not name his successor on Thursday and has not decided on a replacement. Holder discussed his plans with Obama on several occasions over the last few months, and finalized his decision at the White House residence over Labor Day weekend, according to a DOJ official. If Holder stays in office until December, he will become the third-longest serving attorney general in the history of the United States.

Holder, a frequent target of Republicans in Congress over the past several years, has made criminal justice reform his top priority in the last year. In an interview with The Huffington Post earlier this year, Holder said he had no firm plans about when he would step down.

"In terms of my own thinking of how long do I stay … I talk about tasks and trying to see certain things through," Holder said. "I want to try to get a few things done before I ultimately leave."

As a private citizen, Holder wants to find ways to help restore trust between law enforcement and minority communities, according to a Justice Department official. Holder visited Ferguson, Missouri, last month, and has focused much of his career on civil rights issues.

Holder has plans to visit Scranton, Pennsylvania, on Friday, where he'll complete his goal of visiting all 93 U.S. attorney's offices.

Holder has spoken about his resignation before, telling the New Yorker in February he was planning to leave office sometime this year.
Ferguson Police Chief Tom Jackson has issued a video apology to the family of Michael Brown, saying the 18-year-old's body was left in the street for too long last month after he was fatally shot by an officer in the St. Louis suburb.

The video was released by a public relations agency Thursday, the same day Brown's parents were in Washington with civil rights leaders. Messages left with Jackson and attorneys for Brown's family were not immediately returned.

Brown was killed Aug. 9 during a confrontation with Officer Darren Wilson. Brown's body remained in the street for more than four hours.

The incident sparked racial unrest and numerous protests, including some that turned violent. In the video, Jackson also apologized to any peaceful protesters who felt their rights were violated.
To date, four federal circuit court rulings in cases from five states have been appealed to the Supreme Court of the United States

UPDATE: Today the Supreme Court scheduled marriage equality cases from all five states for consideration at its Sept. 29 private conference.  The nine justices will meet that date to consider a large number of case requests that have come before them this summer.  There's no guarantee as to whether the Court will take up a case or cases, or put the issue off for a later conference.  

————————-

Yesterday state officials in Indiana and Wisconsin formally petitioned the Supreme Court of the United States for writ of certiorari (here and here), asking the highest court in the nation to hear their appeals of circuit court rulings striking down their states' marriage bans.  The plaintiffs challenging the bans filed responses to those petitions (here and here), urging the justices to take up their cases and decide the issue of marriage equality nationwide once and for all.

One hilarious, albeit insulting, tidbit from Indiana's petition to the court takes issue with the Seventh Circuit's assertion that state marriage bans target gays and lesbians for unfair discrimination. The state's response?

"The [marriage ban] itself makes no mention of sexual orientation, and as the case record in this case amply demonstrates, homosexuals often do marry members of the opposite sex in Indiana."

Basically, gay people can legally marry in Indiana – as long as it's to someone of the opposite sex. So technically there's no discrimination happening.

To date, federal appeals court rulings in marriage cases out of Utah, Oklahoma, Virginia, Indiana and Wisconsin have been appealed to the Supreme Court.  The Court is under no obligation as to which case or cases – if any – it choses to hear on appeal.   However, Justice Ruth Bader Ginsburg recently told reporters the Court will not "duck" a marriage case.  "I think the court will not do what they did in the old days when they continually ducked the issue of miscegenation," Ginsburg said. "If a case is properly before the court, they will take it."

The Court announces cert decisions as part of an orders list, which is generally released on the Monday morning after the Justices' private conference.  The opening conference for the October 2014 term is Monday Sept. 29th, meaning that Monday Oct. 6th is likely the earliest day for a possible announcement.

To learn more about the cases pending before the Supreme Court and the dozens of others working their way through the courts across the country, visit AmericansForMarriageEquality.org.
"Let's make two things clear; ISIL is not islamic. No religion condones the killing of innocents. And ISIL certainly is not a state. ISIL is a terrorist organization, pure and simple." —Barack Obama

#Ferguson Highway Blockade Roundup (5:33PM CDT)
Hanley is now shutdown in both directions #Ferguson pic.twitter.com/FasczsuHvo

— David Carson (@PDPJ) September 10, 2014
Hanley #Ferguson arrests have been made threats to arrest more if they block traffic, but police are ones blocking it pic.twitter.com/v5ac8zE4cB

— David Carson (@PDPJ) September 10, 2014
If folks at I-70 shutdown have not crossed the "pink line" why are they being arrested? #Ferguson #MikeBrown

— Alison Dreith (@alidreith) September 10, 2014
Happening now at Hanley and I-70. #Ferguson #MikeBrown pic.twitter.com/rxb3DSSzYw

— Antonio French (@AntonioFrench) September 10, 2014
Many protestors said they were heading to the #Ferguson police dept to continue protesting.

— Antonio French (@AntonioFrench) September 10, 2014
#Ferguson #IAmMikeBrown protestors have two demands. 1) Arrest Darren Wilson and 2) BoB McCulloch to recuse himself as special prosecutor.

— RB Blair (@TuxcedoCat) September 10, 2014
Of note to people from #STL homeless advocate Rev. Larry Rice was arrested earlier at Hanley protests #Ferguson

— David Carson (@PDPJ) September 10, 2014
Again, for the unfamiliar, seeing "Larry Rice arrested", more about him from our previous reporting: http://t.co/LclC5nvLNG #Ferguson

— STL Public Radio (@stlpublicradio) September 10, 2014
Reports demonstrators may move from I-70 & Hanley area, to #Ferguson Police Dept. #MikeBrown via @CaseyNolen pic.twitter.com/EgXdGDqr0R

— Nichole Berlie KSDK (@NicholeBerlie) September 10, 2014
Police now forming line in center of Hanley. Few dozen protestors remain on sidewalks. pic.twitter.com/QEjQgxfMjI

— Casey Nolen KSDK (@CaseyNolen) September 10, 2014
If (Darren Wilson) doesn't get a guilty conviction, this whole nation is going to riot." - Whitman Harris, 33, of St. Louis. #Ferguson

— joelcurrier (@joelcurrier) September 10, 2014
You don't need riot gear to keep arresting protesters, however. #Ferguson pic.twitter.com/GH2IwDgNTm

— Danny Wicentowski (@D_Towski) September 10, 2014
Rumor @stltoday reporter @stevegiegerich was arrested is false, he here is #Ferguson pic.twitter.com/mrXPDkCZ9z

— David Carson (@PDPJ) September 10, 2014
Woman arrested after making her way on Interstate. pic.twitter.com/OgW6BF7LOu

— Jeff Bernthal (@JeffBernthal) September 10, 2014
So who gets credit for blocking the highway? Police or protesters? (photo via @KMOV) pic.twitter.com/Jx7LBN72YS

— Ray Downs (@RayDowns) September 10, 2014
Police win this one. Protestors organizer Eric Vickers says "we're not going to shut down a highway today". pic.twitter.com/m76liMtdjz

— Kevin Killeen (@KMOXKilleen) September 10, 2014
Splinter protest in n hanley metrolink parking lot. #Ferguson pic.twitter.com/adbsbmPtLk

— Danny Wicentowski (@D_Towski) September 10, 2014
Riot cops are back, forming up in parking lot. #Ferguson pic.twitter.com/z1mDR80lcy

— Danny Wicentowski (@D_Towski) September 10, 2014
Protesters have blocked off the street one block from the #Ferguson police station . pic.twitter.com/OAlz1nxlOC

— Julie Bosman (@juliebosman) September 10, 2014
…and now they're strolling away. Must have been cover for stl county cops to withdraw as well. #Ferguson pic.twitter.com/6Dvi6Aeuwg

— Danny Wicentowski (@D_Towski) September 10, 2014
Busy news day today… with #Ferguson, #MOLeg veto session, Obama's #ISIS speech, #NFL and Ray Rice, and #SCOTUS considering some ME cases.

— Justin Gibson (@JGibsonDem) September 10, 2014
Police are moving out from Hanley & 70. we're headed to #Ferguson PD pic.twitter.com/4jMvZRx94T

— Casey Nolen KSDK (@CaseyNolen) September 10, 2014
"@AlissaReitmeier: Only on 4: Photo of #Protesters in lanes of 64/40WB near @SLSC. @kmov pic.twitter.com/GPLd5luIRL"

— KMOV (@KMOV) September 10, 2014
BREAKING: Bob McDonnell found guilty of 11 counts, all corruption; Maureen McDonnell guilty on 8 corruption counts, obstruction of justice. #McDonnellTrial
upporters of an Oklahoma City police officer who was charged with raping or sexually abusing eight black women have raised more than $7,000 for the 27-year-old cop.

Daniel Holtzclaw was arrested in August on charges of rape, forcible oral sodomy, sexual battery, and indecent exposure for allegedly sexually assaulting women while on patrol. He is being held on $5 million bond.

Friends and family of the three-year veteran of the Oklahoma City Police Department have created a Facebook page called "Justice for Daniel Holtzclaw." They insist the criminal allegations against him are false, and have been using the page to try to sell shirts that read, "Free the Claw" and "#JusticeForDanielHoltzclaw."

More than 500 people have "liked" the Facebook page.

Supporters of Holtzclaw have also launched a crowdfunding campaign on the websiteGoFundMe. The page was created by Holtzclaw's sister, who hopes to raise $100,000 for her brother, according to MLive.com. The crowdfunding campaign has raised $7,390 so far.

"The pursuit of Justice will be lengthy, but with the support of Family, Friends, and the Community, Daniel Holtzclaw will be vindicated and justice will prevail," the page states. "All funds raised will assist Daniel and his Family as they seek the JUSTICE Daniel Holtzclaw so rightly deserves."

Prosecutors claim that Holtzclaw stopped women, who were all black and between the ages of 34 and 58, while on patrol and threatened to arrest them or physically harm them unless they exposed themselves, allowed him to fondle them, or had sex with him.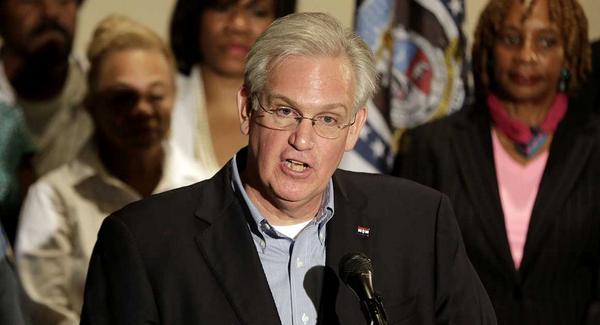 BREAKING: @GovJayNixon is deploying the #NationalGuard to #Ferguson. Via @AlanBlinder at @nytimes: https://t.co/PZNIn9GgLb

— Justin Gibson (@JGibsonDem)

August 18, 2014
BREAKING: Gov. Jay Nixon signs executive order directing Missouri National Guard resources to #Ferguson http://t.co/IKvWveyT40

— KMOX St. Louis News (@kmoxnews)

August 18, 2014
Gov. Nixon orders National Guard resources to aid law enforcement in #Ferguson.

— KSDK NewsChannel 5 (@ksdknews)

August 18, 2014
BREAKING: Gov. Jay Nixon has declared a state of emergency and a curfew from 12AM-5AM in #Ferguson. #FergusonShooting
BREAKING: @GovJayNixon has declared a state of emergency and a curfew in #Ferguson. #FergusonShooting #mogov

— Justin Gibson (@JGibsonDem)

August 16, 2014
Mo. Highway Patrol Capt. Ron Johnson: Curfew starts today from 12 midnight until 5 am. #Ferguson http://t.co/DiYbR5k5zf

— KMOX St. Louis News (@kmoxnews)

August 16, 2014
Cap Johnson: curfew will be from midnight to 5AM. #MikeBrown #Ferguson

— T.J. Holmes (@tjholmes)

August 16, 2014
Curfew starts at midnight, ends at 5 a.m., says MSHP Capt. Ron Johnson. #Ferguson

— Erica Smith (@ericasmith)

August 16, 2014
State of emergency in Ferguson declared by governor Nixon. A curfew will be implemented, from midnight to 5am via @ksdknews

— Chester Lampkin KSDK (@chesterlampkin)

August 16, 2014
BREAKING Governor Nixon declares State of Emergency in Ferguson, and a curfew from midnight to 5:00 a.m.

— KMOV (@KMOV)

August 16, 2014
Governor Nixon imposes curfew in the city of Ferguson. #stl

— FOX2now (@FOX2now)

August 16, 2014
How does the #ferguson curfew affect journalists?

— Lindsay Toler (@StLouisLindsay) August 16, 2014
BREAKING: Cpt Ron Johnson with Mo Highway Patrol says curfew won't be enforced with tear gas and trucks rather with communication.#stl

— Chris Regnier (@chrisregniertv) August 16, 2014
BREAKING: Darren Wilson has been named as the Ferguson officer who unjustly killed Mike Brown. #Ferguson #FergusonShooting #FergusonPolice
BREAKING: Darren Wilson named as the officer who killed Mike Brown. #Ferguson #FergusonShooting #FergusonPolice pic.twitter.com/os9x5RzpQi

— Justin Gibson (@JGibsonDem)

August 15, 2014
#Ferguson police ID officer who shot and killed #MikeBrown as Darren Wilson.

— STLtoday (@stltoday)

August 15, 2014
#Ferguson police name the officer who shot #MikeBrown. He is Darren Wilson #stl #MichaelBrown

— FOX2now (@FOX2now)

August 15, 2014
Ferguson Chief says officer was looking for strong-armed robber. Encountered Mike Brown. Officer is named Darren Wilson.

— Charles Jaco (@charlesjaco1)

August 15, 2014
#BREAKING: Darren Wilson is officer who shot, killed #MikeBrown. On department for 6 years @ksdknews #Ferguson

— Jeanie Smith (@JeanieSmithKSDK)

August 15, 2014
The officer who shot #MikeBrown was Darren Wilson. A six year veteran.

— Jason Rosenbaum (@jrosenbaum)

August 15, 2014
#ferguson officer Darren Wilson has been an officer for 6 years. No disciplinary history, chief of police says

— Greg Jonsson (@Jonssonville)

August 15, 2014
So it seems Officer Darren Wilson was allegedly looking for convenience store robber when Mike Brown shot. Wilson a 6 year veteran.

— Charles Jaco (@charlesjaco1)

August 15, 2014
#ferguson police chief said officers looked for suspects walking back toward QuikTrip after convenience store robbery just before noon Sat.

— joelcurrier (@joelcurrier)

August 15, 2014
The president weighs in on the death of the Missouri teenager, as violence between protestors and police continues.

President Obama urged "reflection and understanding" Tuesday after the shooting of a Missouri teenager by a police officer, calling Michael Brown's death "heartbreaking."

The full statement:

The death of Michael Brown is heartbreaking, and Michelle and I send our deepest condolences to his family and his community at this very difficult time. As Attorney General Holder has indicated, the Department of Justice is investigating the situation along with local officials, and they will continue to direct resources to the case as needed. I know the events of the past few days have prompted strong passions, but as details unfold, I urge everyone in Ferguson, Missouri, and across the country, to remember this young man through reflection and understanding. We should comfort each other and talk with one another in a way that heals, not in a way that wounds. Along with our prayers, that's what Michael and his family, and our broader American community, deserve.

Source: Katherine Miller for Buzzfeed News
BREAKING: Night two of the Mayhem In Ferguson has started. #Ferguson #FergusonRiots
Looks like night two of the Mayhem In Ferguson has just begun. #Ferguson #FergusonShooting #stl #FergusonRiots

— Justin Gibson (@JGibsonDem) August 12, 2014
More tear gas deployed during KSDK live shot. Police line advancing on neighborhood. #Ferguson

— Mason (@MasonShow) August 12, 2014
Police telling people to go home in #Ferguson, per @CaseyNolen.

— KSDK NewsChannel 5 (@ksdknews) August 12, 2014
Police firing tear gas saying "go back to your homes" onW Florissant pic.twitter.com/SirrNjAZ30

— Casey Nolen KSDK (@CaseyNolen) August 12, 2014
Police fire tear gas in Ferguson. Not sure why. Not sure of injuries.

— Shirley Washington (@SWashingtonTV) August 12, 2014
As darkness falls on #Ferguson and STL again, let's not make things worse and make bad decisions. Let peace prevail. #theqnow

— Mark Bland (@markbland) August 12, 2014
200-300 officers from 25 departments back in #Ferguson @ksdknews

— leisa zigman ksdk (@leisazigman) August 12, 2014
#breakingnews Police confirm tear gas used to disperse demonstrators, threatening to overturn cars #ferguson @FOX2now

— Andy Banker (@andybankertv) August 12, 2014
Police moving all people out of #Ferguson https://t.co/0fC03oLkLx

— Antonio French (@AntonioFrench) August 12, 2014